With the influence of bohemian themes over the last year or so, we've seen the development of the beach bohemian weddings!
We are huge fans of beach bohemian weddings. They incorporate the stunning location of the beach with the casual feel of bohemian vibes, plus they're complementary to so many stunning looks, colours, and popular trends.
From barefoot crystal sandals and lacey dress to rich colours and a native bouquet, there are so many ways that you can nail the look when you're having a beach boho wedding. But one way to truly make sure that you're getting that relaxed and casual vibe with the formalities of a wedding is to look at your wedding hair.
We've put together the top 12 most popular beach boho looks for your wedding hair.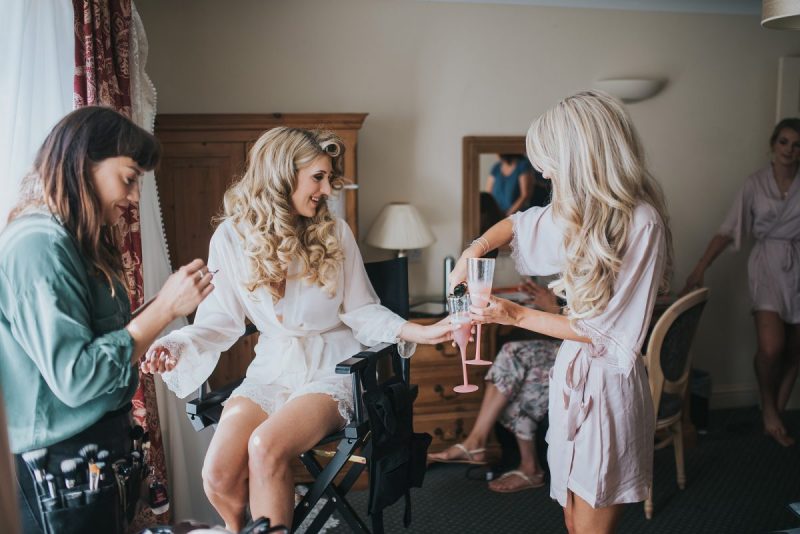 Pull-through braid
If you're looking to get the casual beach and boho vibe from your decor, then why not go a little bit more formal with your hair. Braids give a more formal look for your hair, while still fitting in with the boho vibes.
If you've got long or thick hair then opt for a soft textured big pull through braid to give yourself an up-do while still showing off your natural length. Leave light wisps or hair styled out the front for a more relaxed look. You can also finish it off with cute flowers to match the bohemian vibes.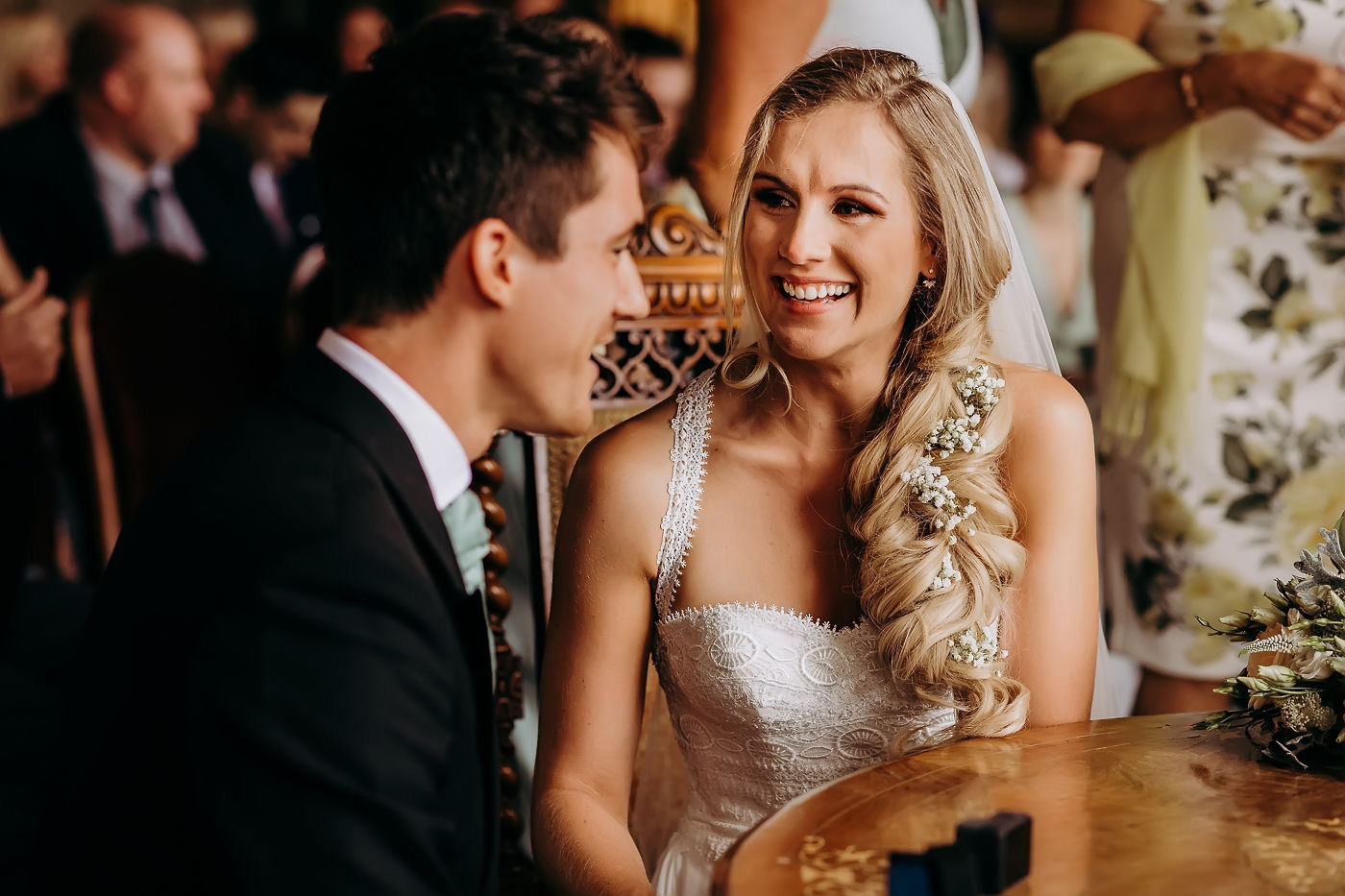 Big volume ponytail
For a more formal, but still boho look, then go for a ponytail with a lot of volume. You can achieve the glam look of voluminous waves down your back, while still keeping them in a ponytail to give that more casual boho look.
Keep the volume of the hair at the crown of your head to give yourself a more sleek look at the top.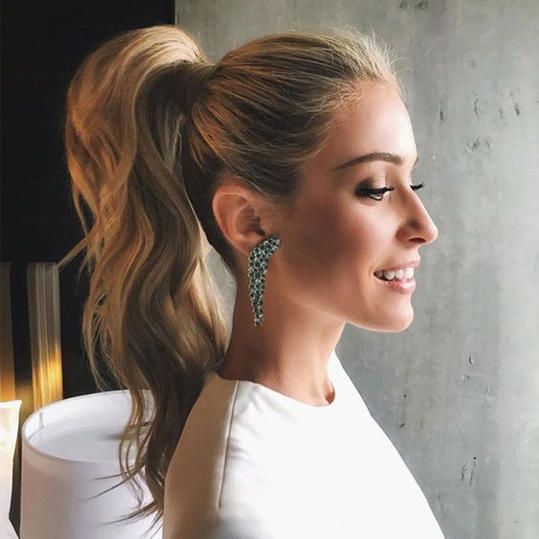 Dutch braided upstyle
Avoid tight braids and opt for large loose pieces of hair braided together to sweep across one side of your face, leaving some soft waves around your face for that more relaxed and 'undone' look.
Have a loose side braid swooping around the back of your neckline before finishing on one side for an amazing look that gives you the illusion of being able to do it yourself (pro tip: it's not!).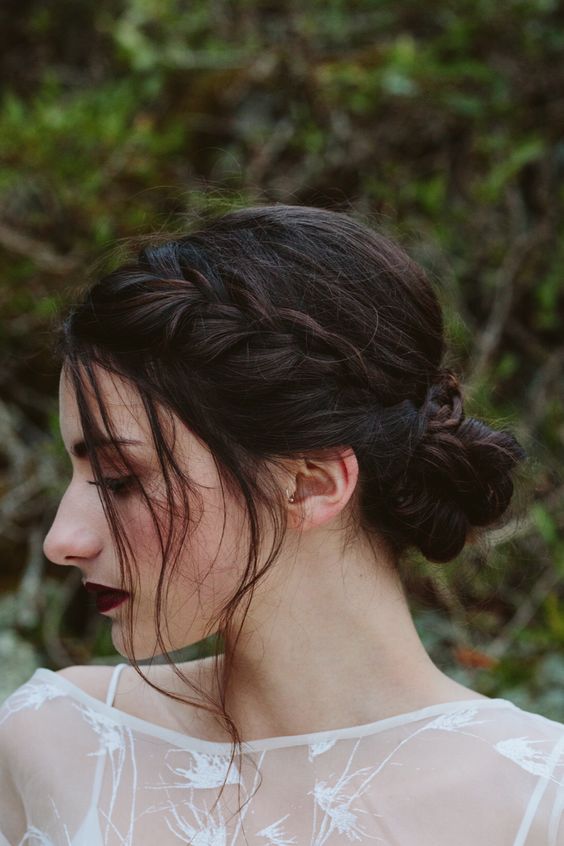 Beachy textured ponytail
Want to be able to achieve a classic ponytail with that beachy hair feel? The beachy textured ponytail is one of our favourite beach boho hairstyles and really helps match the theme of your day.
Lots of waves and texture in the body of your ponytail will give it that textured and loose look that we all wish we could achieve naturally after just coming out of the water. A low ponytail brought together with a fishtail braid will give it a little bit more formality while still giving you that boho vibe.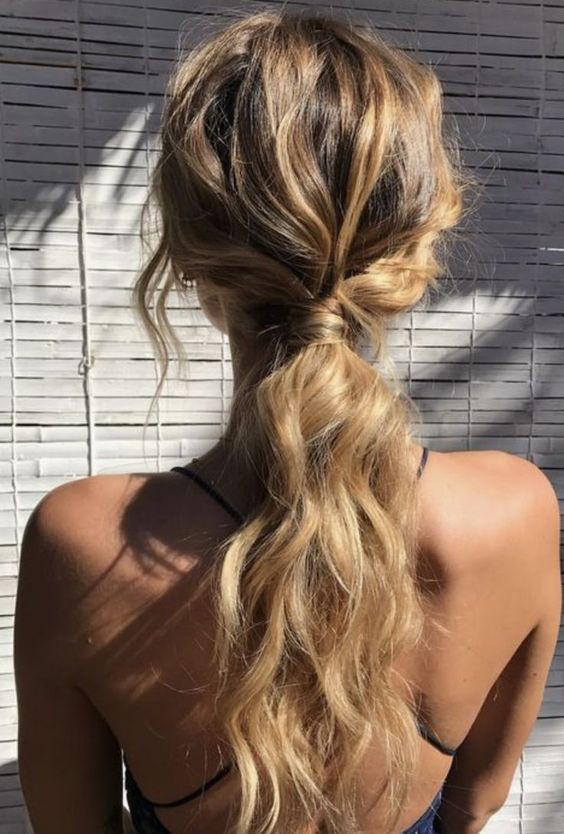 Romantic upstyle
If you're looking for romantic wedding hair that would make Meghan Markle jealous, without the veil, then why not go for a romantic upstyle for your wedding day?
Softly swept hair will give the impression of romance, while a lot of volume at the back and the crown will make it more formal than if you were just pulling your own hair back. If you want more of that beachy boho feel, then do take a leaf out of Meghan Markle's book and opt for some loose bits of hair falling around your face and even from the do itself.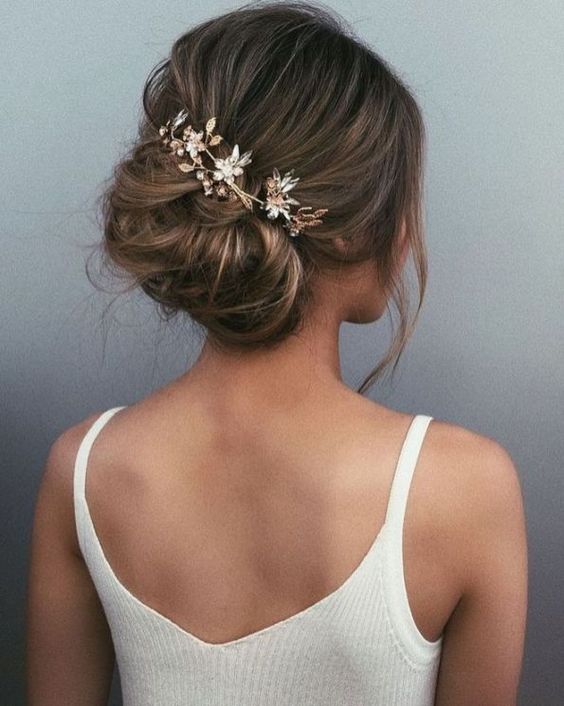 Pretty floral upstyle
Boho weddings often have a lot of floral and foliage features, so why should your hair be any different. Pair your hair with the outdoor theme and touches or nature by scattering flowers through a twisted upstyle. Baby's breath is a traditional favourite that is easy to twist into different layers of your hair.
This is also a great option for those with shorter and longer hair, as a little bit less formality when it comes to tying the hair back can work for all styles.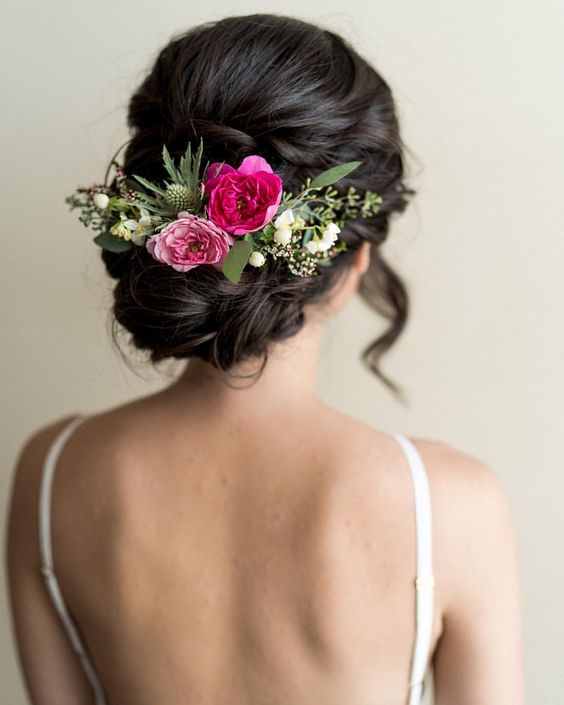 Romantic mermaid hairstyle
Looking for something a bit different? This more structured hairstyle will keep the hair off your face while still bringing in the boho vibes of braided hair.
Beautifully braided sides swept into the gorgeous mermaid hairstyle will give you a touch of formality while added curls of hair left around the face can give you that more casual feel.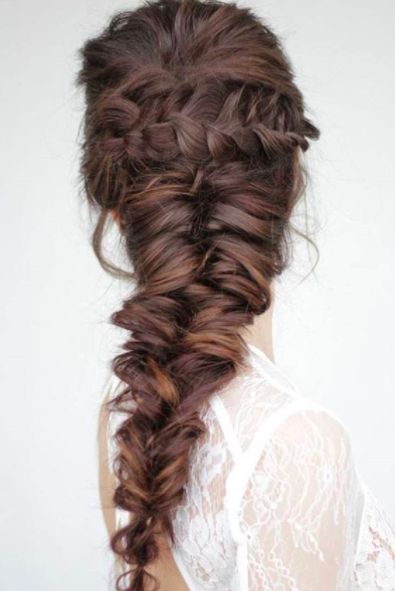 Low textured beachy bun
If you've got shorter hair or want to try and keep it off your face a bit more, then a low bun with a bit of texture can be a striking look for your wedding day.
The simplicity of a pulled out twisted braid or a bit of texture in a low bun can give you a gorgeous look for your hair, while not drawing attention away from other features such as your makeup or dress.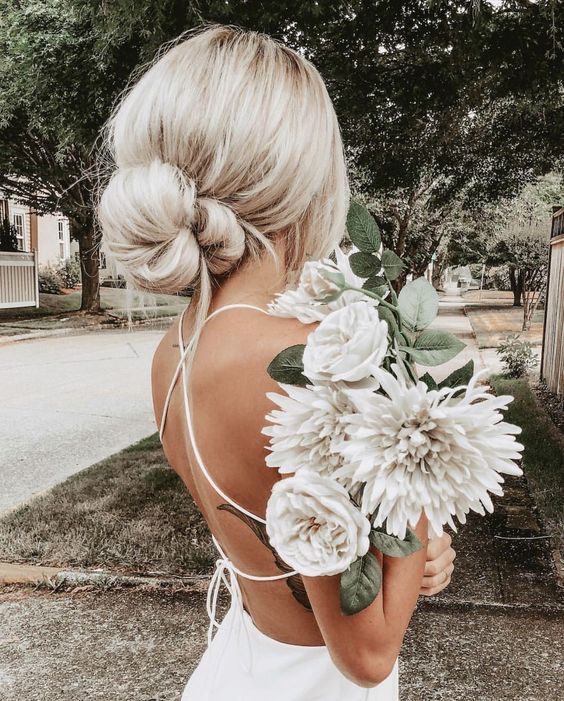 Soft glam waves
While this is a popular style for elegant weddings, it doesn't mean that you can't include it in your beach boho day as well. A focus on more casual decor for the beach setting means that you can add that luxe boho element in your own styling, and beautiful, soft and shiny glamour hair waves are the perfect way to do that.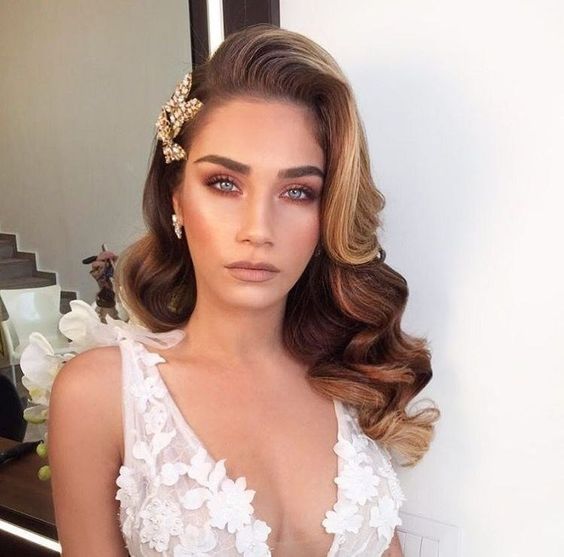 Braided boho 1/2 updo
Braids are the staple of boho hair, but it doesn't mean that you need to have a full braid to achieve the boho look. Combine the relaxed nature of soft waves with the more formal aspect of a half up-do to achieve a stunning boho look.
A combination of twists and a boho braid snaking down the middle of your hairstyle and neck will give you a stunning beach hairstyle with a touch of that boho.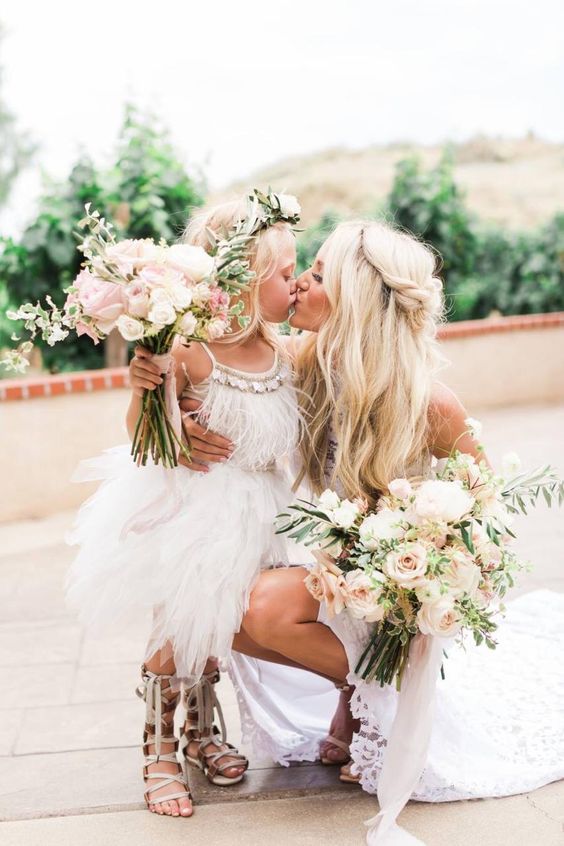 Twisted braided upstyle
The combination of formal braids and the more casual twist, this upstyle is the perfect combination or formal and relaxed The twists and braids come together to turn your hair into a structured masterpiece that actually looks relaxed, giving you a soft tousled style.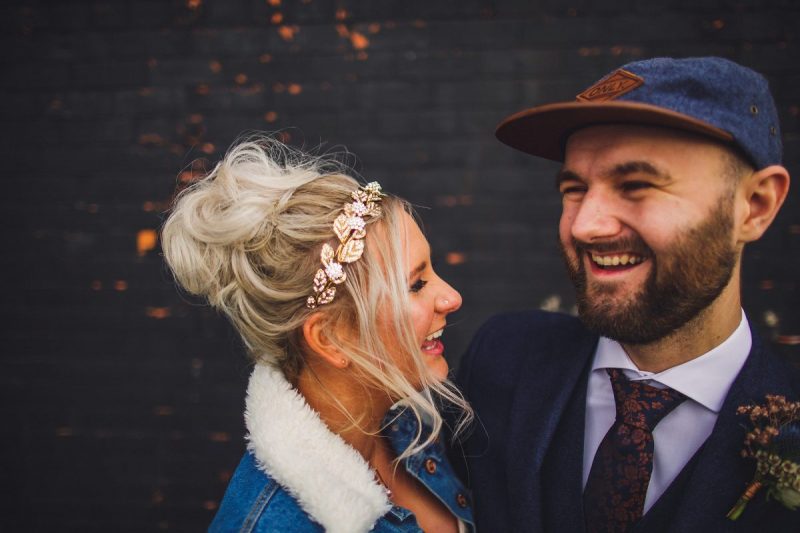 High textured bun
If you're looking for a more simple style then this is it. The formal version of a 'messy bun', a high texture bun with soft waves around the face will give you a soft hair look while not drawing away from other elements on your day.
But while you might think that you can do this yourself, get a professional hairstylist to add volume and structure to your bun to avoid that 'just out of the shower' look (you know the one!).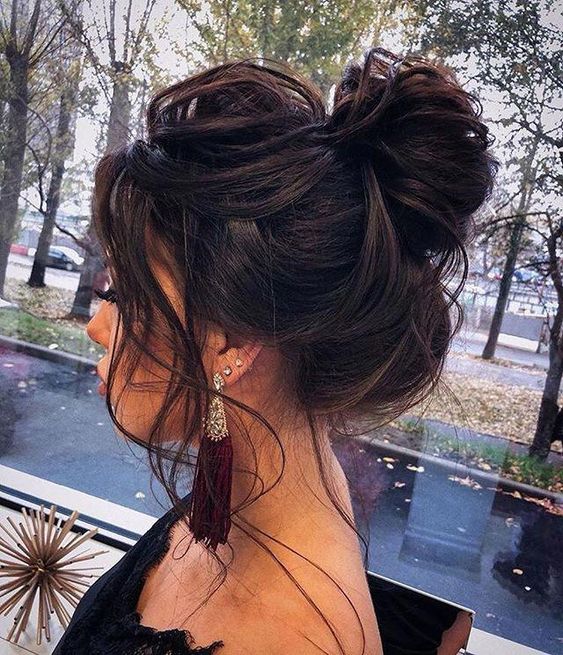 Want more looks for your beach boho weddings? Or just looking for the perfect hairstylist? Find a hairstylist in your area.