Thinking of getting married in South London? There are some one of a kind wedding venues to choose from, with easy access to and from the city centre. South London is a collection of village-like areas, combining the best of the rural and urban worlds. We have picked 17 wonderful ceremony and reception wedding venue spaces for you to consider on your wedding venue search.
Wedding venues in South London
Belair House is a picturesque venue in Dulwich, South London. It's is a two storey Georgian mansion which enjoys wonderful wrap around views of Belair Park. Situated in West Dulwich, Belair House has a remote setting despite it's short 15 minute train journey to Victoria. The surrounding area has a unhurried village vibe, with characterful independent shops and restaurants adding to the leisurely country feel. Summer weddings at Belair House make the most of the natural surroundings, as the large alfresco terraces and lush landscaped lawns lend themselves for colourful outdoor photography.
The manor house itself has a number of refined reception spaces and one licensed ceremony room on the first floor. The Belair House events team will work personally with you to bring your wedding plans to life, whether you would like to hire just half of the house, or the entire building with an additional marquee on the front lawn. This option allows you to accommodate up to 200 guests. Check Belair House Weddings
Capacity: 80 – 200 dining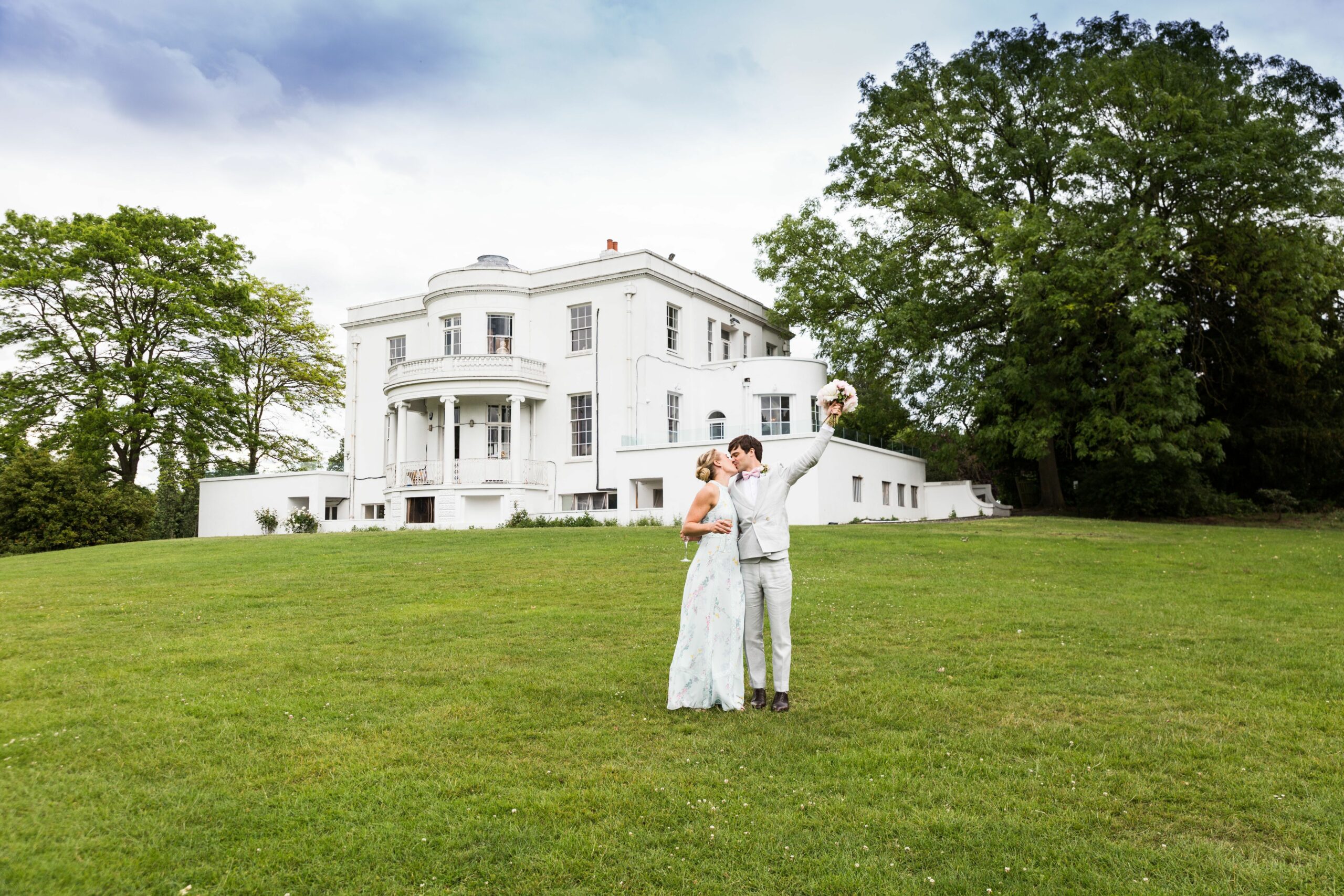 Fulham's finest wedding venue lies on the banks of the River Thames. It's easily accessible from other areas of South London and is located just five minute's from Putney Bridge station. It even has a private dock so that the bride and groom can arrive in style by boat. On route to the elegant ceremony and reception spaces, they'll walk through the enchanting sunken garden, and along the rows of manicured lawns and seasonal flower beds.
The Hurlingham Club is a spacious green oasis totalling 42 acres. It's primed for outdoor sporting facilities, and since its opening in 1869, this internationally renowned member's club has become a social institution for croquet, tennis, bowls and polo playing. Hurlingham club weddings are steeped in tradition and heritage, giving them a quintessentially English touch. Elevate your special moment into a luxurious occasion at The Hurlingham Club, without the extortionate price tag that you might expect for such a prestigious venue. Wedding packages start from just £100 per head, with a minimum of 100 guests.
Capacity: 100 – 200 dining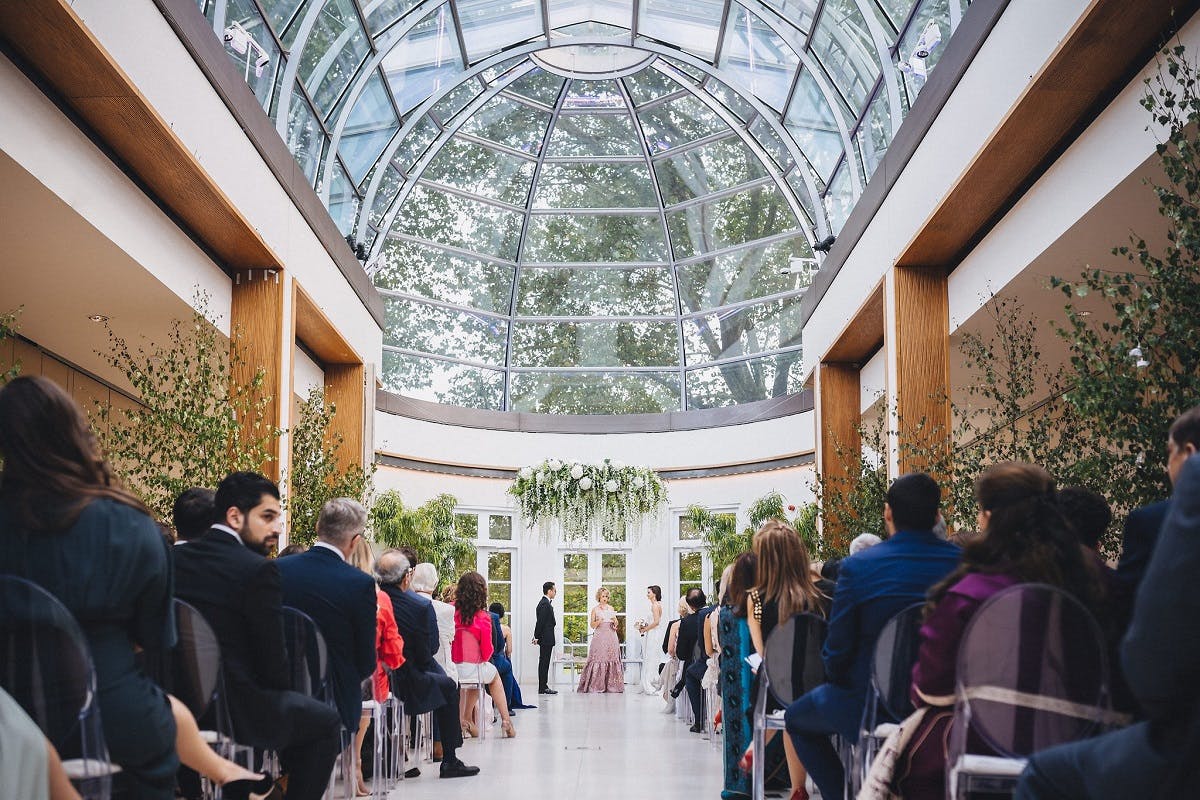 Kew Gardens is a unique wedding venue in South London, whose reputation extends across the globe. Composed of 300 acres, these botanical gardens are some of the most bio-diverse in the world. The extensive land lends itself to hosting breathtaking horticultural inspired events, and given its sheer size, the site has multiple event spaces within its boundaries. Many couples are particularly drawn to this venue due to their fond memories growing up exploring the gardens. Also, what's particularly special about Kew weddings is that the hire fees give back to a good cause. They fund vital plant conservation and scientific research work across the estate.
The Temperate House is the largest event space on offer, hosting up to 270 guests. Whilst this particular space does not have a license, it is perfect for spectacular reception dinners surrounded by 1,500 species of plants and the world's largest Victorian greenhouse. The Nash Conservatory is a licensed glasshouse nearby to host a glamorous ceremony for up to 200, imbued with fresh florals and aromatics. But for a more intimate feel, the characterful Cambridge Cottage can host up to 80 people for a ceremony and dinner. Here, there is also the option to marry outside facing the cottage's picturesque French doors.
Capacity: 80 – 270 dining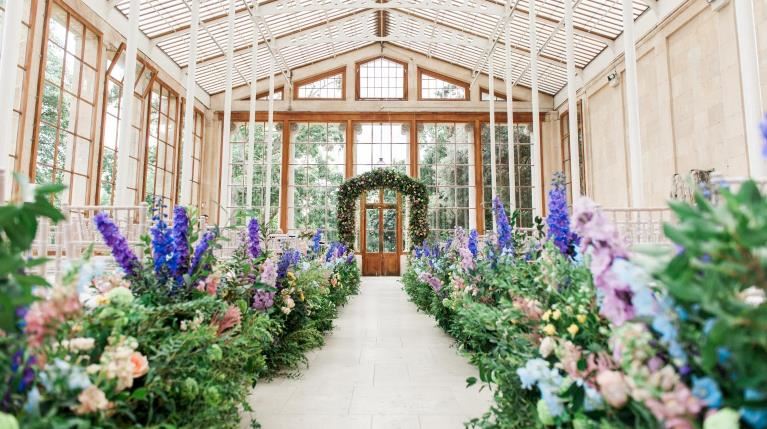 This turreted fairy tale castle in South London could be yours exclusively to host your dream traditional English wedding. Le Gothique is a listed landmark building that first opened in 1987 as London's first gastropub. Despite its grand gothic exterior with turrets and spires, it has a very laid back and unpretentious feel. Also, unlike many venues around the UK, its secret interior garden is licensed for ceremonies so you can exchange your vows surrounded by its blooming flower beds and lawns. It is also possible to have an alfresco reception, and the retractable heated marquee is useful for winter weddings and rainy days.
To match the classical setting, you can hire a vintage Rolls Royce, a white VW beetle or a red Double Decker Route-master to transport your guests to and from the venue if you choose to have your ceremony at a local church or Registry Office. The main bonus is Le Gothique's affordable wedding packages, that start at £99 per person including food, beverages and high spec AV equipment. The passionate wedding coordinators are always on hand to help you prepare every last detail. 
Capacity: 100 – 150 dining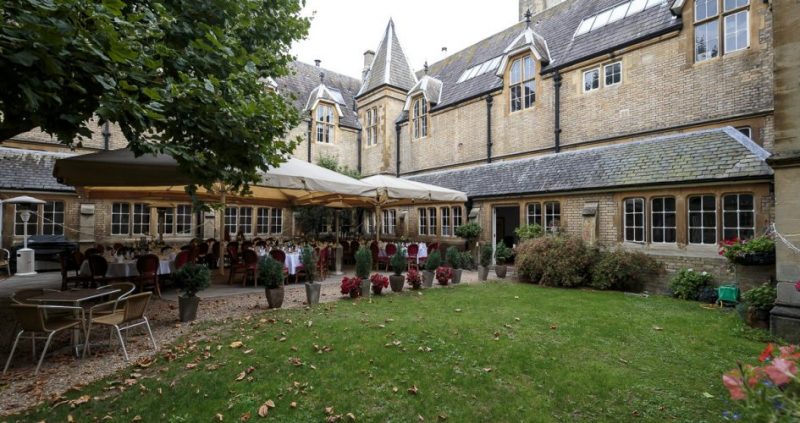 South London is home to many beautiful venues, but this period private member's club feels like a home in itself. Winchester House has a luxurious boutique ambience in an enviable location, just off Putney High Street. The rooms have a neutral palette infused with historic charm. The light-filled spaces are versatile and the venue exclusivity gives you the flexibility to design each room to your preferred style. Although it's a Grade II listed Victorian building, high tech lighting, sound and production equipment have been artfully weaved into the key event spaces, so you can dance into the night uninterrupted, serenaded by your favourite sound track.
The venue also boasts an idyllic outdoor area for outdoor receptions and a marquee can be constructed to protect against the elements. The in-house catering company, Create, will work closely with you to provide the highest level of hospitality. From canapes and bowl food to a three course banquet or BBQ, your wish is their command.
Capacity: 100 dining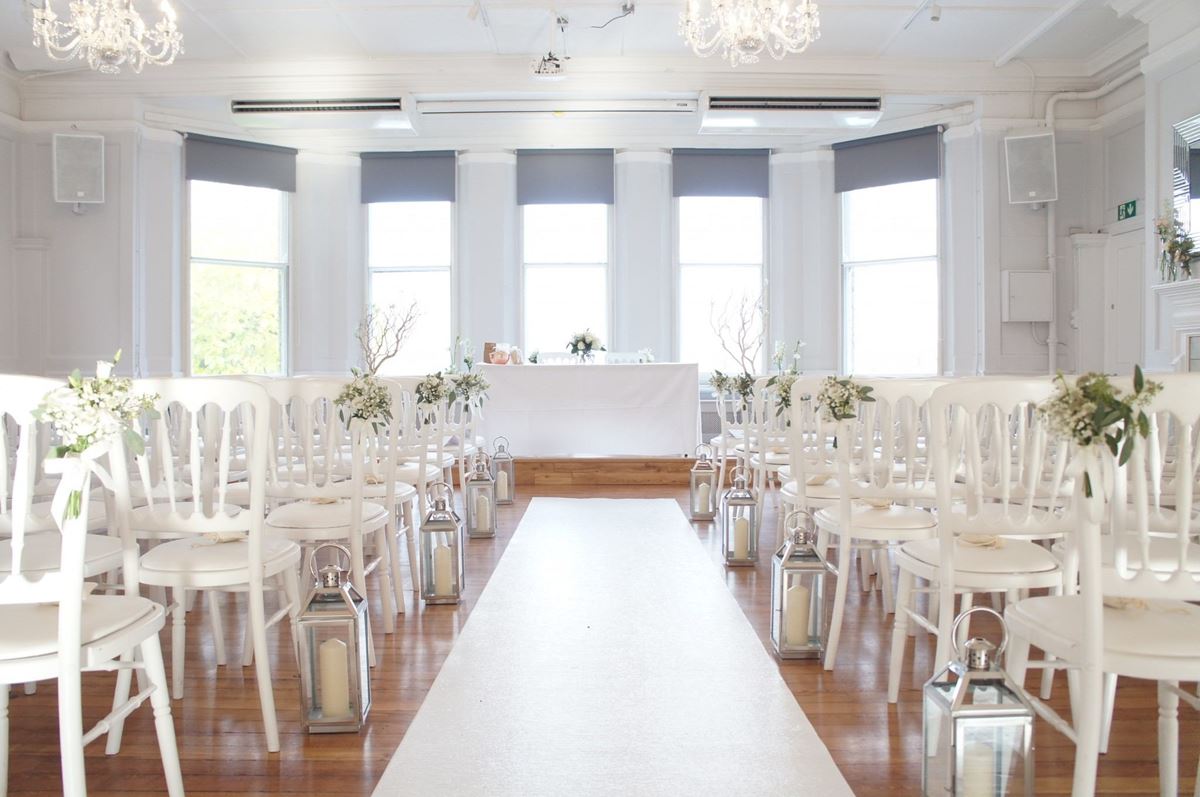 Dine, drink and dance in typical Tudor splendour like Henry VIII himself and his Royal court. This iconic palace in South London is an unmissable attraction and important slice of British history. Set amongst acres of beautiful grounds and landscaped terraces, there are four prominent event spaces to host your wedding celebrations on the estate. Follow the footsteps of Kings and Queens into The Great Hall, which was once the feasting chamber for Henry VIII. Its hammer beam ceiling, stained glass windows and tapestry laden walls create an awe-inspiring environment for your wedding breakfast. It is also licensed for wedding ceremonies for up to 200, but note that the venue hire starts from 6.30pm.
For a botanical scene, the Orangery and Privy Garden is also available from 6.30pm for a 250 person reception. The extended graceful room contains ethereal marble sculptures, a classic chequerboard floor and historic wooden panelling. It's a timeless room to enjoy drinks and canapes with your loved ones. The smallest event space is the Little Banqueting House, an intimate gilded hall with a view of the Thames, that fits up to 50 guests.
Capacity: 50 – 180 dining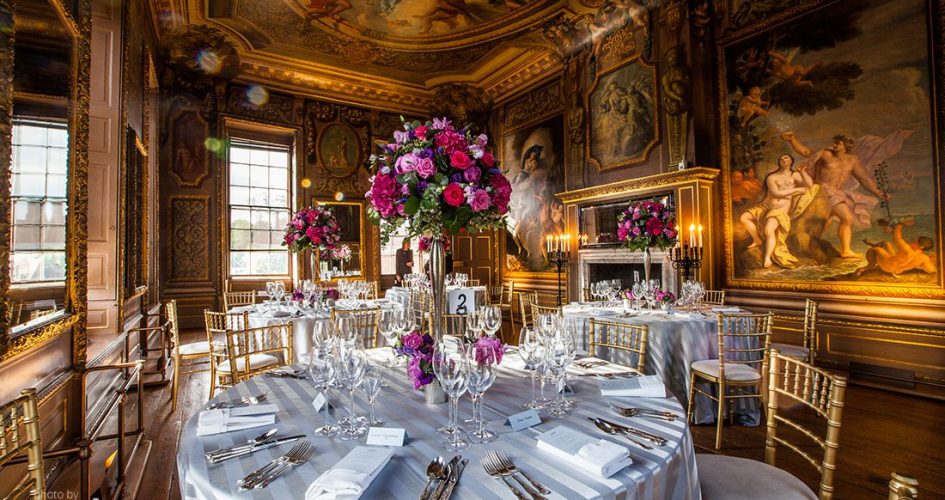 This breathtaking ancient palace in South London dates pack to 704 AD, as the official home of the Bishops of London. Situated on the banks of the River Thames, Fulham Palace is laced with stories from bygone times, and now your wedding day can become a part of its lavish history. Surrounding the palace, its 13 acres of protected lawns will offer you some amazing wedding photos.
There are three licensed ceremony rooms to choose from: the Great Hall, with its wooden panelling and gothic fireplaces seats 110 guests, and the light-filled Bishop Terrick and Sherlock Rooms collectively seat 80 guests. You can also have a wedding blessing in the Victorian chapel, which can accommodate up to 90 guests. For drinks receptions, the open-air Tudor Courtyard is another characterful private area. Walk through the archaic archway and discover the picturesque central water fountain, and a transparent marquee can be constructed across the space to provide a rain cover. With exclusive hire, the venue has so much to offer for your perfect wedding day.
Capacity: 60 – 250 dining
Imagine tying the knot beneath the glimmering hull of a 19th century tea clipper. The Cutty Sark is not only one of south London's most unusual wedding venues, but it also is a slice of our British seafaring history. This historic sailing ship was the fastest of its time, and the 963 tonne vessel has been immaculately restored and docked in a contained riverside building for the world to see. The copper hull was lifted over 3 metres as part of a 2006-2012 conservation project, which gives the space below a spellbinding view of the ship from a new perspective.
Across the floors that surround this triumph of maritime engineering, there are four event spaces of various sizes overlooking the shores of the River Thames. The most celebrated venue is the lower floor beneath the hull. It is an awe-inspiring space for up to 450 for drinks or 240 for a banquet. With added uplighters, colour beams will reflect on the shimmering copper hull and rise up passed the towering masts to the geometric glass ceiling. Dine, drink and dance in nautical glamour beneath the hull or on top deck, the choice is yours.
Capacity: 10 – 240 dining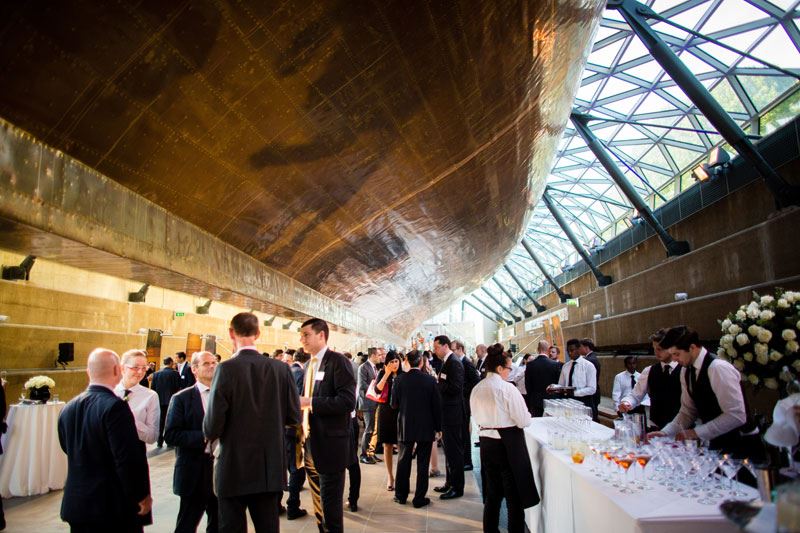 Located in the heart of a UNESCO World Heritage Site in Greenwich Park, Devonport House's sweeping lawns that lead down to the Thames are a beautiful backdrop to any South London wedding. The property's facade has an attractive blend of Georgian red brick and white pillars that once formed part of the Old Naval College. Inside, the rooms are comfortable calming spaces of various sizes to accommodate your guest capacity. The largest space is The Westminster Suites that can host up to 100 people dining, and the Nelson & Hamilton Suites are connected to make space for 80 seated guests. Both are lit naturally by the floor to ceiling length sash windows, and their neutral colour schemes suit any style, whether it be bright and bold, or simple and subdued.
Accessing this premium South London venue is easy via Greenwich Station and the Cutty Sark DLR. You can also arrange for your guests to arrive via river cruise with a glass of fizz to start the celebratory atmosphere. After the wedding celebrations come to an end, there also is no need to organise travel arrangements, as Devonport House have 99 contemporary rooms on offer for your wedding party. There are also 66 parking spaces available for those travelling by car.
Capacity: 20 – 100 dining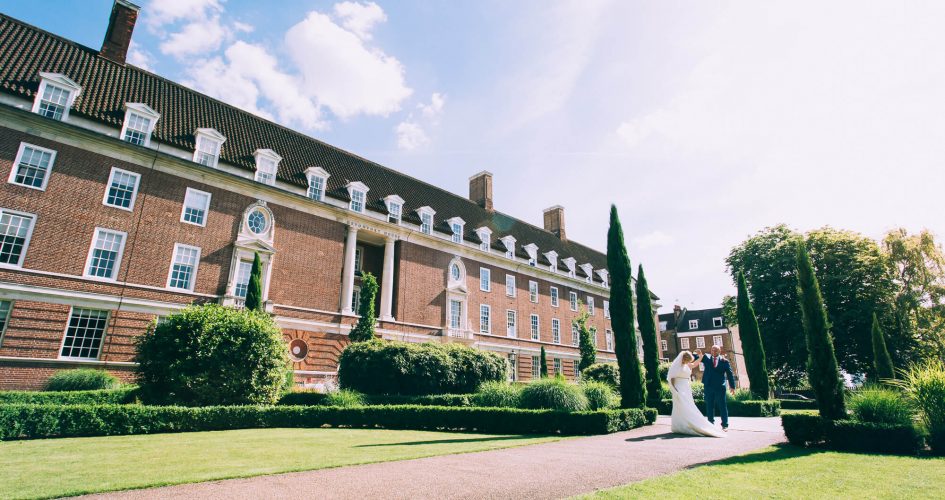 This lively urban wedding venue in Southwark has a warm and inviting atmosphere. It's hard not to feel at ease in this laidback luxe restaurant, owned by Gordon Ramsay. Primarily, Union Street Cafe prides itself in its artisan Italian menu, which Head Chef Davide Degiovanni evolves every season. His creativity and passion for high quality produce guarantees that every dish satisfies a variety of palettes.
This South London venue is not licensed for marriages, but it makes a gorgeous low key reception space to head to after your ceremony. A popular banqueting area is The Olive Grove, and its rustic Italian charm captures the romance of a Mediterranean garden. Union Street Cafe has a spacious capacity for up to 130 seated for dinner and 200 standing.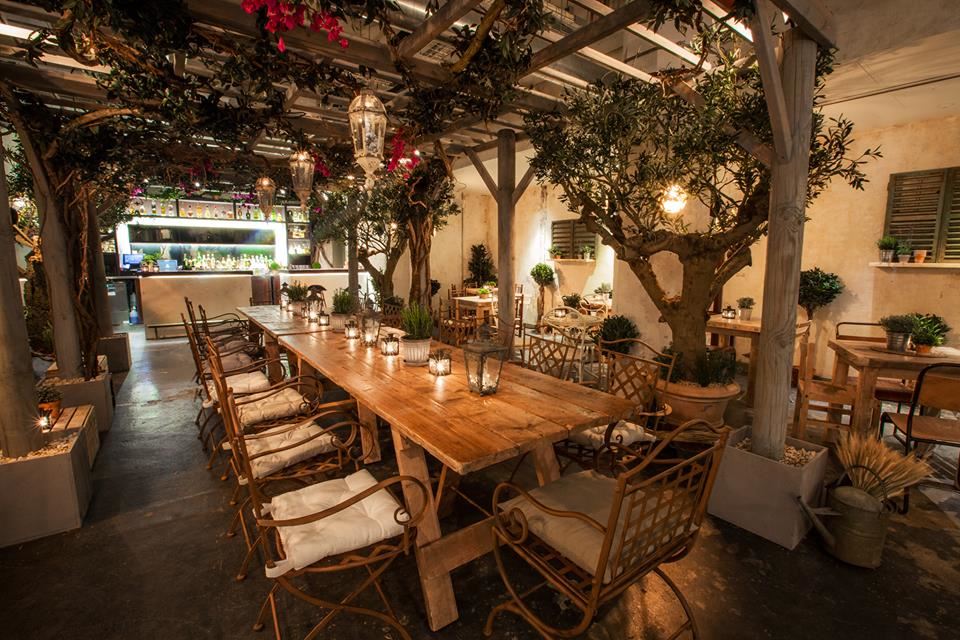 Suspended over the shallows of the River Thames, Greenwich Yacht Club is a unique venue that never fails to impress its guests. Arriving by boat makes a spectacular entrance, and its private pontoon guarantees added exclusivity. Greenwich Yacht Club has two stories of event spaces, both with panoramic views of the water, the O2 and the Thames Barriers. As the day slips into night, the city lights sparkle across the channel and form a beautiful light display around your South London soiree. Exchanging your vows on the iconic River Thames is also made possible at Greenwich Yacht Club. Both the River Rooms and The Club Room are blank canvases for you to add your creativity. Their floor to ceiling windows bring in an abundance of natural light and the ivory coloured drapes create a striking ceiling centrepiece.
The in-house events team are dedicated to making your dream day happen, whether you want to use their catering team or external suppliers. The River Rooms have a number of zones to guide your guests on a journey throughout the wedding day: The Main Hall doubles up as both a ceremony and banqueting space; The Reception Bar is perfect for a midday drinks, and the Outdoor Decking is ideal for a break out space, or a BBQ area with a marquee.
Capacity: 72 – 100 dining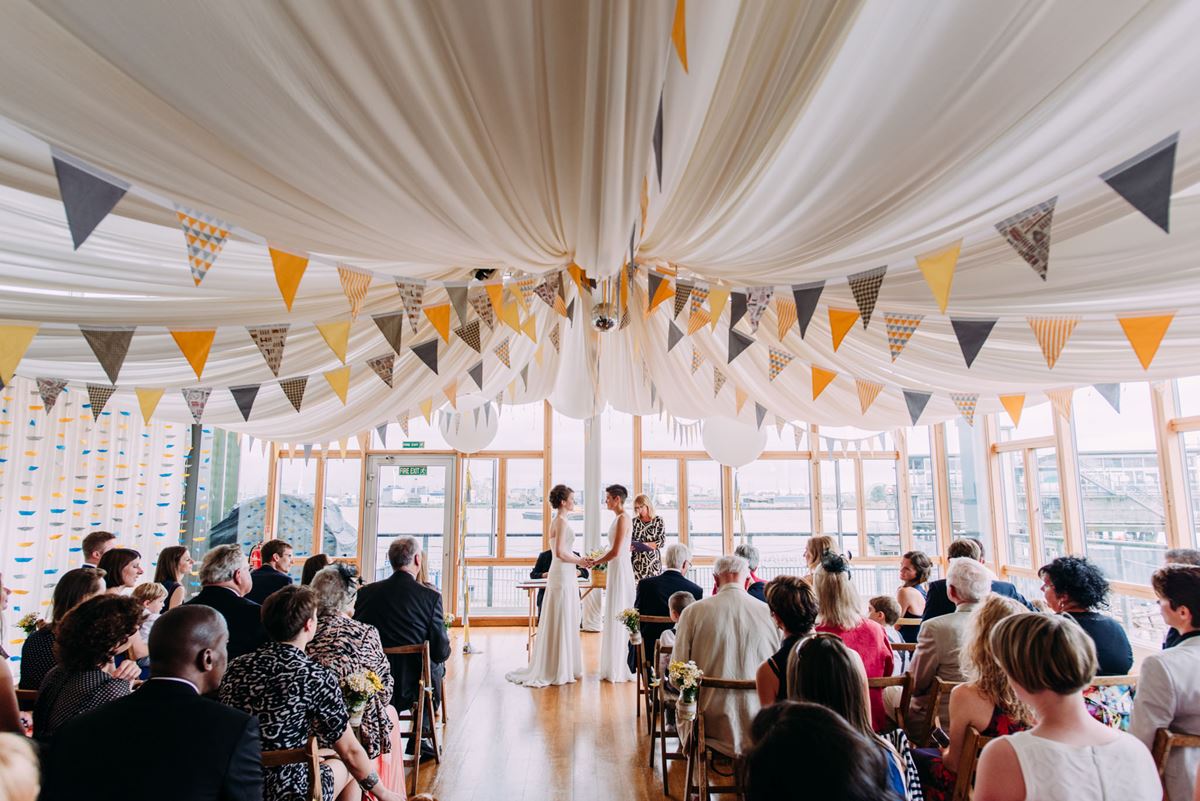 Immerse your guests in tales of bravery and exploration at The National Maritime Museum. Old fuses with the new at this historical wedding venue in South London, as state of the art event technology has been artfully incorporated into the museum's amenities. These high tech facilities allow you to create extra impact and production with the large scale staging, rigging and branding on offer. However, given that the National Maritime Museum is a busy visitor attraction during the day, exclusive hire can only begin from 7 pm until 11 pm, with the option to extend until 1 am.
At The National Maritime Museum there are four key function spaces. Firstly, The Square on the ground floor is an open airy room suitable for drinks receptions for up to 500 people. This vibrant social area allows your guests to roam freely throughout the exhibitions spaces after hours. But if you want your guests to be fully immersed within a museum exhibit, the Photography Gallery holds up to 110 guests, and its dimly lit interior emphasises the fascinating images of the solar system. Upstairs, The Great Map is another light-filled space to make your own and it has a newly installed lighting and audio system to increase what's possible beneath its spectacular glass roof.
Capacity: 110 – 580 dining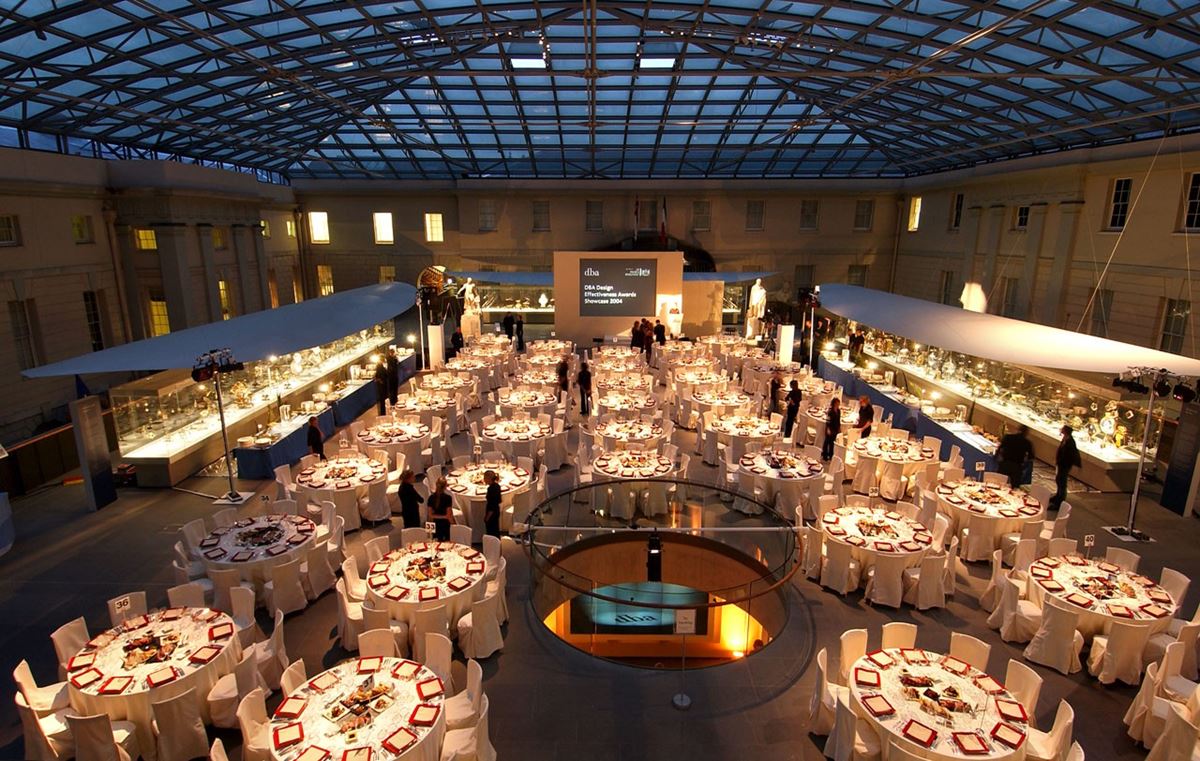 National Maritime Museum weddings
Designed by pioneering architect Inigo Jones, the Queen's House is a masterpiece of 17th-century architecture. The house was designed as a place of pleasure for James I's Queen, and this exquisite former royal residence is now available to hire exclusively for your traditional English wedding celebration. The palatial property has a number of eye catching period features, including the original black and white marble flooring, and its Tulip Staircase, which is the first geometric self-supporting spiral staircase in the UK.
Celebrate amongst the great masters of fine art in the Great Hall, as a Turner prize winning artist was commissioned to create a stunning gold leaf mural on the ceiling. This space can hold up to 120 people for ceremonies and reception dinners. Your guests can then retreat to the Undercroft to dance on into the night surrounded by atmospheric vaulted chambers. But before the sun sets, make the most of the sweeping lawns of Greenwich Park overlooking the Thames, and the iconic ivory coloured columns for those precious photo moments.
Capacity: 40 – 120 dining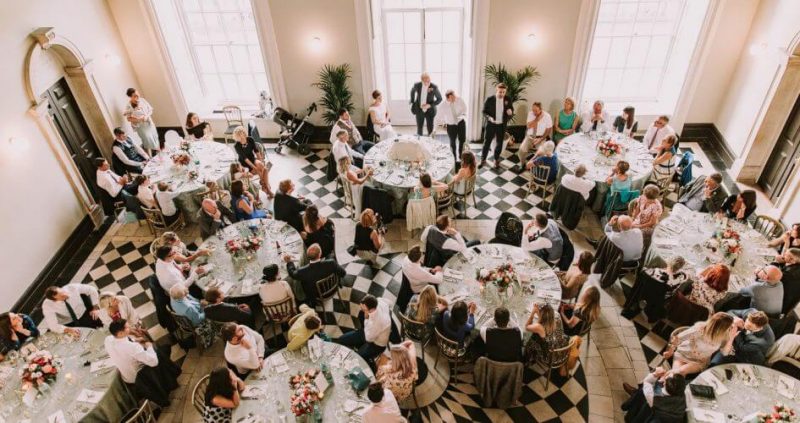 The Garden Museum is one of South London's most unique venues, that celebrates the beauty and history of gardening in a Medieval church setting. Situated on the banks of the River Thames, it looks over to the iconic Parliament buildings and the recognisable London skyline. Being in the heart of it all, the venue naturally has the benefit of easy access via Vauxhall, Westminster and Lambeth North stations.
Although the venue is not licensed for ceremonies, the Nave creates an atmospheric space for reception dinners, beneath its soaring arched ceilings and stain glass windows. The expert team are on hand to guide you through all the particulars of hiring a heritage building, and they can recommend a whole list of vetted suppliers. It is also possible to incorporate the Sackler garden for an alfresco drinks reception prior to the wedding banquet, designed by award-winning landscaper Dan Pearson. The Garden Museum is a versatile canvas for you to apply your wedding day concept.
Capacity: 60 – 140 dining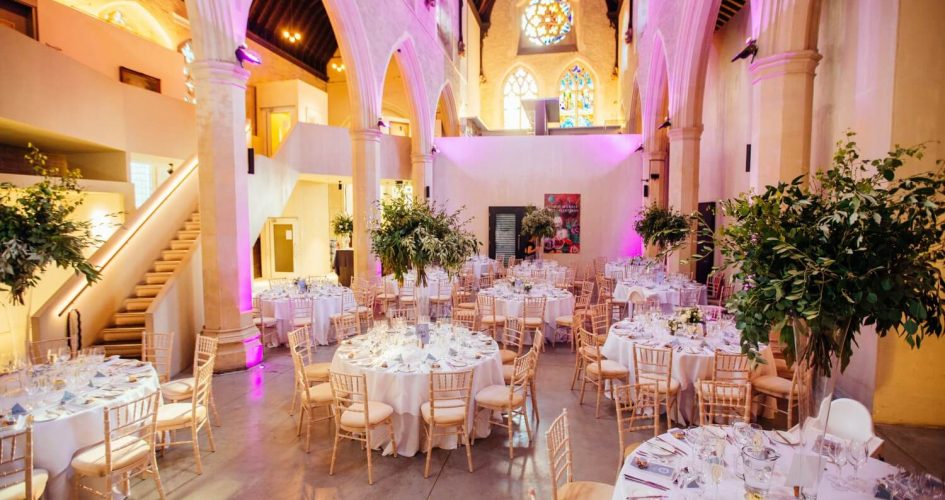 This trendy South West London pub restaurant located in Battersea Square has a close-knit neighbourhood vibe. Its cosy fireplaces, leather sofas and gleaming copper topped bar combine to create an inspiring space to host your wedding day celebrations. It's perfect for couples looking for a cool casual atmosphere, and London House has the advantage of having licensed spaces for up to 30 people. This allows you to host your ceremony at the venue in a number of on-site locations, including the enchanting secret garden. London House are flexible to accommodate your needs and their dedicated events team will put in their best efforts to ensure you have the day you dreamed of.
If one thing is guaranteed at Gordon Ramsay's London House, it would be its top quality modern British cuisine. The venue operates on a minimum spend basis, which means that your guests' enjoyment is prioritised, with a continual flow of food and drinks. The fresh seasonal produce makes all the difference, and the chef will work with you to create a menu best suited to your tastes and dietary requirements.