London is brimming with luxury hotels, sophisticated banqueting halls and contemporary restaurant venues. Finding your perfect wedding venue is much easier when you have a specific area to focus on.
A popular London borough that couples often opt for is Islington, one of London's central districts with a cosmopolitan appeal. Islington brims with a myriad of lively bars, restaurants and markets. Plus, the scenic barge-lined Regent's Canal runs through its vibrant centre.
A range of small, medium and large event spaces are scattered across the neighbourhood, meaning that there is something for everyone. We've handpicked a list of Islington wedding venues to help you streamline your search.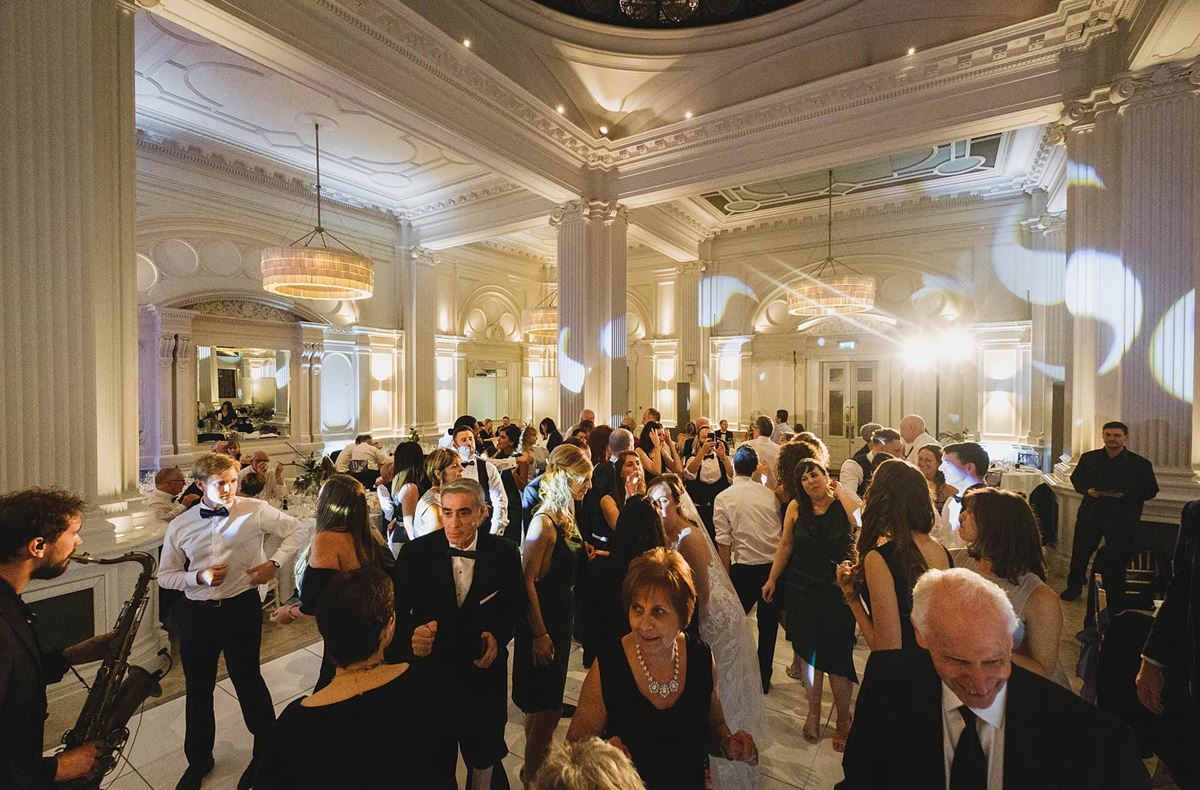 Andaz London Liverpool Street is an eclectic Islington wedding venue that sits on London Liverpool Street station's doorstep. It reflects the creative vibe of its immediate surroundings. The 5-star hotel boasts an artistic mix of original characteristics and new renovations, and it's a gateway to a labyrinth of unique event spaces both large and small.
Check out the beautiful 1912 Masonic Temple, encased in marble, with a gilded ceiling and charismatic leather seating. Or, feast your eyes on the Grade II listed 1901 ballroom, with its stained-glass dome that has stayed intact through both World Wars. Andaz London Liverpool Street has is an exciting canvas to make your own; it's where history comes to life in the present day.
These function rooms are just a flavour of what's to come on your venue viewing. It's worth seeing Andaz London Liverpool Street in person to see how versatile as is offers packages and is perfect for that London Asian Wedding, it could be for your one of a kind Islington wedding.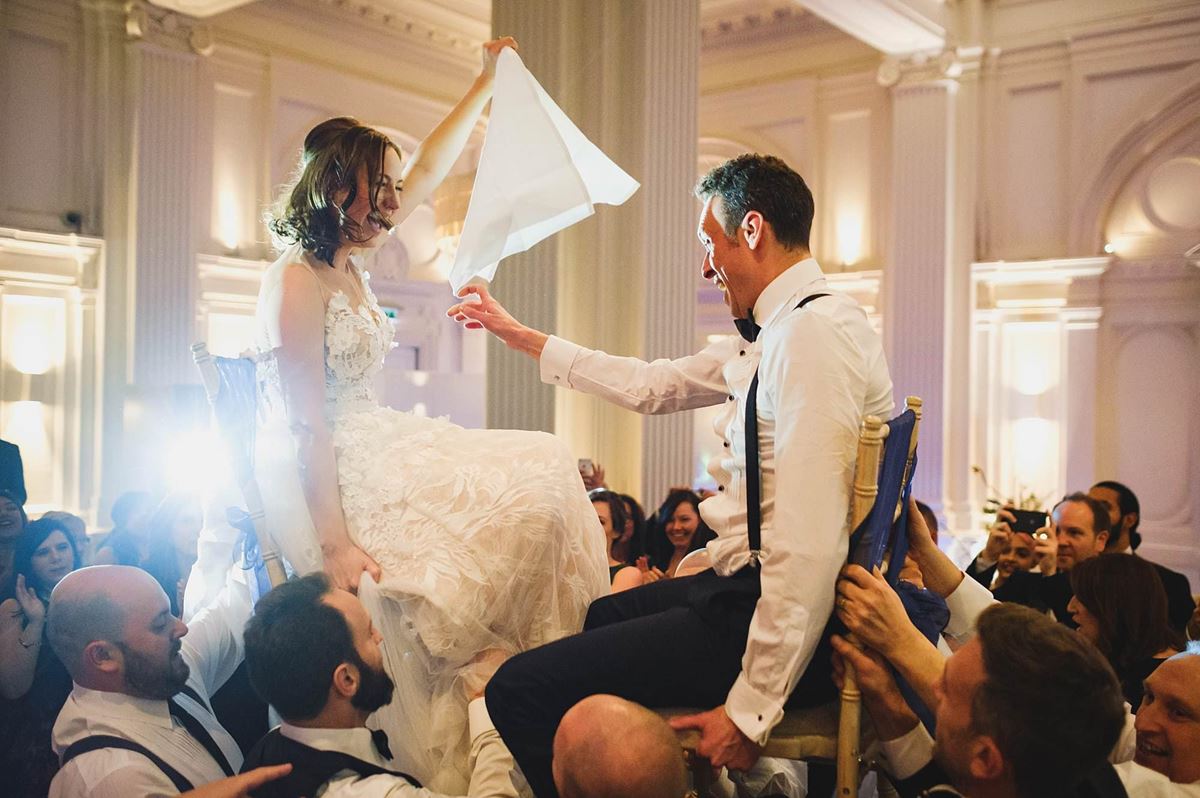 Event Spaces
The Masonic Temple. A unique and historic space to share with your nearest and dearest. It has a capacity of 44 for a banquet and 60 for a drinks reception.
The 1901 Ballroom. This decadent ballroom boasts Victorian glamour in abundance. It's a magnificent marble masterpiece with a capacity of 180 for a banquet, 150 for a dinner dance and 180 for a drinks reception.
The Great Eastern Room. A flexible multifunctional canvas with bright natural light. And customisable ceiling LEDs. It has a capacity of 220 for a banquet, 160 for a dinner dance and 300 for a drinks reception.
Bishopsgate. This traditional Victorian space has beautiful high ceilings and the smaller adjoining Chancery Room, which is useful as a breakout area, or for ceremony registration. It has a capacity of 70 for a banquet and dinner dance, and 100 for a drinks reception.
Fenchurch. This elegant suite boasts feature fireplaces and sizeable floor-to-ceiling length windows overlooking the vibrant city surrounds. It allows up to 60 for a banquet, 40 for a dinner dance and 100 for a drinks reception.
Key Features
Proximity to London Liverpool Street Station
The dedicated wedding planner will guide you through planning from start to finish
267 rooms for your guests to retire to after dancing the night away
An accomplished team of Andaz chefs who will deliver you a bespoke menu
Visit Andaz London Liverpool Street's Website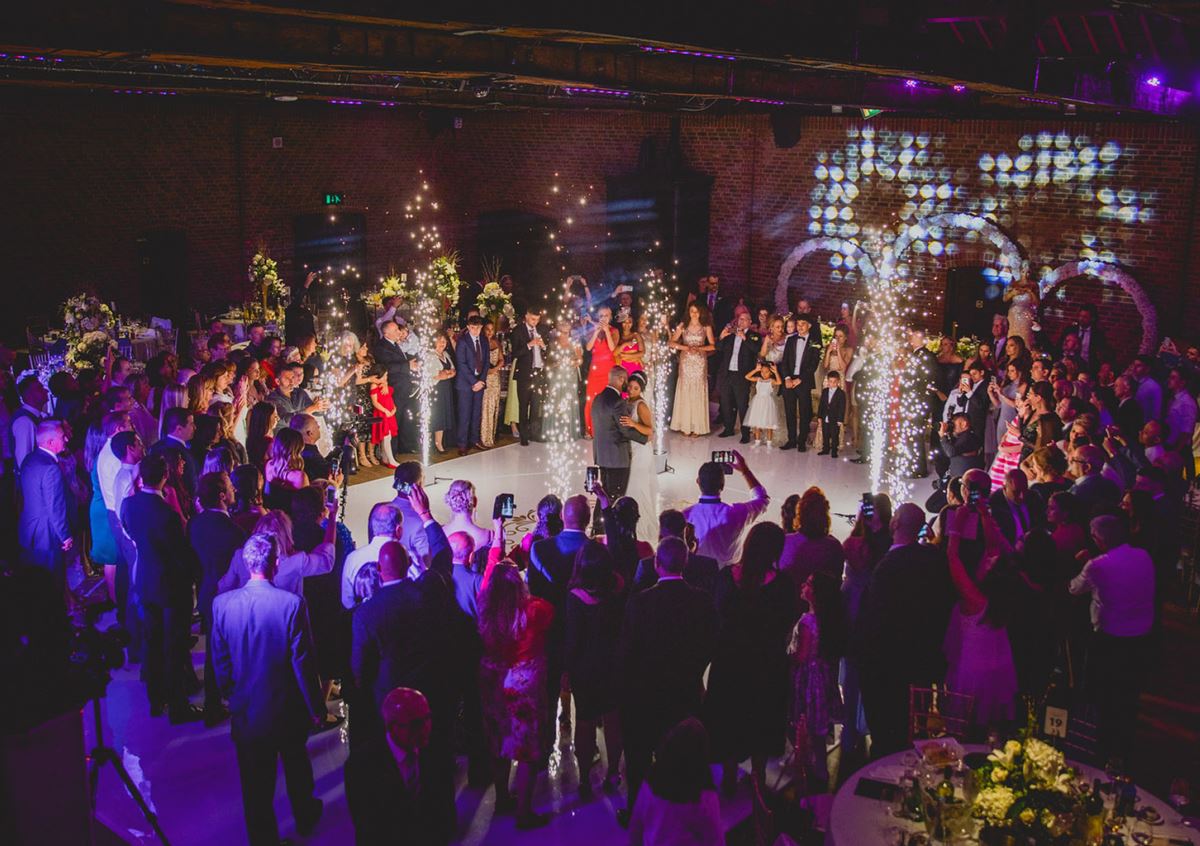 The Brewery is a vast, former beer factory that has been transformed into a superlative celebration space to host up to 600 guests. Its colossal capacity, characterful interiors, and expert events team combine to create the perfect dry hire space for large Asian and Jewish weddings.
Located in Islington's cosmopolitan centre of Liverpool Street, the archway entrance creates a sense of occasion from the get-go. In the cobbled Courtyard, a glass-walled marquee appears during the summer months.
Indoors, the 18th-century brewing and storage rooms now still have the 225-year-old beams and factory windows intact. Its country barn atmosphere and flexible event spaces make The Brewery unique. There aren't many Islington wedding venues quite like this.
Event Spaces
The Porter Ton. This colossal function room boasts a raised balcony area and a beamed ceiling that you can illuminate with colour changing LEDs and fairy lights. With effective production, you can completely transform this space to suit your theme.
The Sugar Rooms. Both of these former brewing rooms boast large factory-style windows that flood the spaces with natural light. The Upper Sugar room also has a rustic exposed beamed ceiling, which forms a beautiful setting for both ceremonies and receptions for 120 guests.
King George III Room. This excellent event space commemorates the King, who once visited the Brewery. It can host up to 300 seated guests, beneath its barrel-vaulted ceiling and historic lanterns. It's adjacent to the Queen Charlotte Room, which also makes a great break out space.
The Smeaton Vaults. With a hint of imagination, you can bring these basement rooms to life with mood lighting and white painted walls. They initially stored beer up to the ceilings, and the copper pipes and suspended iron walkway remain installed to recall their brewing past.
Key Features
5-10 minute walk from London Liverpool Street and Moorgate stations
The nearby car park offers special discounted rates for your wedding guests
The award-winning chef, Tom Gore, will design a bespoke menu for your wedding day.
Capacity ranges from 110 to 600 seated, and there is a ceremony license in all rooms
Cobbled courtyard for outdoor receptions, with a glass marquee during summer
Wedding packages start from 130.00 GBP per person
Fully integrated LED lighting system
Montcalm London City hotel opposite with negotiable rates for your guests
Visit The Brewery's Website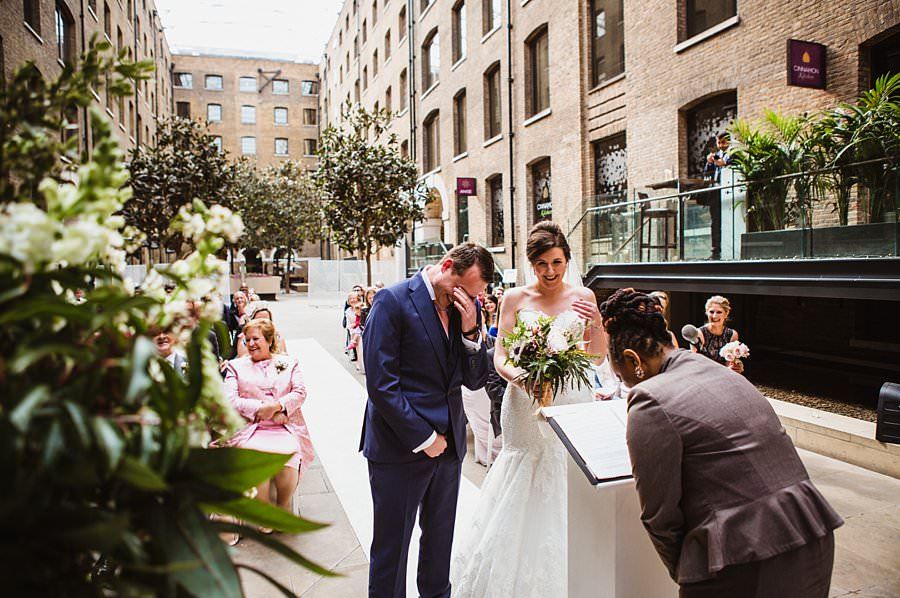 Devonshire Terrace has a delightful setting with an indoor-outdoor appeal as you enter its large industrial courtyard with a glass atrium roof. This Islington wedding venue was built in the 1800s as a warehouse to store shipped goods like silk and mother of pearl. It now holds a rare outside ceremony licence, so guests can watch you tie the knot come rain or shine under the weatherproof glass ceiling.
The restaurant has a trendy and casual a la mode style, with velvet accent chairs, wooden floors and a fresh open-plan layout. The talented chefs will serve up modern European cuisine, and a bespoke menu suited to your taste and style. The restaurant also has four unique private dining rooms that can be hired alone as part of the exclusive venue. They make useful break out spaces for those wanting a moment of calm on your wedding day.
At Devonshire Terrace, there is an unmistakable chilled-out charm about the place. It's easy to feel at home and the wedding team are on hand to make things as seamless and straightforward as possible. They'll work tirelessly to create a wedding with a lasting impression.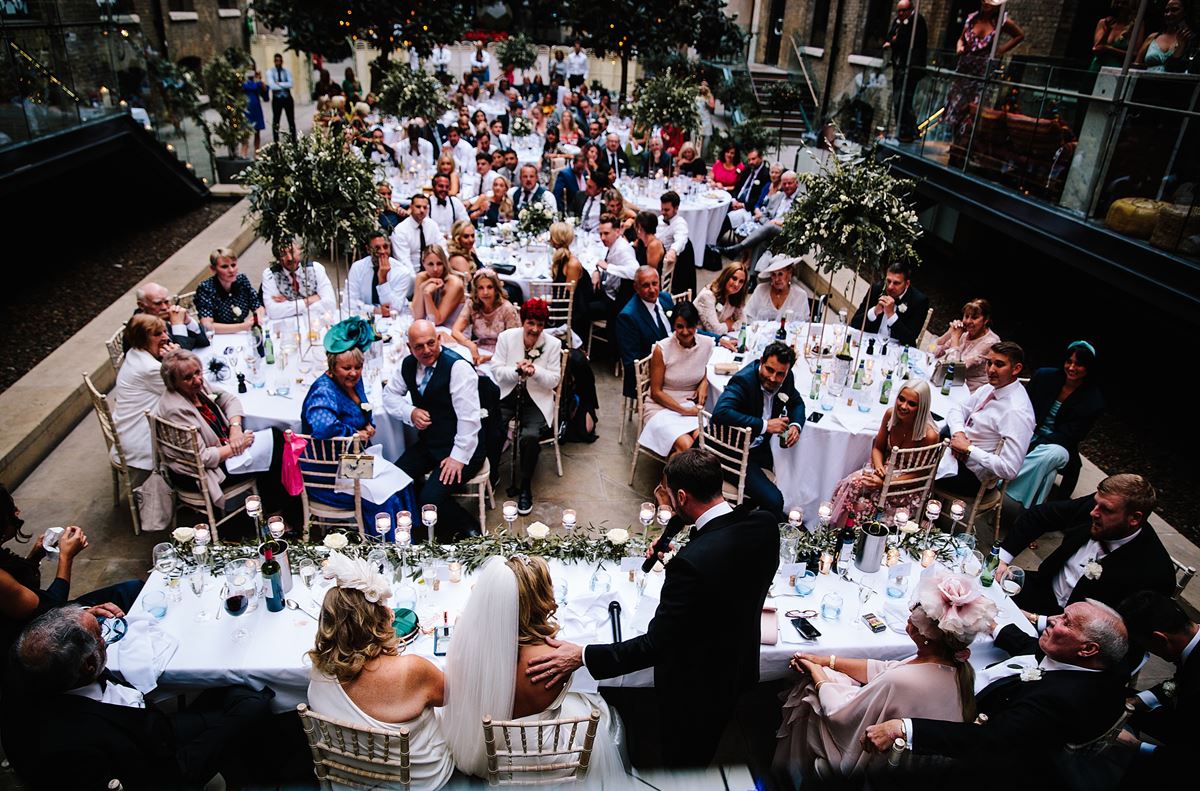 Event Spaces
Exclusive use of the venue. Devonshire Terrace's beautiful industrial features are evident in both the courtyard and contemporary restaurant. The glass roof makes a real statement feature and floods light into the venue. From intimate to grand gatherings, Devonshire terrace has you covered. There's a capacity for 160 seated or 400 standing in the restaurant and 200 for outdoor ceremonies.
Key Features
Extensive wine list and contemporary cocktail makers
Spectacular views of the iconic Gherkin building
The nearby car park offers special discounted rates for your wedding guests
The dedicated wedding team will guide you through planning from start to finish
Many dining options are on offer, from three-course seated mals, creative canapes, innovative bowl foods and sharing platters
You can bring in external Kosher and halal caterers
Packages start from £80, and a minimum spend applies
Visit Devonshire Terrace's Website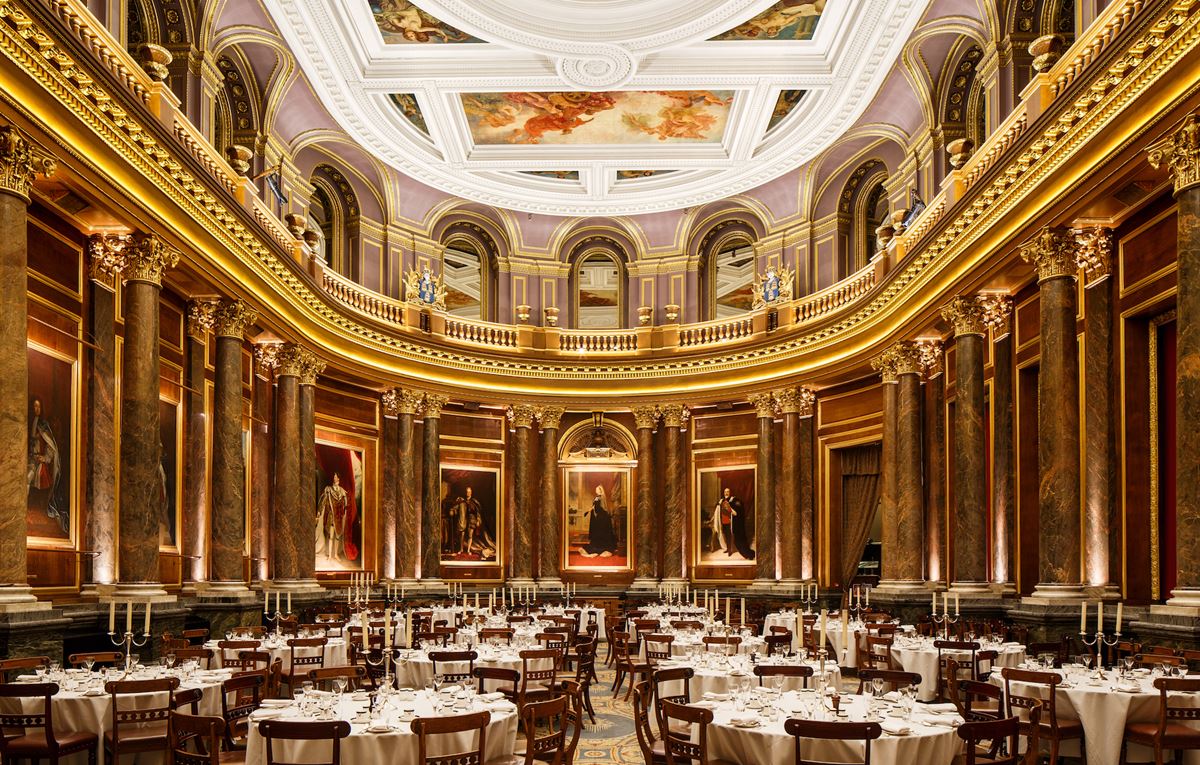 History seeps through the walls at Drapers' Hall. If age and character are what you are looking for in your Islington wedding venue, this could tick all the right boxes. Drapers' Hall is in the heart of the City of London, and its royal and majestic interiors are enough to take your breath away.
In Tudor times, this was once the site of Thomas Cromwell's palace in the 1530s. The Guild of Drapers subsequently bought it in 1543, and the building has been preserved ever since. This historic venue's beauty is owed to the careful restoration that has taken place over the centuries.
All of the original features are kept in immaculate condition, and you'll spy them in films such as The King's Speech, The Apprentice and the Great British menu. Drapers' Hall has a unique ambience that has stood the test of time.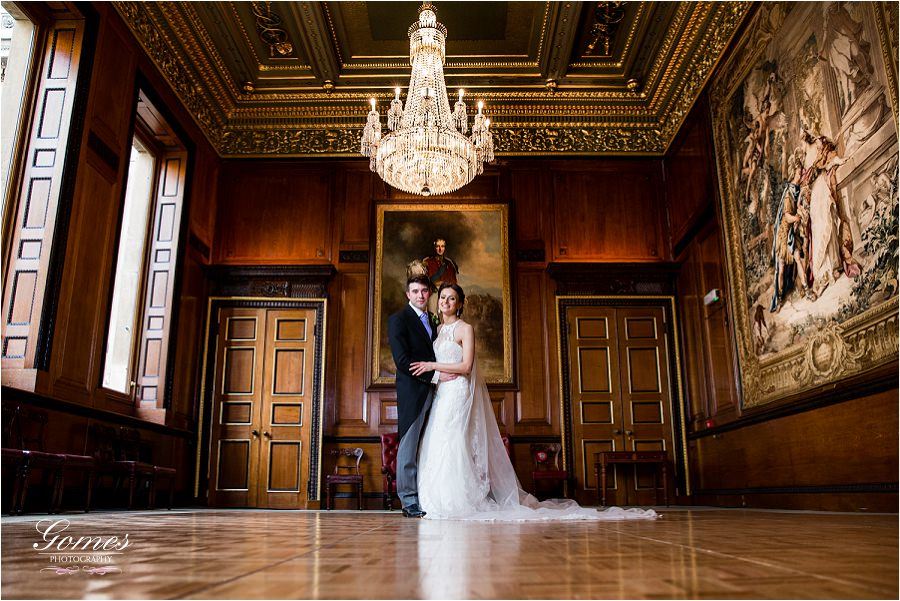 Event Spaces
The Livery Hall. This exquisite banqueting suite is worthy of royal attendance. The dramatic ceiling paintings, rich gold leaf details and regal marble pillars depict Buckingham Palace in many films. Dine-in splendour and seat up to 276 guests in The Livery Hall.
Court Dining Room. This is the oldest room in the venue, dating back to the 1660s. It's a magnificent suite that overlooks the private Drapers' Garden. The rich decorative setting is perfect for drinks receptions or a banquet, and it's often used alongside the Drawing Room.
Drawing Room. This quiet room is next to the Court Dining Room. The 19th Century decor and Victorian chandeliers make an opulent backdrop to a champagne reception before guiding your guests to the Livery Hall for a royal banquet.
The Drapers' Garden. This hidden corner of the city is a peaceful escapade away from the city's hustle and bustle. It's an idyllic setting to welcome your guests on a beautiful summer day, and its large size allows for 180 guests to mingle.
Key Features
Dramatic 16th-century architecture
A quiet courtyard for alfresco receptions
Capacities of up to 400 standing and 276 seated
A famous film set for quintessential British period dramas
Classic Grand Piano, dancefloor and stage included in venue hire
The dedicated Events Team will guide you through planning from start to finish
All packages include all necessary staffing and the use of our in-house AV, including staging, lectern, PA system and microphones, silver candelabra table centres, cake stand and knife, dancefloor, and use of our baby grand piano in the Livery Hall.
Visit Drapers' Hall's Website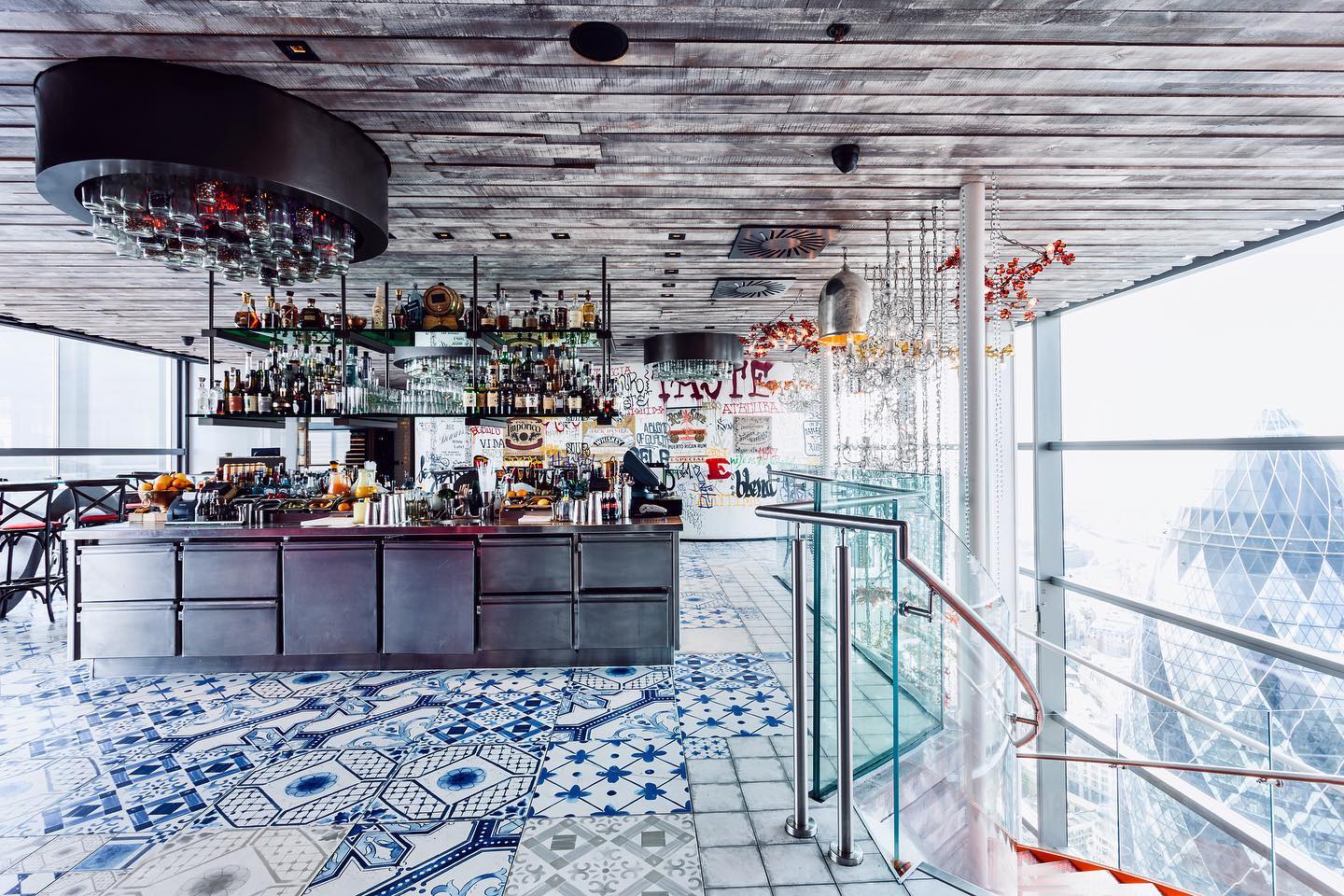 There aren't many skyscraper venues in Islington quite like this. Duck and Waffle rises above the rest and has a dazzling view of the London skyline by day and night. The exotic, vibrant energy of the interiors will infuse your reception with a contemporary buzz.
The large restaurant area is versatile and flexible, given that you can move all of the seating fixtures to transform the space into a layout that suits your vision. The yellow rippled ceiling and open-air kitchen add other theatrical elements to your reception, and the food does the talking at this extraordinary Islington wedding venue.
The prolific playful menu is impressive with its unusual yet ingenious food pairings and exciting cocktail combinations. The buzzy atmosphere and chic urban style are sure to get the party started at your London wedding reception.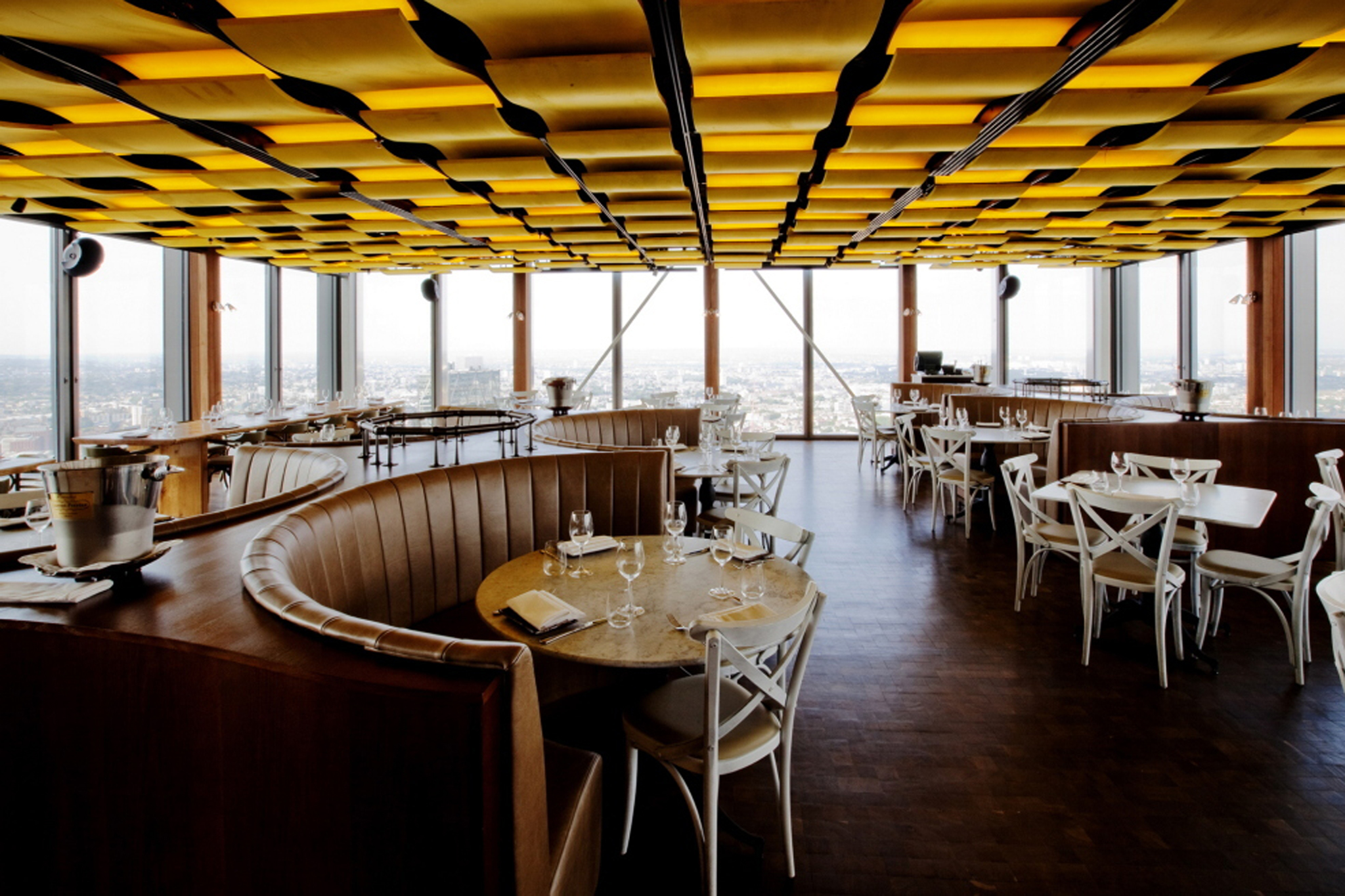 Event Spaces
Exclusive restaurant hire. Duck & Waffle is one of the most sought after and critically acclaimed restaurants in London. Located on the 40th floor of 110 Bishopsgate, this contemporary sky-high restaurant will make your wedding reception stand out from the crowd.
Key Features
Situated close to Liverpool Street Station
Exclusive hire is dependent on a minimum spend of £30,000
The lift will transport your guests at incredible 5 metres per second
Unrivalled views of the Olympic Park, the Tower of London and the Gherkin, plus the floor-to-ceiling windows flood the restaurant with light
Experience artful reinventions of British classics and refreshing cocktail concepts from award-winning chefs and bartenders
Theatrical open-air kitchen, inside-out bar and social booth seating
The restaurant is home to the highest private dining room in the UK
Event space for up to 250 standing and 120 dining
Capacity rises to 650 guests if combined with sister restaurant SUSHISAMBA
Visit the Duck & Waffle Website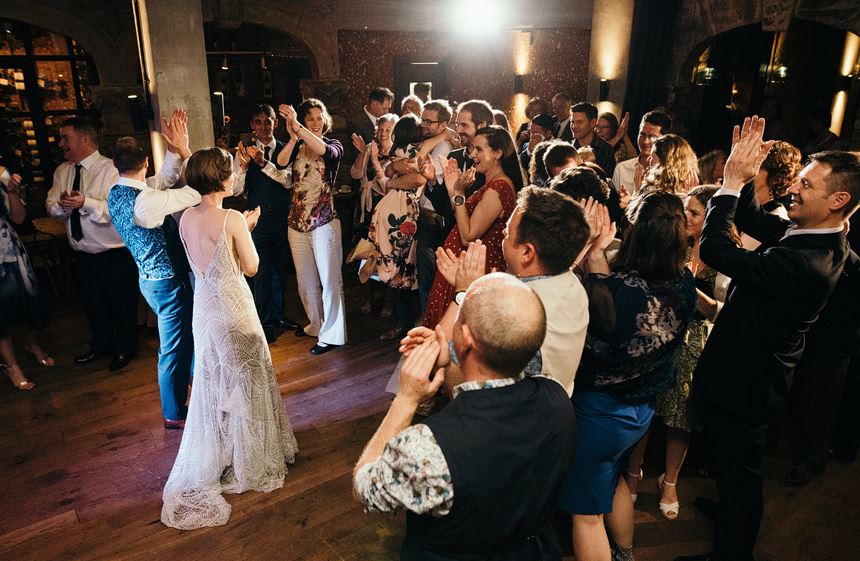 Celebrate your nuptials in a world of wine. When it comes to pairing food with premium labels and bottles from around the world, there aren't many places like The Humble Grape Fleet Street. They'll match your wedding day menu note by note, with the help of their excellent in-house sommelier. Plus, you can directly import artisan wines to avoid extra margins from agents and distributors.
The in-house chefs can tailor the menu to suit your taste, as everything is freshly prepared and sustainably sourced for your wedding day. This Islington wedding venue is very atmospheric, with its double-vaulted crypt ceilings beneath the ancient St Bride's church.
It's a hidden secret in the heart of the city, and a place you'll likely to revisit for anniversaries to come. The in-house wedding and events team are hugely passionate about the venue. They make sure that every Humble Grape wedding one to remember.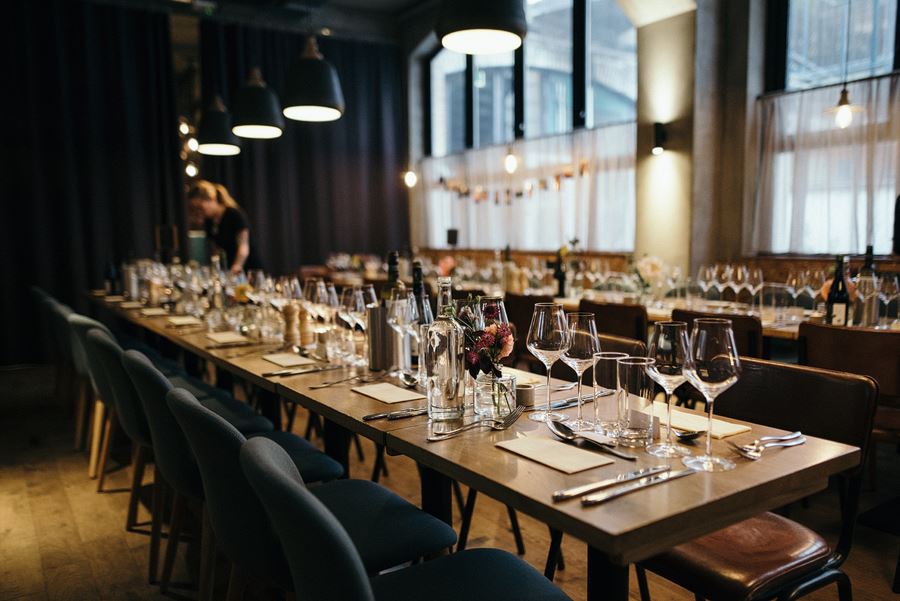 Event spaces
Exclusive hire of the venue. Tucked beneath a historic church, Humble Grape Fleet Street has a cosy atmosphere and a sense of occasion. Featuring exposed brick walls, vaulted ceilings and distinct areas for a standing reception and dining, you can layout the room in any way you like.
Key Features
Trendy yet historical setting, with a capacity for up to 80 seated guests
Customisable British menu using fresh, sustainable ingredients
Humble Grape Fleet Street has been an independent wine-merchant since 2009, importing handcrafted wines from around the world
The in-house wine experts deliver an outstanding wine experience, paired to your wedding day menu
Dedicated events team to ensure everything runs smoothly and effortlessly
Visit the Humble Grape Fleet Street's Website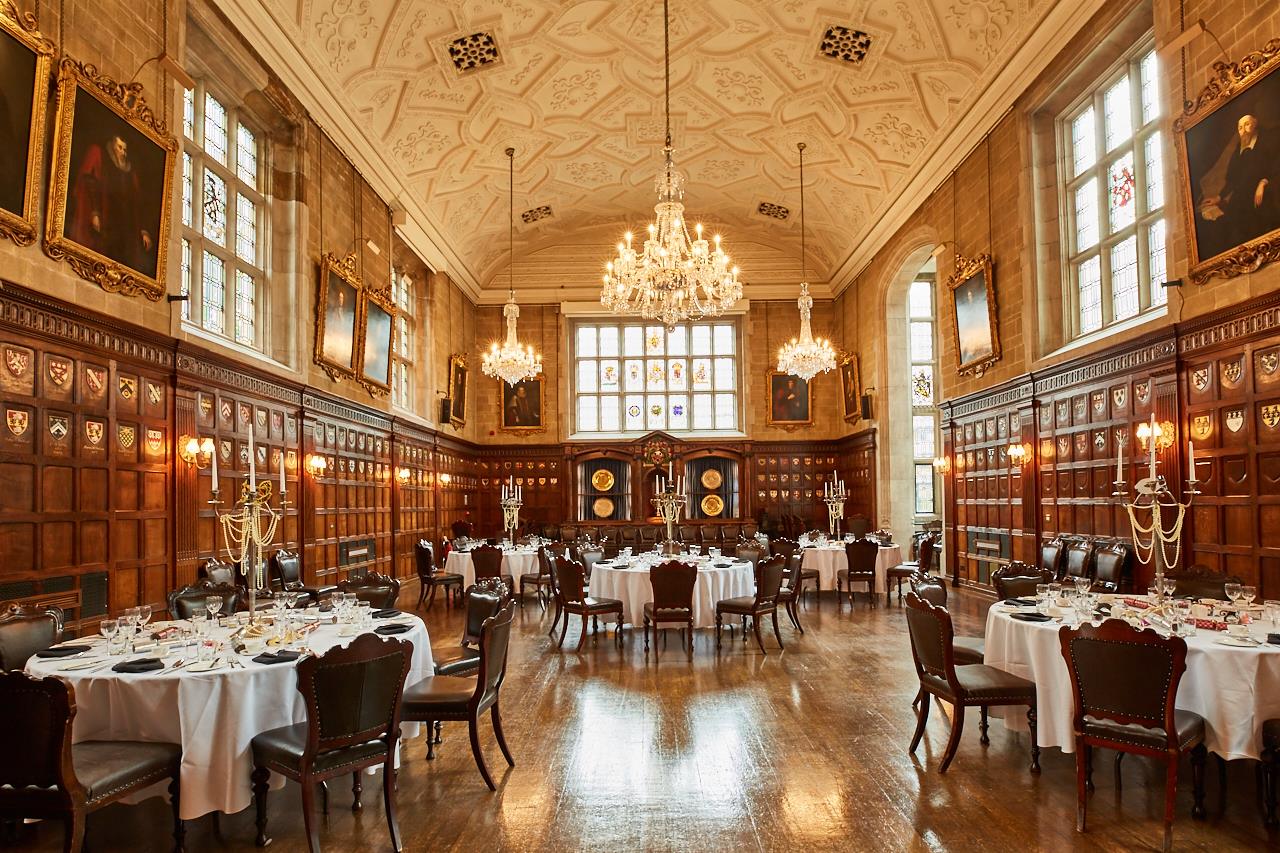 Ironmongers' Hall has seen centuries of charity balls and stately functions. Your wedding day could be the next exclusive event to become a part of its history. The striking architecture is regal yet not stuffy, and the warmth of the interior is inviting in all seasons.
Built in the Jazz Age, Ironmongers Hall is decorative in style. Still, it's not overbearing, so you can add your florals and decorations to give it a personal stamp. What's more, with exclusive hire, you'll have the entire venue at your disposal, including the charming courtyard which is a rarity given its central location.
Ironmongers Hall is fully licensed for ceremonies and makes a stunning backdrop to weddings for up to 150 guests. The grand staircase, the fountain in the courtyard, and the four unique function rooms provide a magical setting for a memorable London wedding.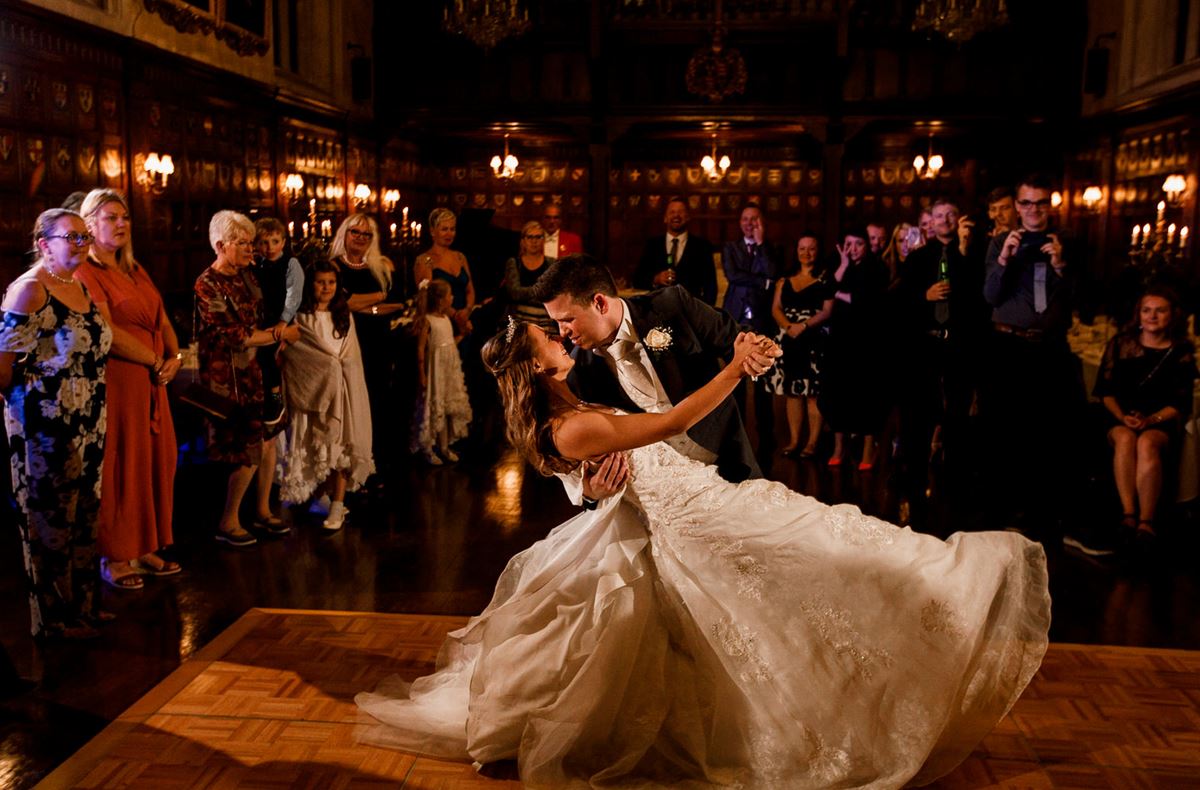 Event Spaces
The Banqueting Hall. The large, beautiful room will capture your imagination and send you back to the 1920s. Its impressive high ceilings, stained glass windows, opulent chandeliers and Minstrels gallery look like they're from the scene of a fairy tale.
The Drawing Room. This elegant room on the first floor is one of the most versatile for up to 60 people for wedding receptions. It's proud to be the home of the largest William Morris tapestry in the country, as well as a historic fireplace and bookcases displaying unique heritage artefacts.
The Court Room. This ground floor events space for up to 60 guests boasts an abundance of natural daylight that floods through the magnificent stained glass windows. The decorative plasterwork on the ceiling is another characterful feature, and it was featured in Harry Potter.
The Luncheon Room. This atmospheric room showcases wooden panels, an antique Turkish carpet and classical regency furniture. The enormous stained glass windows add further light and impact, and they look over the quaint courtyard outside.
Key Features
Excellent audiovisual equipment and desirable acoustics for speeches and music
Room for 60 to 150 seated guests
Exclusive use of the entire venue
Private outdoor courtyard space
Dedicated Events Team to guide you through planning and decision making
A wide range of menus and catering options are available
Visit the Ironmongers' Hall Website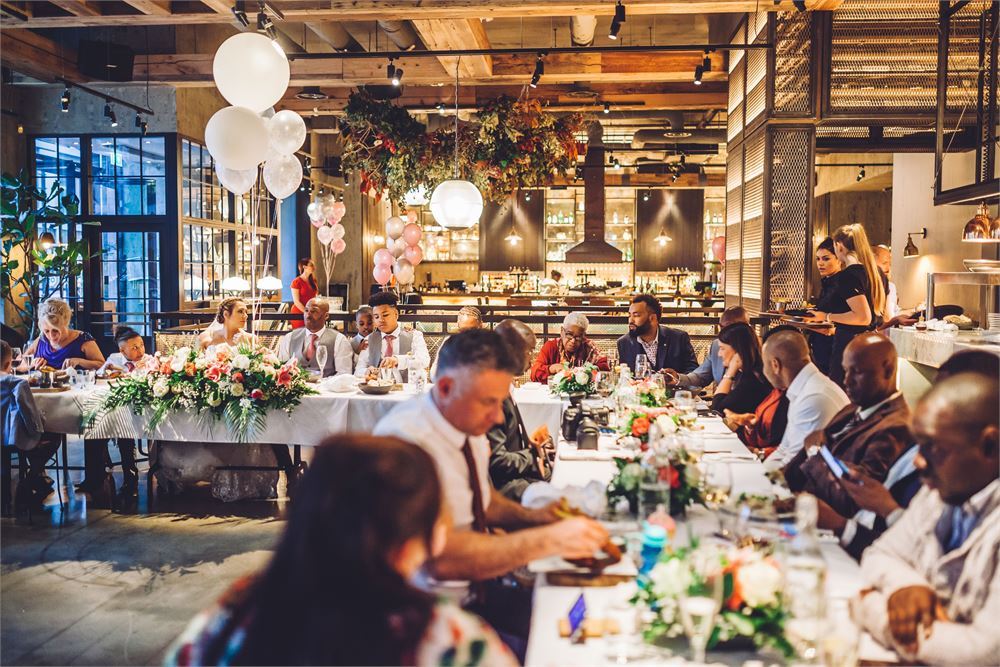 Rustic yet refined, The Kitty Hawk is an inviting Islington wedding venue that welcomes artistic couples who prioritise great food and an unfussy social ambience. This restaurant venue in the heart of the city is easy to get to, and it has a fabulous in-house wedding team to help you plan every detail.
The interior is the epitome of laidback luxury, where guests can mingle and move freely amongst the atmospheric open-plan space. The glamorous bar and warming fire pit will introduce your guests to the distinctive Kitty Hawk vibe as they walk in.
To the right, your intimate ceremony and wedding breakfast can take place. With an elegant curtain to divide the venue, the events team can subtly transform the space whilst your guests are enjoying custom cocktails in the bar area.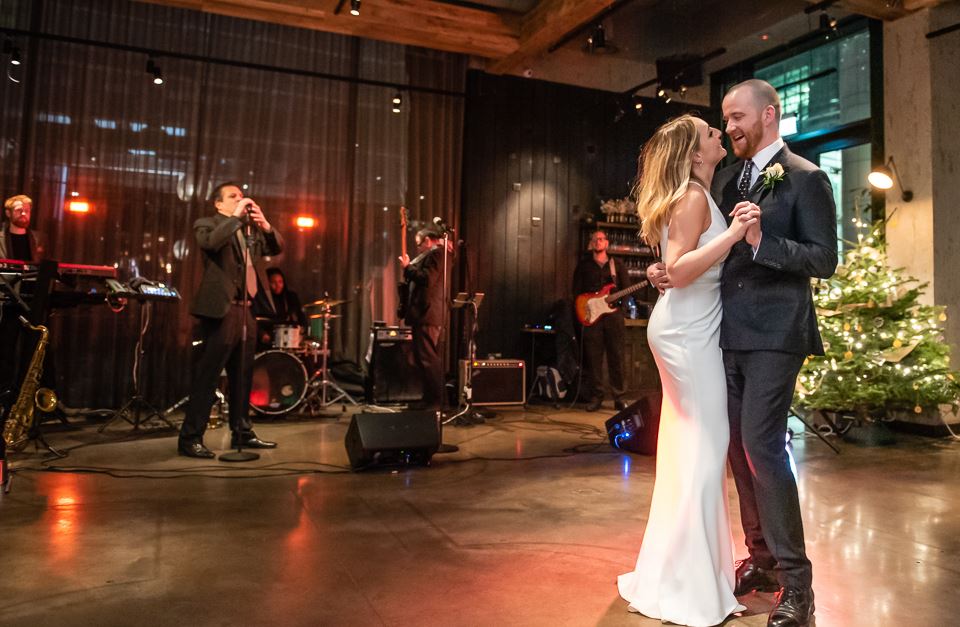 Event Spaces
Exclusive use of the entire venue. This versatile space offers couples a contemporary and slick interior where decor and wedding design options are limitless. The Kitty Hawk can prepare weddings of all sizes, from 250 guest standing receptions to seated banquets for 80.
Key Features
Located in Liverpool Street
Capacity for up to 80 seated and 250 standing
Licensed for wedding ceremonies
Atmospheric fire pit and flexible floor plan
Delicious and bespoke in-house menu freshly prepared using the finest ingredients
A dedicated events team to bring your wedding day dreams to life
Visit The Kitty Hawk's Website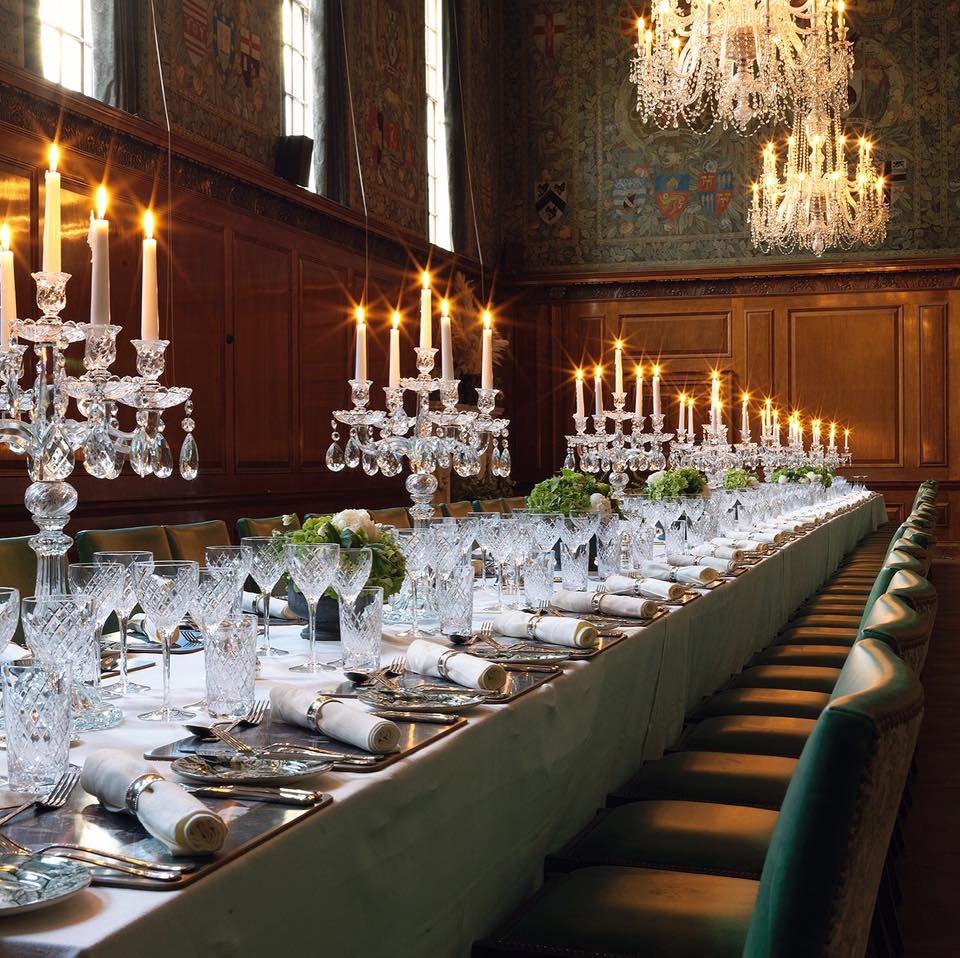 Iconic in name and location, guests travel the world over to visit this magnificent members' club in the heart of the city. Conveniently located mere moments from Bank station, this former Midland Bank is now a stylish oasis with nine restaurants occupying the banking counters and an array of private function spaces on the sixth floor.
The acclaimed architect, Sir Edwin Lutyens, designed The Ned, and its name is an ode to his legacy. The interiors have been miraculously restored to respect the Grade I listed features, making it a unique and timeless setting for a wedding. The glamorous Art Deco design is ever-present, and each function room is steeped in historical significance.
There is also a beautiful outdoor terrace with a spectacular view of the Shard and St Paul's Cathedral. What better setting to kick off an unforgettable Islington wedding? With an expert team at your disposal, they'll bring the creativity, experience and passion needed to make your wedding day a real success.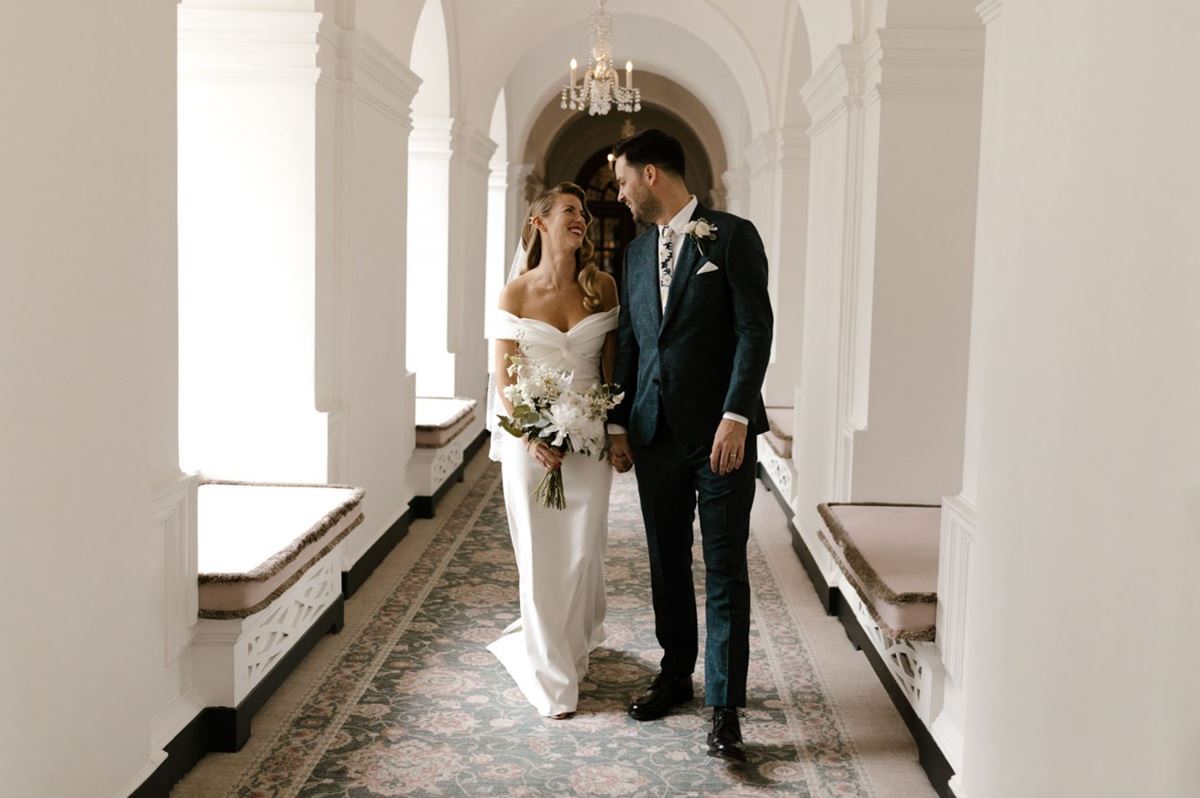 Event Spaces
The Tapestry Room. This jaw-dropping restored space feels as though time has stood still. It's a timeless and atmospheric room with polished walnut panelled walls, Herringbone floors, and a remarkable tapestry that encases the entire upper walls. It fits 120 seated guests.
The Saloon. This was initially the Director's meeting room and its decadent in every detail. The regal pillars, high ceilings and feature fireplaces make it a remarkable and tasteful space to host your ceremony for 70 guests. The natural light glitters on the opulent chandeliers.
Key Features
One minute walk from Bank Station
Licensed for ceremonies
Event spaces with the capacity for 70 – 120 seated guests
Private dining area in the original bank vaults
Late licence until 1am or later (DJ must finish at midnight)
252 hotel rooms for your guests, with walk-in rainforest showers and beautiful interiors.
The Ned exudes a 1920s Jazz Age appeal
The Ned Spa offers massages, beauty treatments, male grooming and hairdressing
Visit The Ned's Website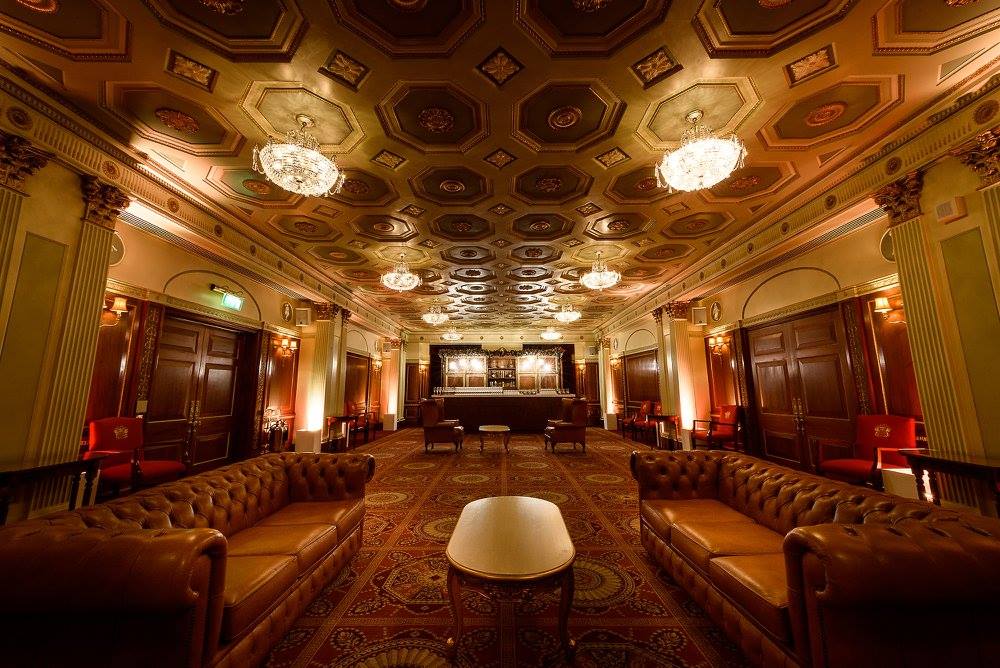 History, prestige and old-world glamour make Plaisterers' Hall a unique wedding venue in Islington. This ancient Livery Hall is a custodian of heritage and tradition and forms a stately backdrop to any wedding day celebration.
Located at One London Wall, between the City of London and the West End, Plaisterers' Hall is the largest remaining Livery Hall in central London that boasts original neoclassical architecture. The opulent chandelier speckled interiors combine with integrated AV equipment and customisable LED lighting to give the venue a touch of the old and the new.
The transport links are just as desirable too, with Moorgate, Barbican and St Pauls stations a short walk away. It's an accessible venue in Islington that's worth checking out if you're after a versatile yet historical setting.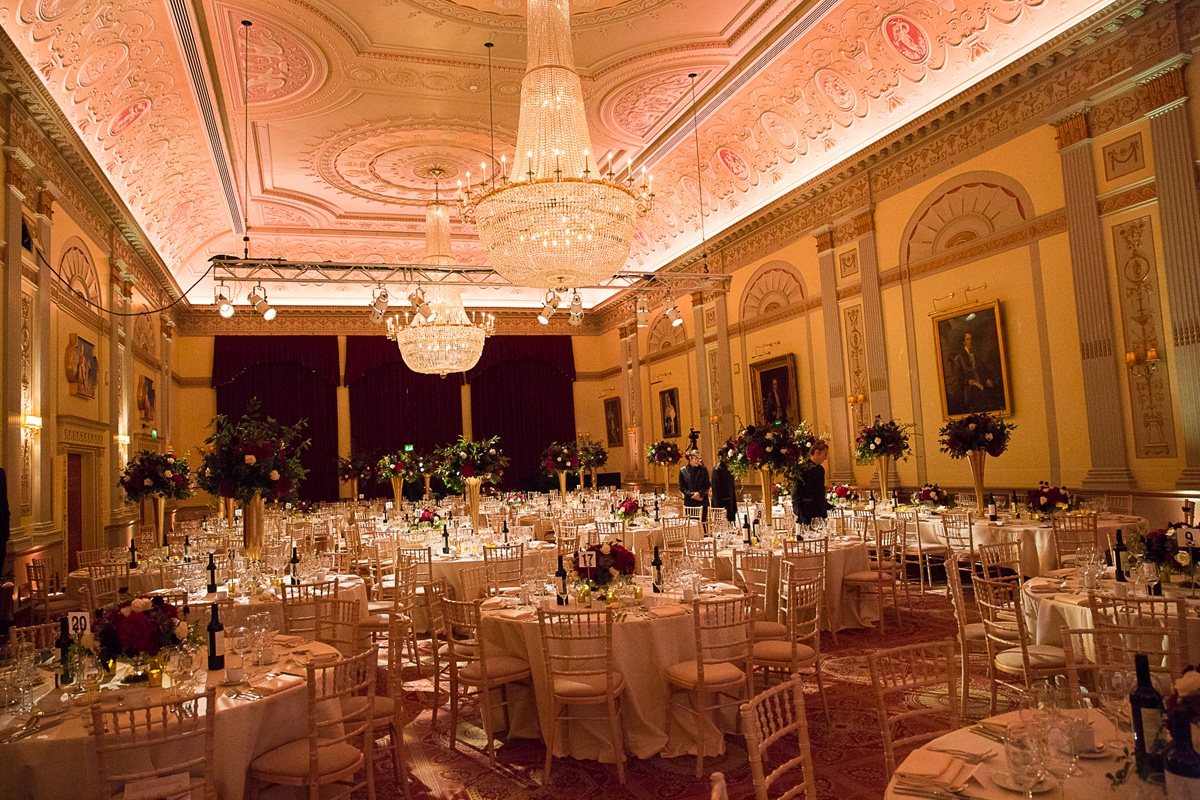 Event Spaces
The Great Hall: Majestic and impressive, The Great Hall will bring lasting memories on your wedding day. The room is licensed for ceremonies and can also accommodate up to 550 standing and 374 seated. The neoclassical interiors make an extraordinary backdrop.
Livery Hall: Adjacent to the Great Hall, The Livery Hall is perfect for pre-dinner drinks receptions, ceremonies or dancing for up to 70 seated guests and 220 standing.
Humber Room and Mott Room: These smaller rooms are tucked away from the main event spaces, making them the ideal break out area, bridal changing room or kid's creche. They can fit up to 22 seated guests, or you can remove the seats to store more belongings.
Key Features
Licensed for wedding ceremonies
Proximity to Moorgate, Barbican and St Pauls stations
Dedicated wedding specialists to guide you every step of the planning process
Mouthwatering menus and diverse dining packages by the trusted Create caterers
The nearest parking is at Aldersgate Street Carpark, 158-170 Aldersgate Street
Plaisterers' Hall have an accredited list of Asian and Kosher caterers who regularly work at the venue
Visit Plaisterers' Hall's Website
Still looking for your dream London wedding venue? Have a look at our full range of event spaces here.