The Kimpton Fitzroy London stands majestically in the heart of Russell Square, rising above the classical London thoroughfare and the leafy park across the road. It's a striking landmark building constructed out of terracotta stone, and the beautiful façade can quite literally stop you in your tracks. The Kimpton Fitzroy London Wedding Venue never fails to impress, and the Easy Weddings team couldn't wait to step inside again after its period of closure during the COVID-19 lockdown.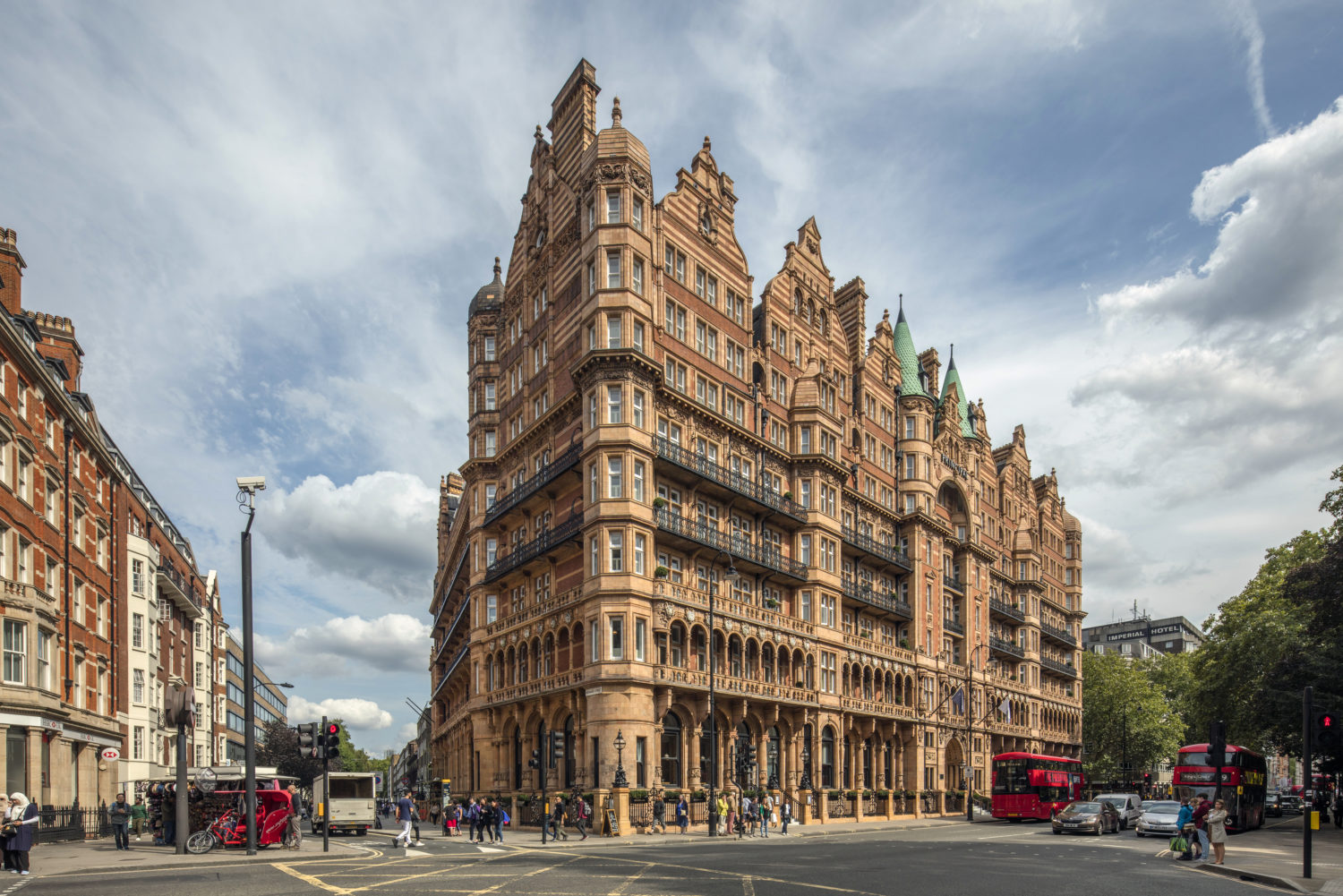 It was a rainy Friday afternoon when we arrived for a night's stay at the Kimpton Fitzroy London in Holborn. A charming, smartly dressed doorman greeted us at the entrance, assisted us with our bags and directed us through to the impressive reception area. Encased in marble, sleek wooden panels and illuminated by vintage crystal chandeliers, from the moment you arrive at the hotel, the warm ambience and friendly staff set a high standard of luxury hospitality.
The Director of Sales, Corin Stavarache, welcomed us into Palm Court, where we topped up on hand sanitiser and proceeded to wear masks until we reached our dedicated table. The Kimpton Fitzroy London has continued to prioritise the safety of guests by introducing the 'IHG Clean Promise' in partnership with world leaders in hygiene and cleaning technologies. Our team felt very reassured by their commitment to COVID-19 guidelines in all hotel areas.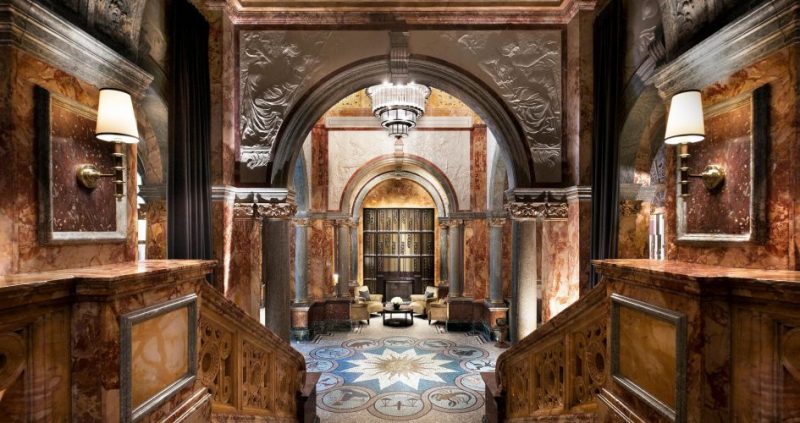 View The Kimpton Fitzroy's Website
Palm Court
Palm Court has to be one of our favourite aspects of the Kimpton Fitzroy London. It's an effortlessly glamorous bar and dining area in the centre of the hotel. Decorated with plush lounge sofas, potted olive trees and soft lighting through a glazed glass ceiling, the large conservatory-style room has a relaxed yet luxurious atmosphere.
Free-standing wooden folding screens separate Palm Court into various cosy enclaves, and two open-air courtyards bookend the room. We sank into stylish rattan chairs around a circular table, sipped champagne and were treated to delicious canapes, including arancini balls, zucchini fries, succulent olives and calamari. It's a divine space where you'd want to hang out all day, for brunch, afternoon tea or evening drinks with your best friends in tow.
The Kimpton Fitzroy London Menus: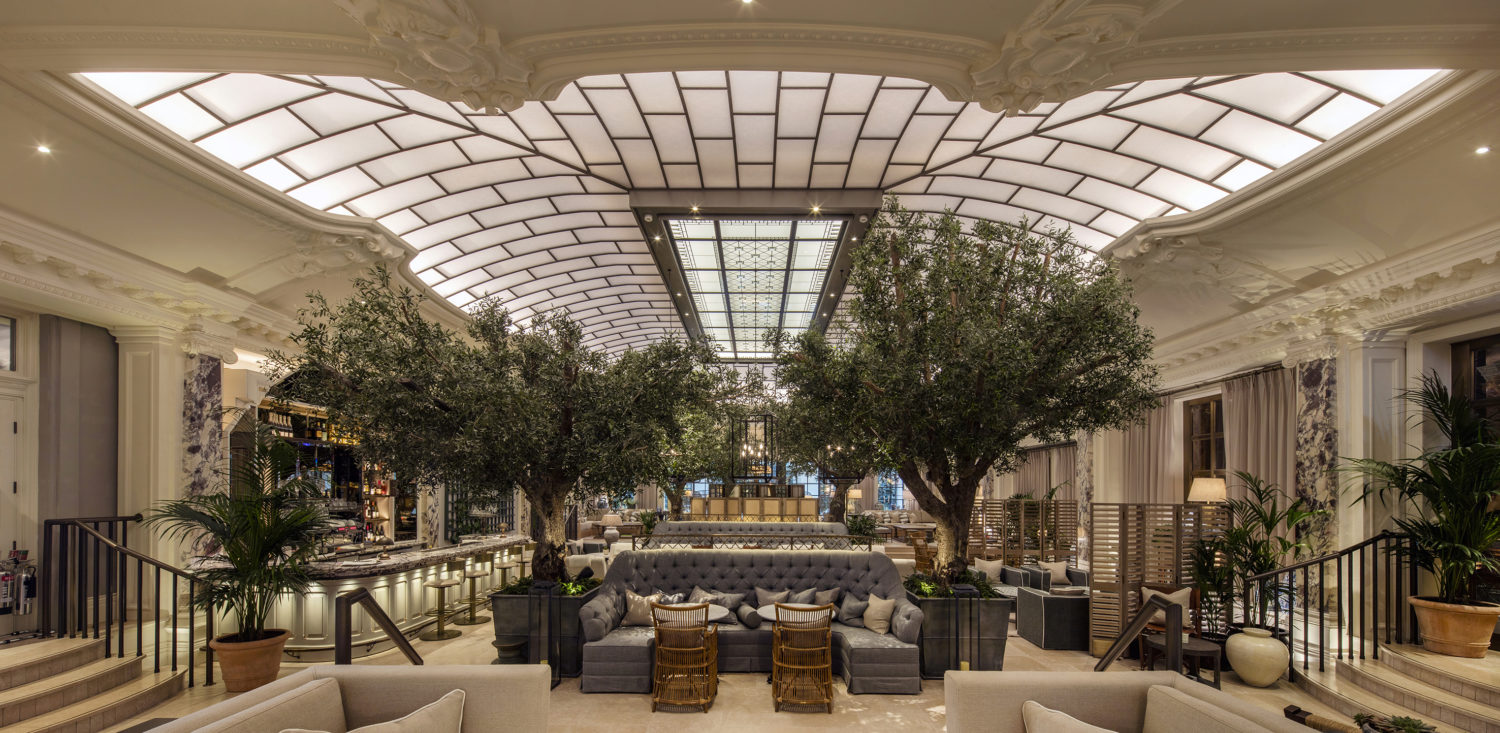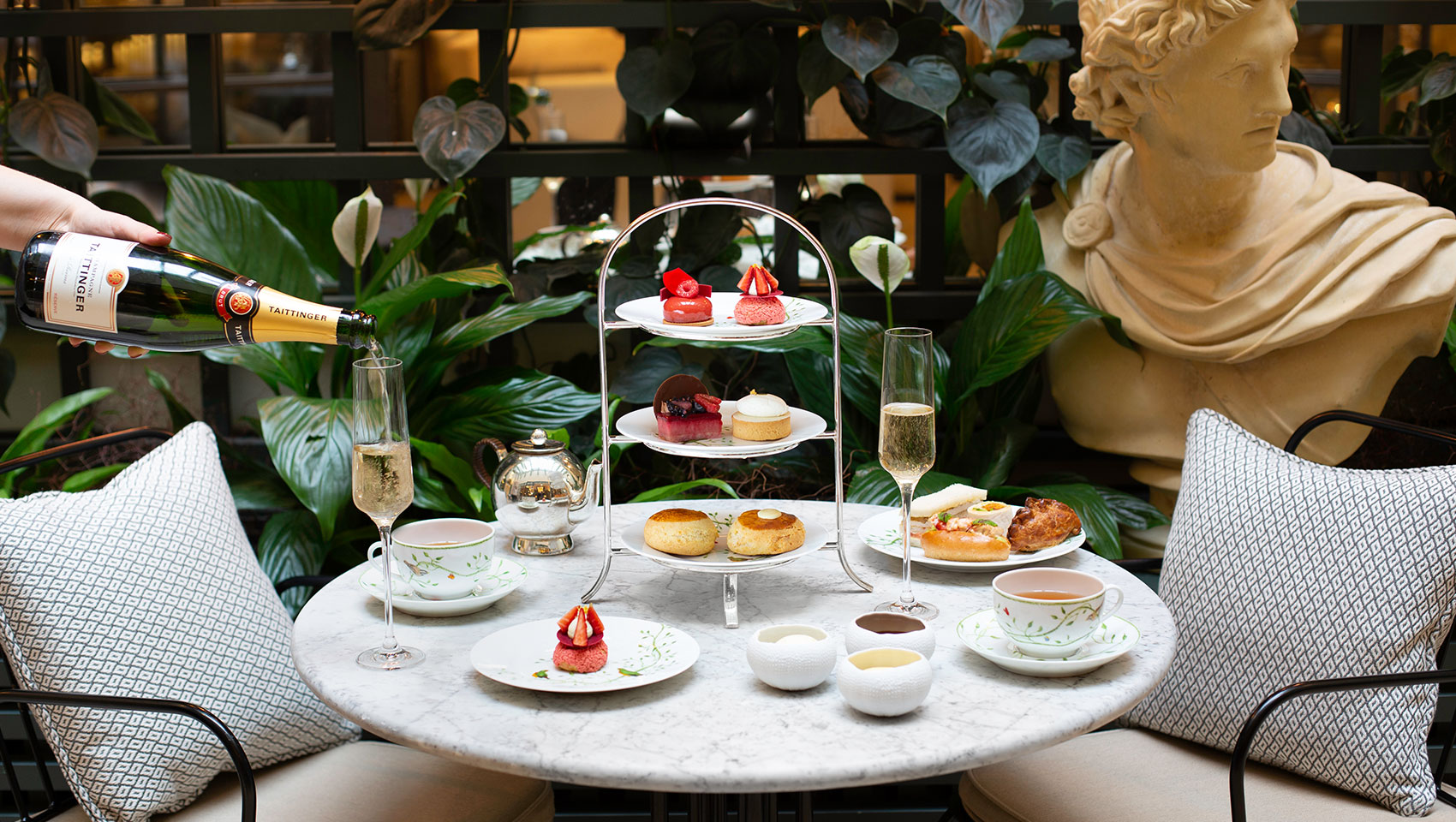 Palm Court at the Kimpton Fitzroy London
The Hotel Bedrooms
Upstairs, the Kimpton Fitzroy London's reputation as a 5-star grande dame hotel continues seamlessly. Our lavish en suite bedrooms featured two double beds with ultra-soft linens, sumptuous beige upholstery and blackout curtains, as well as retro red telephones and sophisticated wall prints. They had everything you could need for a soundless sleep.
The bathrooms were equally as dashing, with neutral mosaic floors, immaculately clean facilities and trendy industrial shower doors. At every turn, the interior design showcases a timeless mix of heritage and contemporary decor, which will maintain Kimpton Fitzroy London's status as one of the most sought-after hotel stays in the capital.
Accommodation Factfile
The Kimpton Fitzroy London has 334 guest rooms in total
They feature custom beds with 300-thread-count linens
Smart TV, Nespresso coffee maker and mini-fridge are included
Accessible rooms are available with wide paths and roll-in showers
24/7 fitness centre equipped with TechnoGym cardio machines and weights
Pet-friendly hotel with no charges or limit to the number of pets allowed
Complimentary WiFi and check out at noon (4 pm for suites)
24/7 room service and concierge
Get in touch with Easy Weddings to book your Kimpton Fitzroy London accommodation at special rates.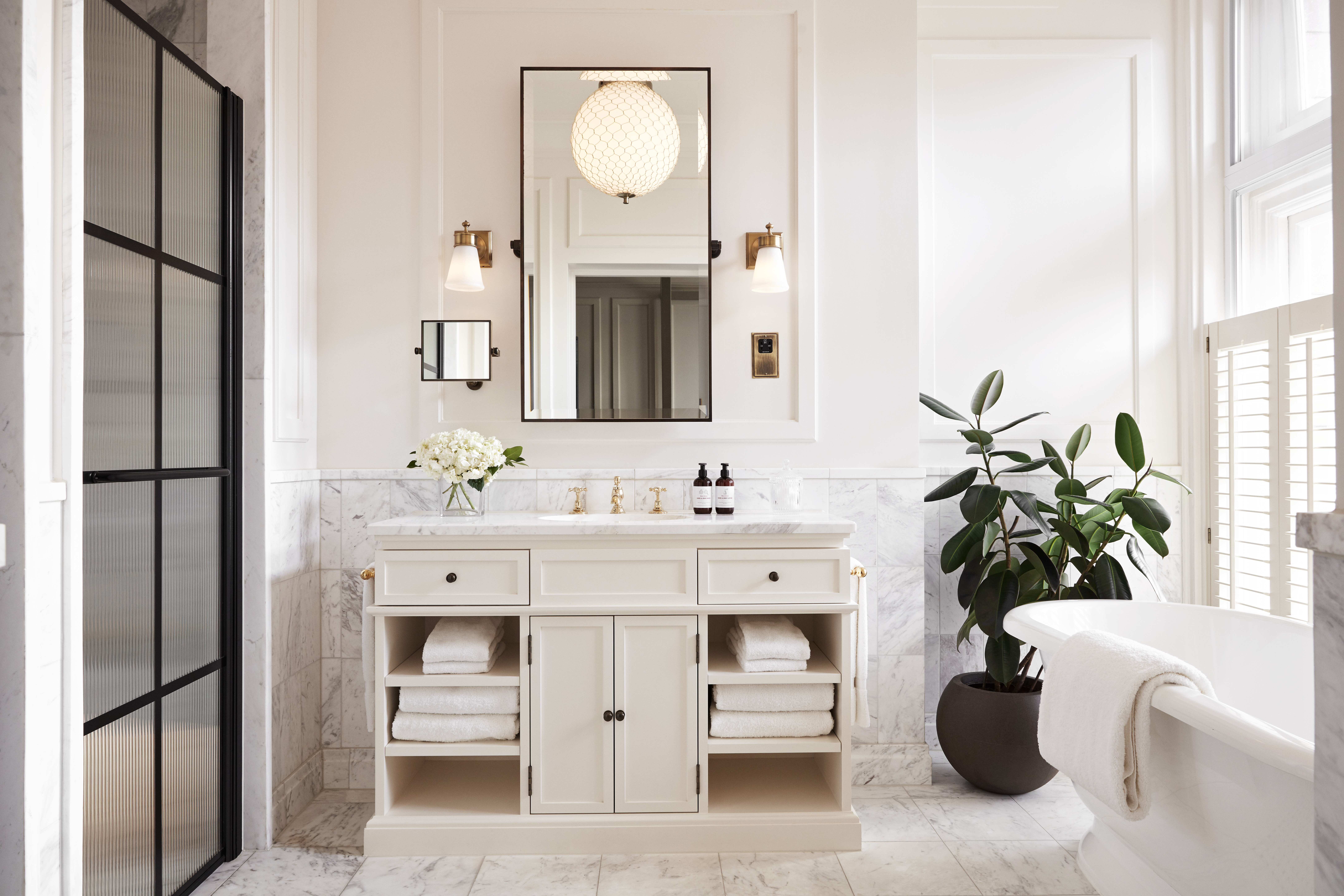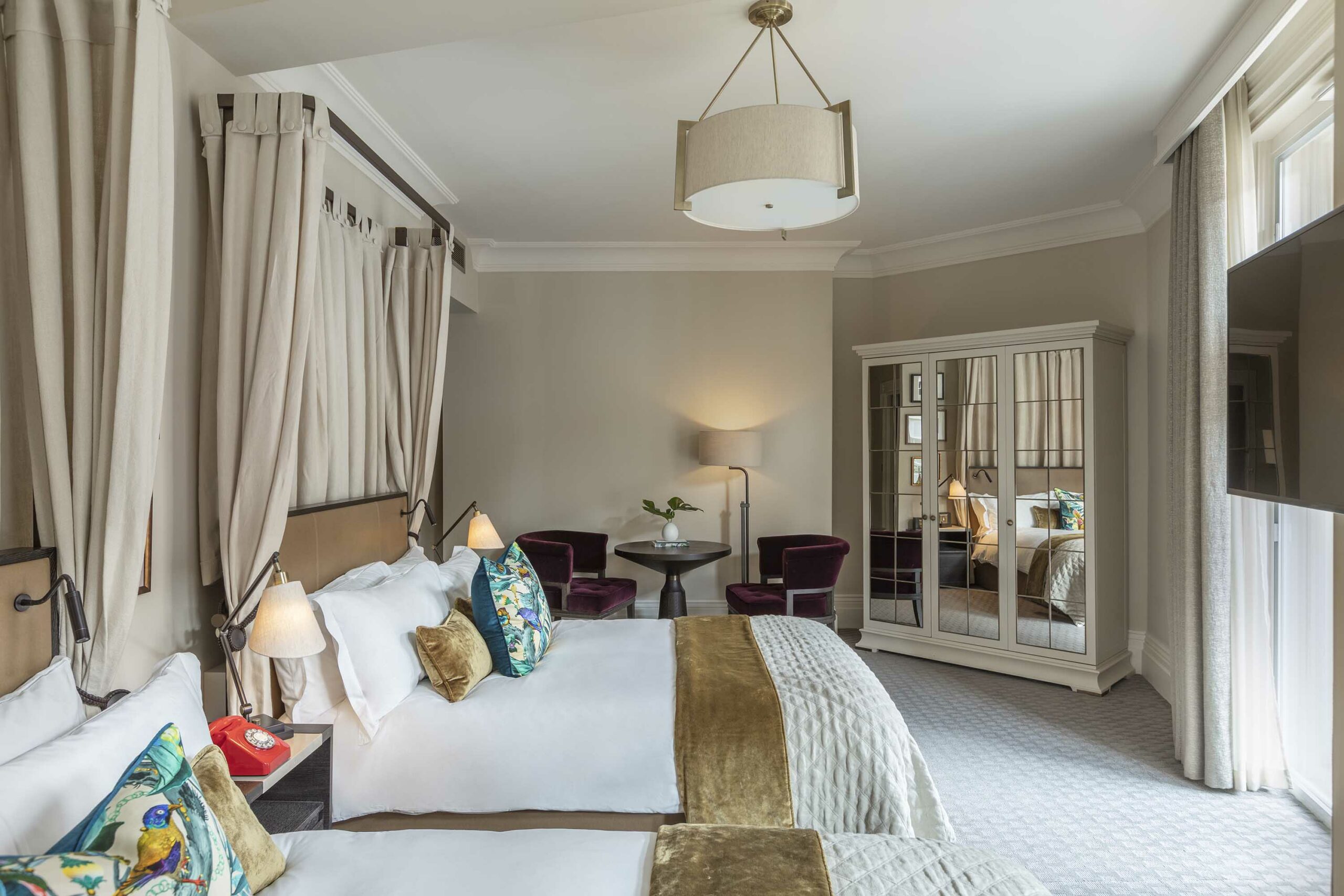 Nearby Restaurants and Activities
The Kimpton Fitzroy London's convenient location means that it's close to plenty of culinary and cultural treasures in central London. Not only is Russell Square tube station just around the corner, but you are also within walking distance to lots of restaurants and visitor attractions.
Neighbourhood Restaurants
Top Local Attractions
What the Easy Weddings team say:
'We couldn't have asked for a better stay at The Kimpton Fitzroy London at Russell Square. It truly lives up to its luxurious standards, and nothing was too much trouble. Given the current climate, the hotel was great in observing all the guidelines, and we felt very safe and secure'. – Kelly
'The Kimpton Fitzroy London hotel is very big and luxurious yet cosy and warm. The rooms are modern and spacious. The Palm Court, where we had drinks in the evening and breakfast in the morning, is beautiful!'  – Veronica
Looking to book your wedding accommodation at the Kimpton Fitzroy London? Get in touch with Easy Weddings to gain exclusive discounts on group bookings.