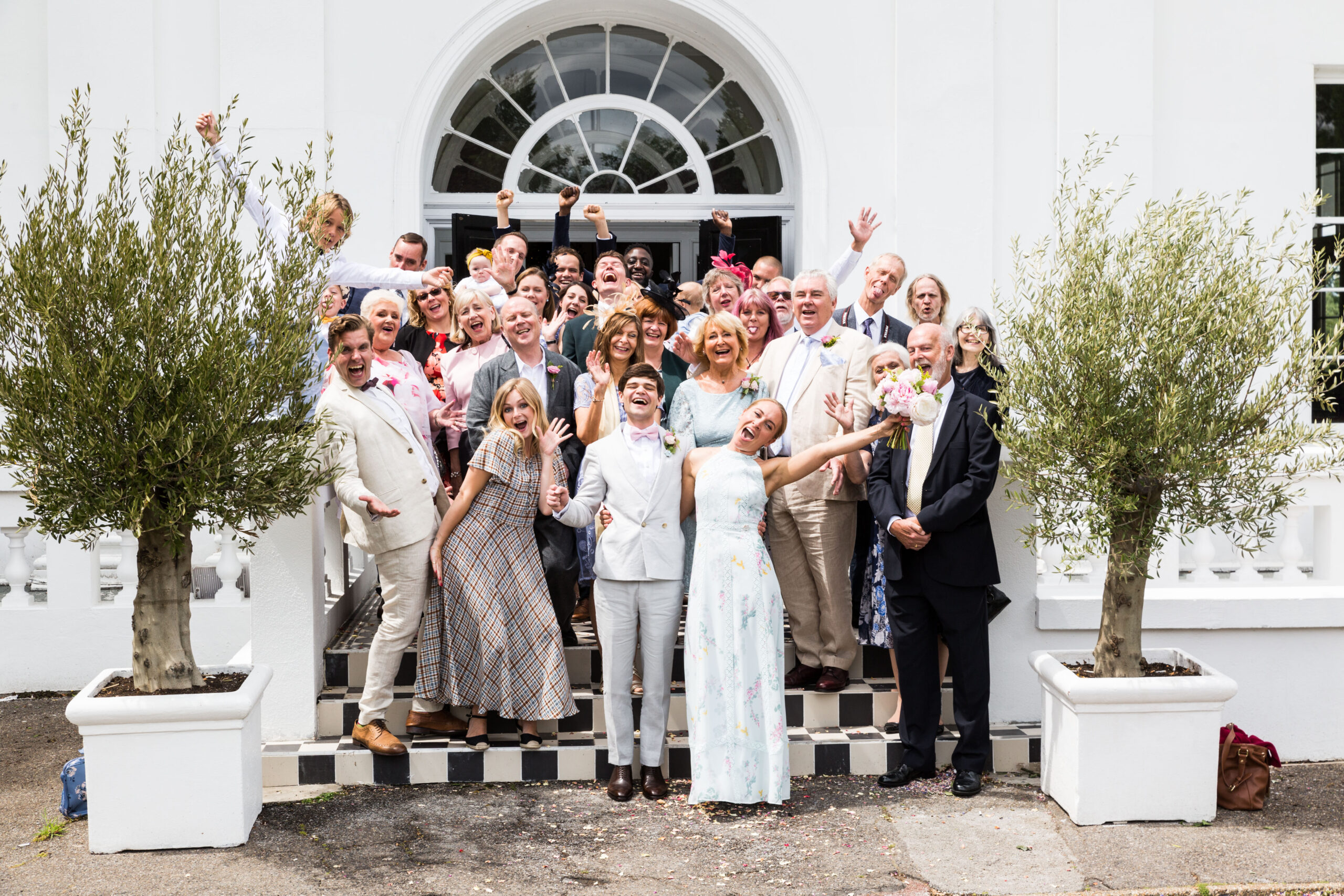 Belair House Weddings, Photography By Tash Busta
Fall In Love With This Top London Wedding Venue
At Easy Weddings, we've come to know and appreciate every little detail about the venues we work closely with. To help with your planning and preparation, we've put together a detailed guide to Belair House Weddings. Find out about the venue's location, its ceremony and reception spaces, and read an exclusive interview with the in-house Wedding Coordinator…
First of all, it's important to consider how many guests will be attending your wedding. This will help decipher which event space at Belair House would work best for your group size. It's best to try and retain a sense of atmosphere, whilst keeping some space for movement throughout the rooms.
Venue Capacity
Up to 80 Guests
Belair House perfectly fits a wedding party of up to 80 people. There are four event spaces that can happily host all of your guests at different stages of the day. To start, if you opt to have your ceremony at Belair House, The Grand Hall on the ground floor and  The Ballroom on the first floor are fully licensed to accommodate an 80-person civil wedding ceremony. Both spaces can also be turned over for your wedding breakfast whilst you and your guests enjoy a drinks reception at either of the venue's bars (The Main Bar and Terrace on the ground floor, or The Gallery Bar on the first floor). This flexibility allows you to hire either one floor or both, dependent on your budget and preference.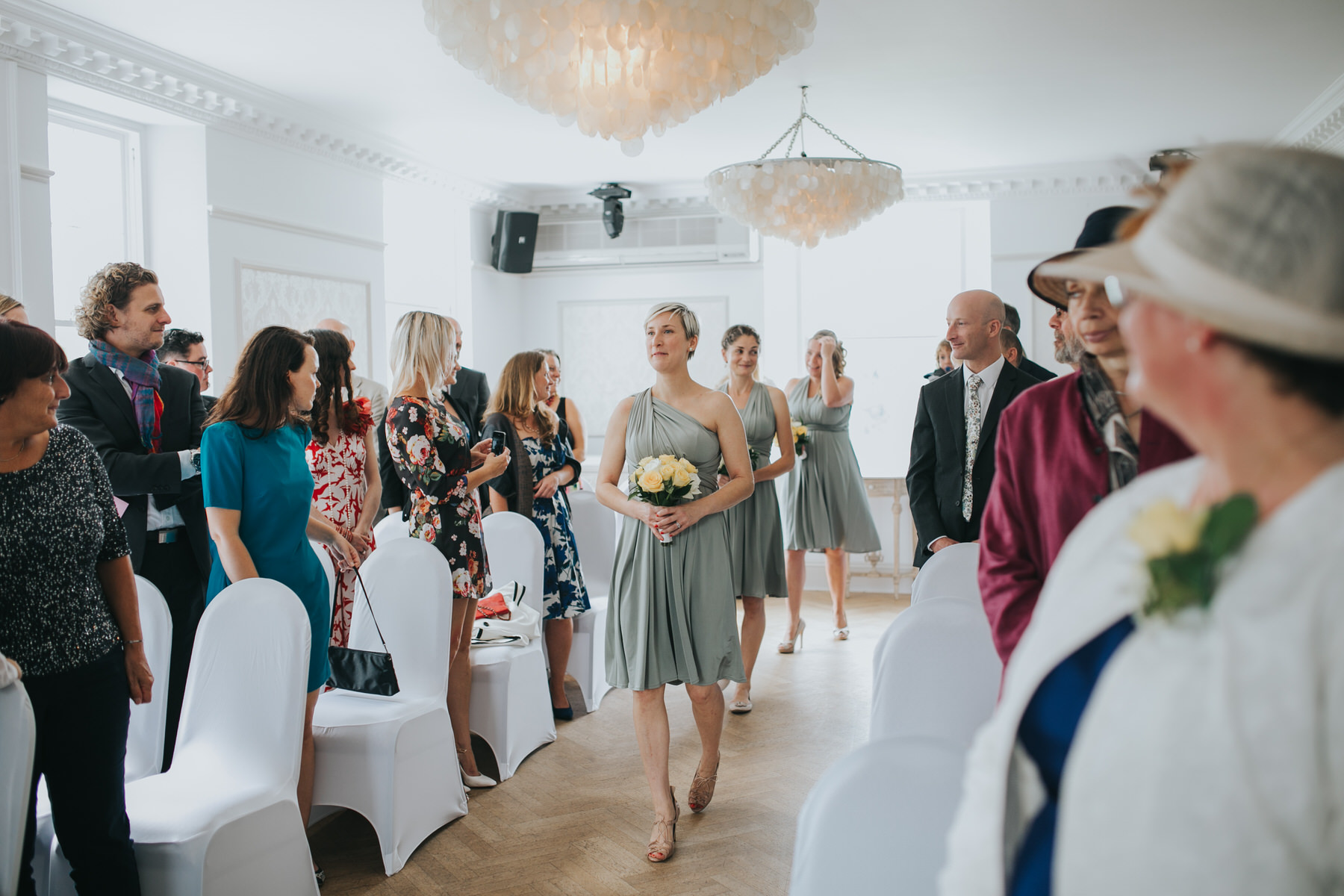 Ceremony in The Ballroom, Belair House weddings, Photography by Yolande De Vries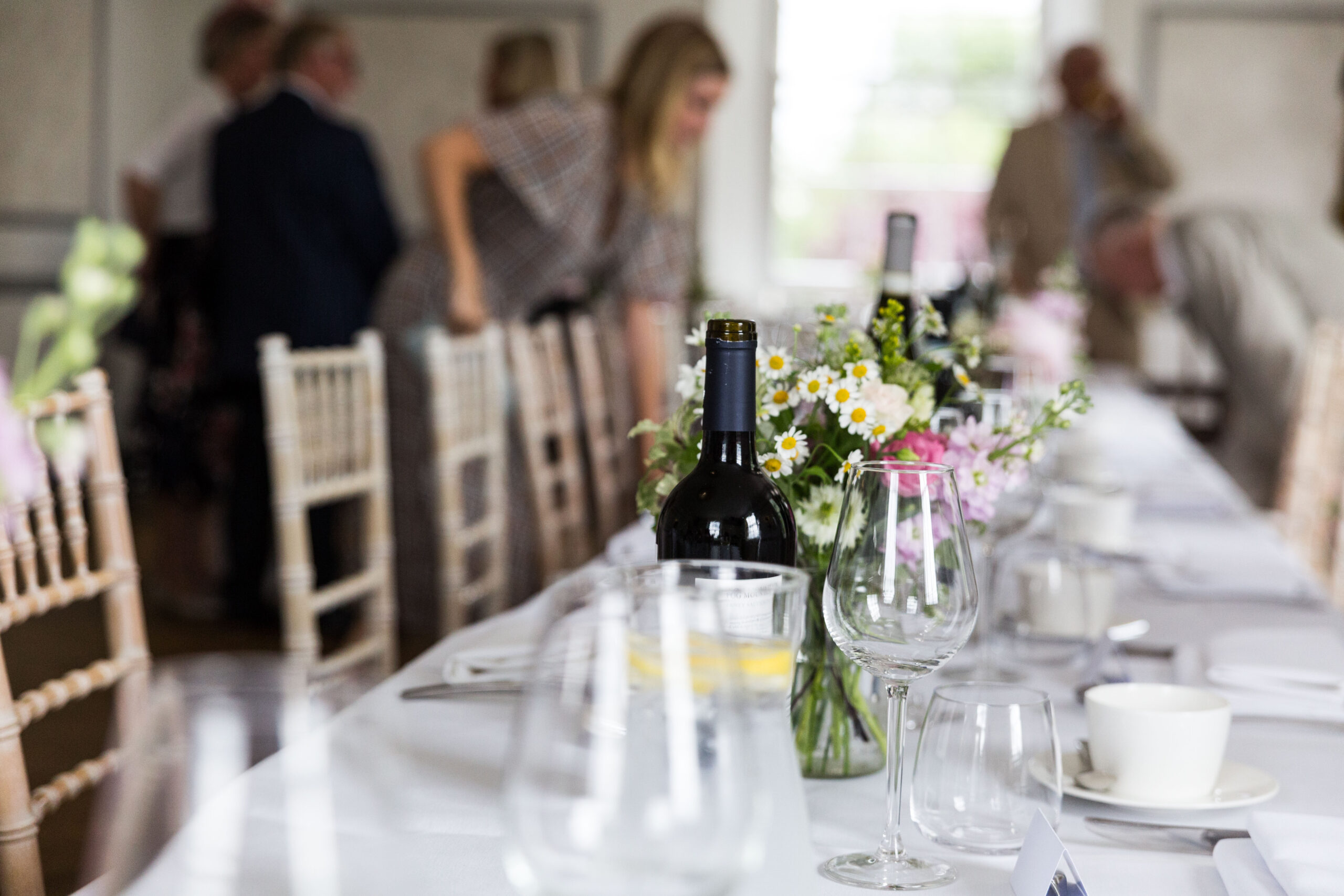 Wedding breakfast in The Ballroom, Belair House weddings, Photography by Tash Busta
80 to 200 Guests
If you have more than 80 guests, Belair House can easily accommodate your larger group with an on-site marquee. Positioned on the front lawn, the large blank canvas means that your imagination becomes your only limitation. From whimsical floral displays to chic wintry chair covers, the aesthetic is yours to design. There is also plenty of room for any layout, whether you prefer rows or rounds of tables, along with a stylish dance floor. Another great aspect of the marquee is that it's heated. This means that come rain or shine, your guests will be comfortable in all seasons. One thing to note is that the outdoor licence ends at 11pm, but not to worry, as your guests can wander inside to party on until 2am.
Wedding breakfast in The Marquee, Belair House Weddings
Click here to visit the Belair House website
Top Photo Locations for Belair House Weddings
When it comes to wedding photography, every bride and groom want to know they are in trusting hands. There are some beautiful backdrops in and around Belair House that will capture the emotion and excitement of your day. Favourites include a regal pose on the sweeping red central staircase, a confetti-laden photo outside the front porch, a romantic frame with the manor house in the background, or photographs of the bride and groom roaming around the lush rose speckled grounds of Belair Park. Have a browse below to see the stunning photo opportunities available at this top London wedding venue in Dulwich.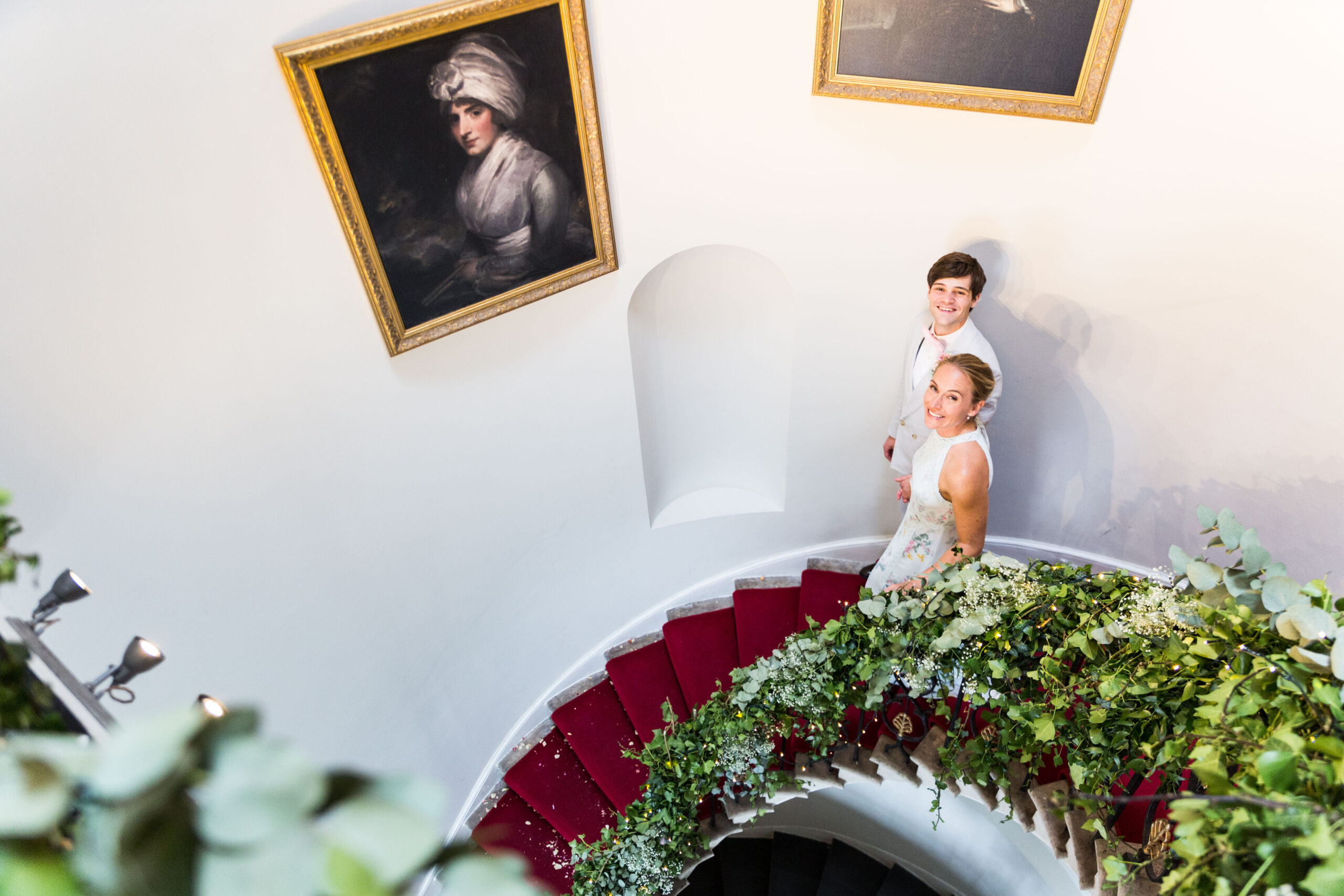 The red carpet staircase, Belair House weddings, Photography by Tash Busta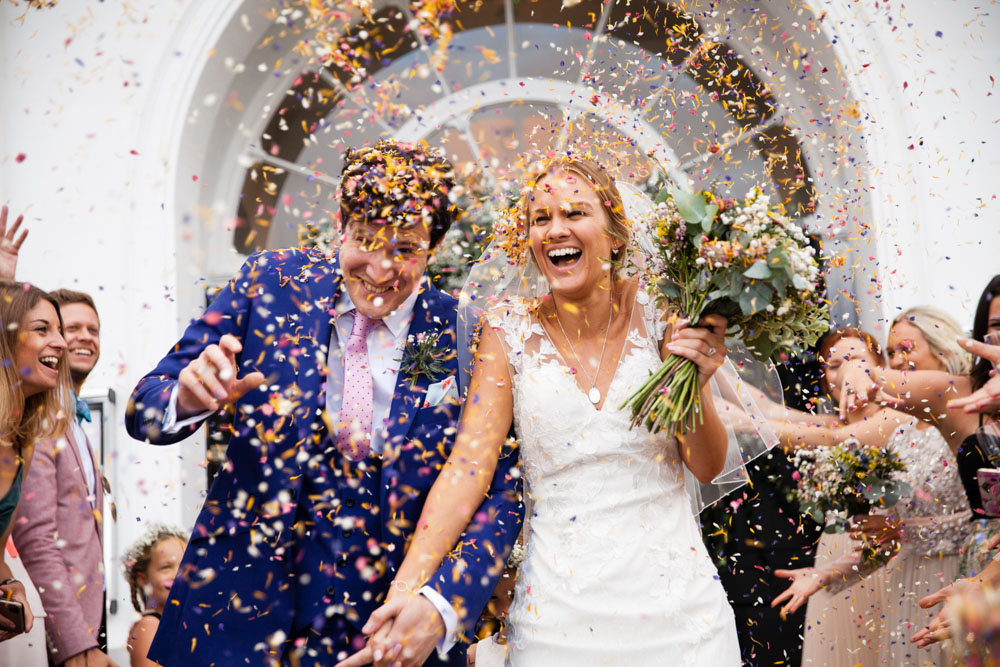 Confetti photography outside the front porch, Belair House weddings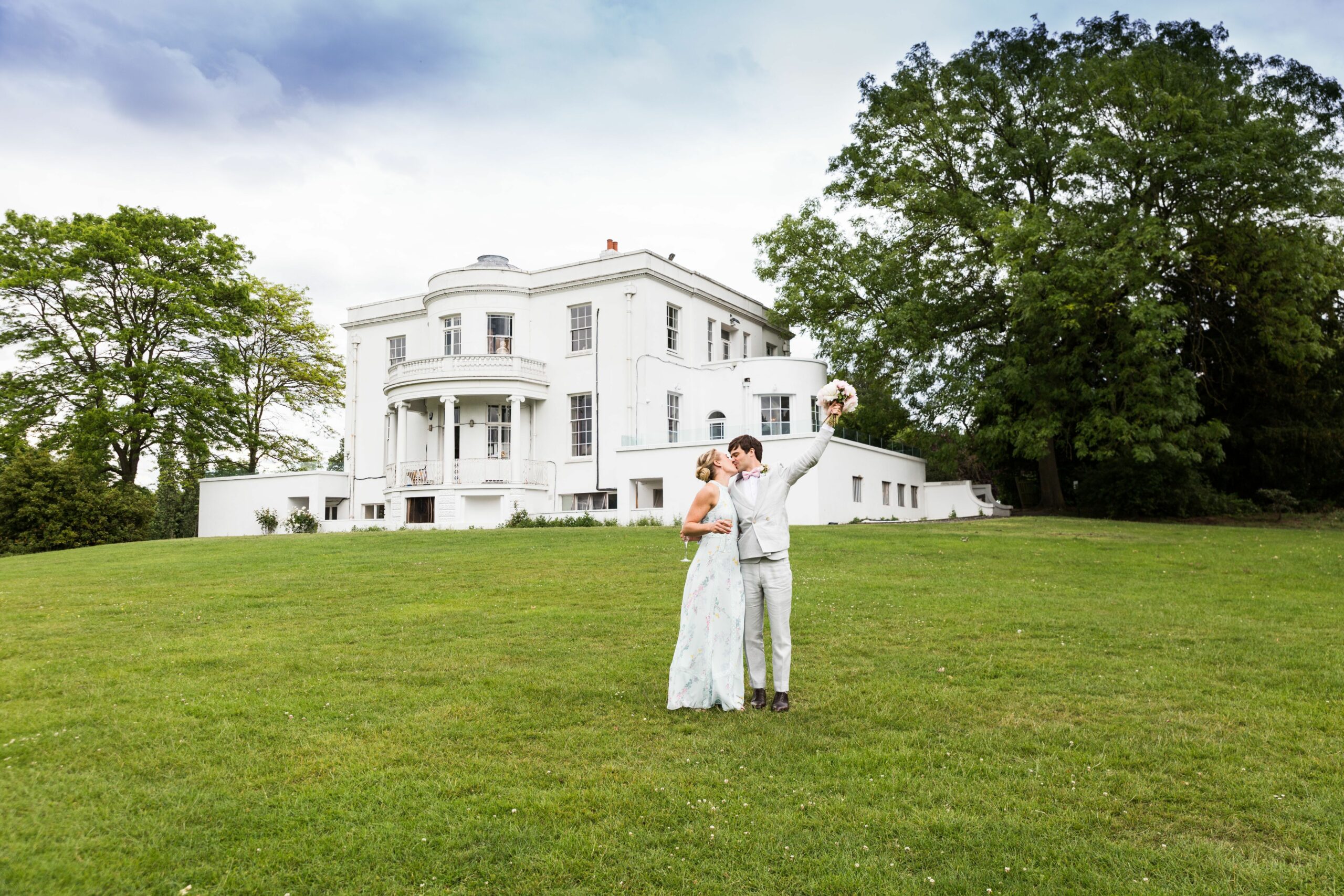 The manor house as a backdrop, Belair House weddings, Photography by Tash Busta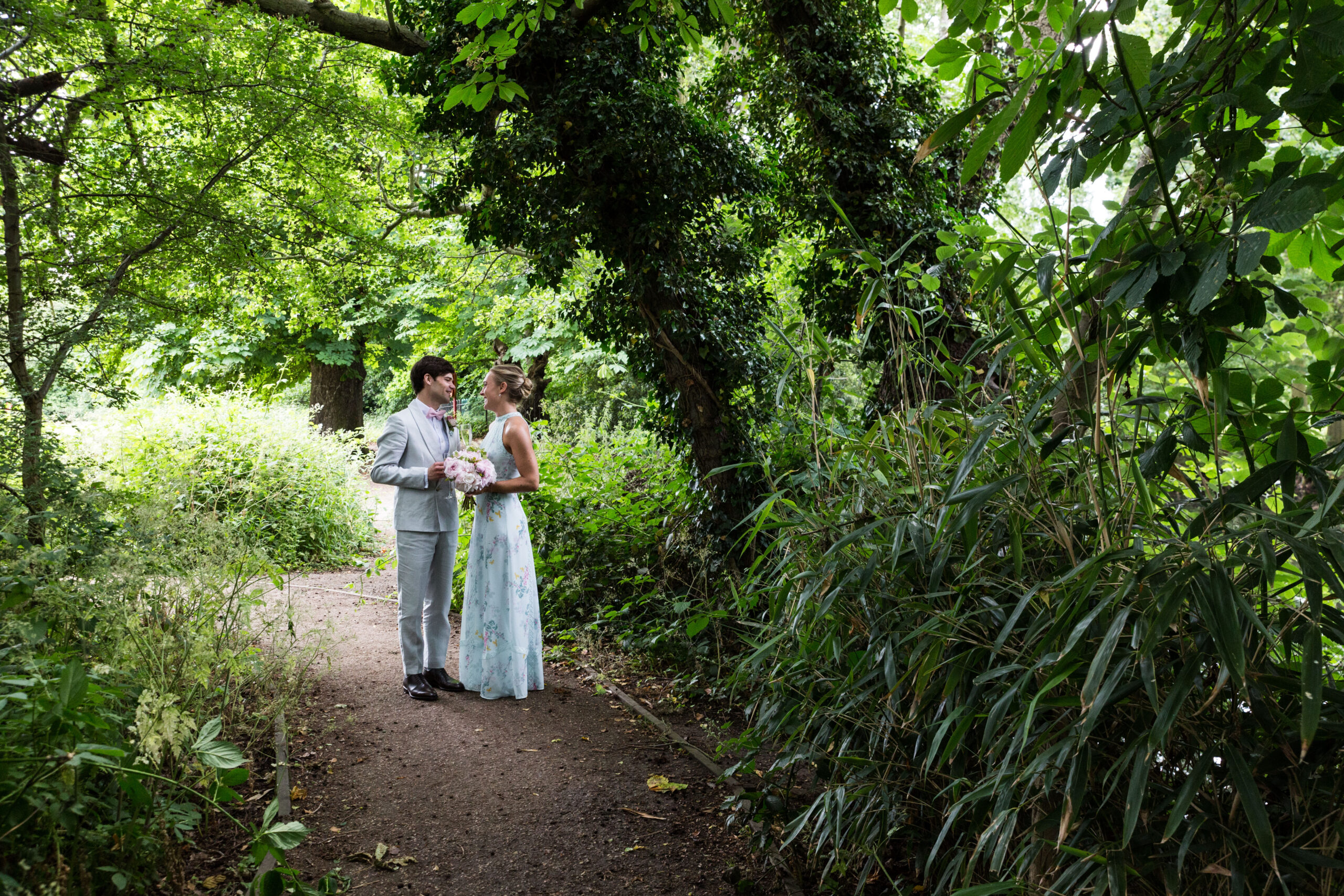 Photo in Belair Park, Photography by Tash Busta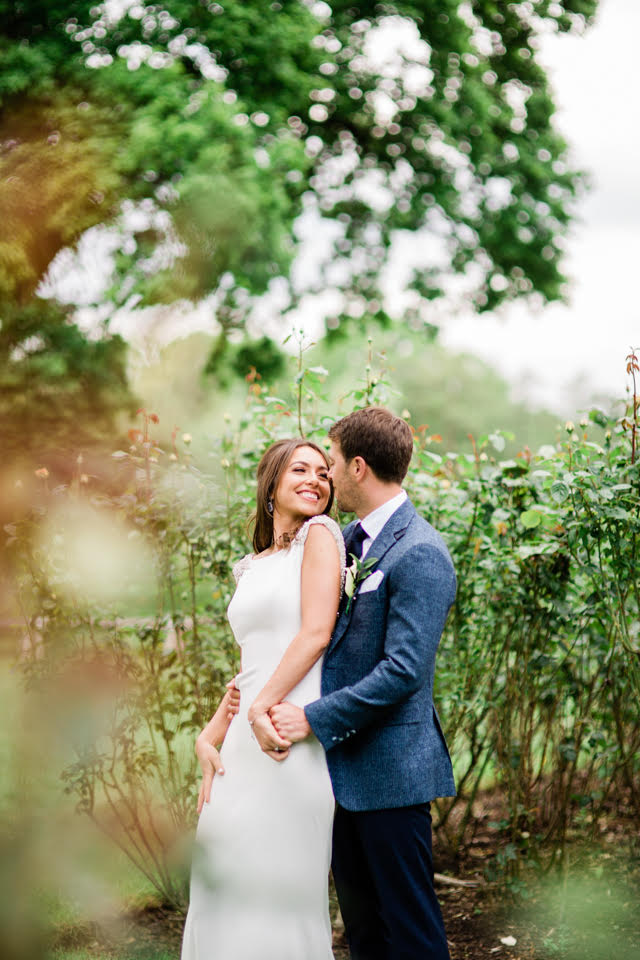 Photo in Belair Park, Photography by Katie Roberts, Fringe Photography
Click here to visit the Belair House website
Food For Thought
Belair House weddings are fully catered by the professional in-house chef and hospitality team. They will work with you to create a menu that reflects your tastes and dietary requirements. There is also an entire vegan and kid-friendly menu. The extensive options cover seasonal British dishes, from delicious canapés and a full three-course wedding breakfast to bowl food in the evening. Unfortunately Belair House don't allow outside catering but their applauded variety of dishes are fit for all budgets. Book your tasting today on 0203 740 1228.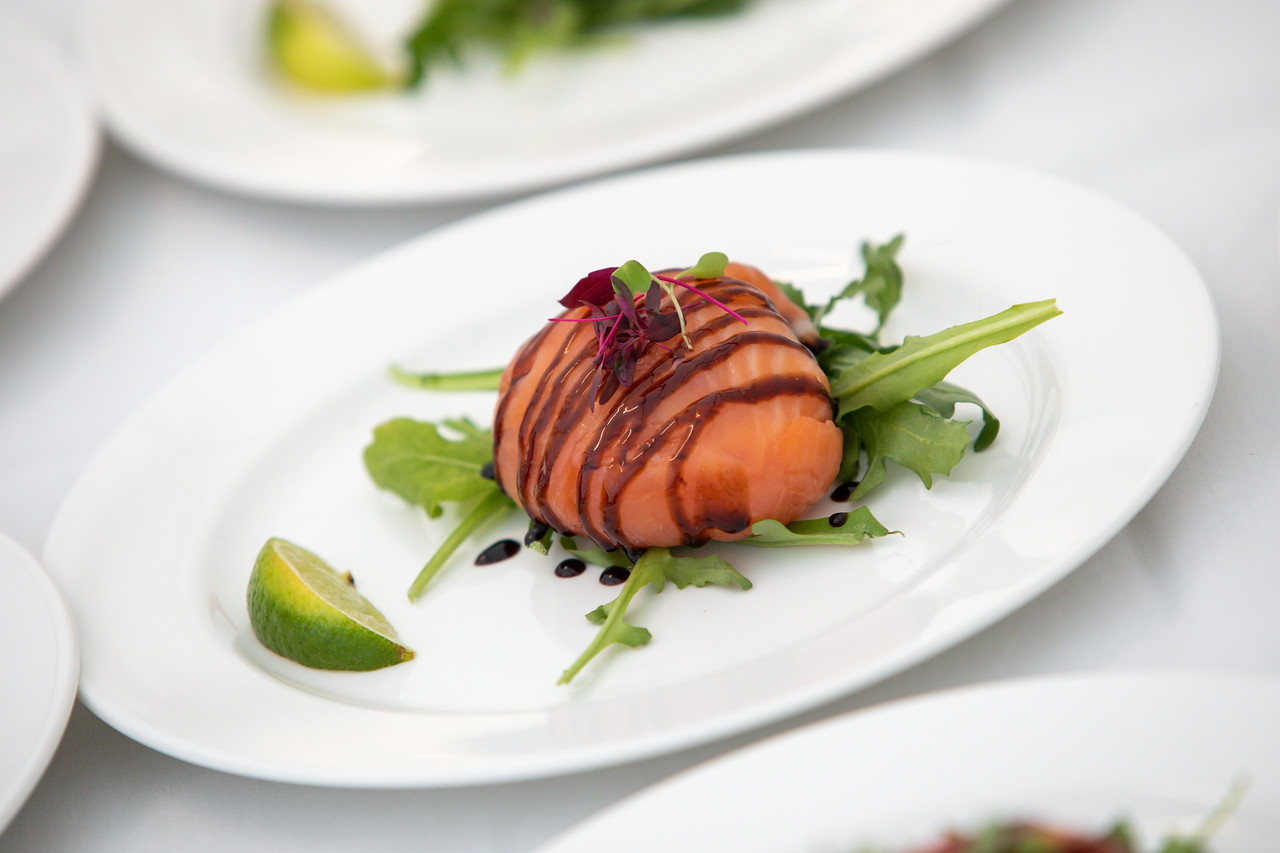 Belair House Wedding Catering Starter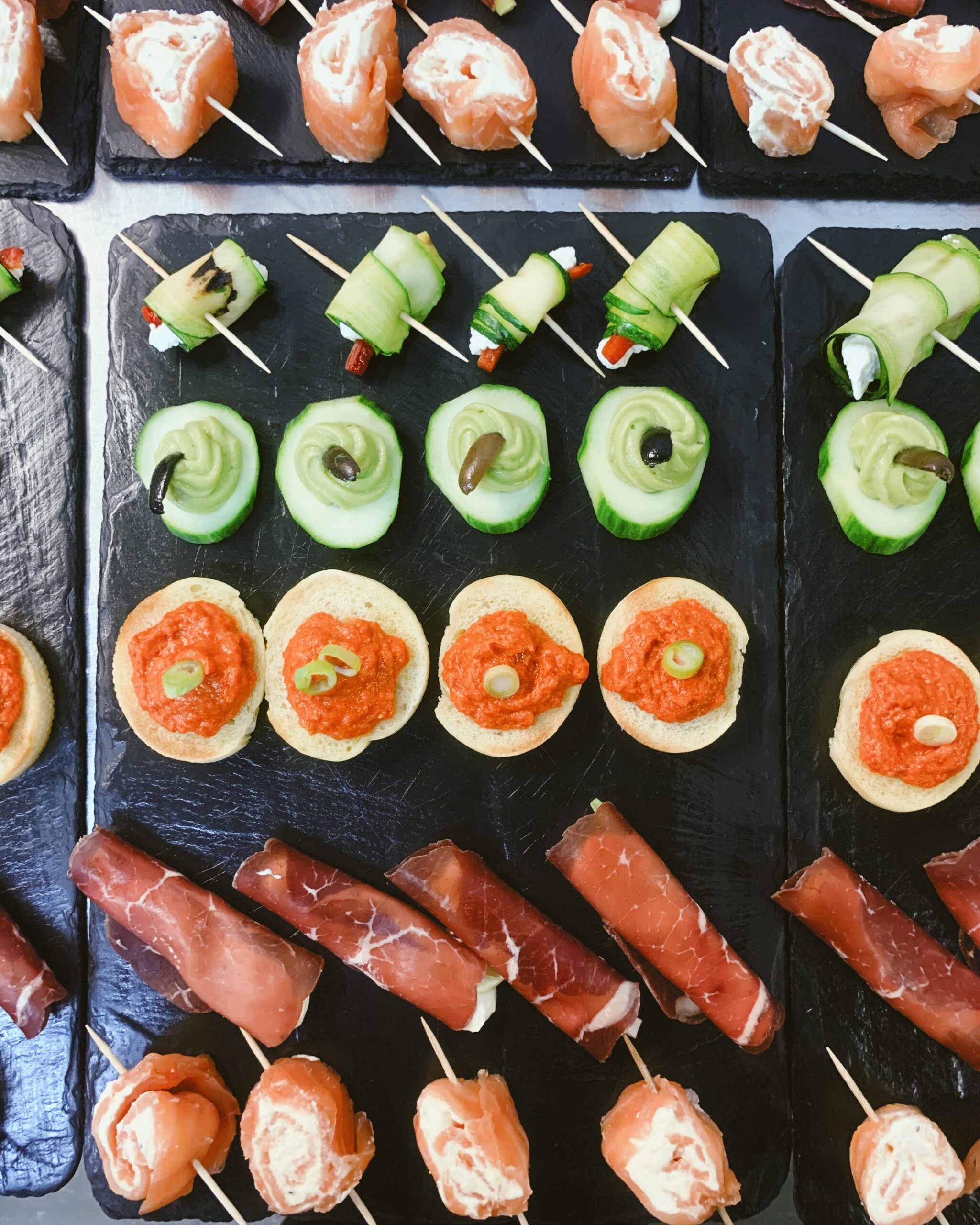 Belair House Wedding Catering Canapés
About the area
Above all, location is a key factor to consider before booking a wedding and reception venue. Especially, if you desire a traditional English fairy tale wedding in London, large open green spaces can be hard to come by. However, Belair House is a wedding venue that offers an alluring transition from the city to the country, enveloped by the luscious Belair Park. Belair House is situated in Dulwich, which is only a 15 minute train ride from Victoria and the area has great parking for vehicles coming from the South Circular. The quaint nearby village of Dulwich also has a welcoming local vibe, with its string of independent shops, restaurants and pubs.
Churches and Local Attractions
There is a large variety of local churches to choose if you'd like to hold the ceremony nearby. Some options include Christ's Chapel (0.3 miles, 5 minutes), Chatsworth Baptist Church (0.9 miles, 6 minute drive), Lordship Lane Baptist Church (1.3 miles, 7 minutes) and Holy Trinity Church in Tulse Hill (1.5 miles, 7 minute drive). If you opt for a civil ceremony at Belair House, you can get in touch with Southwark Council.
For more beautiful photograph opportunities, Dulwich Park offers another 29 hectares of green expanse, brimming with wildflowers, ancient oak trees, and a serene boating lake. Another is the historic Dulwich Picture Gallery, which holds a collection of magnificent French, Italian and Spanish baroque paintings. In fact, it's the world's first purpose-built public art gallery. For guests who have a few spare hours prior to or after your wedding celebrations, these are a few helpful suggestions if they'd like to get a feel for the area whilst they are in Dulwich.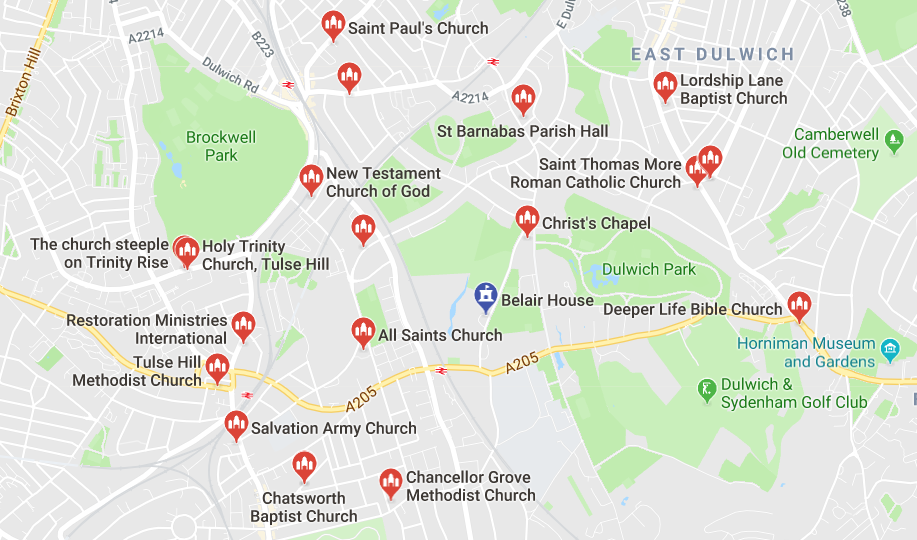 Map of Belair House and local churches in Dulwich, SE21 7AB
Get to know your dedicated Wedding Planner
Meet Tasha Mcvey, Belair House's Sales and Events Manager. Here, she reveals her top tips about marrying at Belair House, event logistics and what makes this Dulwich wedding venue stand out from the rest.
Tasha, what has inspired you to work in weddings and events?
After I finished my Art and Design degree I took on my role as event supervisor. The different cultural weddings I was lucky to be a part of were breathtaking and the appreciation I started to receive from individual brides was overwhelming. When they finally walk down the aisle to say 'I do' and having that feeling of "I did that" is hard to explain… it fills me with a sense of purpose. I love every part of making someone's dream come true, and being able to give creative ideas to brides.
Tell us more about the wedding team at Belair House..
I have been with the company for 11 years now as Sales & Events Manager. I pride myself in making sure that every couple has their own unique wedding. Paige Brown is Events Assistant and she also has a background in art, design and marketing. Her keen eye for detail ensures that everything is as it should be. Our General Manager is Gabriel Lita and he has extensive experience in the restaurant industry, which adds real value to the team. His knowledge and skills with 5*/silver service guarantee that couples will not be disappointed with the hospitality they receive. We are a small team but we are like a family and we hold the same values for all of our events.
What is unique about Belair House as a wedding venue?
Belair house is a charming white manor house with lots of quirky and traditional characteristics. We are situated in London's secret little bit of countryside. But what really makes us different is the supportive experience you have with us from start to finish. It's very important to build a good relationship with my couples so that I am able to give them the perfect day that suits who they are.
What wedding styles suit Belair House?
Belair house is charming in itself and doesn't tend to need much décor if brides want something simple and elegant. However Belair suits any cultural celebration from Caribbean, Greek and Indian, to English and Chinese weddings. The house is a blank canvas for our couples to get creative, with the support and ideas from myself and Paige. We have an Alice and Wonderland themed wedding coming up in 2020, which we are really looking forward to!
What are the venue flow options?
Typically a wedding would run from having a civil ceremony in The Ballroom, a drinks reception in the Main Bar and Terrace, a meal in the Grand Hall, and then an evening party in The Ballroom and Gallery Bar. However, a lot of our weddings have been less traditional this year – we have a lot opting for BBQ's and informal seating, with the cake cutting and speeches during the drinks reception. We are open to all ideas and will always do our best to run the day how the couple desires… we even have had a few pets attend!
Once a bride has booked, what happens next? 
I always say it doesn't take a year to plan a wedding, I've planned a wedding in as little as 3 weeks for over 80 people – anything can be done at Belair House! Once they have booked, they have a food and wine tasting, during which we confirm the catering and beverages they want, along with the itinerary.
The second meeting is typically done a couple months prior to the big day. At this point, we will go through the set up and additional requirements like décor and access times. The final meeting is 5 weeks prior to the day, when we have a run through the plan, confirm final numbers and meal options. This is also when the final invoice will be created for the event.
I have everything confirmed within these 3 meetings, but I tell all brides that they are still able to contact me as much or as little as they want. I want them to feel that they can ask me anything, no matter how silly they may think it is. All brides matter and this is the most important thing for us. Nothing will ever be too much to ask… if we can do it, we will.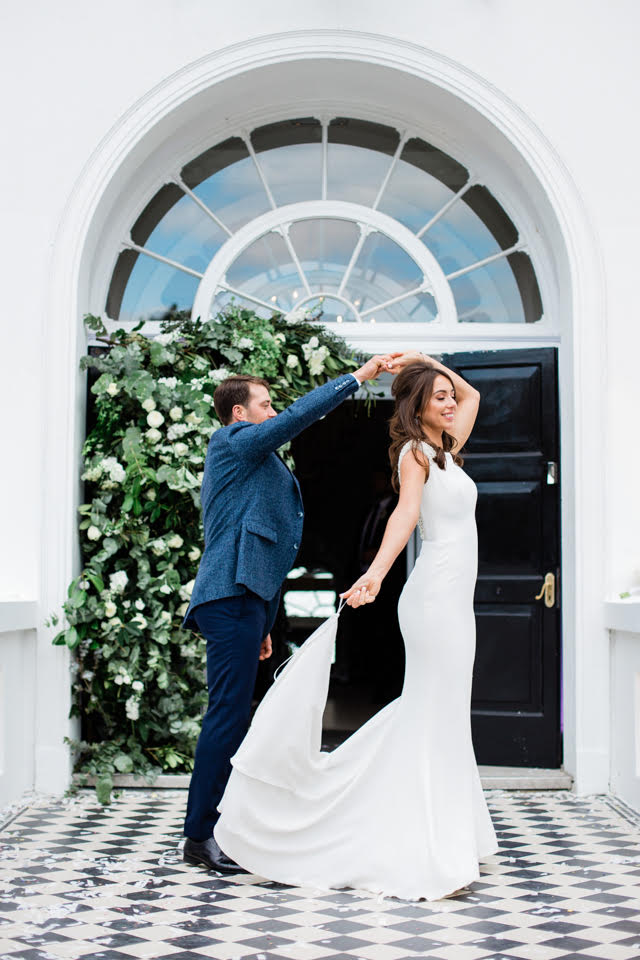 Belair House Weddings, Photography by Katie Roberts, Fringe Photography
What Our Couples Say
Click here to read more reviews
We look forward to helping your special day unfold at Belair House!
Book your viewing of Belair House by speaking to a member of our team today on 0203 740 1228