Joanna Rhodes, owner and driving force behind the modern day Hayford & Rhodes, explains to Easy Weddings' Editorial Manager about her long standing love for fine art and florals, budding bridal trends for 2020, and why flowers only speak love's truest language.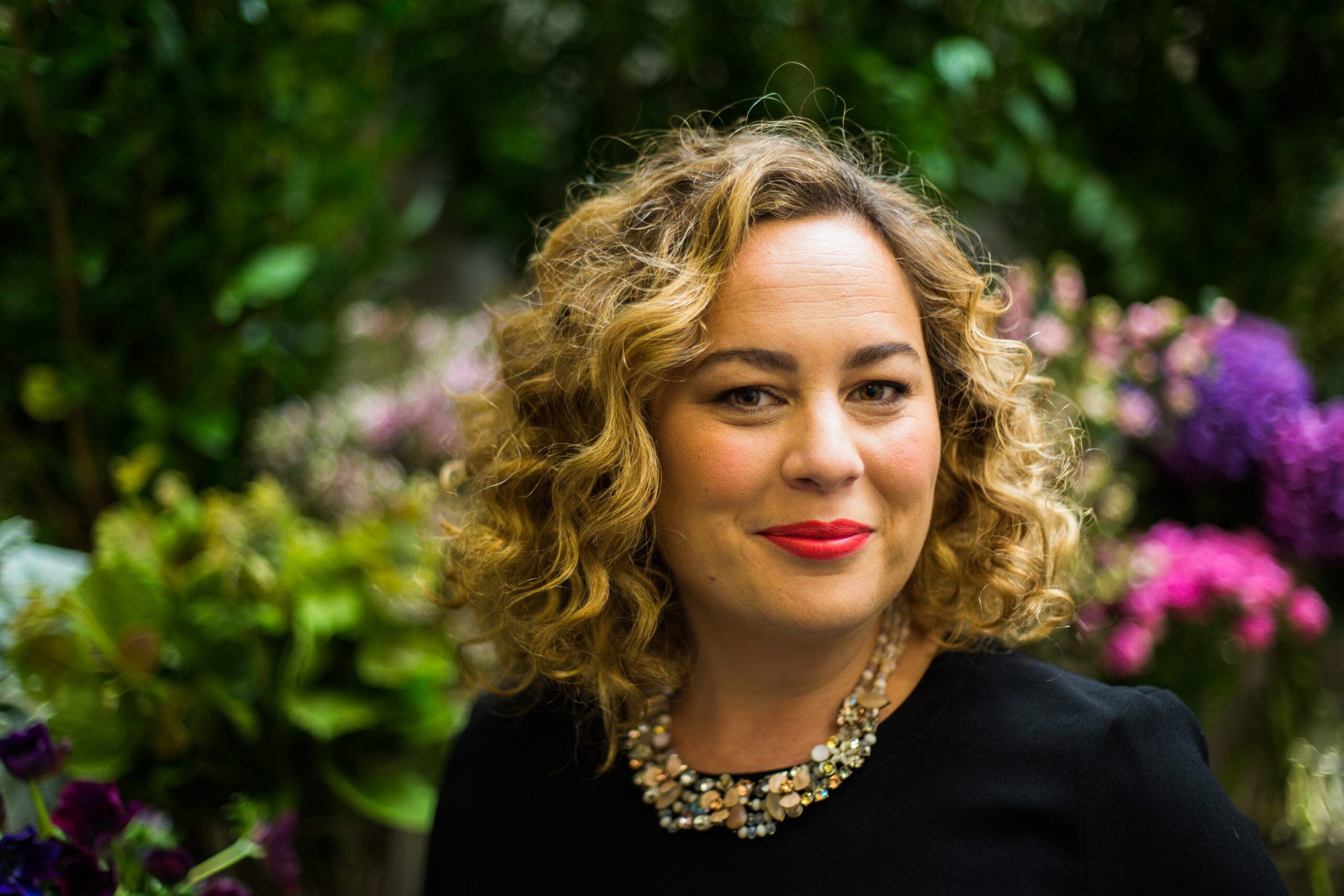 The quiet cobbled streets and picturesque shop windows of London's district of Bermondsey hide the busy scenes behind every neat front door. I've arrived at the sophisticated navy porch of Hayford & Rhodes, and inside it's an explosion of activity. The Event Planner is packing away the last of the christmas decor into boxes of glossy baubles, cases of spectacular centrepieces and bundles of festive fir branches. Each piece will be immaculately protected in the studio's treasure trove until the onset of next year's seasonal events and hotel displays.
Their friendly team is already deep into this year's projects, with operations expanding day by day. Joanna Rhodes emerges, and her vibrant personality immediately fills the room. Her passion, perseverance and artistic talent has navigated the brand in a successful new direction. Under her guardianship, Hayford & Rhodes has blossomed from a local delivery service to a multi award winning florist with international acclaim.
With tradition comes timelessness, and Joanna seeks to stay true to the company's prominent past that dates back to 1924. William Hayford once delivered bouquets for Winston Churchill and other high profile clients. Renowned for its quality and high standards, Joanna is proud to be bringing the heritage brand to the forefront of a new generation of floristry.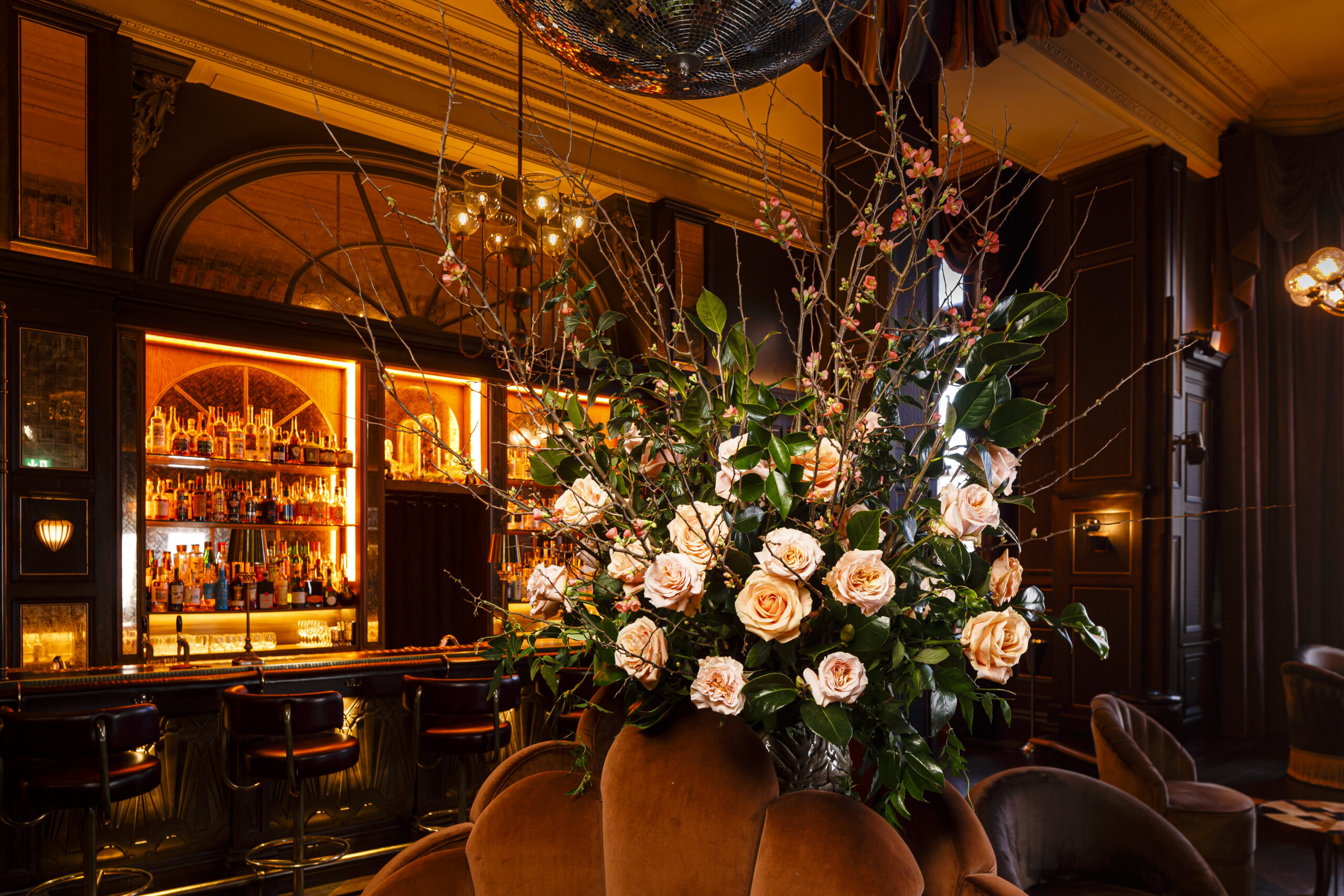 So Joanna, when did your fascination with flowers first begin?
I have always been enchanted in the creative sector and after studying a Fine Art degree at Cardiff University, I graduated with a First Class Honours and took up a role in Mayfair as an Exhibition Coordinator. After a fantastic time here, I remember a distinctive conversation on the bus with my sister about our career aspirations. I thought about starting up my own exhibition space, or trying out floristry. I took the plunge and signed up for Judith Blacklock's intense floristry course and I came away really loving it. Following that, I built experience at a London based florist, and then with William Hayford himself. I soon began to realise it was my calling, and when William asked if I was interested in buying the company, I knew it was meant to be.
When did weddings and events become a new focus for Hayford & Rhodes?
When I first took over the business, the client base was predominantly corporate and there was only one wedding scheduled a year. With the added pressure of the 2008 recession, a real turning point stemmed from our expansion into the events industry. I knew we needed to become a recommended supplier at various venues, so I got on the phone and shared my vision for Hayford & Rhodes. In 2009, our first accreditation was with the National Maritime Museum and it all grew from there. We now work with over 100 venues in London and their close proximity means that we can sustain a personal connection with the staff, wedding planners and bridal couples associated with each venue.
Where do you source your flowers from and what is the brand's typical style?
The majority of Hayford & Rhodes' flowers come from the markets in Aalsmeer so that we can control the quality and standard of each stem. Aalsmeer in Holland is home to the largest flower growers in the world, and they allow our clients to receive the best value for money. In terms of floral styles, our signature look is quintessentially English and we don't like our bouquets to be too heavy or constructed. Each installation and composition is loose and meadow-like. We like to work with the whimsical beauty of every flower, and respect their natural form.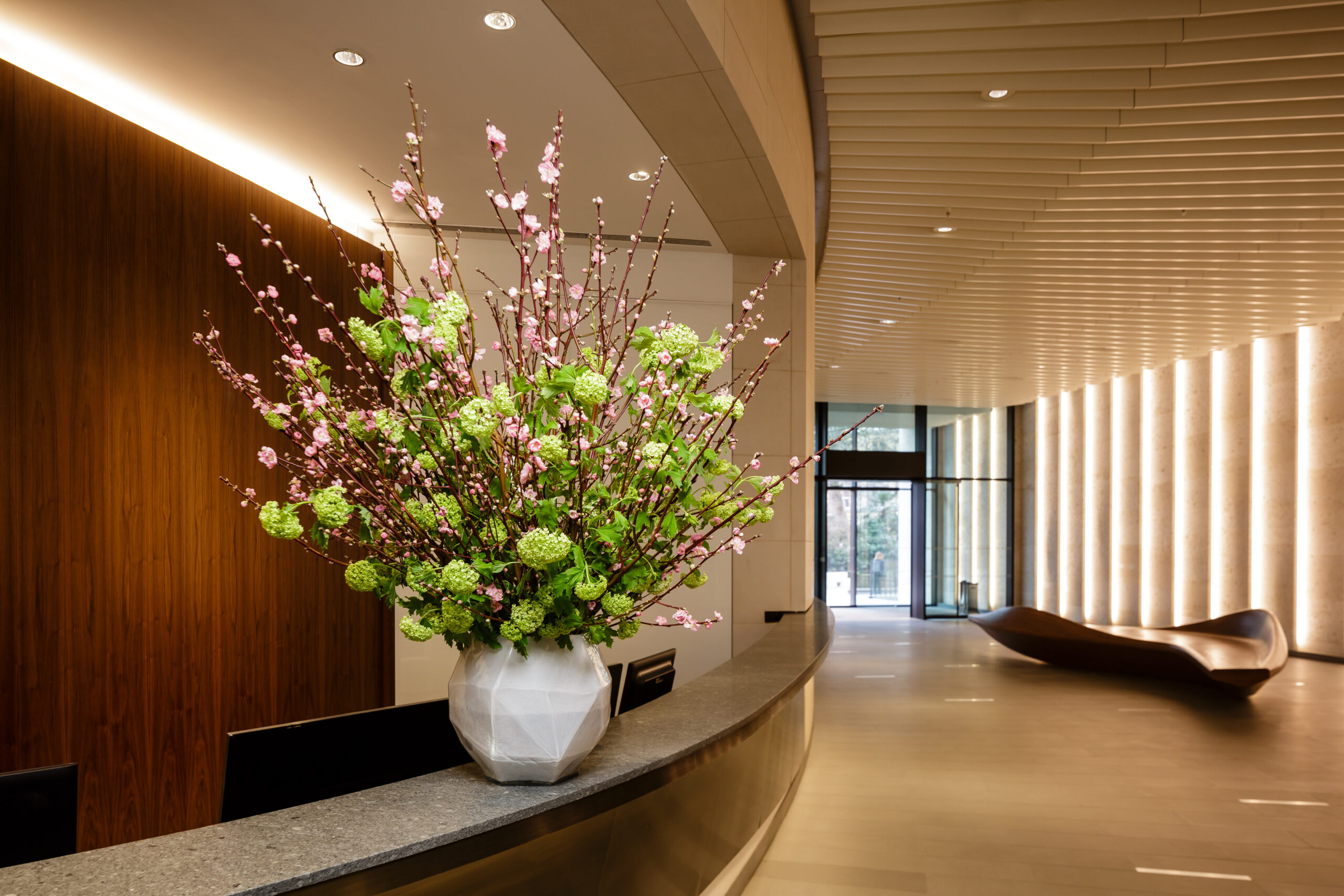 What makes Hayford & Rhodes' stand out as a recommended supplier?
On our team, we are lucky to have 22 florists who are specialists in a variety of backgrounds. From experience in production through to design and venue partnerships, everyone brings something different to the table, and together we share a broad knowledge of the industry. Hayford & Rhodes will listen closely to every client, and deliver bespoke interpretations each time. After most events, we are proud to receive repeat business and referrals, and our regular clients trust us to work without a brief as we understand their individual style. The team's expertise also means that long lead times are not always necessary – we've had some events that have been planned and constructed in a matter of days! The company's commitment to creating special events has been recognised in a number of publications, and we were recently announced by Vogue magazine as one of London's best wedding florists.
What have been your favourite events recently?
Private Events and Proposals
Speaking of last minute engagements, a leading Game Creator proposed to his partner in Paris and rang about an impromptu party at his private Surrey home the following day. After signing off at 5pm, we installed the imaginative display in the morning. Abundant Cherry Blossoms, scented Sweet Peas, and trailing Jasmine filled the entrance hall with a heavenly romance.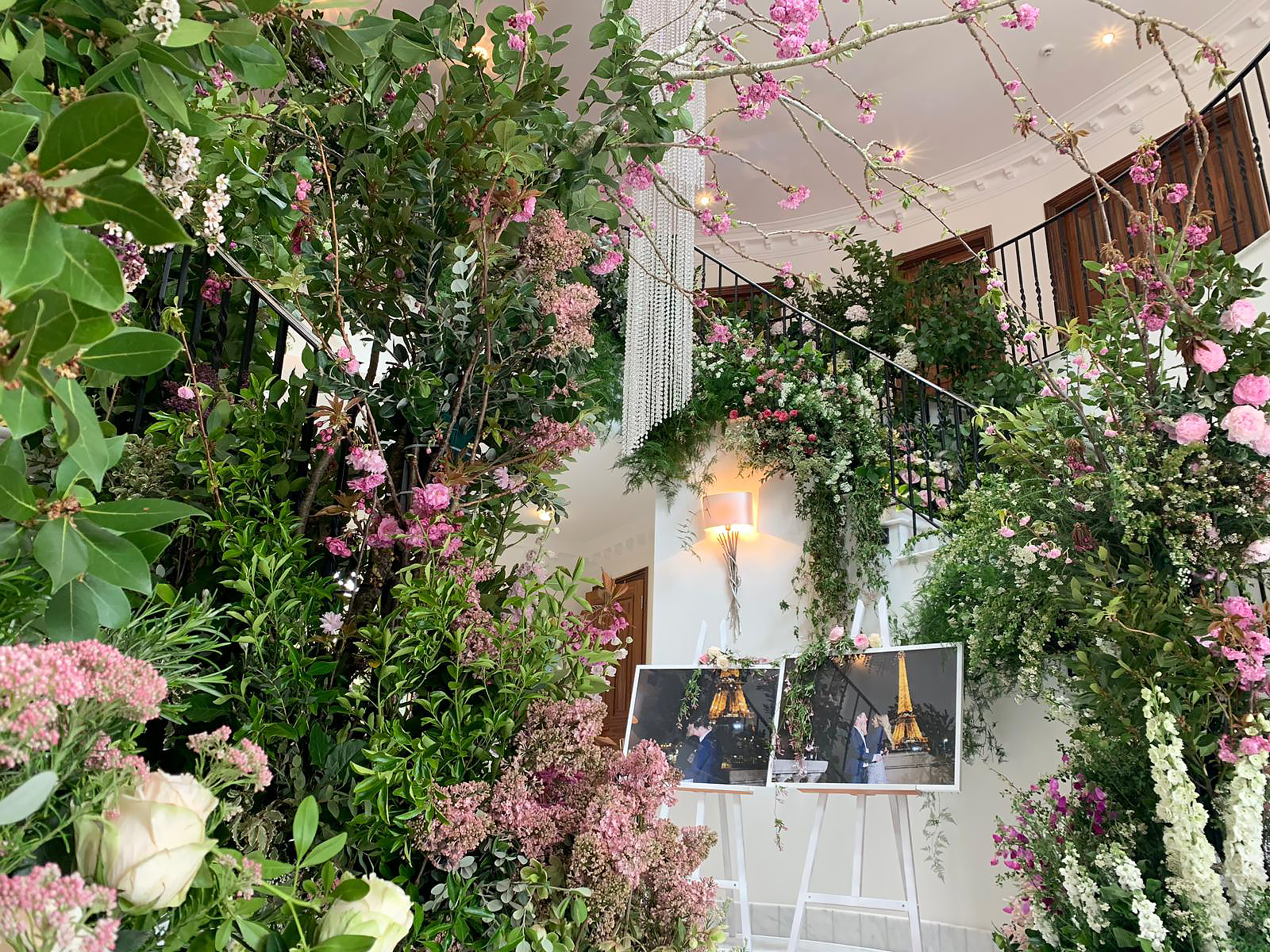 We love the artistic licence that private parties enable. Another stand out occasion was a recent Alice in Wonderland themed wedding in Northamptonshire, which took three days to construct. The ambitious design did not phase our team, and we custom built a life size tree from scratch inside the marquee. Other visionary features included quirky rabbit holes and edible flowers.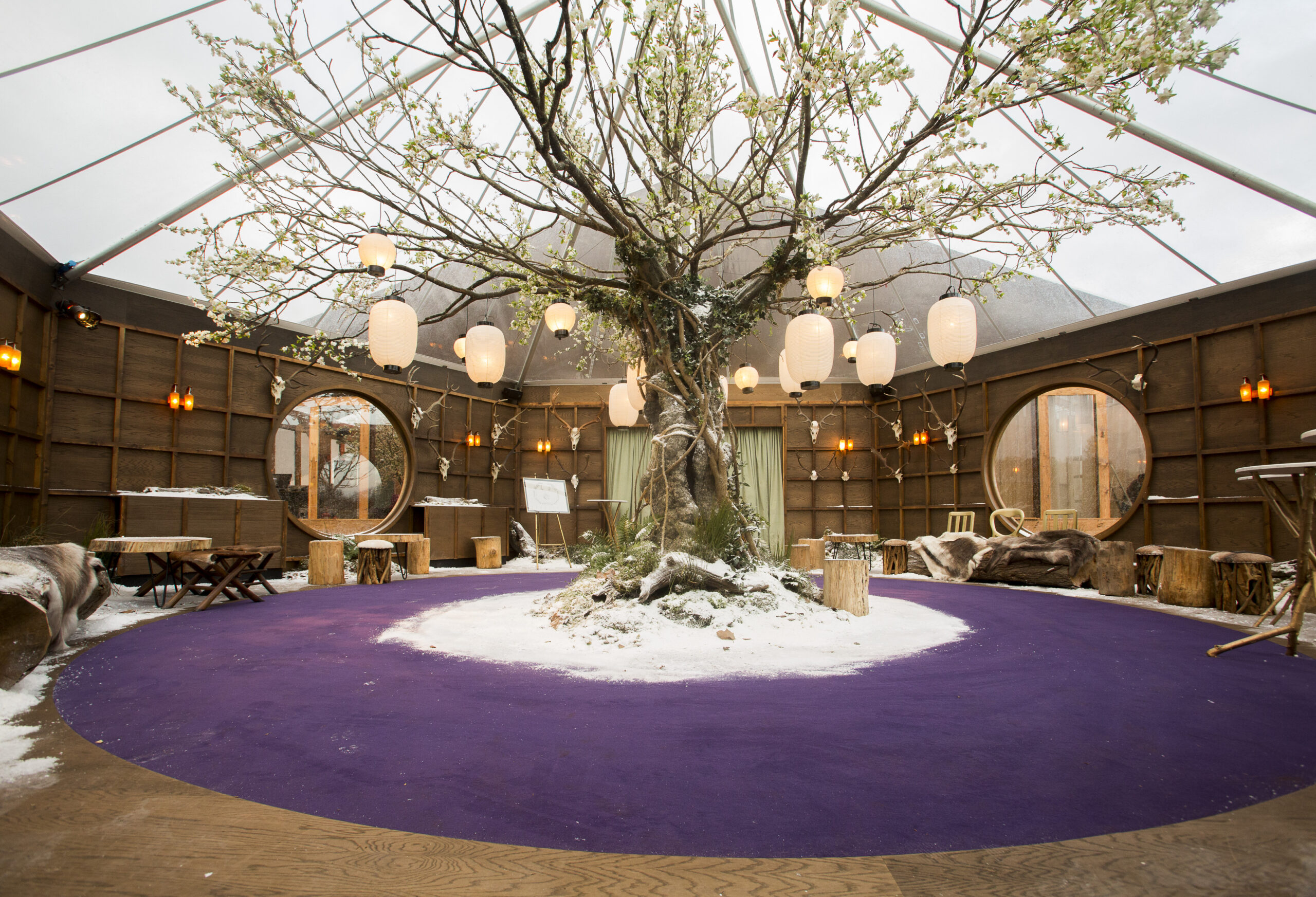 Hayford & Rhodes have also helped clients create surprise settings to pop the special question. After 8 happy years together, a groom decided to propose and asked for our help to transform a room with colourful florals. The bewildered bride-to-be thought she was arriving at his work party, but was greeted instead by a beautiful table set for two! He got down on one knee surrounded by herbaceous scents and a rainbow of fresh petals.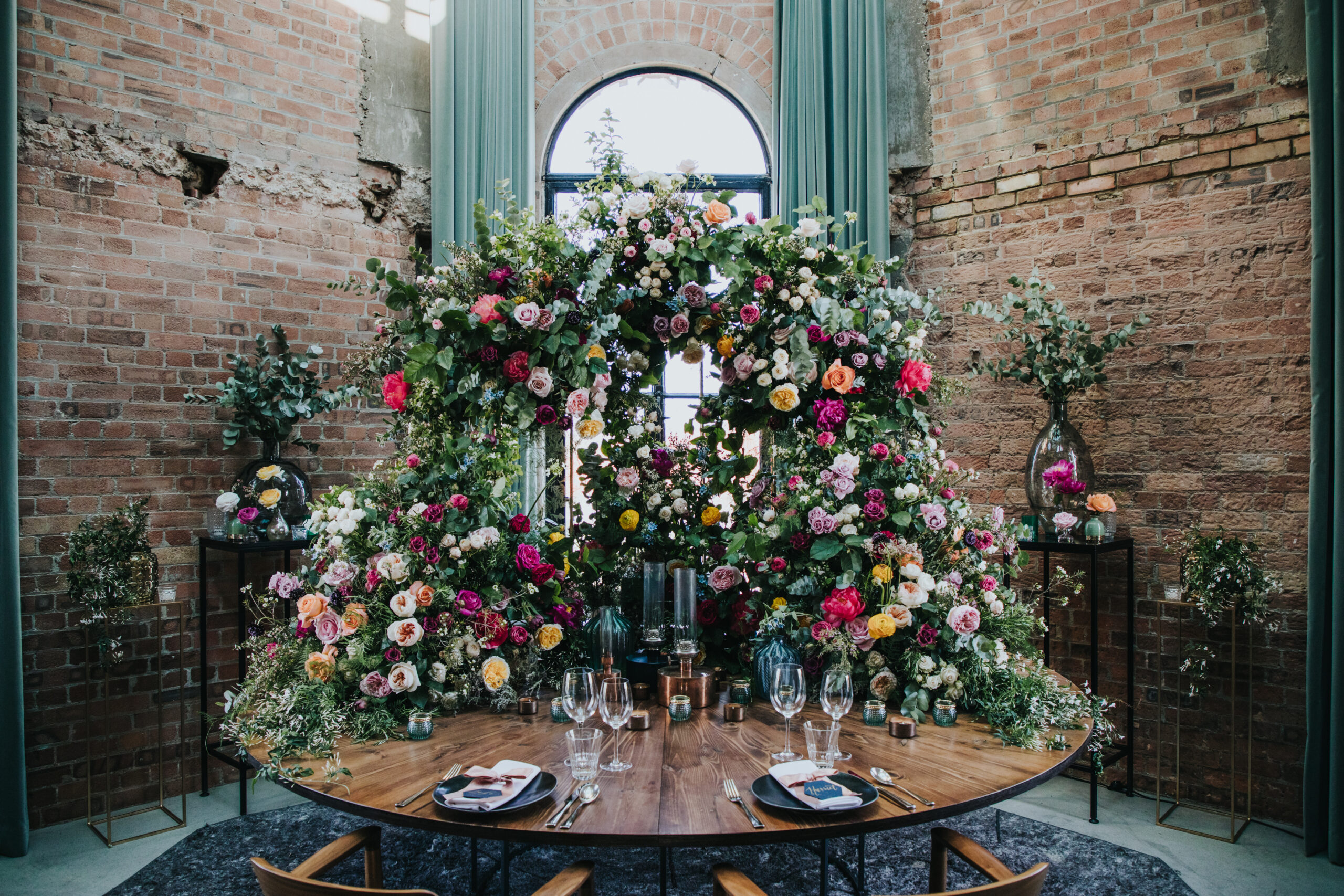 Wedding Showcases
Throughout the year, London wedding venues host seasonal wedding showcases for prospective couples and suppliers to meet, and we see them as a wonderful way to display the potential of our design capabilities. The Kensington Palace wedding showcase in late 2018 was a very memorable occasion, and it's become a venue that we are very familiar with. Our experience working here allows us to devise elaborate and daring installations in tight time frames.
I've previously attended many wedding showcases where the florals have been constructed in a linear and awkward layout, so the guests are not sure where to stand. This time I thought I'd create something different, and I took inspiration from recent Chanel fashion shows where the models walked across beaches and industrial estates, giving a backdrop from every point of view. Working closely with Wise Productions, a gold mirror runway was installed surrounded by towering flower peaks. Canape stations by Blue Strawberry Catering were positioned around the pyramids, and guests felt welcome to mingle around it, making it an ever evolving installation.
Visit the Kensington Palace website for more information about creating your special day at this historic London wedding venue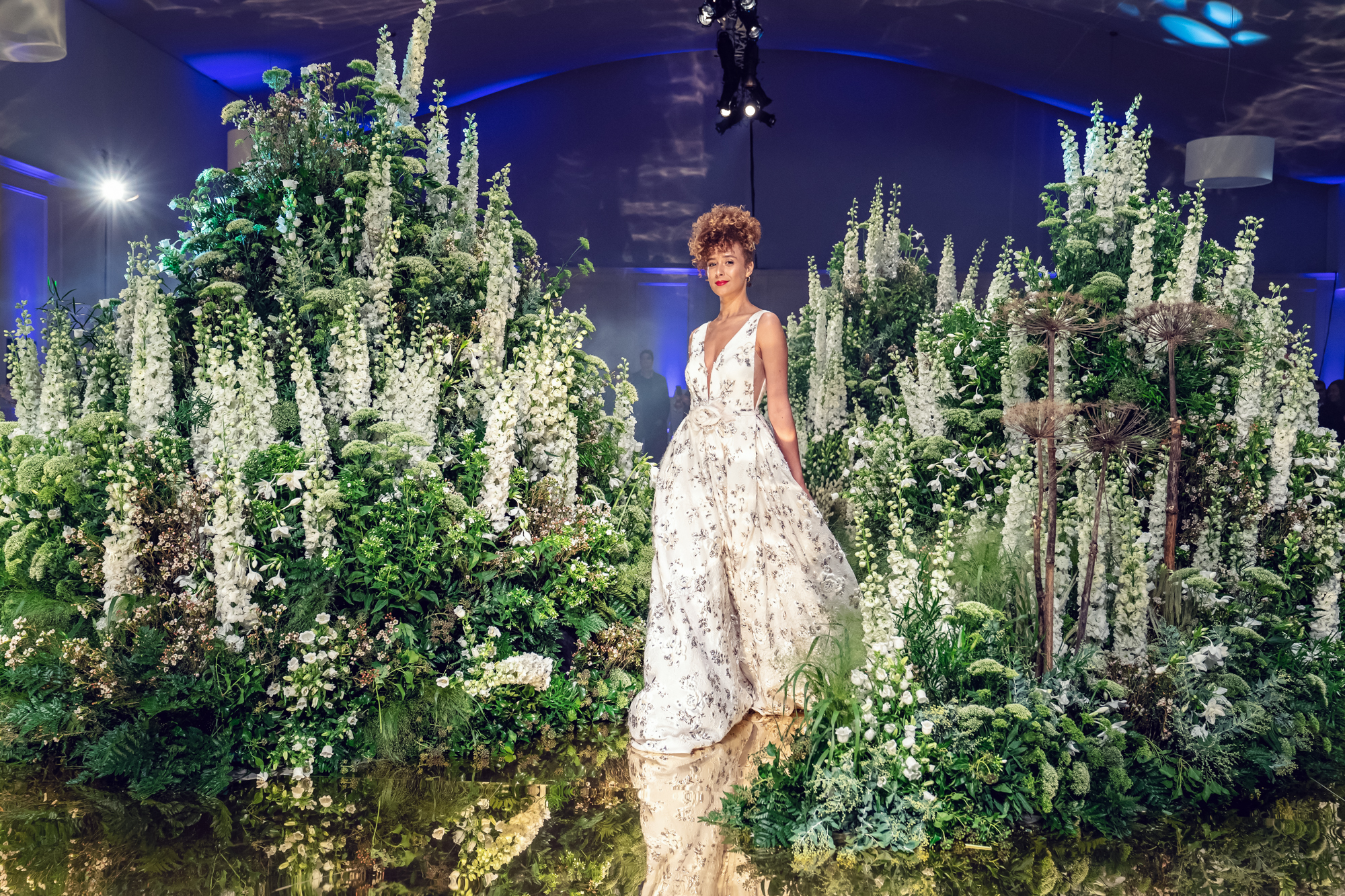 The Kimpton Fitzroy London is another venue that we are accredited with. At their Summer 2019 wedding showcase, the Hayford & Rhodes team created a cascade of florals over the Ballroom table and a verdant leafy archway. We also collaborated with a neighbouring business called Bermondsey Bees to add natural wax elements and fragrant candle sticks amongst the meadow-like foliage.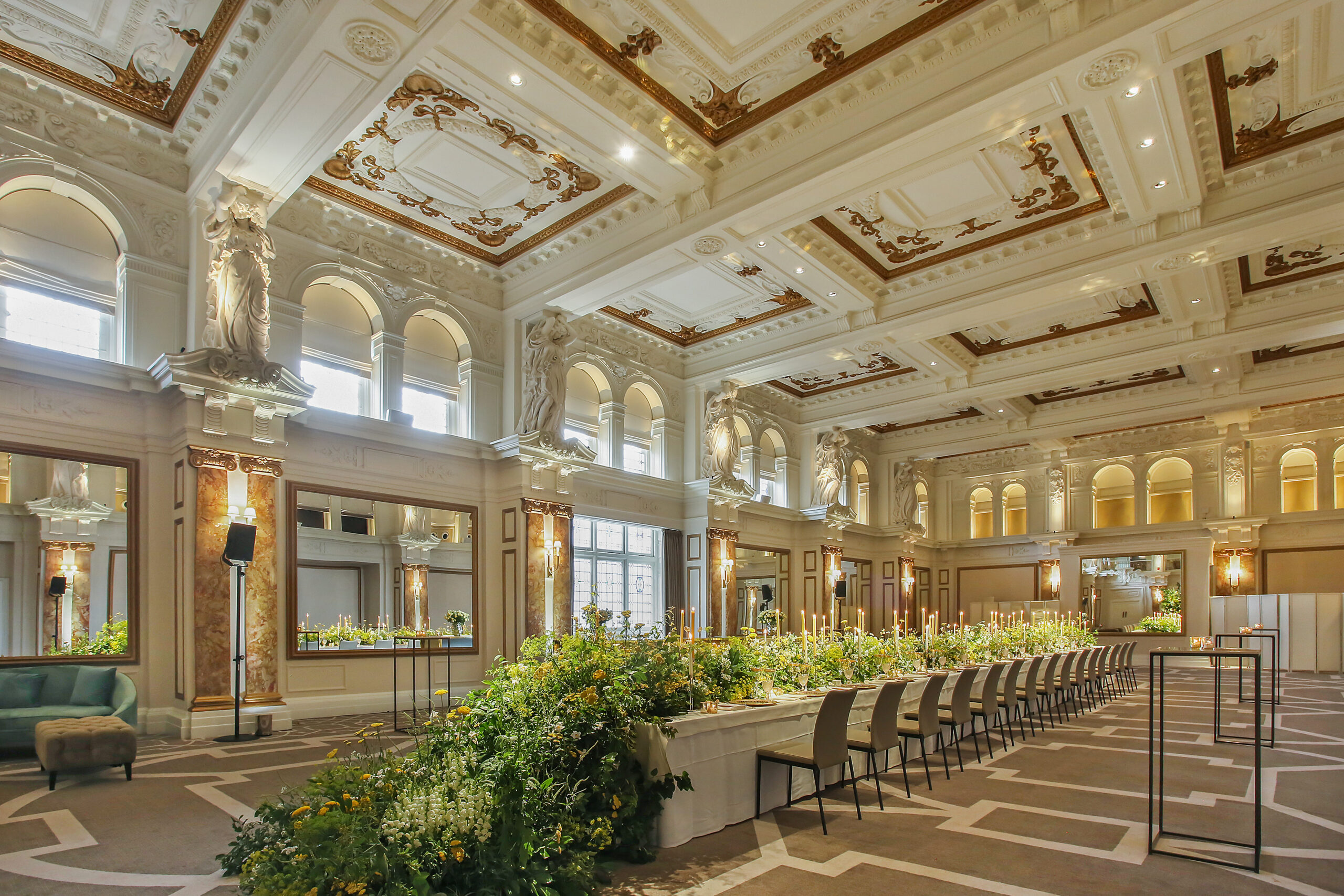 Visit the Kimpton Fitzroy London website for more details about the event spaces at this sophisticated London hotel wedding venue
Brand Collaborations
Hayford & Rhodes also work closely with brands, and we were commissioned to create the aesthetic for the launch of Pandora's new safari range. The top bloggers in the industry arrived for the safari themed occasion in Land Rover jeeps, and they ascended in hot air balloons before the press lunch. To complete the look, we decorated the tents with pampas grass, banana leaves and vintage travel items.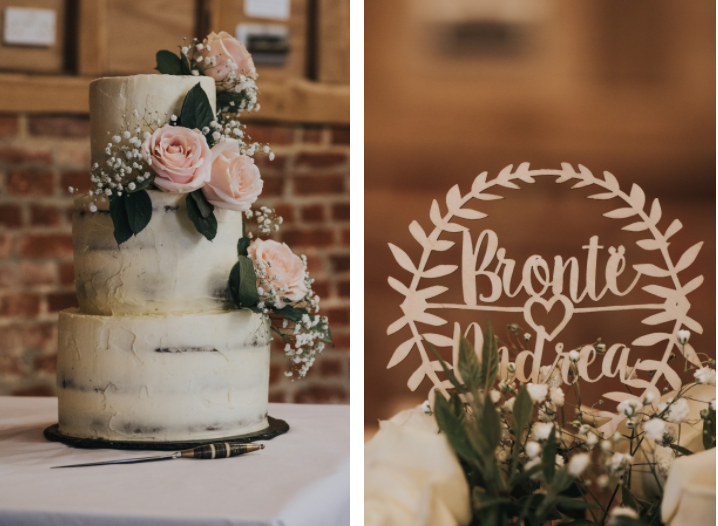 Sustainability is on everyone's consciousness at the moment. How is Hayford & Rhodes keeping eco friendly?
In 2020 we are trying to champion the art of sustainable floristry, and set new industry wide standards. We source our foliage locally and flowers wherever possible, and are proud to separate, compost and recycle 100% of our waste. Many arrangements are also distributed amongst the local community and hospices to be loved again. A huge concern for the flower community is the use of floral foam, and we are committed to replacing these non-biodegradable building blocks with wire frames or trellis structures for flower walls. We are looking forward to a foam-free future at Hayford & Rhodes.
Other ways that we encourage sustainable practice is by reusing the arrangements more than once throughout the course of the event. One couple replaced their statement hydrangea focal designs from their ceremony down the centre of the dinner table afterwards. The flowers acted as a continuum and effectively tied the colour scheme together.
Sustainability is a key company agenda, and we also collaborated with the Venetian POLPO restaurant as part of Chelsea In Bloom and won a gold award. We brought their logo to life with a large octopus installation made out of red cabbage, celosia and succulents. It was well received and photographed, and it gave a more nautical leathery appearance as the week progressed.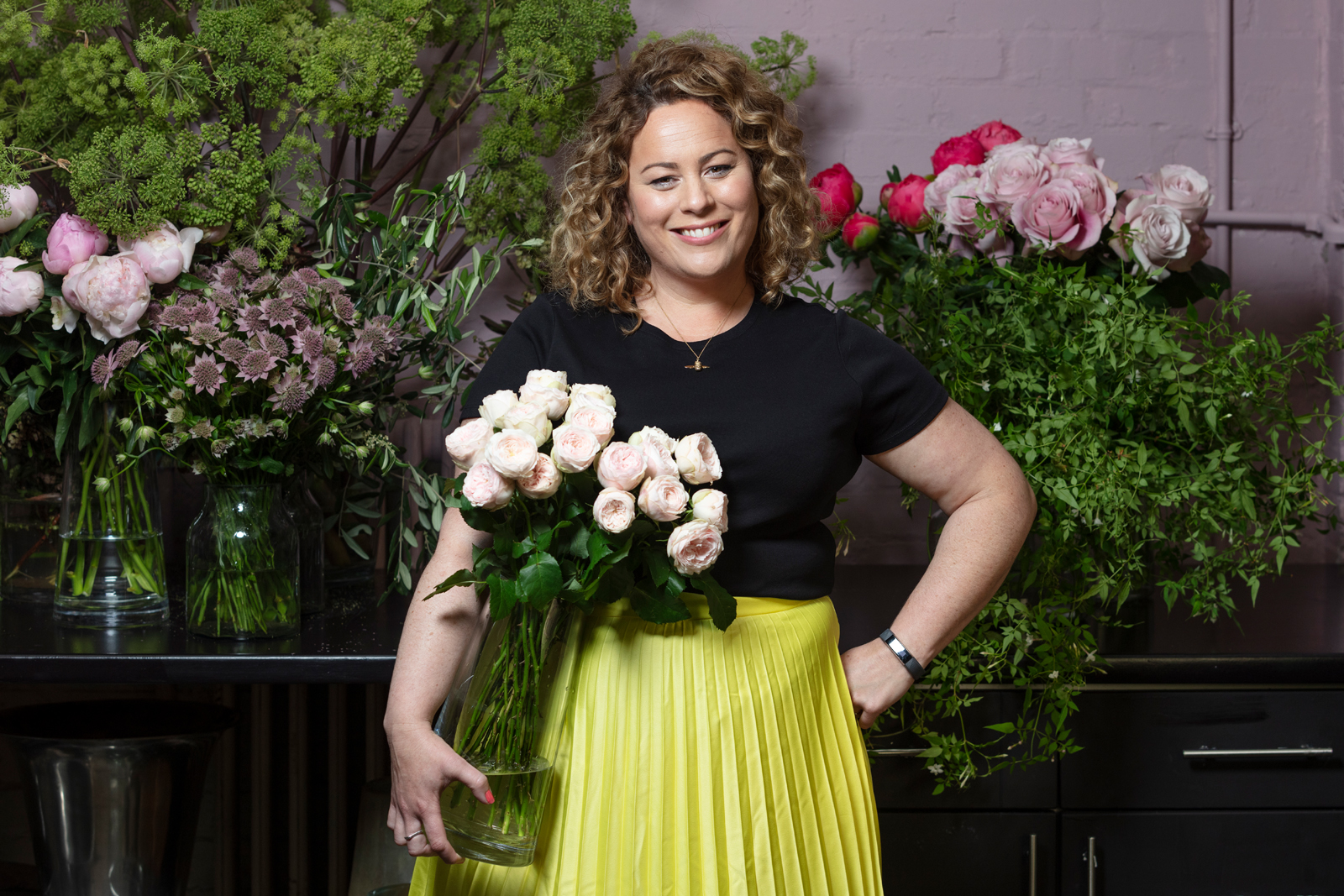 Marriage is steeped with tradition, have you had any special requests for weddings?
Flowers incite emotional memories of loved ones, and we've naturally had lots of brides who want to replicate the flowers from their mother's and grandmother's bouquet. The team at Hayford & Rhodes like to learn everyone's love story and deliver a bouquet that provokes meaning. We can add a hint of 'something old' like an antique brooch or a sentimental heirloom, or if a bride cannot wear the family wedding dress, we can transfer a section of lace into the bouquet.
Finally, what floral trends do you predict for this year?
The Pantone colour of 2020 is navy, a beautiful tone that matches our historic logo. It's soft to work alongside and it elevates other colours. To incorporate this theme, we can add dashes of dark blue delphinium, wintry thistles and velvety anemones, or select vases as your 'something blue'. I love the combination of navy with a hint of gold, but we are conscious not to make stark contrasts in our work. We tend to bleed through the shades of blue to keep it natural, otherwise it can look jarry in the photography. We always think ahead about the overall composition, and make sure the flowers make the room, guests and the married couple look their very best.
To make an enquiry, visit Hayford & Rhodes for a bespoke quote, and discover the unique London wedding venues that they work at: