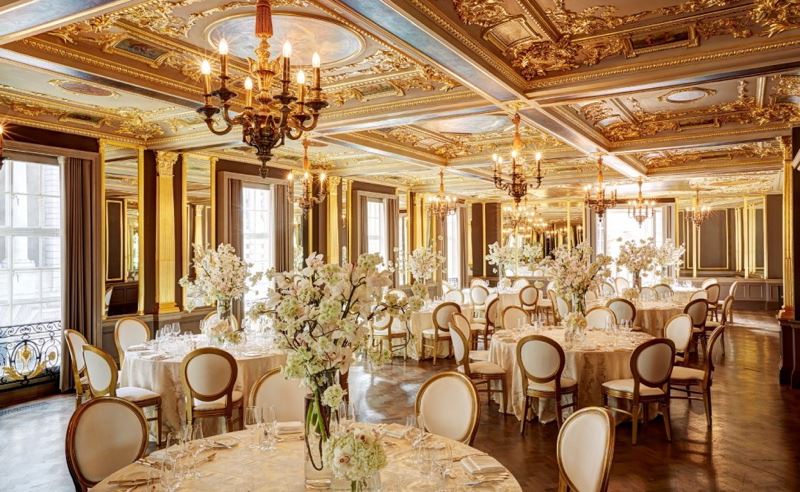 Hiring a hotel wedding venue is a great option for couples looking for convenience and supreme comfort on their wedding day. It creates a real sense of occasion and it keeps all of your favourite people together for added quality time the next day. Also, with special discounts available for block room bookings, it's even more tempting for your guests to check in and forget the pressure of booking travel arrangements. Taking into account all of these draw factors and more, we've hand-picked a collection of beautiful London hotel wedding venues to help you on your wedding venue search.
The Kimpton Fitzroy is situated in London's beautiful Bloomsbury area, famous for its prestigious collection of academic institutions and the famous literary luminaries that once resided in these parts. The hotel dates back to 1898, and its remarkable design by Charles Fitzroy Doll is Grade II listed. Amongst the busy thoroughfare, The Kimpton's imposing and intricate terracotta face turns the heads of passersby; its magnificent aesthetic is completely unique across London. The Kimpton Fitzroy also has the advantage of overlooking the green oasis of Russel Square Gardens, which makes for ample photo opportunities on your wedding day. Inside, there are two popular spaces to use for wedding ceremonies and receptions, as well as an atmospheric Fitz bar and Neptune restaurant, where art deco design, rich upholstery and Jazz age glamour take to the fore. Following the wedding night, guests can wake up to the rejuvenating breakfast spread at the lobby level cafe, Burr & Co.
Highlights include:
25% off for 10 or more room bookings
Complimentary Junior Suite for the bride and groom
Signature wedding package from £185 per head including venue hire
Preferential rates at the local NCP car park
Private entrance and cloakroom to the Ballroom
2 function spaces and 334 guest bedrooms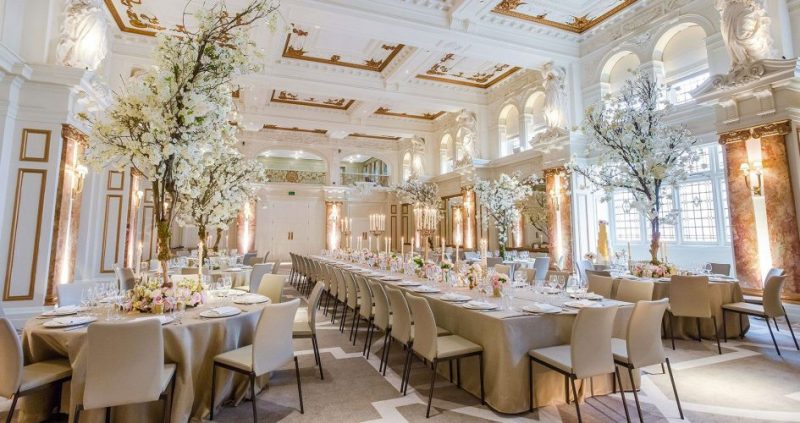 Kimpton Fitzroy Capacity
Up to 200 guests seated and standing
The grand russet brick exterior of Kimpton Fitzroy London sets the tone for its awe-inspiring interiors. Walk through its serene solid marble hallways and enter into the striking interior glass conservatory called Palm Court. Your guests will be mesmerised by the bright social space, dotted with palm trees and the comfortable clusters of chairs. All aspects of the room have been meticulously refurbished to create an atmosphere of laidback luxury, with a la mode furnishings and open air atriums on either side for added natural light and ventilation.
Palm Court is adjoined to the glittering Ballroom, which has recently been restored to its original glory in an £85 million refurbishment project. Its double height ceilings and gallery mezzanine instantly draw your eyes upwards to the intricate ceiling the beautiful heritage details. The private cloakroom and separate entrance on Bernard Street also gives the space extra exclusivity to your London hotel wedding.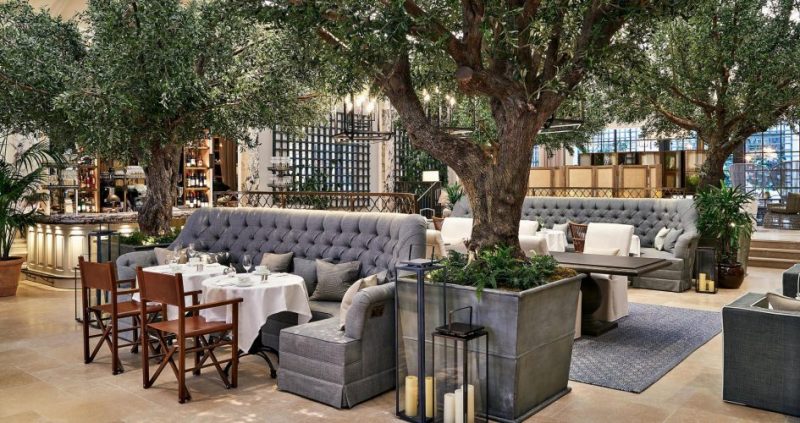 This five star luxury hotel combines quintessentially British architecture with the up and coming artistic vibe of East London. The striking red brick exterior stands out from the crowd and would make a unique backdrop for your wedding photos. Inside, modern renovations meet the attractive Victorian high ceilings, period pillars and cornicing. The location is just as splendid, opposite Liverpool Street station. Here, on the fringes of Shoreditch and Islington, you'll a myriad of artisan coffee shops, markets and artistic graffiti laden streets. It's a creative centre of London, which will inspire you to dream big for your big day.
Highlights include:
Unrivalled location next to Liverpool Street station
Historic 1884 building with modernised decor and AV equipment
267 guest rooms with discounted rates for block bookings
Dry hire available across the four function rooms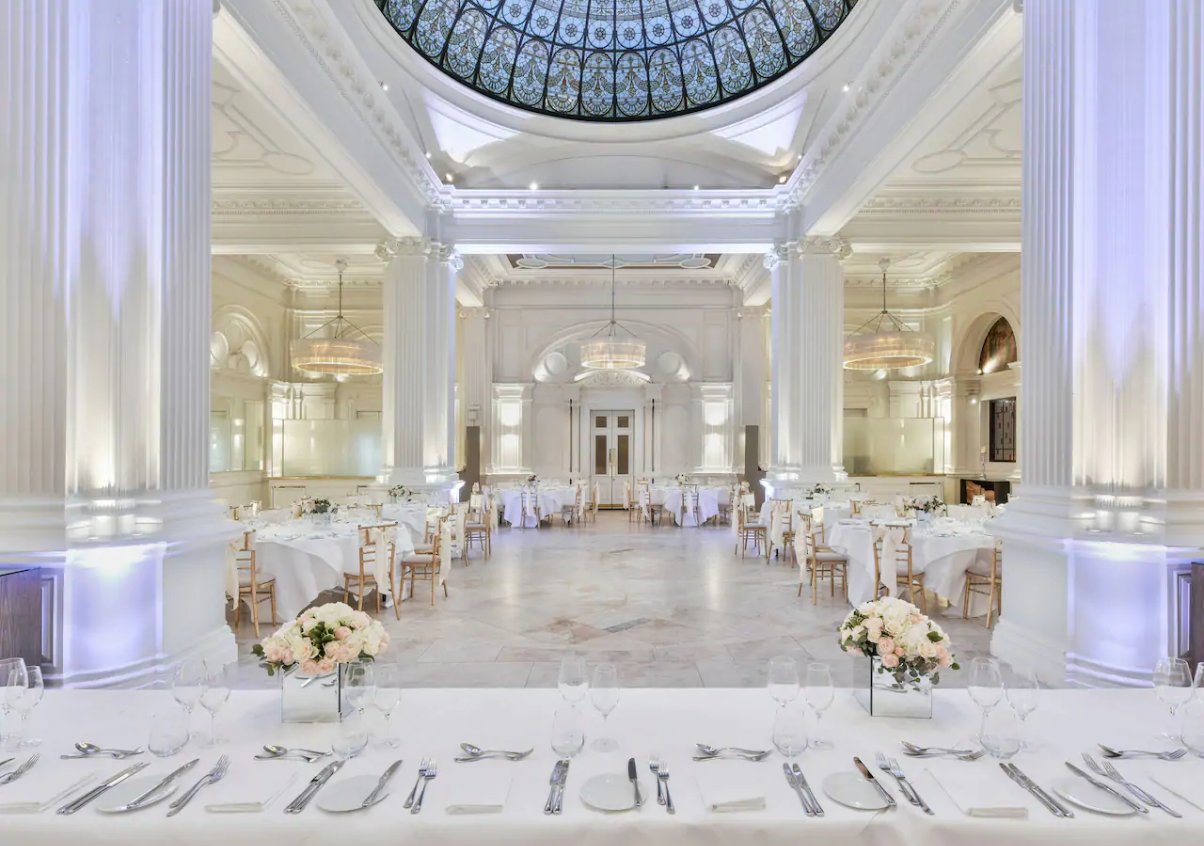 Andaz Venue Capacity
Up to 220 seated and 300 standing
Andaz Liverpool Street London weddings has a unique selection of rooms that are licensed for ceremonies and suitable for sit down reception dinners. A popular wedding space is the original Ballroom that dates back to 1901, which seats up to 180 guests. The Grade II listed interiors include a blue stained glass dome that floods natural light into the fresh white painted room and glossy marble floors.
Another heritage room within the property is the immaculately preserved Masonic Temple for intimate dinners for up to 44. It's one of the last remaining and most grandiose Freemasons meeting Lodges in London that was only rediscovered behind a wall during the hotel's restorations. Lastly, the Great Eastern Room is the largest function space in the hotel, with its duck egg blue walls, white stucco detailing and bright natural sunbeams projecting through the large arched windows. This room can hold up to 220 for a seated meal and 300 standing.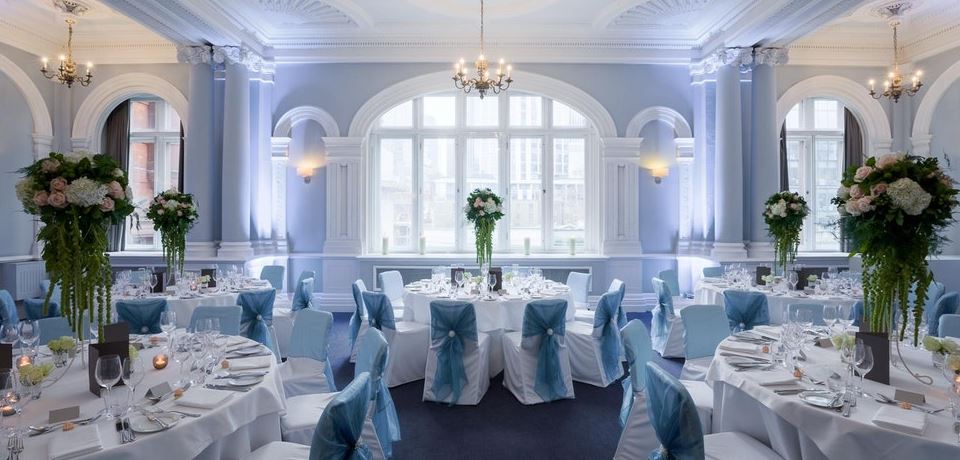 Gordon Ramsay's Savoy Grill
Foodie lovers will not be able to resist Gordon Ramsay's Savoy Grill, an upscale British Grill fused with French flair. The three Michelin star chef works above and beyond to deliver a culinary experience like no other, with his impeccably trained culinary and hospitality team. The Savoy Grill earns its name from the iconic hotel that it lies within. Situated on the Northbank of The River Thames for the last 130 years, Auguste Escoffier was the inaugural chef to have made the Savoy an unrivalled fine dining destination. Legendary movie stars and glitterati from around the world have dined here, including Marilyn Monroe, Frank Sinatra and Elizabeth Taylor to name a few. Now you can follow their footsteps and savour the gourmet glamour of Gordon Ramsay's Savoy Grill.
Highlights include: 
Bespoke menus available from £50 per person
Restaurant located within the world renowned Savoy Hotel
Beautiful art deco style architecture, established in 1889
267 rooms located in the Savoy hotel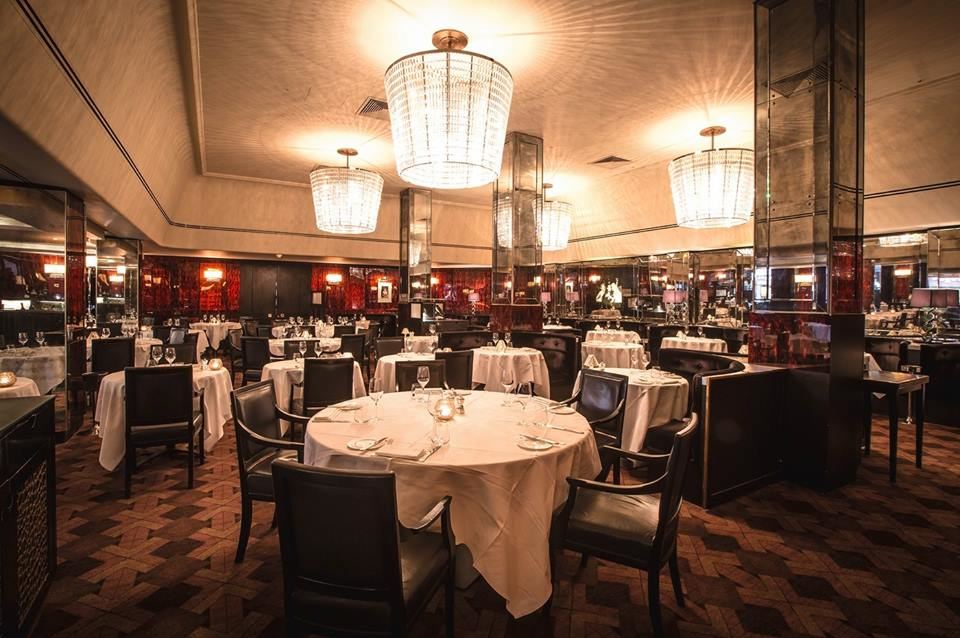 Savoy Grill Capacity
Up to 40 guests seated, 60 standing
The atmospheric Art Deco interior features deep red wall and mirror details, sleek leather furnishings and glittering Swarovski chandeliers. This hotel restaurant hovers over the recognisable Savoy hotel entrance, where your guests can book to stay. The room oozes characterful elegance and and its constantly poised ready for your event. The spacious room can seat up to 40 people for your reception, and the D'Oyly Carte private dining room offers a more intimate environment. It's a spectacular room to feast on British cult classics and dishes straight from the wood fired oven. Take note that the minimum spend is £30,000 on Saturdays and £15,000 on Sundays.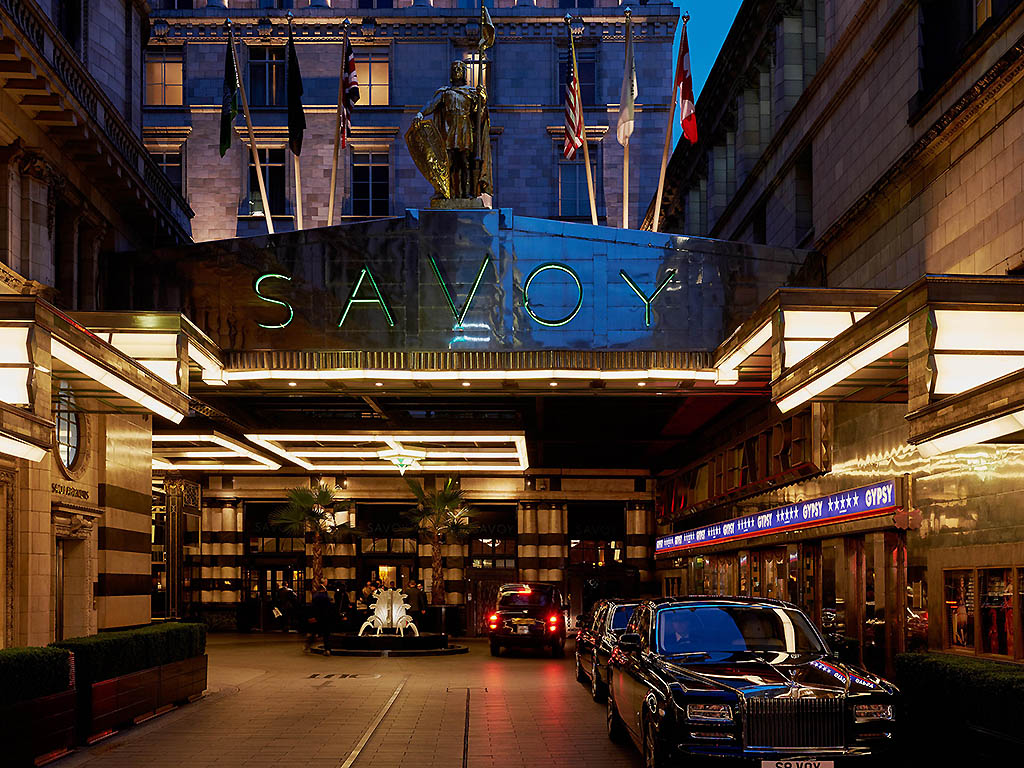 Positioned on the sweep of Regent Street, this landmark hotel has an unprecedented reputation as one of the finest hotels around the world. It's one of the few remaining grand hotels of London, surrounded by the distinguished parades of Bond Street, Savile Row and St James, mixed with the eclectic dynamism of Soho. Infused with golden age glamour, Hotel Café Royal's renovated interiors nod to its history of illustrious visitors including royalty, music legends and jet-setting glitterati. Fabled guests include the likes of Mohammed Ali, Winston Churchill, Princess Diana, Elizabeth Taylor, and the hotel hosted the iconic retirement party of David Bowie's Ziggy Stardust alter ego. The Grade II listed building combines the classical with the contemporary to create one of London's leading design hotels.
Highlights include:
160 guest luxury rooms to block hire
Late licence until 1 am
Positioned in the heart of London, surrounded by regency architecture
Pillared terrace with a breathtaking view over Regent Street and Air Street
Two glamorous function rooms with revived Louis XVI decor, upgraded with cutting edge event technology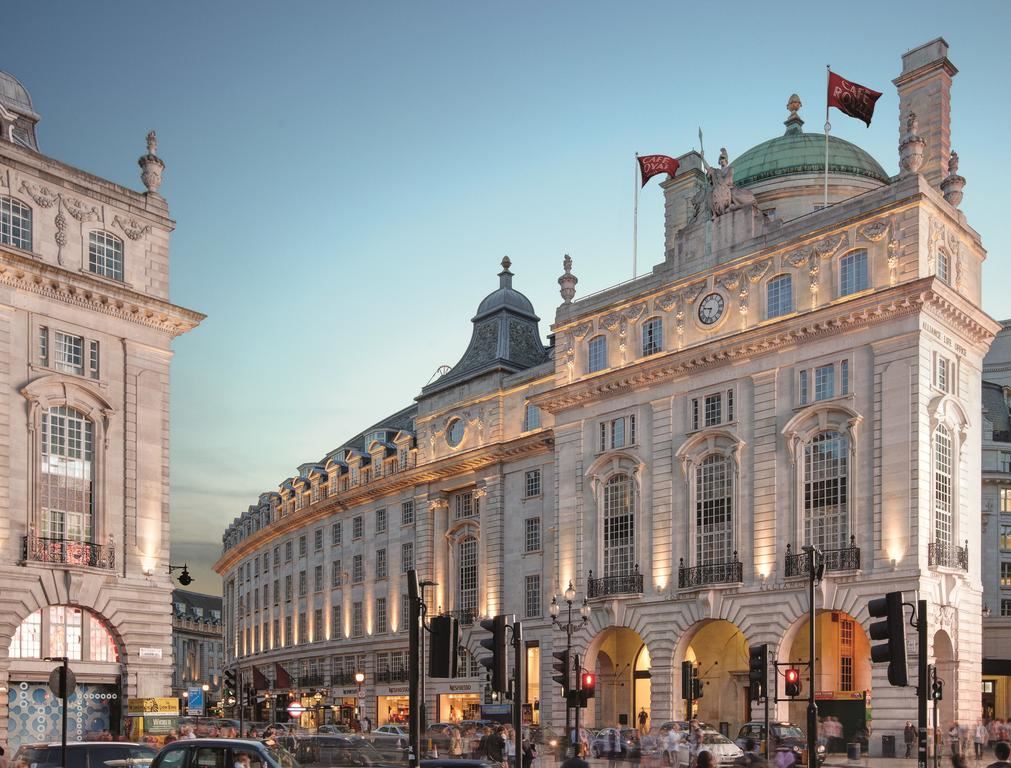 Hotel Café Royal Capacity
Up to 120 seated and 250 standing
The largest event space, The Pompadour Suite, is embossed with gold leaf in a Louis XVI style. Its fluted Corinthian pilasters lead up to an opulent ceiling display of ethereal scenes of love. It's a beautiful place to exchange vows, surrounded by up to 120 seated guests. The decadent room leads out onto a pillared terrace with superior views of Air Street and the regal sweep of Regent Street. This is a suitable place to set up poseur table for a celebratory drinks reception.
Secondly, The Queensberry Suite seats 100 and 150 standing. The room is panelled in a historic style, yet is updated with discreet state of the art technology. The floor to ceiling length windows cast a spectacular vista over bustling Piccadilly and flood natural light into the room.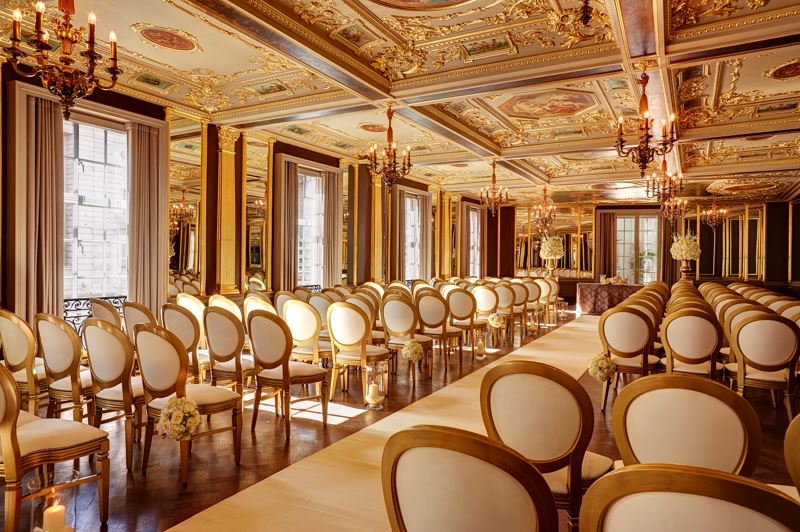 This beautiful London hotel is set in the lush oasis of Greenwich Park, a UNESCO World Heritage Site where the reference point lies for GMT solar time. Devonport House's Georgian red brick facade has clean symmetrical lines with bright white columns and sash windows. It was once part of The Royal Naval College, and is surrounded by manicured leafy grounds, the impressive Cutty Sark ship and Queen's House for further picturesque photograph opportunities. As you might imagine, Devonport House is laden with a wealth of original features and maritime history and as well as an elegant selection of event suites. There are also 99 contemporary bedrooms to host your guests after the evening's celebrations come to a close.
Highlights include:
Located within a World Heritage Site in Greenwich, just 20 minutes from central London
5 minutes walk from Greenwich Station and 2 minutes walk from the Cutty Sark DLR
Dedicated wedding team to help every step of the planning journey
66 on-site car parking spaces and 99 contemporary buildings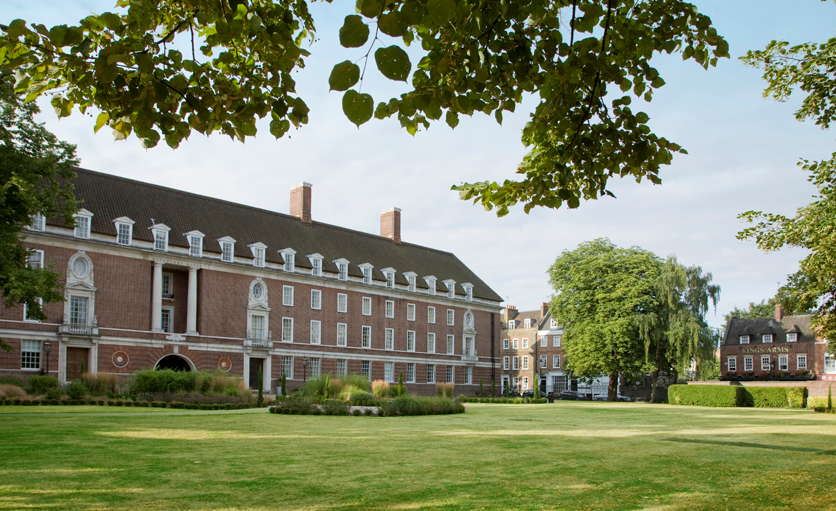 De Vere Devonport House Venue Capacity
Up to 100 seated and 150 standing
All of the event spaces have an original Georgian appeal, updated with all the modern technology needed to bring your event to life. The Westminster Suite can seat up to 100 people and 160 standing, and the Nelson & Hamilton Suites are adjoined to make space for up to 80 seated guests. Both are lit naturally by the floor to ceiling length grid windows, and their neutral colour scheme can suit any style, whether it be bright colourful, or simple and subdued.
For a more intimate event, the Drake and Churchill Suites have heritage panelled walls with direct access into private gardens. The smaller spaces will comfortably fit between 20 to 50 seated guests; their atmospheric charm will create a very memorable day.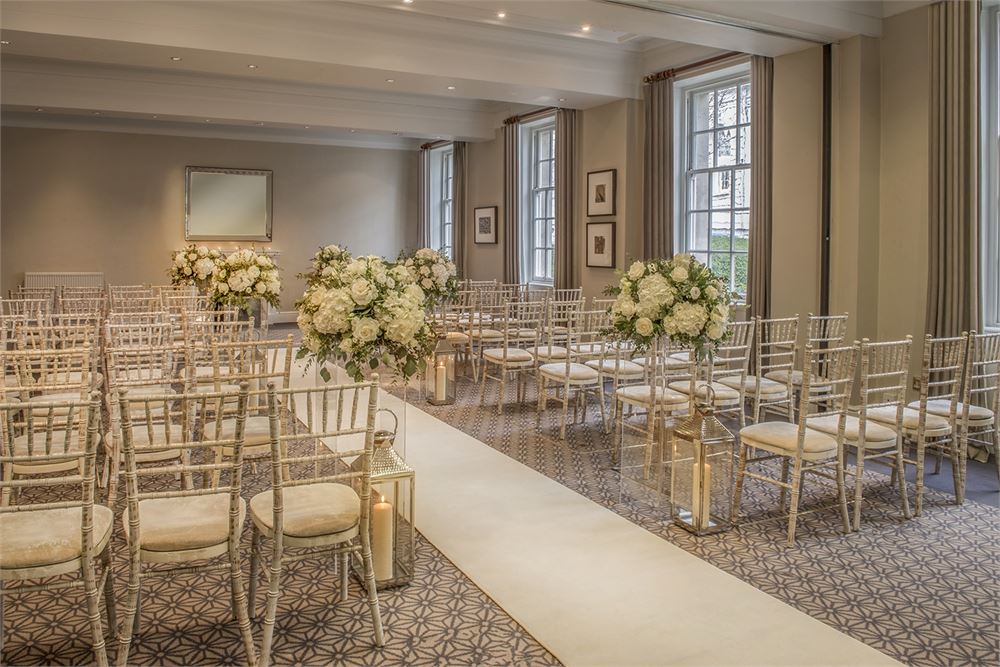 If centrality and transport links are a key priority for you, then the four star London Marriott Marble Arch takes the lead. With easy access to Marble Arch, Edgeware Road and Paddington stations, your guests will be able to access the venue with ease. The hotel is also situated very close to Hyde Park and its picturesque Italian Gardens, which offers prime outdoor photo opportunities. The venue itself has also underwent a full refurbishment in 2017, giving its interiors have a fresh updated feel mixed with the characterful original features. The imaginative wedding planners can help you visualise how to style the space and make your wedding celebrations a seamless operation.
Highlights include:
Located in the heart of the City of London
6 minute walk to Hyde Park and 5 minutes to Oxford Street
Skilled Marriott chefs can provide world cuisine, vegan, halal and kosher menus
Expertly trained wedding planners and courteous staff on the wedding day itself
On-site parking and special accommodation rates (10-20% discount) for the bride, groom and guests. There are 240 rooms in total.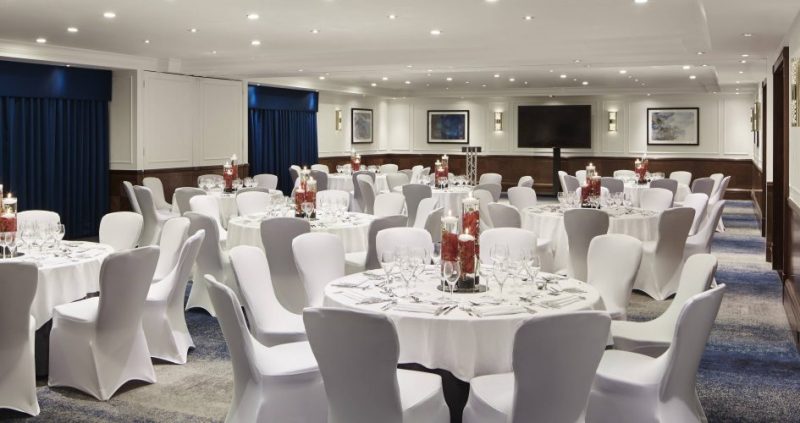 London Marriott Marble Arch Venue Capacity
Up to 120 seated and 180 standing
The Westmacott Suite is the primary wedding space, which has enough room to host 120 seated guests for your ceremony and reception dinner. Its classic elegant interior allows your imagination to take to the fore when planning decorations and seating arrangements. The abundance of ceiling spotlights can make the space as bright or dimly lit to create your desired atmosphere. The Pickled Hen restaurant at the London Marriott Marble Arch also provides a suitable reception drinks space during the room turn over.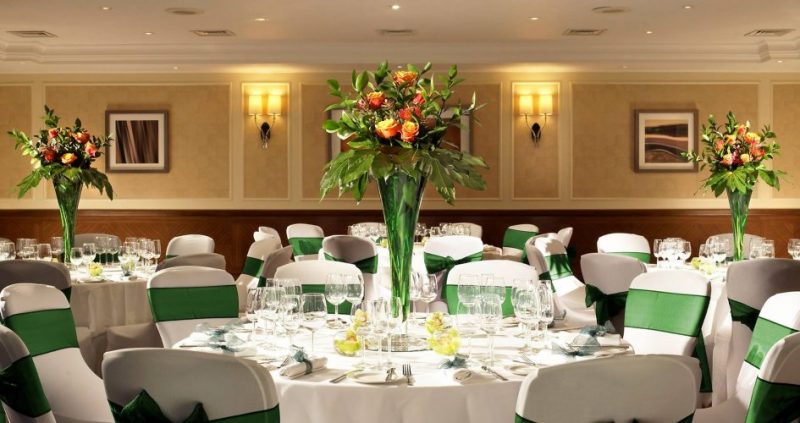 In the desirable location of Mayfair village, this five star hotel wedding venue radiates an air of sophisticated luxury. All facilities have been painstakingly renovated to adapted to cater for state-of-the-art events, yet its original 19th century character has been preserved. Every inch of The Connaught is crafted for the finer things in life, whether that be its bespoke seasonal menus, innovative cocktail creations or its discreet personal service. In fact, the impeccably trained in-house team have conducted society weddings through to intimate low key affairs, so whatever kind of occasion you are hoping for, The Connaught will exceed expectations. It's a beautiful venue to begin your next chapter together.
Highlights include:
121 luxury bedrooms for you and your guests
Located in the luxurious area of Mayfair
Dedicated in-house wedding planning team to help you prepare
Three elegant event suites for up to 120 people seated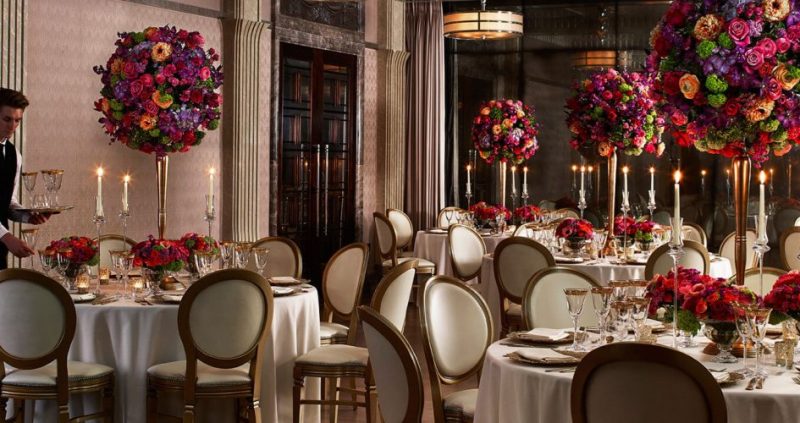 The Connaught Venue Capacity
Up to 120 seated and 200 standing
The Connaught has a number of versatile rooms available for event hire. Each has been beautifully upgraded by celebrated designers such as Guy Oliver. The largest space is The Mayfair Room, regal space on the lower ground floor that has an eye catching black and white marble entrance. As guests walk down the private staircase, the anticipation and exclusivity rises. Inside the room, antique mirrors imperial pilasters will reflect in the candlelight, which fills the room with a golden glow.
Another graceful space is The Maple Room,which accommodates up to 60 seated and 100 for a standing reception. The suite has an instant feeling of warmth and intimacy due to its maple panelled walls, grid mirror ceiling and bright floor to ceiling windows. The Maple Room can be paired with the Mayfair Room for a seamless ceremony-to-reception transition.

Courthouse Hotel Shoreditch is steeped in conspiracy and intrigue, given that it was once a Magistrates and Police Station. The Grade II listed Baroque building is said to have been the site where notorious menaces have been judged and sentenced. Even the world acclaimed author of 1984, George Orwell, was held here briefly under his false name of Eric Arthur Blair. The original holding cells are still in tact, and they have been up-cycled as stylish social alcoves. The recent renovations extend across the entire building and newly built extension. The fresh upgrade reflects the artistic and vibrant locale in which the hotel resides.
Highlights include:
86 rooms and 42 suites for your wedding guests
Unique history as a former Magistrates and Police station
Late licence until 1 am and state of the art AV equipment
8 car parking spaces on site and St Mary's school car park is available on weekends
A number of event spaces accommodating up to 350 seated guests
There is also a rooftop terrace, bowling alley and cinema room for hire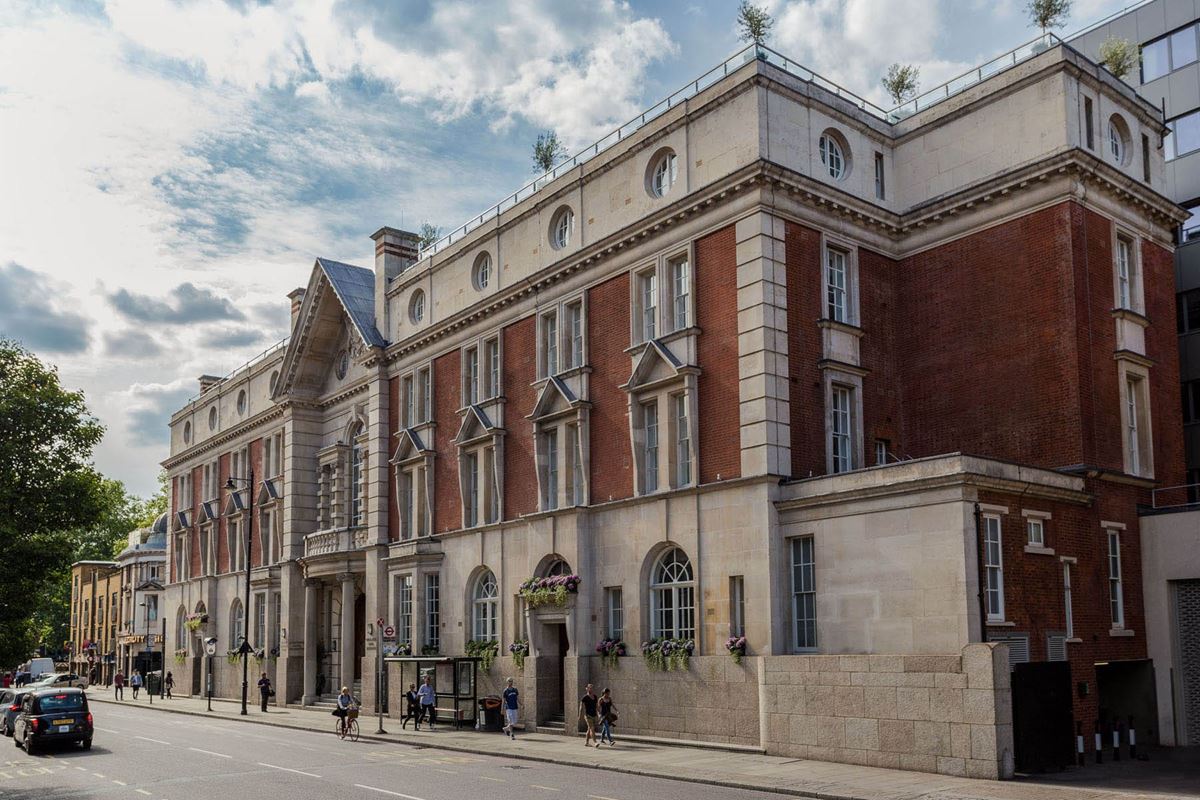 Courthouse Hotel Venue Capacity
Up to 350 guests seated and 700 standing
This top London hotel venue has a variety of spaces that would suit different wedding capacities and styles. Each of the rooms present a blank canvas for you to decorate, and the in-house wedding team can provide ideas and help you transform the space. The rooms are also fully equipped with state of the art AV equipment for your chosen music system, DJ or live band. The largest space is achieved by combining Chambers 1 to 5 on the lower floors, each of which have a capacity of between 40 – 60 seated guests and 60-150 standing. Alternative spaces include the atmospheric cinema with room for an audience of 196, or the open air Shoreditch Terrace for a cosmopolitan al fresco drinks reception overlooking the London skyline.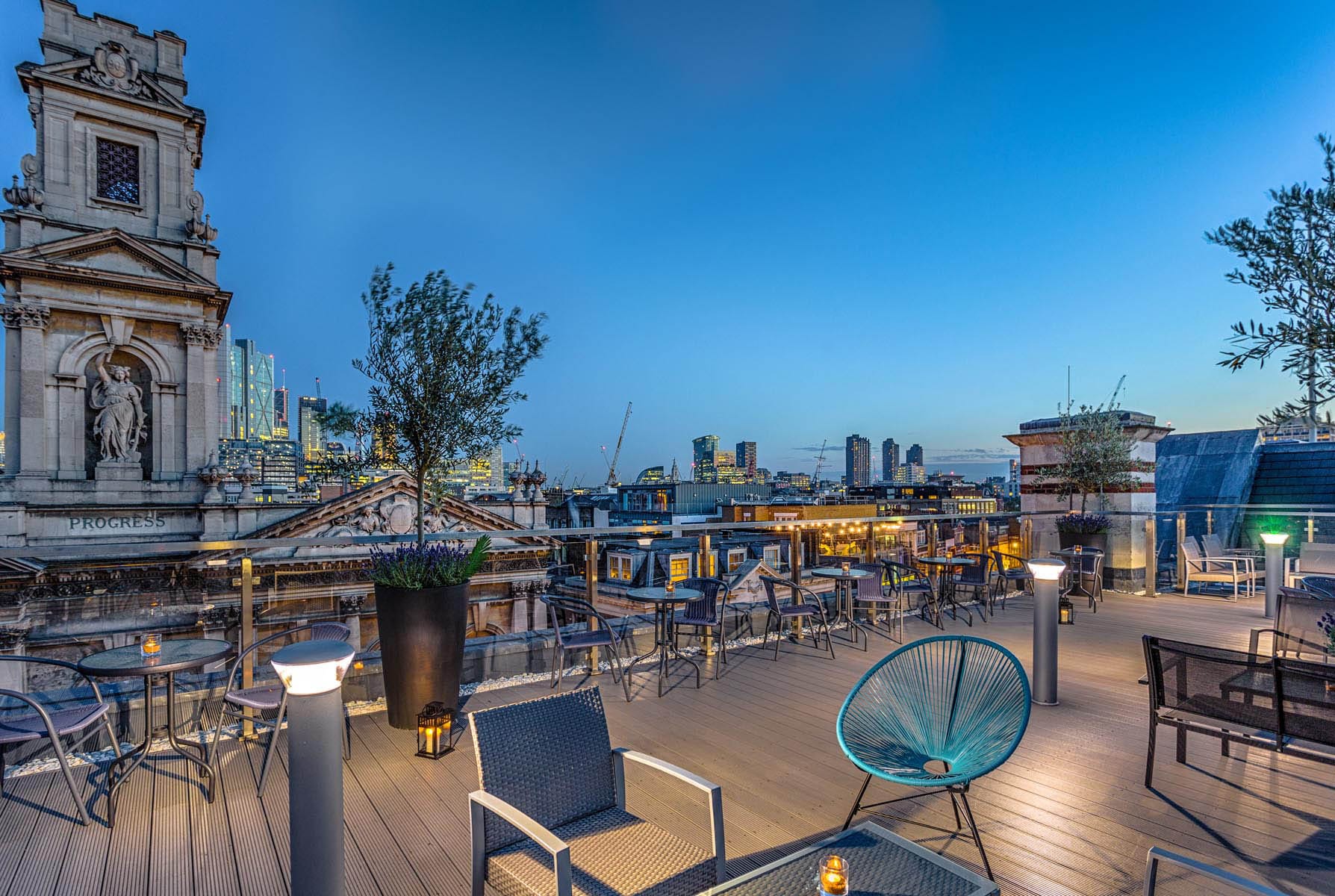 Situated in the creative epicentre of the City of London next to Moorgate and Liverpool Street stations, South Place hotel is a cosmopolitan, contemporary venue that blends in with its artistic surrounds. It is also the only hotel owned by the renowned D&D London restaurant group and so naturally, the seventh floor is home to its Michelin Star Angler restaurant. Clearly, fine dining and immaculate hospitality lie at the core of their brand, and their top team of chefs can create a bespoke menu for your wedding day. As well as this restaurant, other private rooms and the entire first floor can be hired exclusively. Each room provides a blank canvas for you to design and decorate with your own personal stamp. What's more, there are 80 bedrooms for your guests to retreat too after an evening of wining, dining and dancing the night away.
Highlights include: 
80 hotel rooms and variety of event spaces for up to 100 dining or 200 standing
Easy access to Liverpool Street and Moorgate train stations
A unique Secret Garden event space with a retractable roof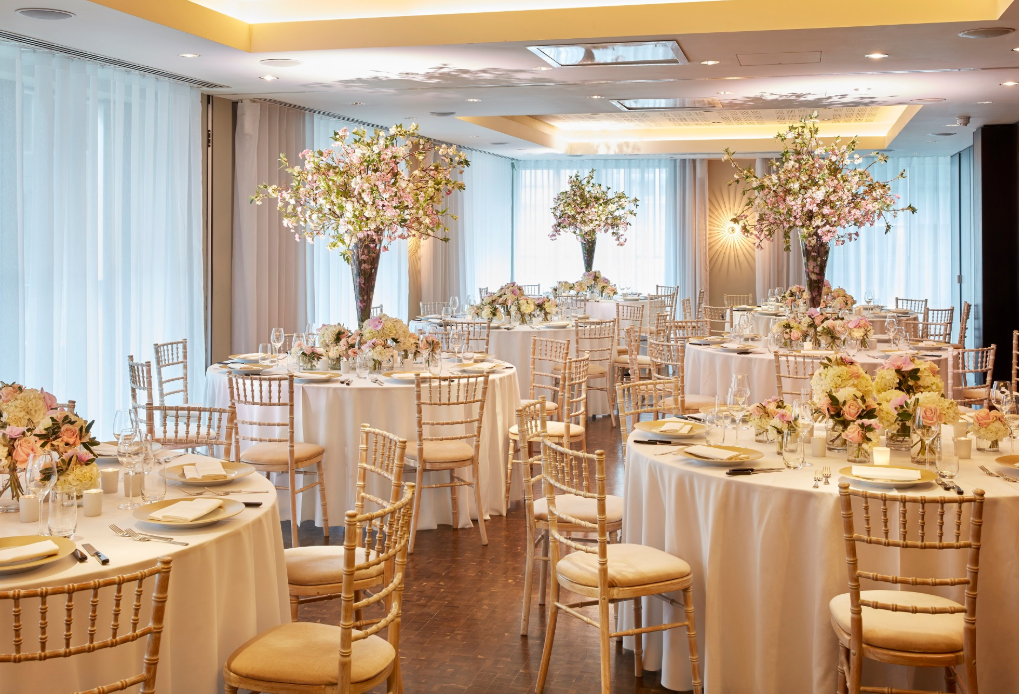 South Place Hotel Venue Capacity
Up to 100 seated and 200 standing
The Purdey & Steed Room is a trendy understated function room for you to bring your flair. The cream drapes and bright floor-to-ceiling windows give a neutral appeal for both classical ceremonies and sleek wedding receptions. The large space can fit up to 100 seated and 200 standing. The Solo & Le Chiffre Room has a similar neutral palette with beautiful Herringbone flooring and a speakeasy style bar for up to 100 guests. By contrast, The Secret Garden has a vibrant tropical feel, with pot plants, sleek metal furnishings and a retractable roof to let the sun shine in on warm London days.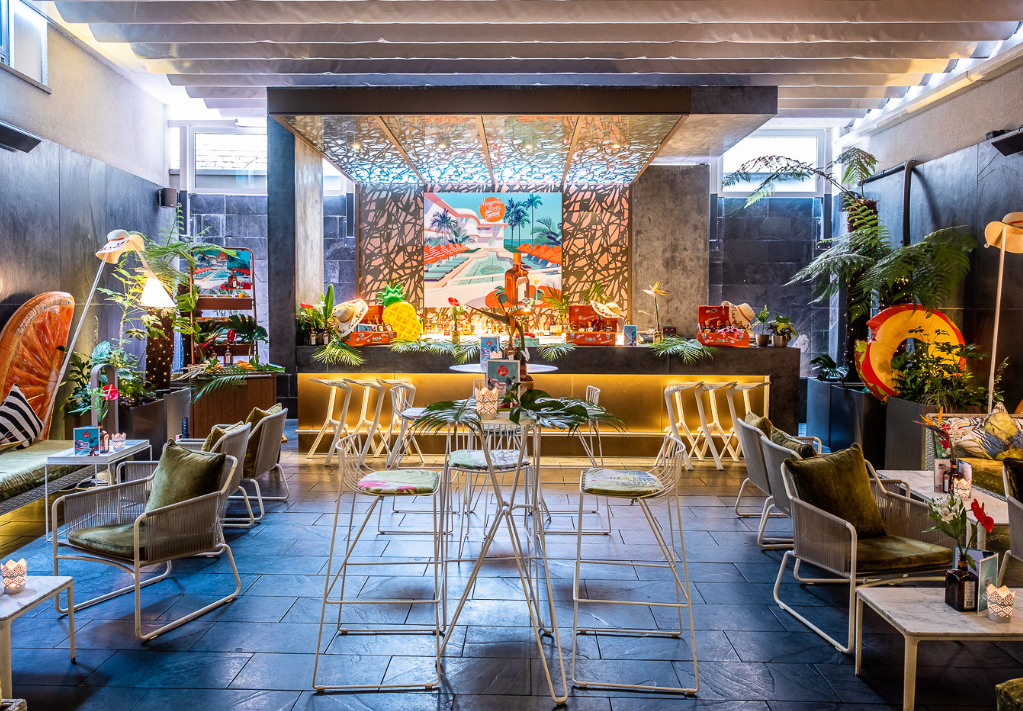 This neoclassical building lives up to all aspirations of what London architecture should be, with an added hint of Sofitel's signature French style. Located on the prestigious corner of Pall Mall and Waterloo Place, Sofitel have taken this heritage landmark hotel and mixed it with sleek avant-garde furnishings to meet the needs and desires of the modern luxury traveller. Think majestic black and white polished marble floors, floor to ceiling windows, and contemporary artwork on the walls. It's a showstopping hotel venue to share with your guests. They'll be well looked after by the in-house hospitality team, and your individual Inspired Wedding Planner will oversee the entire day, so you can soak in the atmosphere.
Highlights include:
St Pancreas, Victoria and Waterloo stations are all located within 2.5 km
183 bedrooms and 15% savings on Sofitel hotel stays for hotel guests
Characterful British architecture with French influences
Advanced event AV technology including colour changing LED lights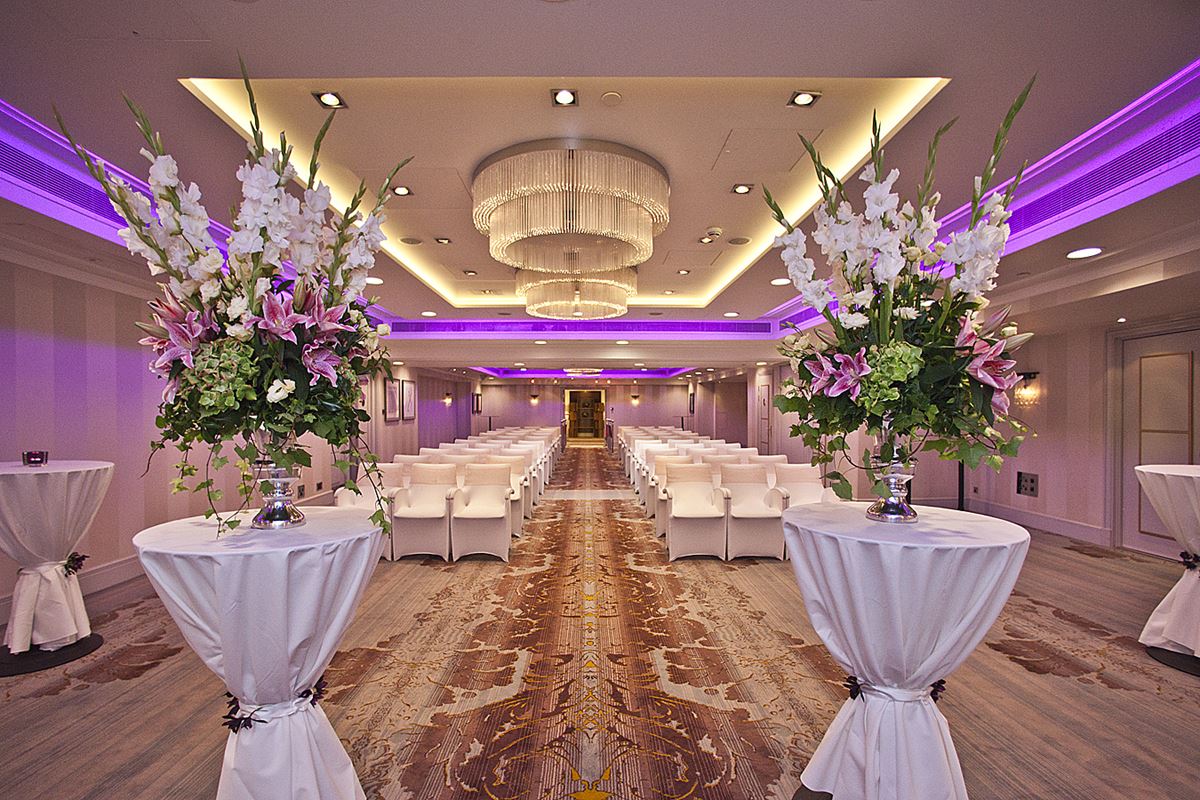 Sofitel St James Venue Capacity
Up to 150 seated and 200 standing
The spacious function rooms at Sofitel St James are elegantly designed with a neutral palette that complements any wedding colour scheme. The hotel's chairs and tables are all included within the venue hire so you can arrange them however you wish. The colour changing LED strip lights can be adjusted what ever tone you desire, and this creates a real impact on the space and mood. There are two similar rooms that are preferred for weddings: the Westminster Suite for up to 150 seated guests, and the Mayfair Suite for up to 140.
This palatial terracotta building in North London is a prime example of grand Victorian architecture. Built in 1899, the hotel is embedded in the history of the area, which is easily accessed from Cricklewood, Willesden Green and Kilburn stations. Inside the striking hotel, the colossal atrium has a curved glass ceiling which streams in natural light onto the polished marble. Above, the attractive mezzanine is laden with streaming foliage and makes an ideal space for an elegant drinks reception. This gallery leads into various function spaces that have a characterful mix of original period features and modernised furnishings. Your dedicated event coordinator will help you add your personal touches to make the spaces your own.
Highlights include:
152 four star bedrooms with discounted rates for guests
Complimentary bridal suite for the bride and groom
On-site parking and nearby stations include Cricklewood and Willesden Junction
Late licence until 2 am on Friday and Saturday
In-built dance floor, stage equipment and DJ available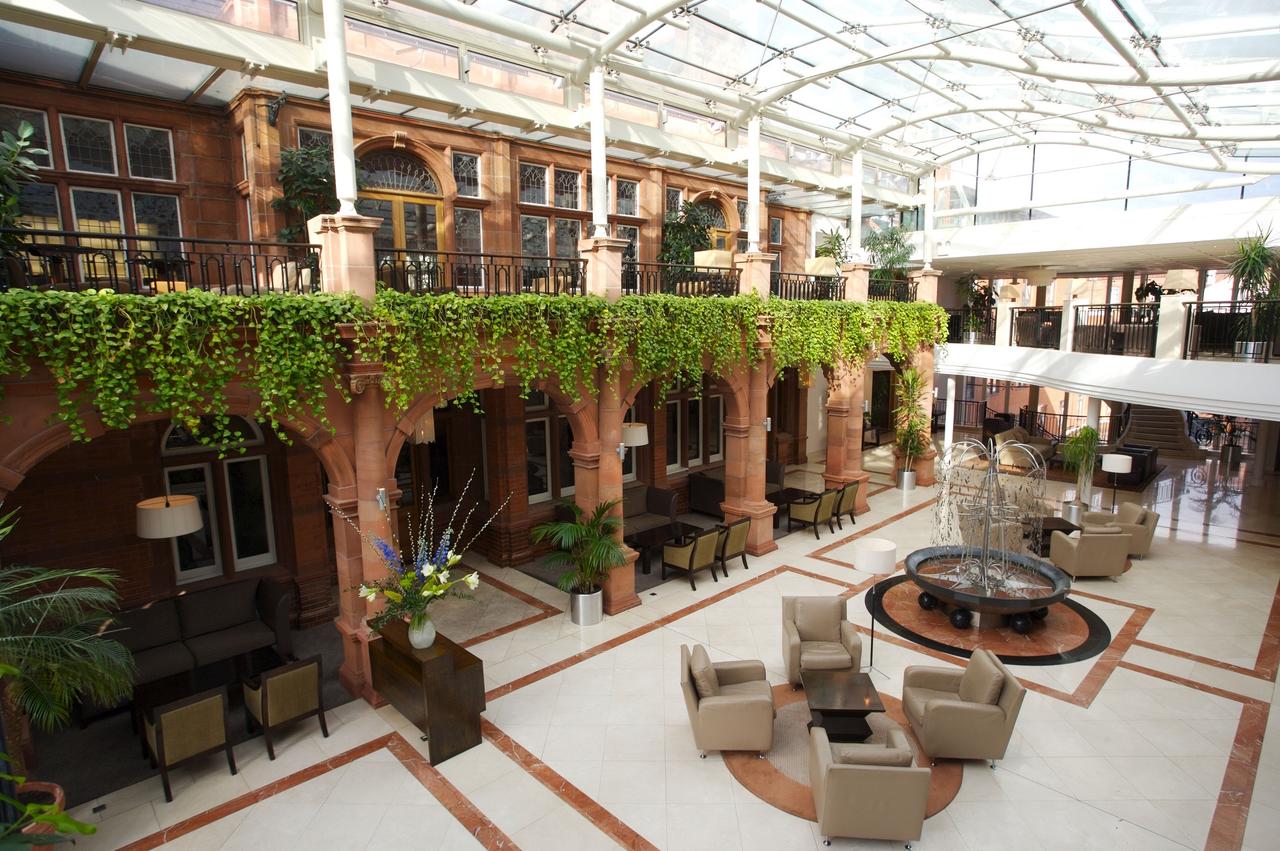 Clayton Crown Hotel Venue Capacity
Up to 300 seated and 300 standing
At The Clayton Crown Hotel Wedding Venue London, there are two key wedding spaces to choose from. First is the Bentley Room. Its classical interior features glittering chandeliers, golden wall pilasters and an in-built dance floor for up to 300 people. Second is The Sala Room, a slightly smaller space that fits up to 120 guests. This room has an eye catching arched stucco ceiling, terracotta walls and a polished dark wood floor. These features create an intimate warmth to the room, and the French doors on one side open onto a terrace overlooking the bright atrium in the centre of the hotel.