Are you having an Asian wedding in London and looking for a majestic Asian wedding ceremony and reception venue in London? From 100 guests to 1000, Easy Weddings have selected the best Asian wedding venues across the capital. These dry hire venues welcome Hindu Mandap ceremonies, Sikh, Buddhist, Islamic unions and more. Read on to find a suitable setting that will make your celebration stand out from the rest…
Get help finding the best wedding venue to match your plans
The Grand Connaught Rooms in Holborn is an eclectic London Asian wedding venue that exceeds every expectation. The Art Deco-style function rooms showcase glittering chandeliers and ornate panelling, meaning that even with minimal decoration, they still feel dressed to impress. Moreover, the Grand Connaught Rooms' three event space options are all different sizes so that you can create an atmospheric event tailored to your guest list and budget. If seeing is believing, then taking a look at The Grand Connaught Rooms will take your breath away. The scale and grandeur of this leading Asian wedding venue is one not to be missed.
The option to dry hire on weekends is a very popular choice for couples who want to bring bespoke decor and cultural flavours to their wedding. The Grand Connaught Rooms' skilled chefs have a delicious variety of menus to choose from. Alternatively, if you have your own caterers in mind, then the team will happily explain the process for having them approved if they aren't already.
Click here to find out more, and book your viewing at  De Vere Grand Connaught Rooms on 0203 870 8881.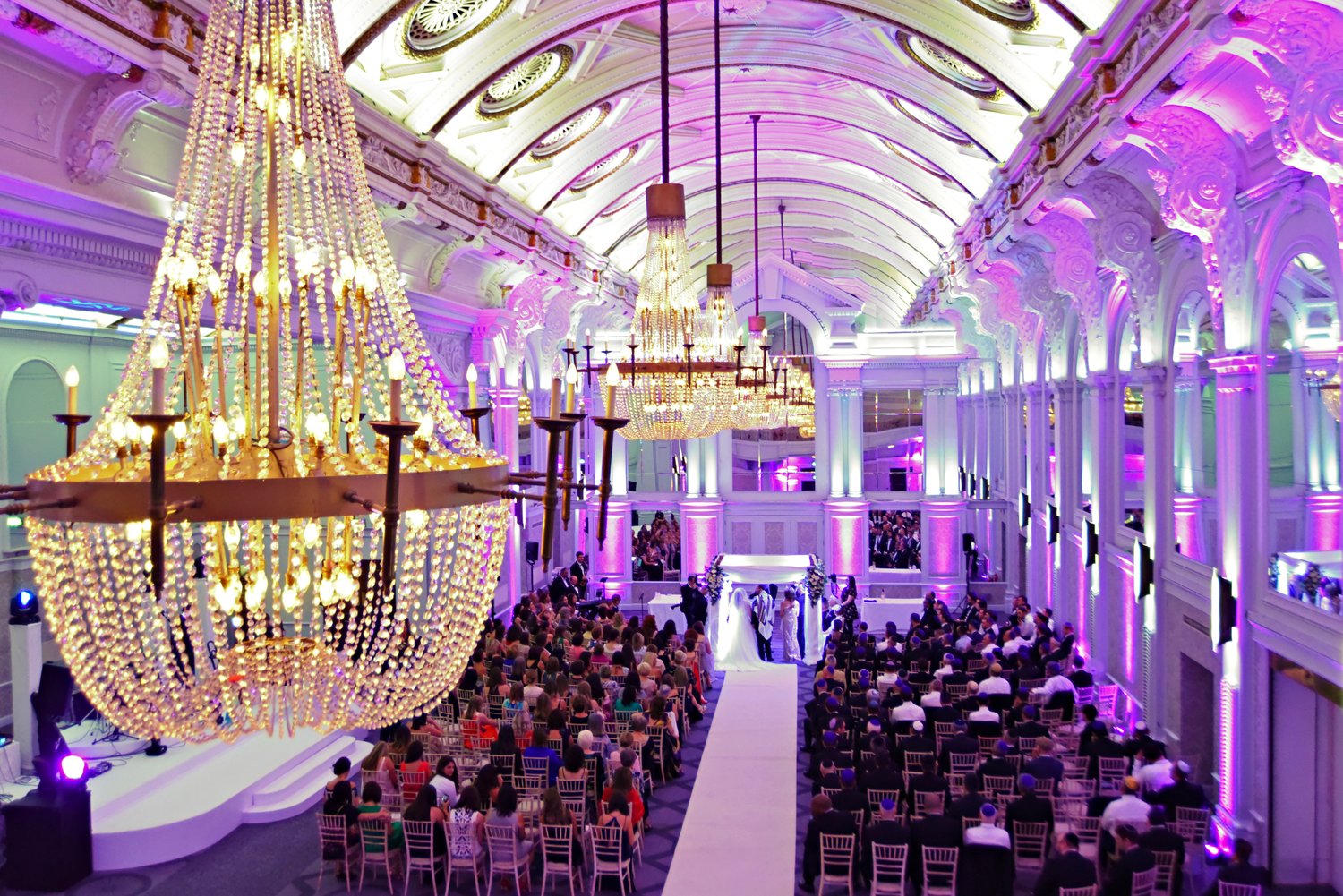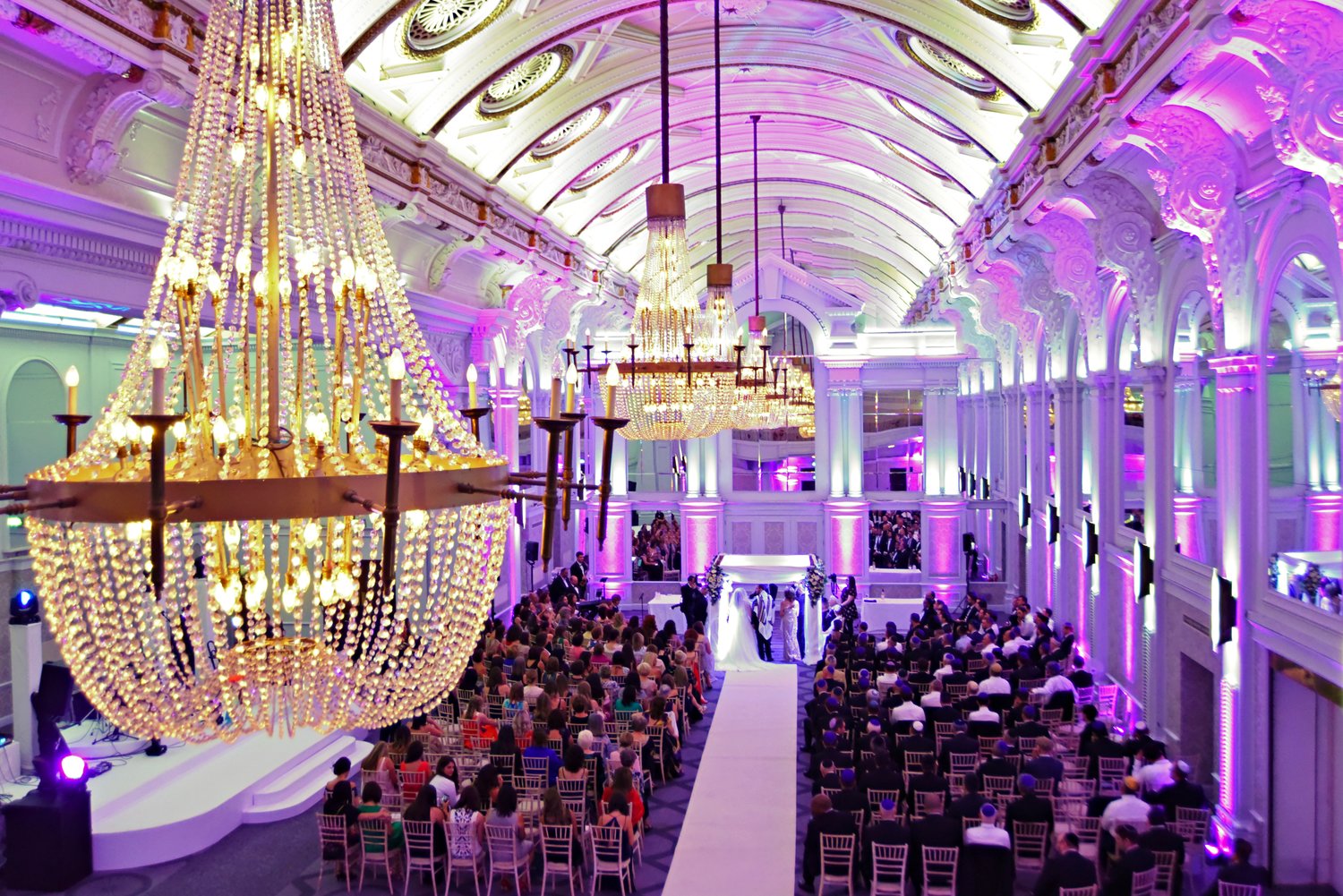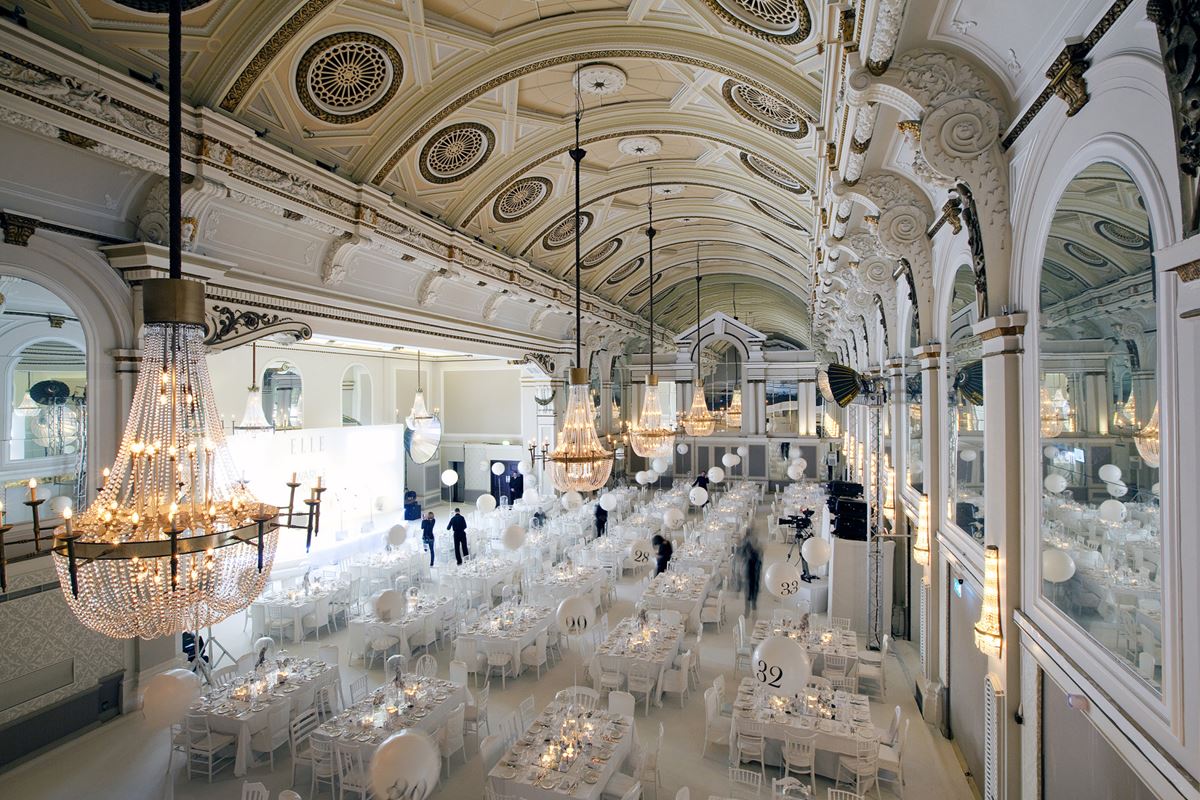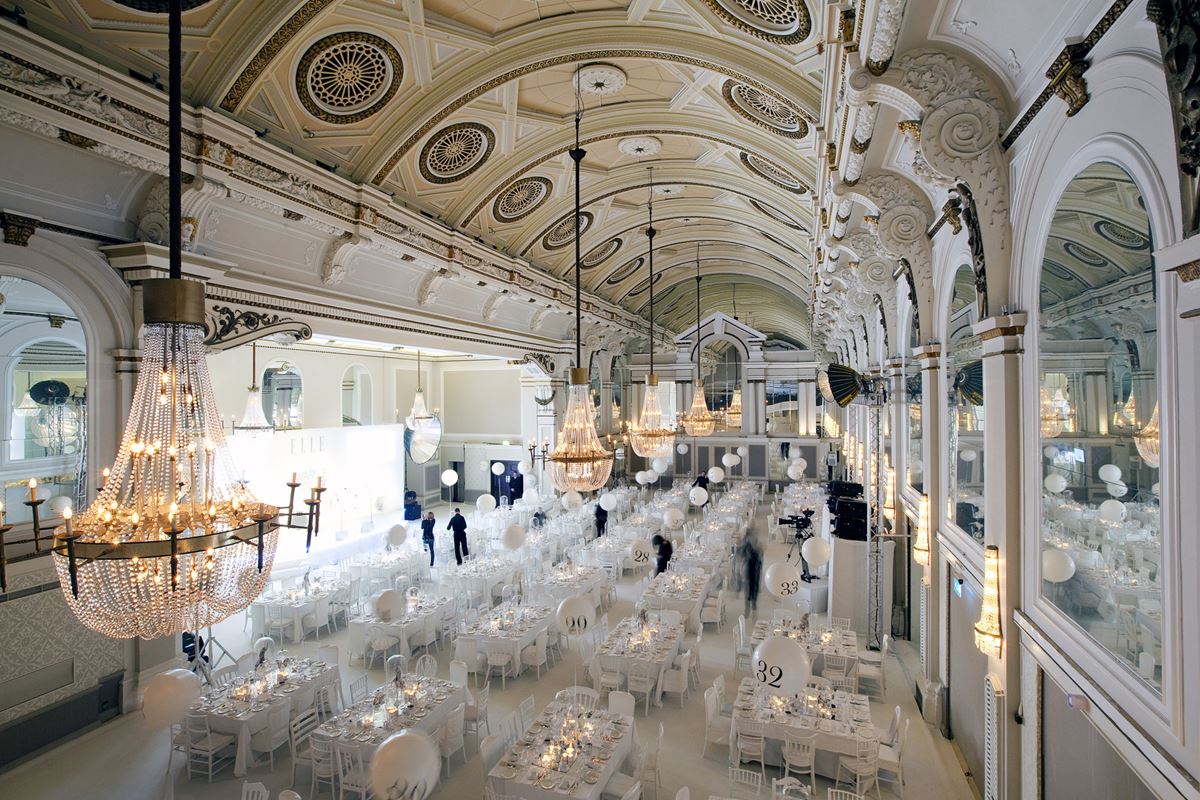 Venue Capacities
Up to 540 in The Grand Hall
There are three paired event space options at various levels of The Grand Connaught Rooms (all of which have excellent disabled access). The largest of them all is The Grand Hall. Opening the large doors into this cavernous auditorium is a jaw-dropping moment as you look up to its 42-foot high ceilings and original Grade II listed detailing. Its extensive floor space accommodates up to 540 guests for civil and Mandap ceremonies or for a sit-down meal. There is also a stylish break-out space in The Balmoral Suite to the right, which has an in-built bar (that can be covered with an elegant curtain) for hosting your pre-dinner drinks.
Up to 250 Wedding Guests Seated
Next, on the first floor (accessible by stairs, lift or chair lift), The Edinburgh Suite is an elegant chandelier speckled room with desirable natural light. Its lengthy interior is ideal for a central wedding aisle or a stately seated dinner dance. Next door, The Drawing Room is an eye-catching event space to set the party atmosphere with canapes and cocktails surrounding its circular bar.
The final option is The Crown Suite. There is something so unique about hosting your ceremony here, beneath the duck egg blue ceiling dome. Adjoined to this chic light-filled room, The Cornwall Suite makes for a wonderfully spacious dining area.
check out Grand Connaught Rooms
This regal London wedding venue was once described by English Heritage as having 'the grandest example of a Victorian ballroom in existence'. So if a statement Asian wedding venue is what you're looking for, then 8 Northumberland Avenue is the one. It's hard not to agree after setting your eyes on the astonishing auditorium, fitted with state-of-the-art LED lights that have up to 6 million different colour options…
8 Northumberland Avenue is just a short stroll away from Charing Cross tube station and Trafalgar Square, making it one of the most central and accessible Asian wedding venues in London. But for guests driving to the venue, 8 Northumberland can also offer a discount at the Q Park nearby. In the dry hire package, ten spaces are already included for you and your guests.
What is particularly advantageous about 8 Northumberland Avenue is that it's exclusively yours on the day of your event. Once you have access to the venue (from 8 am or 2 pm), the event spaces are yours to design. The hotel's creative partners, AlchemyLive, are also on hand to help you plan an outstanding occasion if you so wish.
Click here to find out more, and book your viewing at 8 Northumberland on 0203 870 8881.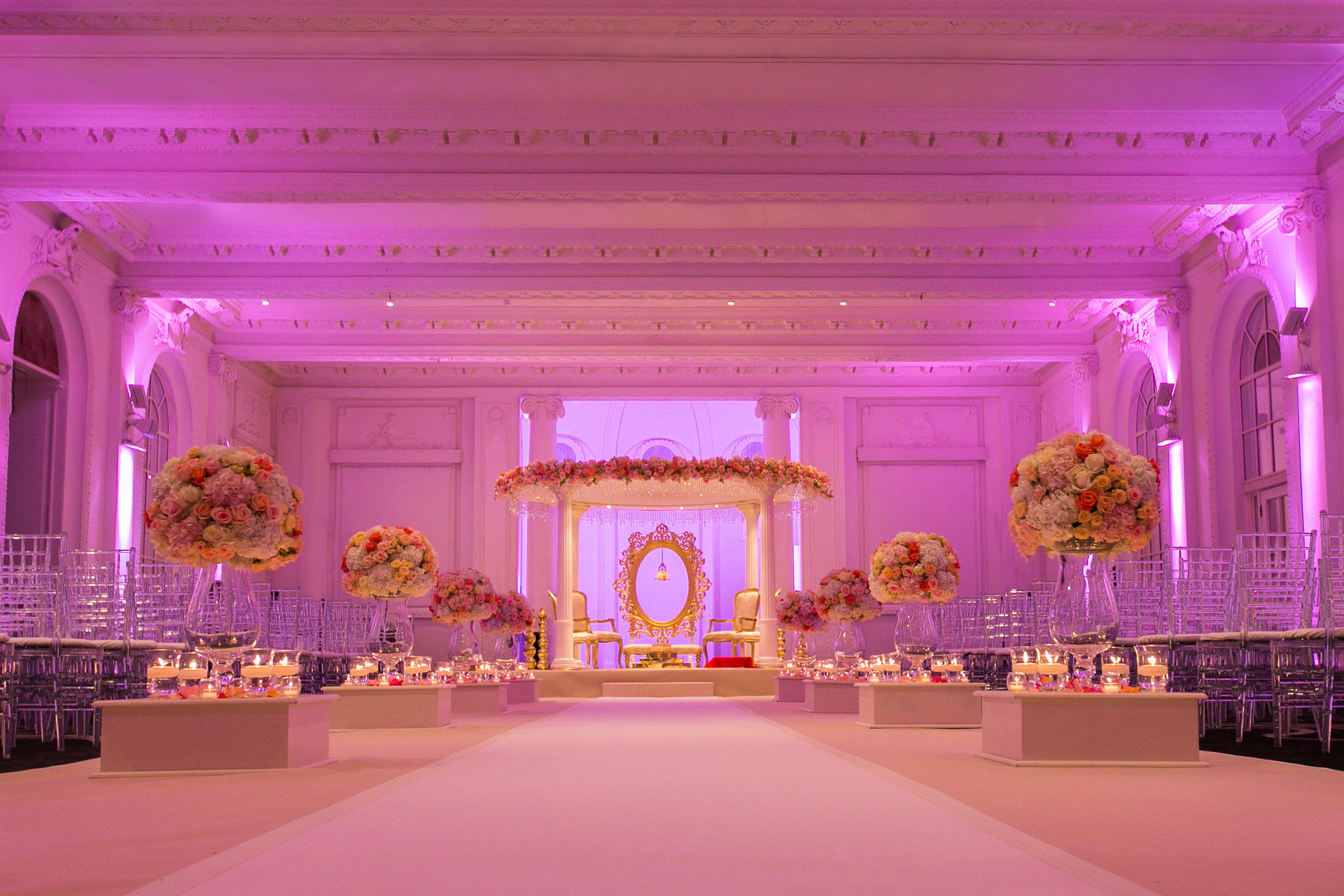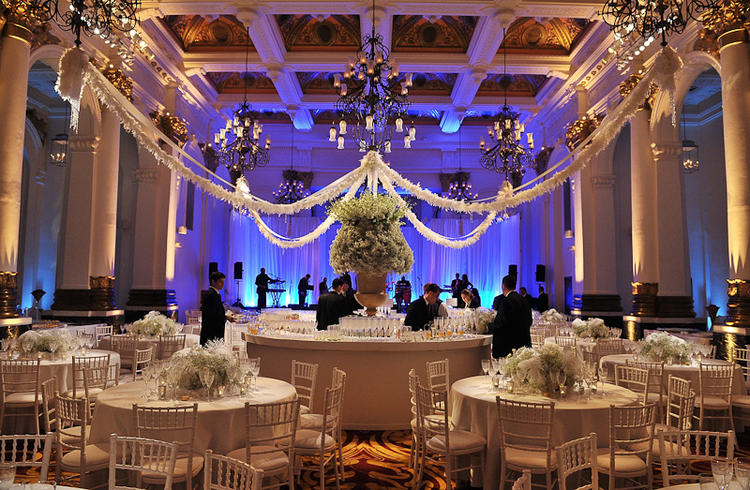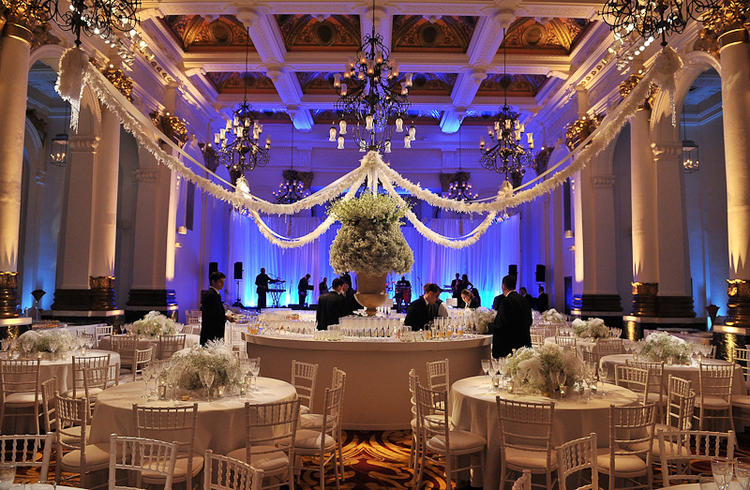 Venue Capacities
Up to 420 in The Ballroom
At 8 Northumberland Avenue, there are three key event spaces. On the ground floor, the atmospheric corridor leads towards The Ballroom. From the first entry, it's clear to see that the venue is constantly repainted to keep it immaculately presented. From here, the doors open to reveal The Ballroom, and its majestic interior is larger-than-life. The ornate grid ceiling, stained glass windows and colossal pillars instantly elevate any Asian-inspired event, and the LED screen on the far wall is a creative addition to the scene.
Up to 250
On the lower ground floors, the adjoined Old Billiard Room and The Annex have a slightly more classical and intimate feel. With the recent addition of further LEDs and intelligent robotic disco lights, both rooms can radiate any colour you choose. If one thing's for sure, 8 Northumberland Avenue provides the forefront of event technology for Asian weddings.
visit 8 Northumberland Avenue
Booking a wedding at The Waldorf Hilton provides couples with dependable Hilton hospitality, event management expertise and resplendent Edwardian interiors. It's a calm oasis in the theatrical heart of London, with abundant space to throw the celebration of a lifetime. The dedicated team at the Waldorf Hilton understands the importance of your wedding plans and will be as flexible as possible to accommodate any needs.
The Waldorf Hilton is a stone's throw from the lively hub of Covent Garden and within walking distance of major train links at Leicester Square and Waterloo station. With all of these travel options at its doorstep, your guests will arrive at the Hilton Waldorf with ease. They are also able to book hotel rooms at discounted rates, so they can drop all bags and change into party gear ahead of the wedding entertainment ahead.
Click here to find out more, and book your viewing at The Waldorf Hilton on 0203 870 8881.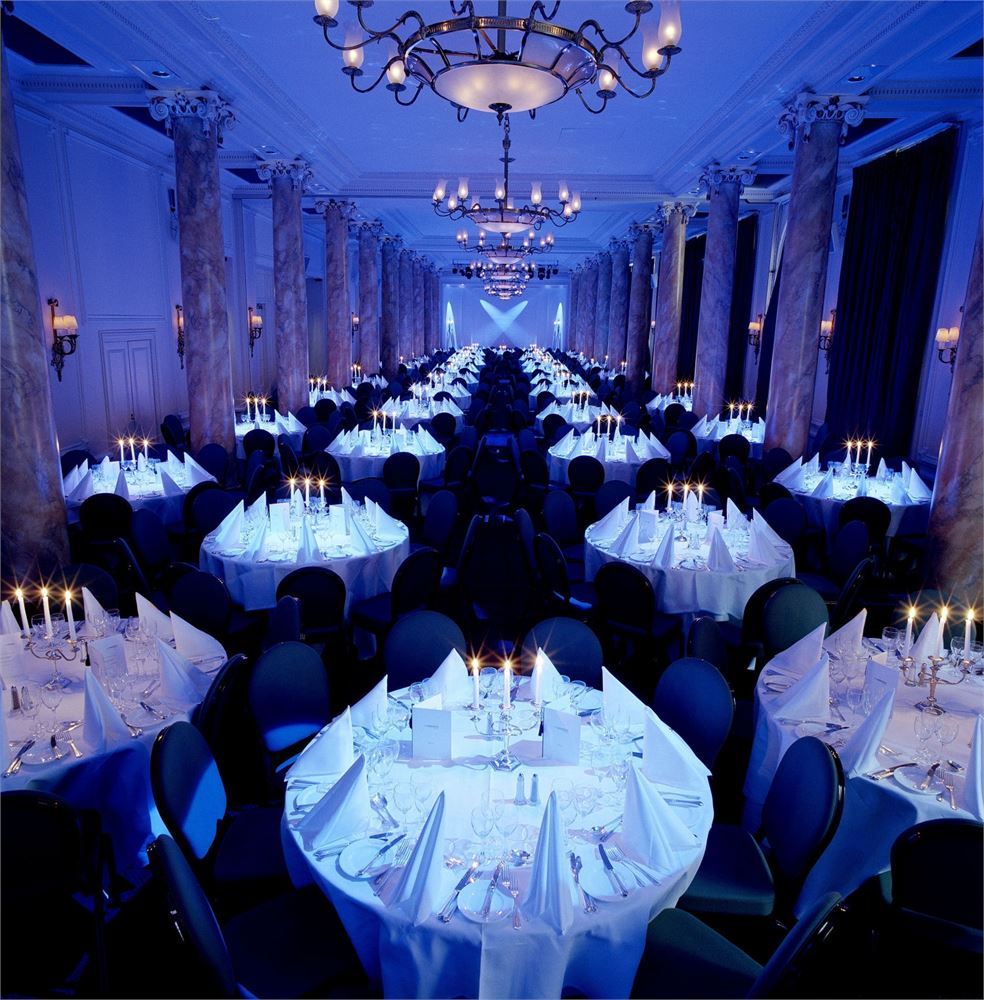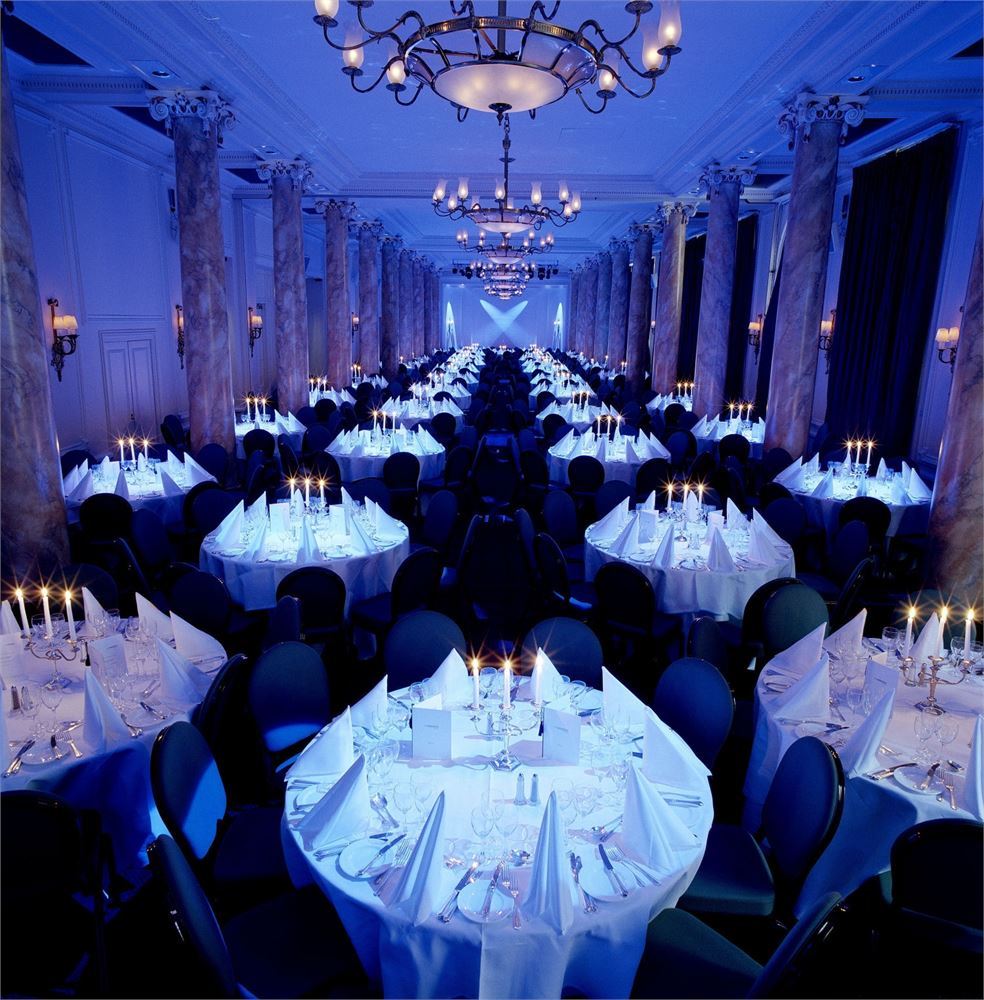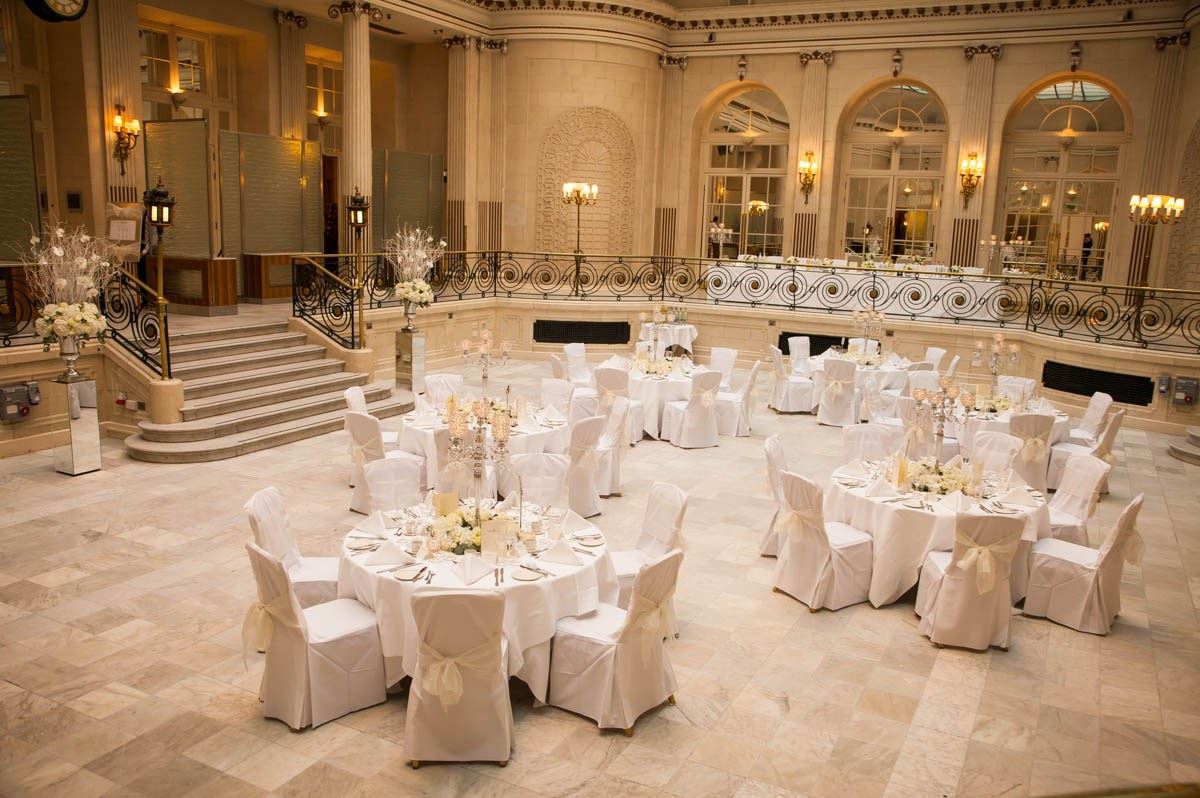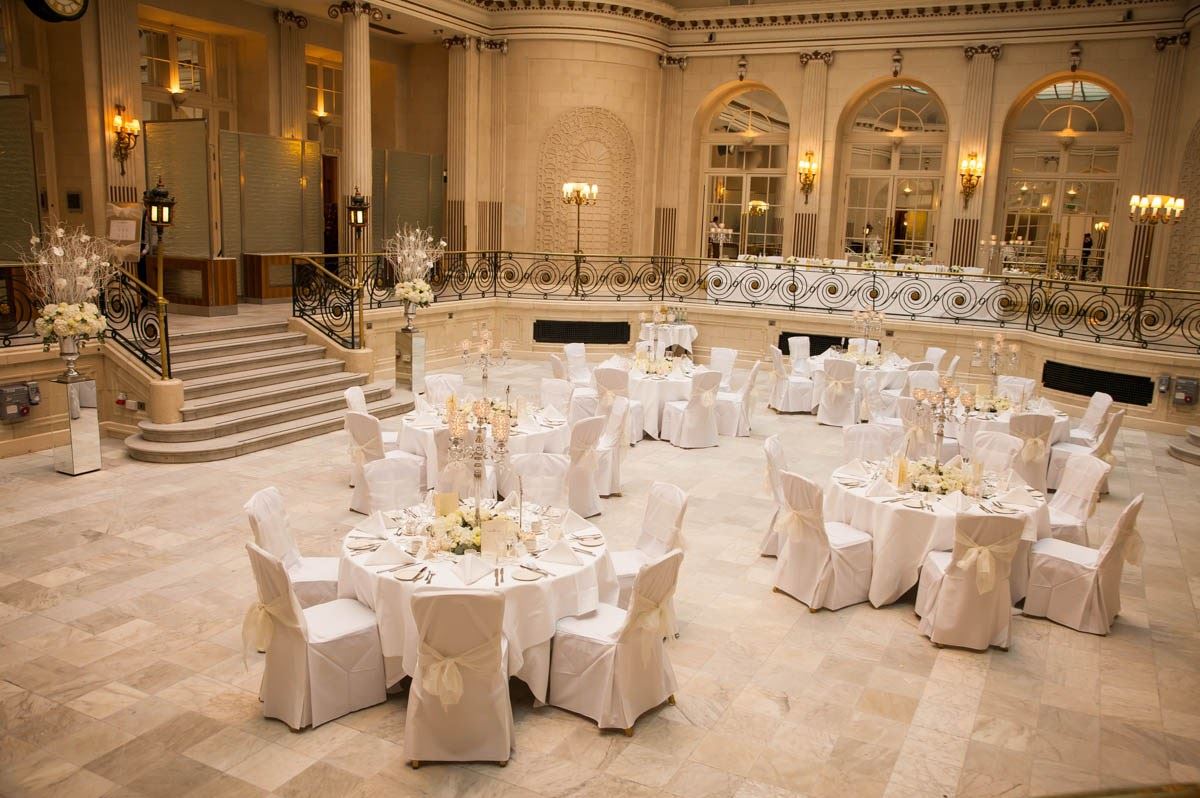 Venue Capacities
Up to 380 in The Adelphi Suite
The largest and most versatile space at the Waldorf Hilton is the huge Adelphi Suite, which can be divided into thirds. This is useful if you'd prefer a more intimate ambience, a surprise dancefloor, or a partitioned space for children to play. The vast interiors are glamorous yet unpretentious, with the subtle carpets and plush pink velvet chairs adding to the warm inviting atmosphere. This room is fully licensed to hold your Asian wedding ceremony, or it can be dressed for your reception and revealed later after you tie the knot in Palm Court.
Up to 150 in The Palm Court
The showstopping centrepiece of the venue is Palm Court, a bright airy space encased in marble with a frosted glass ceiling. Its symmetrical layout features Romanesque pilasters and a pretty wraparound balcony with vintage wrought iron lanterns. The beauty of the Waldorf Hilton's two function rooms is that they both work together seamlessly to create a fluid event flow. Both rooms work well for Mandap ceremonies or cultural reception, so you can mould the spaces to whatever set-up works best for you.
find out more
History has been preserved immaculately at this Georgian manor on the outskirts of London. What was once the hunting grounds of Henry VIII is now a beautiful Asian wedding venue surrounded by lush countryside and immaculate golf lawns. Large-scale venues don't often come laced with fascinating heritage and jaw-dropping aesthetics, so if you're looking for a dry hire space with more than just a banqueting suite, this option is one of the leading London Asian wedding venues on offer. Plus, with easy transport links from central London and a spacious car park and onsite guest rooms, Addington Palace is very accessible for guests driving in or using public transport.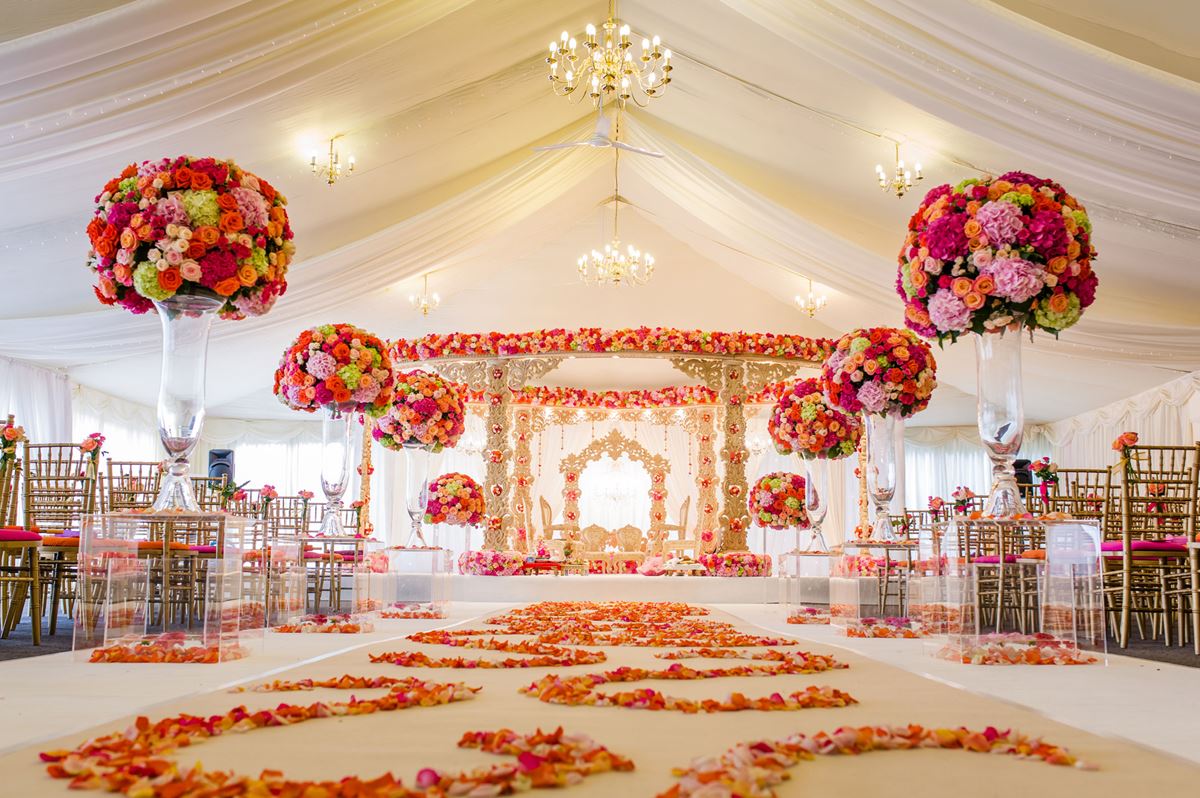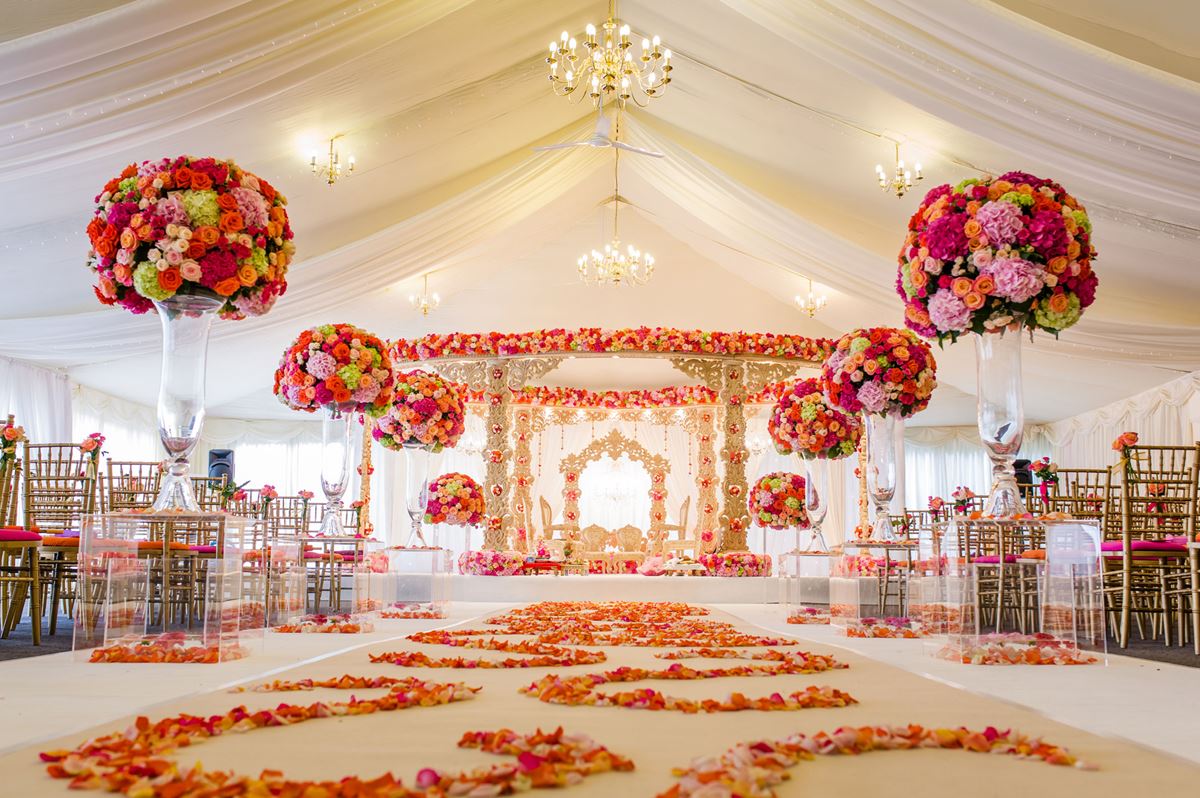 There are licensed spaces inside the property, including the magnificent Great Hall. There is also the choice to conduct a Mandap ceremony outside on the picturesque lawns on pleasant summer days. If one thing is for certain, Addington Palace is fully equipped to meet all of your expectations and more. They have been hosting top-quality Asian weddings for decades and are constantly updating their event facilities whilst respecting the heritage value of the property. Over time, Addington Palace has forged strong relationships with reputable caterers and suppliers, so with their guidance and acute knowledge of the venue, they can construct the wedding day you've been dreaming of.
Click here to find out more, and book your viewing at Addington Palace on 0203 870 8881.
visit Addington Palace
If you're on the hunt for a one-of-a-kind Asian wedding venue in London, that's guaranteed to wow your guests, the Natural History Museum should be well and truly on your radar. The museum's striking architecture and world-class collections form a dramatic backdrop for majestic Asian weddings in London's South Kensington. Venue options include the spectacular Hintze Hall, the celestial Earth Hall, the impressive Fossil Way, and an array of smaller galleries for intimate wedding celebrations.
Click here to find out more, and book your viewing at the Natural History Museum London on 0203 870 8881.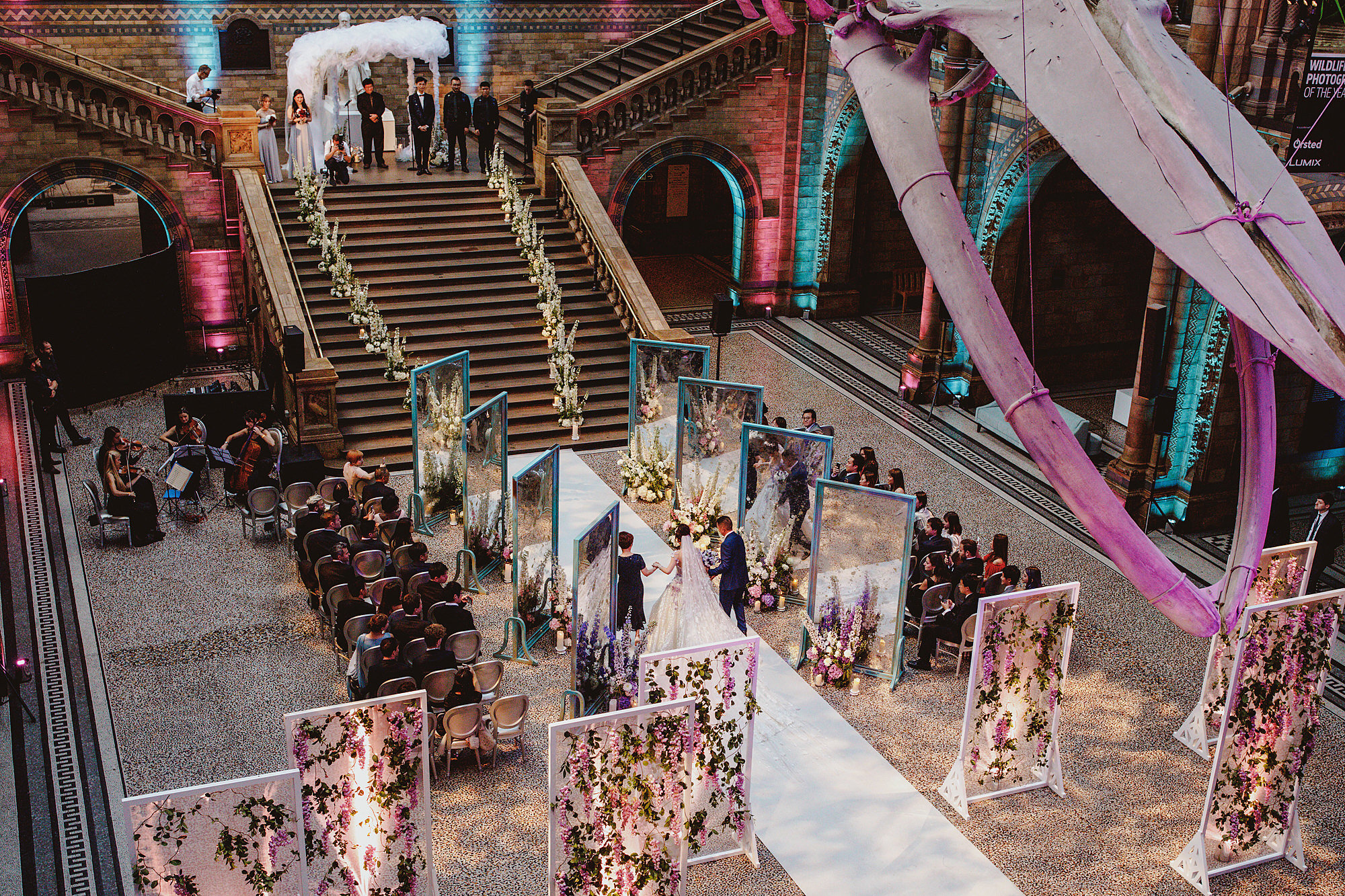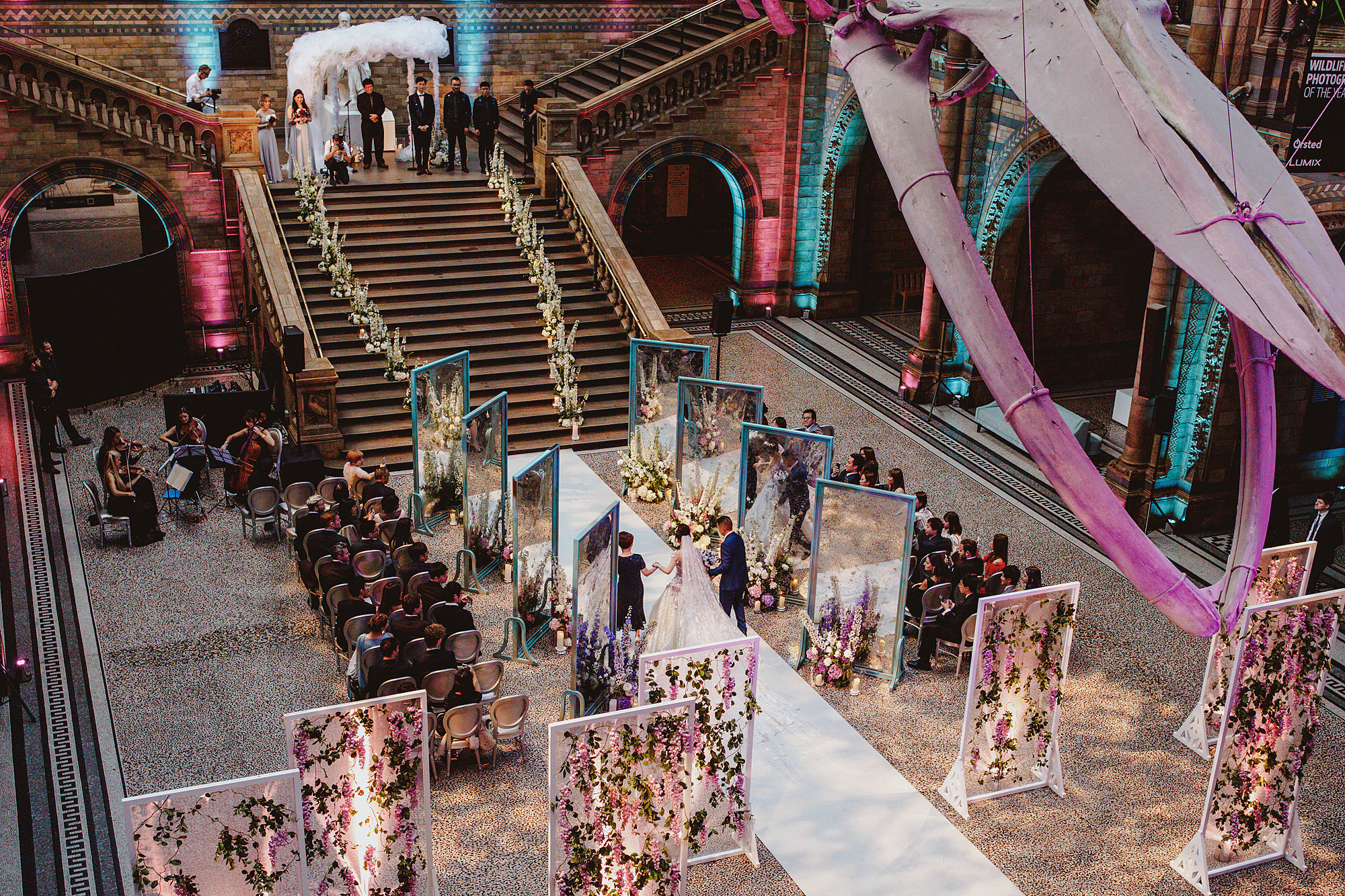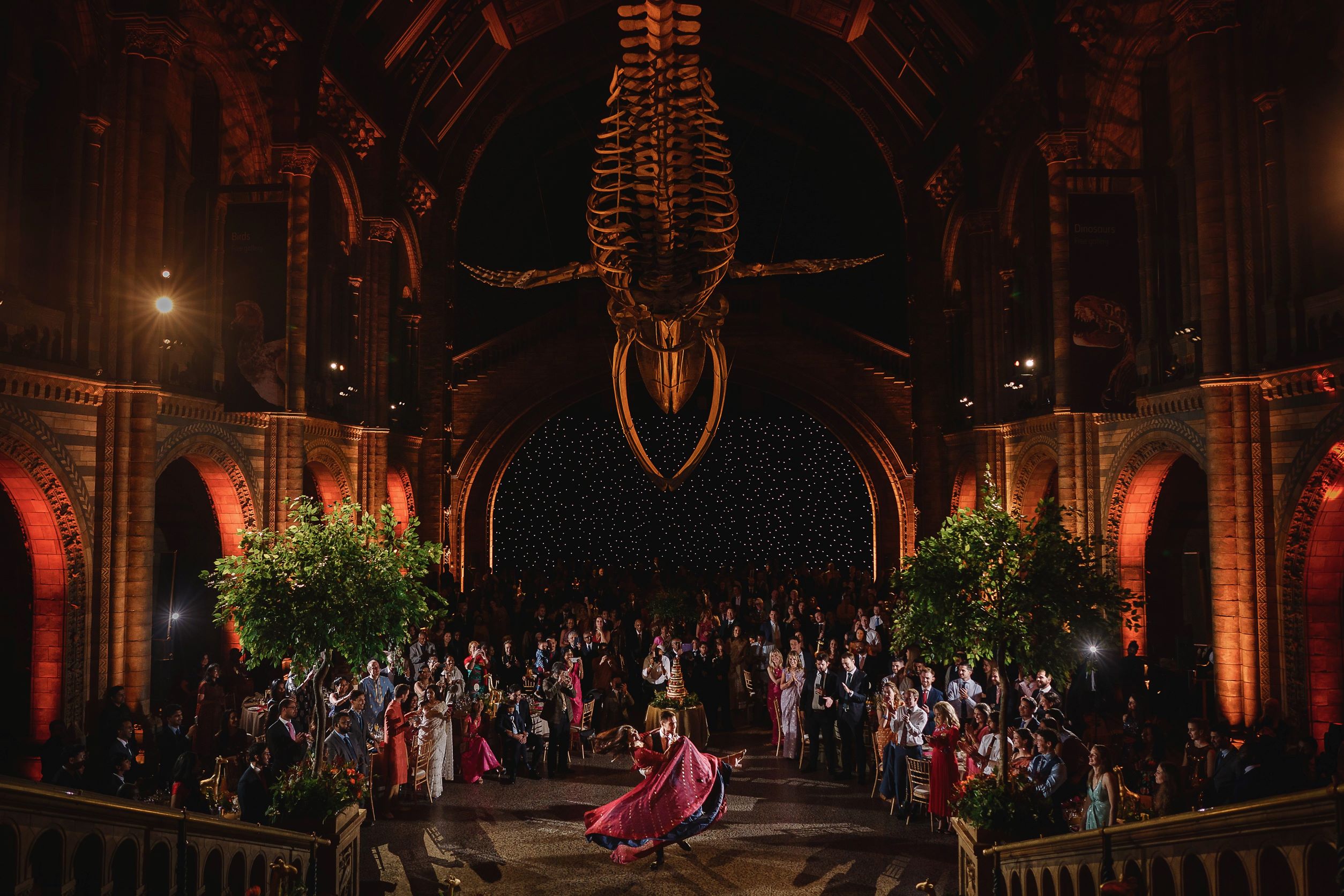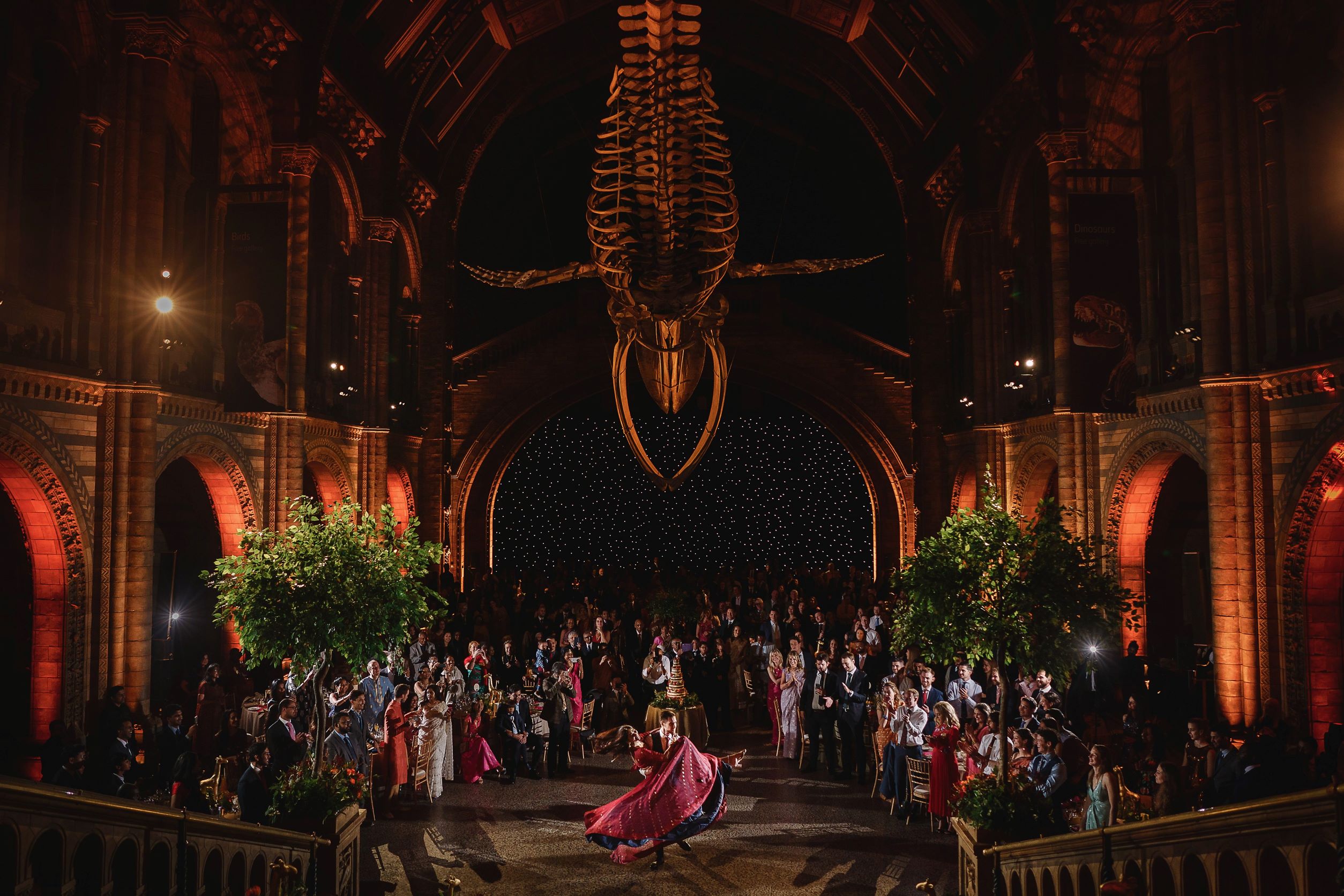 The museum's largest and most dramatic wedding venue is the magnificent Hintze Hall, home to soaring Romanesque arches and a grand stone staircase. The focal point of Hintze Hall is the spectacular blue whale skeleton suspended from the ceiling. Hope the whale is complemented by a fascinating range of new specimens in the bays to the sides of the hall, creating a truly unique setting for Asian weddings at the Natural History Museum London.
find out more
Surrounded by the arty hubs of Shoreditch and Islington, Andaz London Liverpool Street is brimming with creative inspiration, and many of its entrance rooms draw influences from current street scenes. However, this initial modernist impression gives way to further function rooms with beautiful period features, including the secret Masonic Temple, which is the only remaining Freeman's meeting lodge in London. Its marble, mahogany and gilded walls are preserved immaculately; it's as though you have stepped back in time. Yet, across the entire five-star hotel, the upgraded service amenities, AV equipment and light fittings bring this 19th-century building to the forefront of contemporary technology.
Adjacent to Liverpool Street station, Andaz London Liverpool Street's proximity to a major London transport link makes accessing this wedding venue effortless. Once your guests have arrived, the dedicated wedding manager and staff will take care of every hospitality requirement. You can either opt for the in-house Andaz catering or request an affordable dry hire rate.
Click here to find out more, and book your viewing at Andaz London Liverpool Street on 0203 870 8881.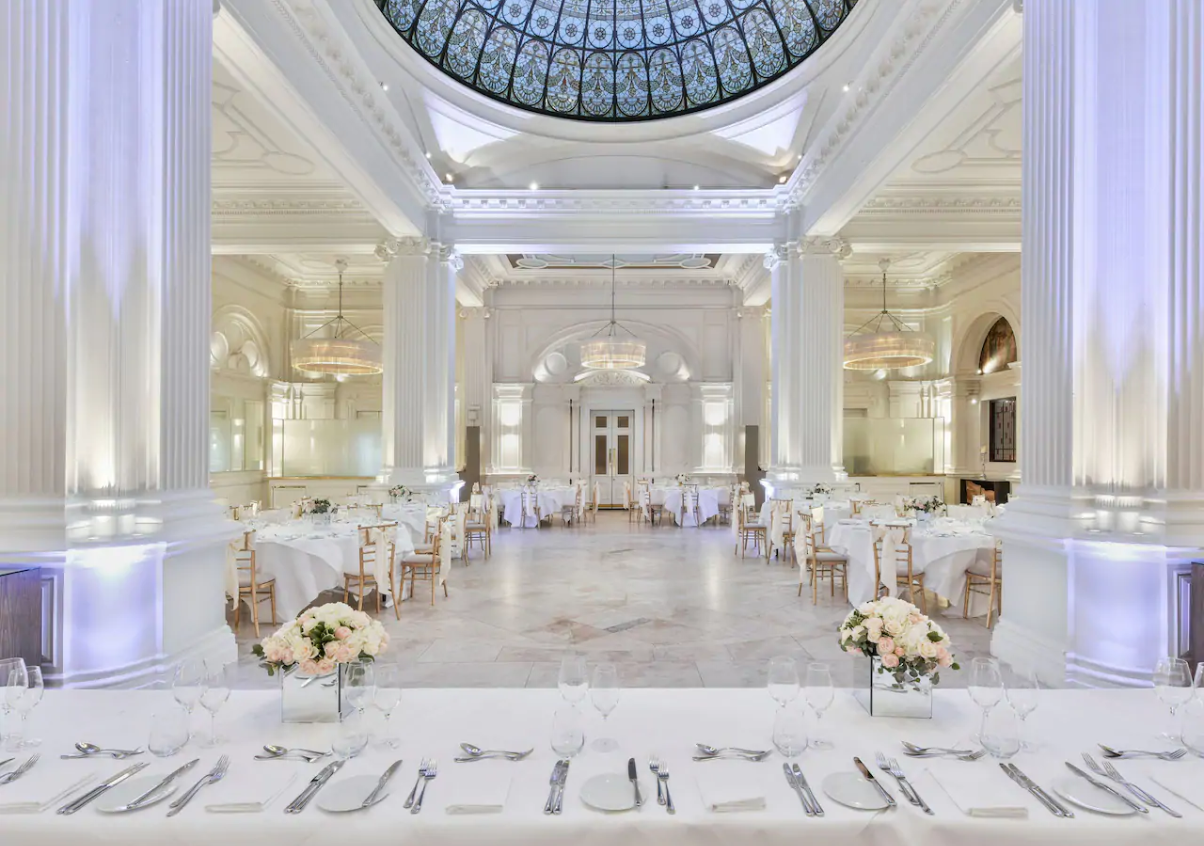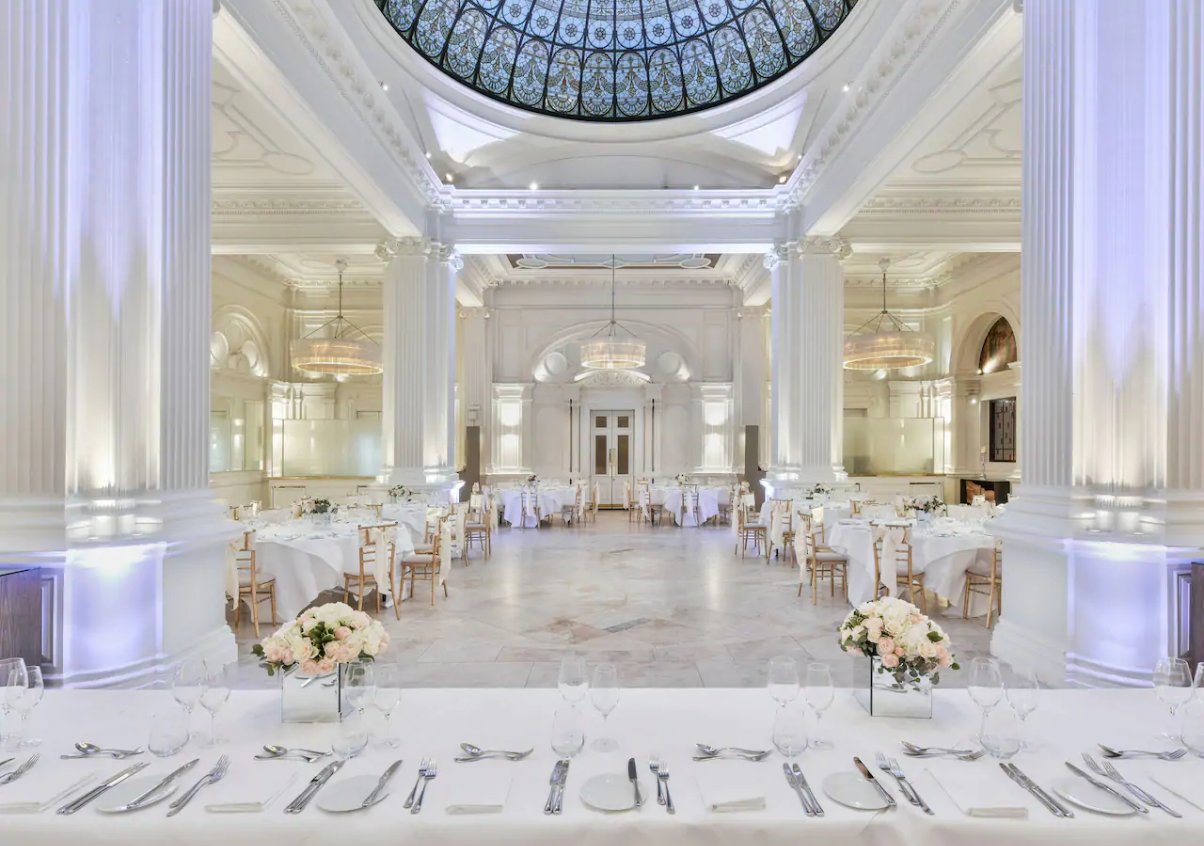 Venue Capacities
Up to 220 in The Ballroom
The largest event space is the breathtaking Ballroom, a gleaming white stucco and marble room by day or night. The bright interior will ensure your wedding photography is flawless and flattering, and the large space allows up to 220 guests for a sit-down dinner. This Grade I listed room does not permit Mandap ceremonies, but it is licensed for civil ceremonies. It makes a beautiful place to say your vows beneath the original stained glass dome. Other very versatile rooms include the Great Eastern, Fenchurch and Bishopsgate rooms. These licensed ceremony and reception spaces are filled with natural light and classical elegance.
learn more about this venue
Set in 300 acres of manicured UNESCO-listed grounds, celebrating your Asian wedding at Kew Gardens creates a real impact. What's more, all wedding hire fees contribute towards the plant conservation and scientific research that is carried out at this world-celebrated botanical garden.
Another unique aspect about Kew Gardens is that its wedding packages cover multi-venue celebrations. This means that your wedding party will be transported on an enchanting journey from one site to another within the grounds. Given that it is a World Heritage Site, the events team require couples to choose all vendors from their approved supplier list, except for florists and photographers. The caterers include Laguna and other well-established Asian wedding food and Kosher cuisine specialists.
If location is the key to your venue decision, Kew Gardens lends itself to excellent transport links to London and Heathrow airport. A private car park can also be hired exclusively, and there is free parking around Kew Green, subject to availability.
Click here to find out more, and book your viewing at Kew Gardens on 0203 870 8881.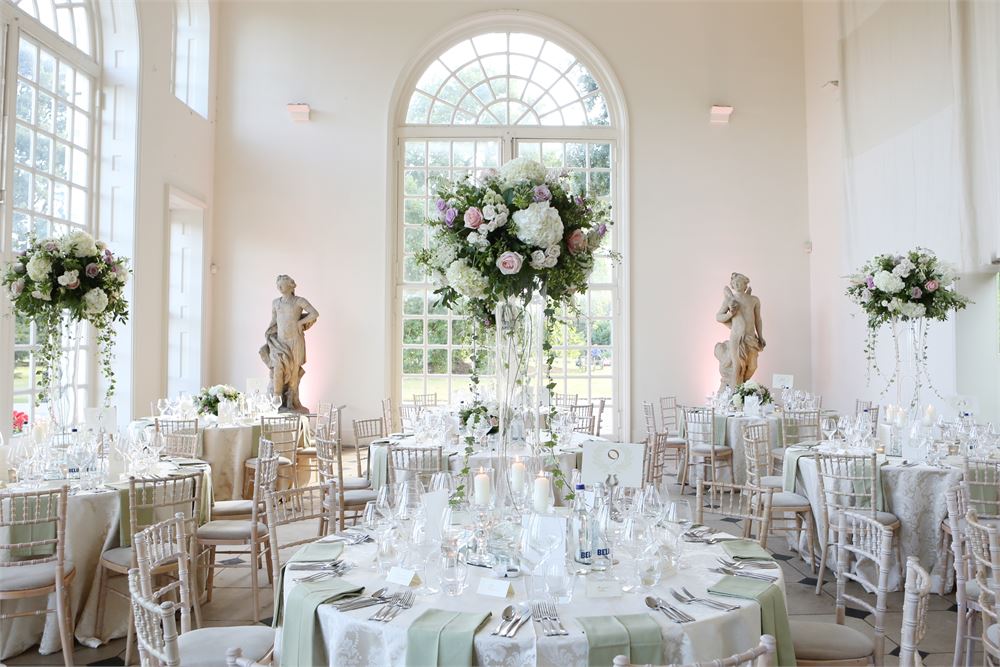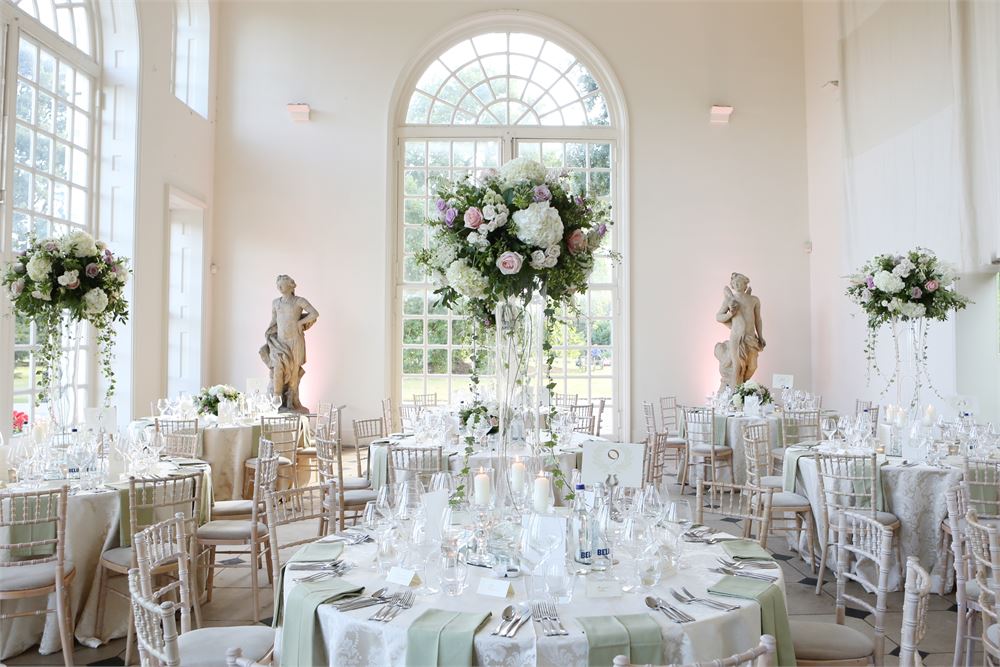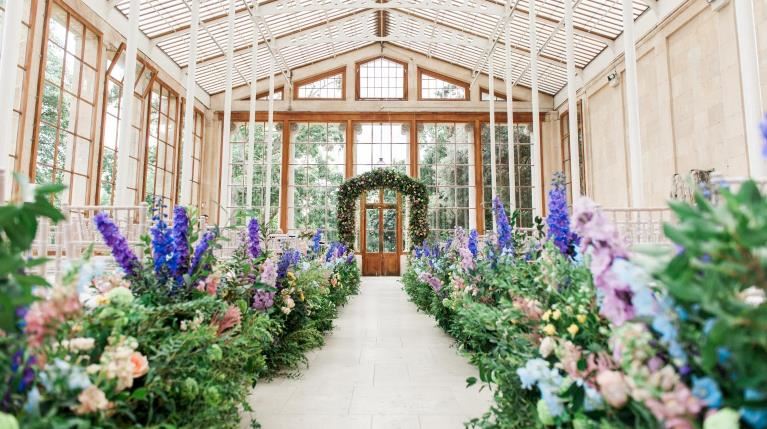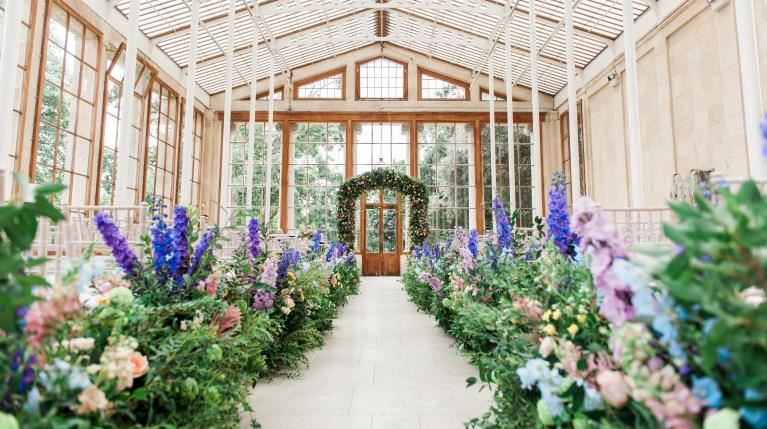 Venue Capacities
Up to 230
The Nash Conservatory is a popular place to have your civil, Mandap or Chuppah ceremony for up to 200. This building is the original structure transported from Buckingham Palace by King Williams IV in 1836. The heavenly three glass walls flood light into the venue, and the attractive wooden beams and white marble floor create a bright neutral base on which to decorate with your florals and chosen seats. Outside, there is a private lawn to host an elegant post-ceremony drinks reception. From here, the bride and groom can be transported in a buggy for photographs around Kew Gardens.
For large Asian wedding parties, the iconic Temperate House is a spectacular location to host your wedding reception dinner. Reopened after significant restoration in 2018, this site is the largest Victorian conservatory in the world. Inside, your guests can roam beneath the exotic palms and explore the 1500 species of plants from Africa, Australia, New Zealand, the Americas, Asia and the Pacific Islands. If you've always dreamed of a botanical theme, then this site is unrivalled.
Another option is the Orangery, with its classical arched windows and airy interior that was once filled with the sweet aromas of citrus trees. It is a Grade I listed building with a capacity of up to 230 people for a seated dinner. It's a beautiful location to toast your wedding celebrations in the heart of the world-renowned Kew Gardens estate.
visit Kew Gardens
This bright airy venue will elevate your Asian wedding to the next level. With the magnificent vaulted ceiling and graceful parquet floor, this fresh space is very versatile for its size. The Royal Horticultural Halls are Grade II listed for their commitment to hosting botanical art exhibitions over the centuries, but they are now open for couples to celebrate their Asian unions in style.
Choose from the Royal Horticultural Halls' high-quality list of recommended catering, production and floral suppliers (no corkage fees are charged), and the experienced wedding planners are also available to help you plan your big day. What's more, the accessible location is unrivalled, with Pimlico and Victoria stations just a short walk away. As for parking, the site has metered spaces. Vincent Square also offers free parking at weekends, and the venue can offer a 10% discount for pre-bookings at the local Q Park.
Click here to find out more, and book your viewing at The Royal Horticultural Halls on 0203 870 8881.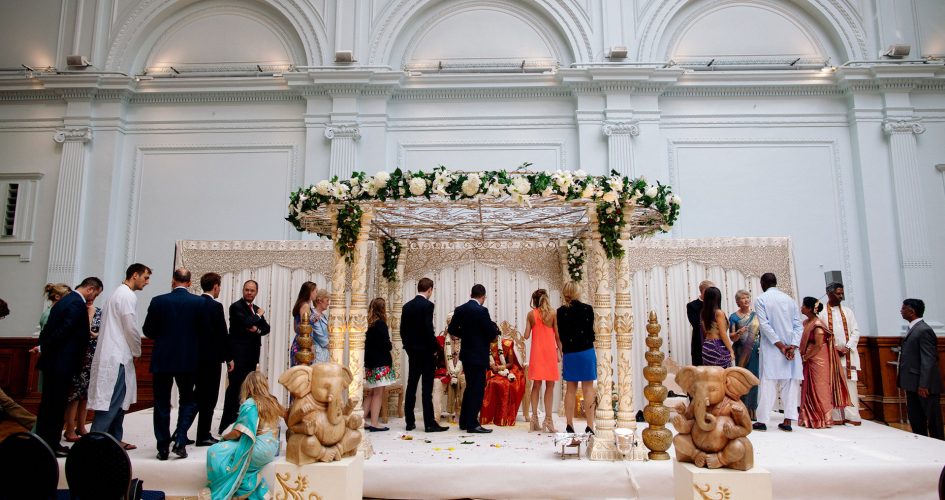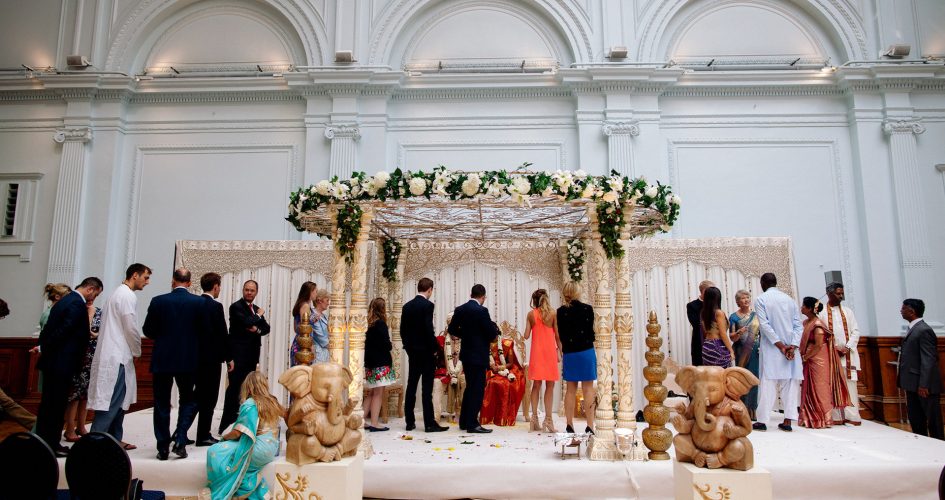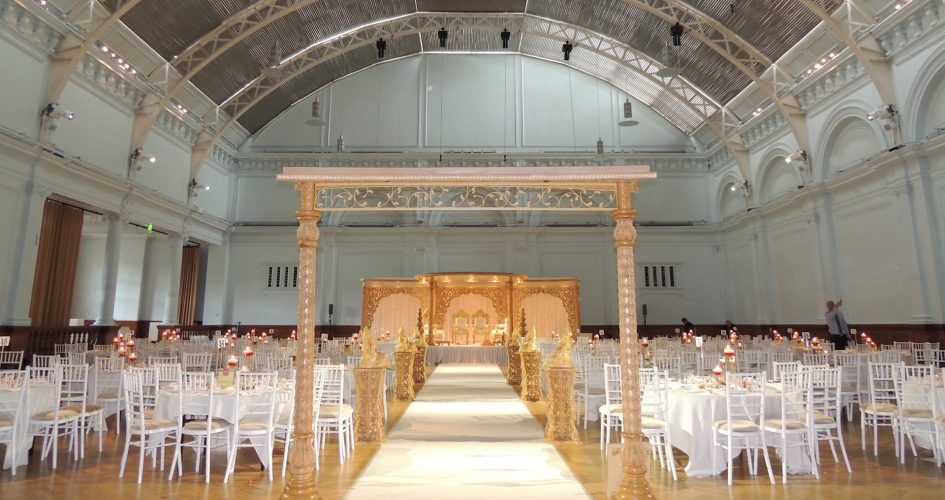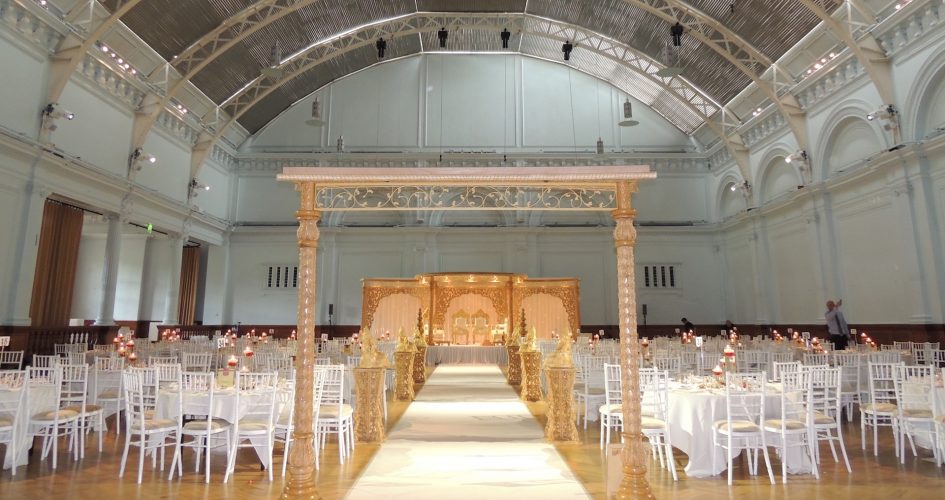 Venue Capacities
Up to 600 in Lindley Hall
Lindley Hall is a colossal celebration space where civil and religious ceremonies can be held. Its Edwardian period features are refreshed with cutting-edge AV equipment, a top-notch lighting system and atmospheric up lighters. With your chosen furnishings and florals, your Asian wedding will shine with unrivalled splendour. Refer to the table below to find a setup that works best for your wedding party (the elegant drapings allow you to adjust the size of the space and create different zones during the event flow).
find out more
The Kimpton Fitzroy is undoubtedly one of the most luxurious 5-star hotel wedding venues in London, with two exceptional wedding spaces: the breathtaking restored Ballroom and the stunningly light-filled Palm Court. Positioned on the eastern flank of Russell Square, where Bloomsbury's literary history meets Holborn's legal district, this timeless and elegant London wedding venue is a striking reflection of the capital's vibrant cultural past and present.
Click here to find out more, and book your viewing at The Kimpton Fitzroy London on 0203 870 8881.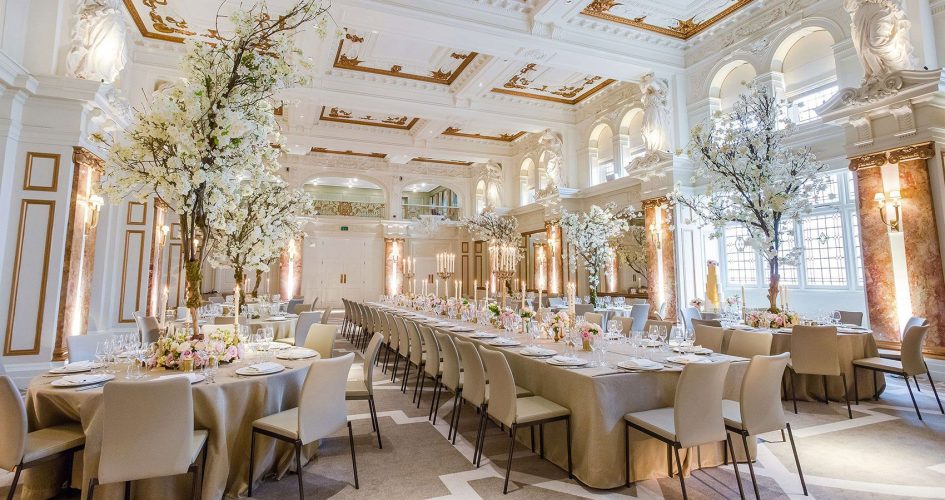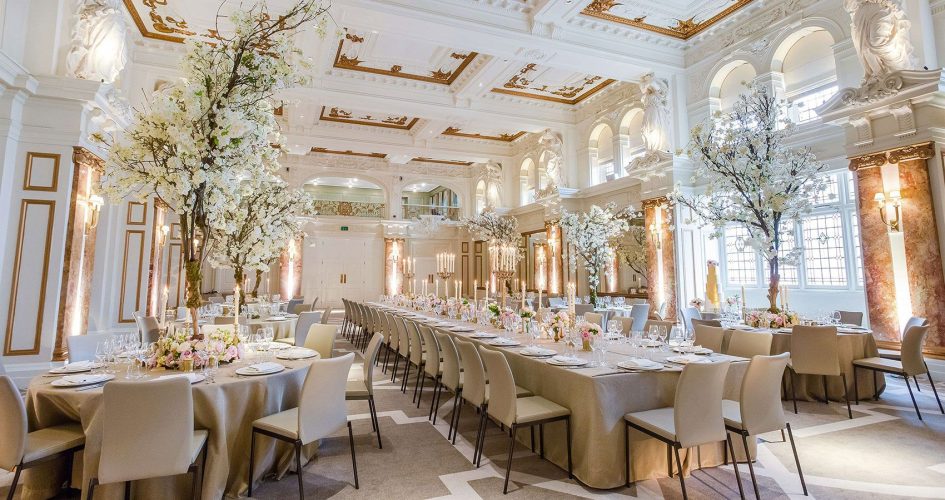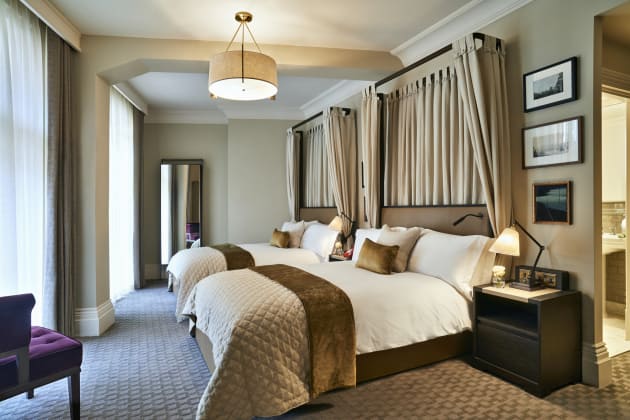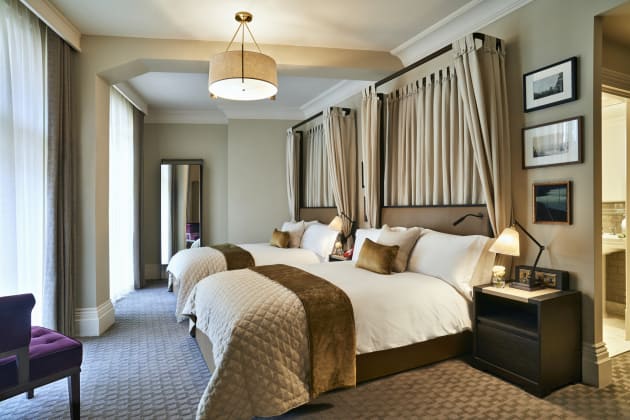 The Kimpton Fitzroy's enchanting Ballroom can be transformed to host majestic Asian weddings, with space for up to 400 standing and 200 seated guests. This magnificent space is bright and airy, boasting its own entrance, soaring ceilings with gold gilded architectural details, a spacious dancefloor area, a wall of windows, and its own mezzanine gallery. No matter how extravagant your vision, the hotel's exceptional team will ensure everything comes together effortlessly for an unforgettable celebration at The Kimpton Fitzroy London.
visit the Kimpton Fitzroy
With the iconic boulevard running up to Buckingham Palace just a few steps away, this classic wedding venue has a royal touch like no other. 116 Pall Mall's grand, detailed ballrooms and resplendent staircase will delight your guests. That, along with the large capacity and dry hire flexibility, will ensure you can create the Asian wedding in London that you've always hoped for.
116 Pall Mall is home to The Institute of Directors, which gives the Georgian building an aura of prestige and stateliness. The interiors are beautifully preserved and gilded with the finest gold leaf and marble. Naturally, therefore, the building has been used for iconic film scenes, including Batman and Downton Abbey. The regency staircase is a breathtaking centrepiece and a unique place to say your vows surrounded by loved ones watching on the balcony. When you view the property, you'll understand why this picturesque backdrop is highly sought after for wedding photography.
Unlike many central London Asian wedding venues, 116 Pall Mall also has privileged access to a lush city garden. This can be hired for drinks receptions with an optional marquee. What our couples also love about 116 Pall Mall is its late licence until 3 am, so you can dance the night away uninterrupted.
Click here to find out more, and book your viewing at 116 Pall Mall on 0203 870 8881.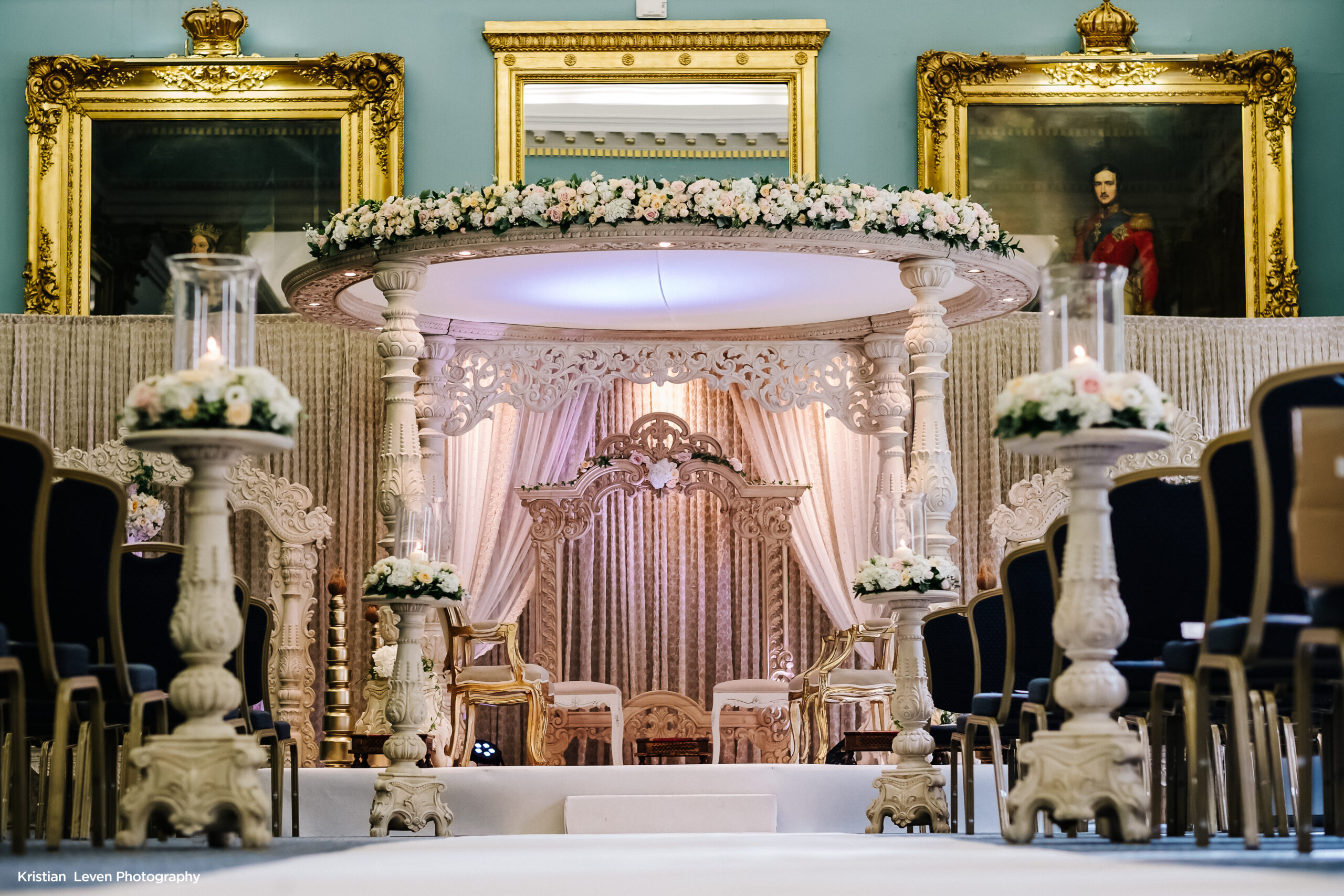 Venue Capacities
Up to 250 people in The Nash Suite
Arguably, The Nash Suite is the grandest room in the building. Named after the building's original architect, it certainly showcases the best of his skills and vision for 116 Pall Mall. The exquisite blue interior contrasts beautifully with the golden-hued portrait frames. The space is versatile for Asian wedding ceremonies, drinks receptions and dinner dances steeped in splendour.
Equally stunning and glowing in a glorious shade of amber, The Carlton Suite has a similar capacity size. The ionic columns and gold leaf features continue in the signature 116 Pall Mall style. The room also has advantageous access into the Waterloo East Garden, which could be used for a summery drinks reception before your Asian-inspired meal back inside.
Up to 160 people in The Waterloo Suite
For a slightly more intimate feel, The Waterloo Suite is adjacent to The Nash. It makes an ideal transition room for pre-dinner drinks, and it can accommodate a seated dinner for up to 80. The regency curtains frame enviable outlooks over both Pall Mall and Waterloo Place.
learn more about this venue
Situated at One London Wall, close to Moorgate, Barbican and St Paul's, Plaisterers' Hall is one of the most central Asian wedding venues in the capital. Step inside and be transported to a bygone era, where glittering chandeliers and neoclassical ceilings decorate its interior. What is particularly unique about this wedding venue is its cutting-edge event technology amongst the historic environment. The lighting can be changed to create any desired atmosphere, and the powerful Bose speakers will make sure your party comes to life from the moment the bride and groom start the first dance.
Plaisterers' Hall has the capacity and creativity to bring you an unforgettable Asian wedding celebration. The in-house wedding coordinators are very experienced in Asian weddings, and the culinary partner, Create, will ensure the menu design and service excellence. If there is a particular cuisine that you require, Plaisterers' Hall also has a list of accredited Asian caterers that regularly work at the venue.
Click here to find out more, and book your viewing at Plaisterers' Hall on 0203 870 8881.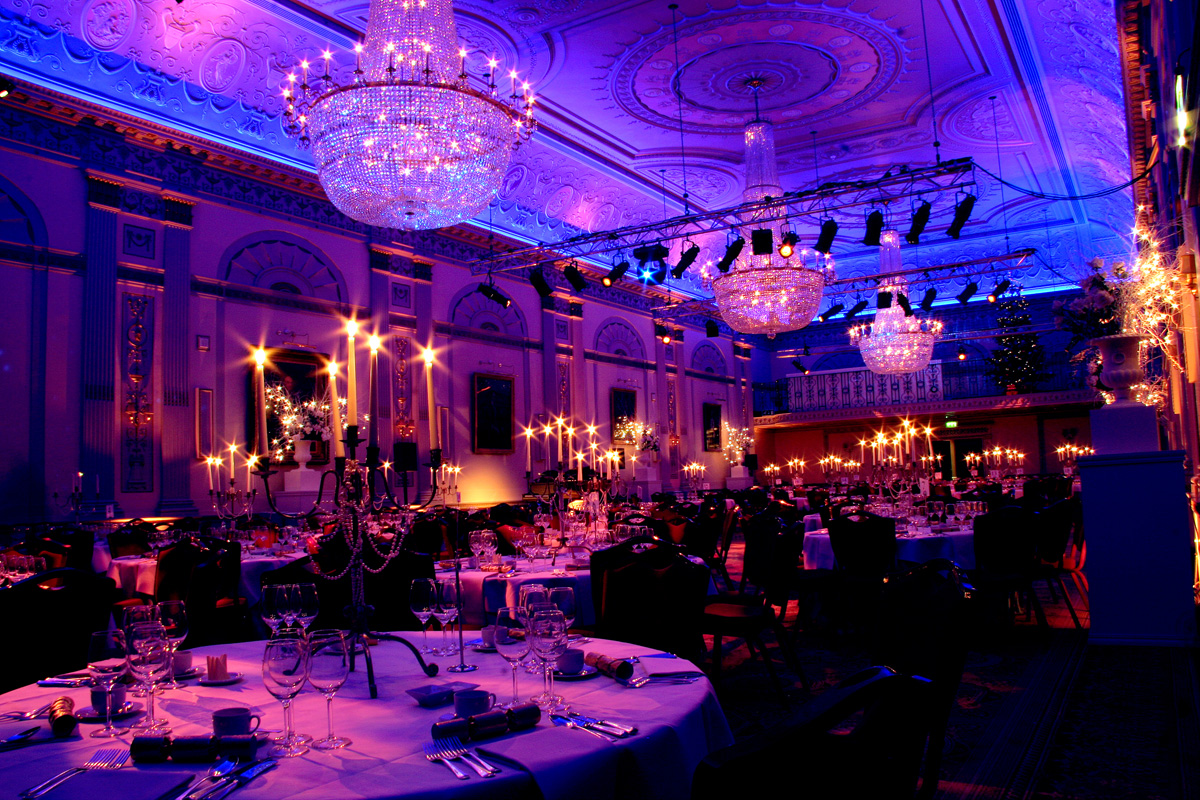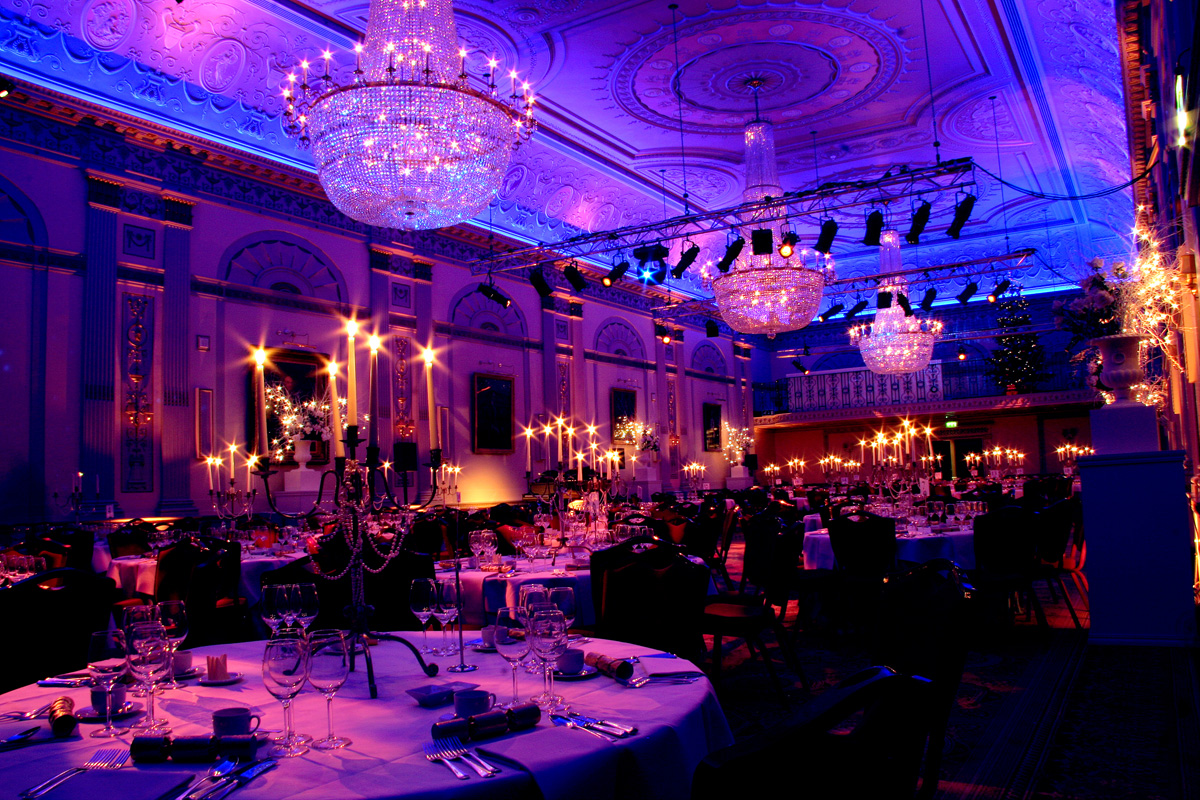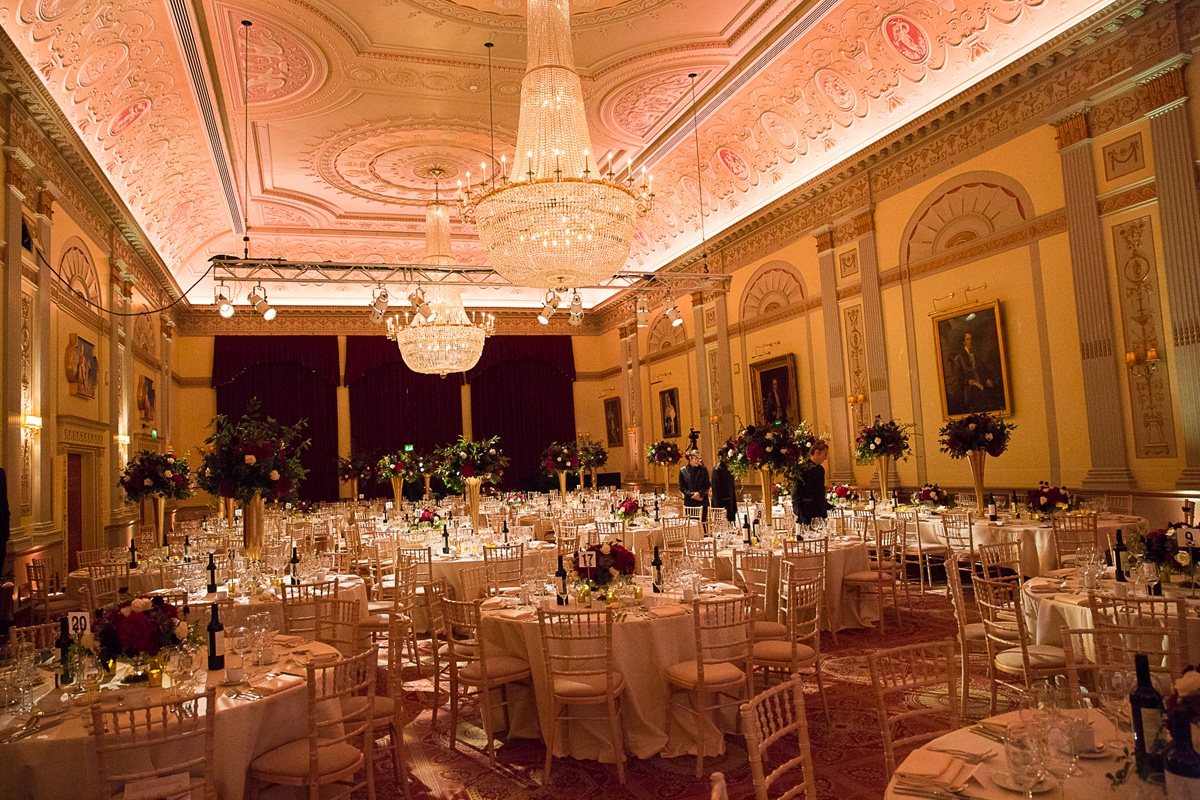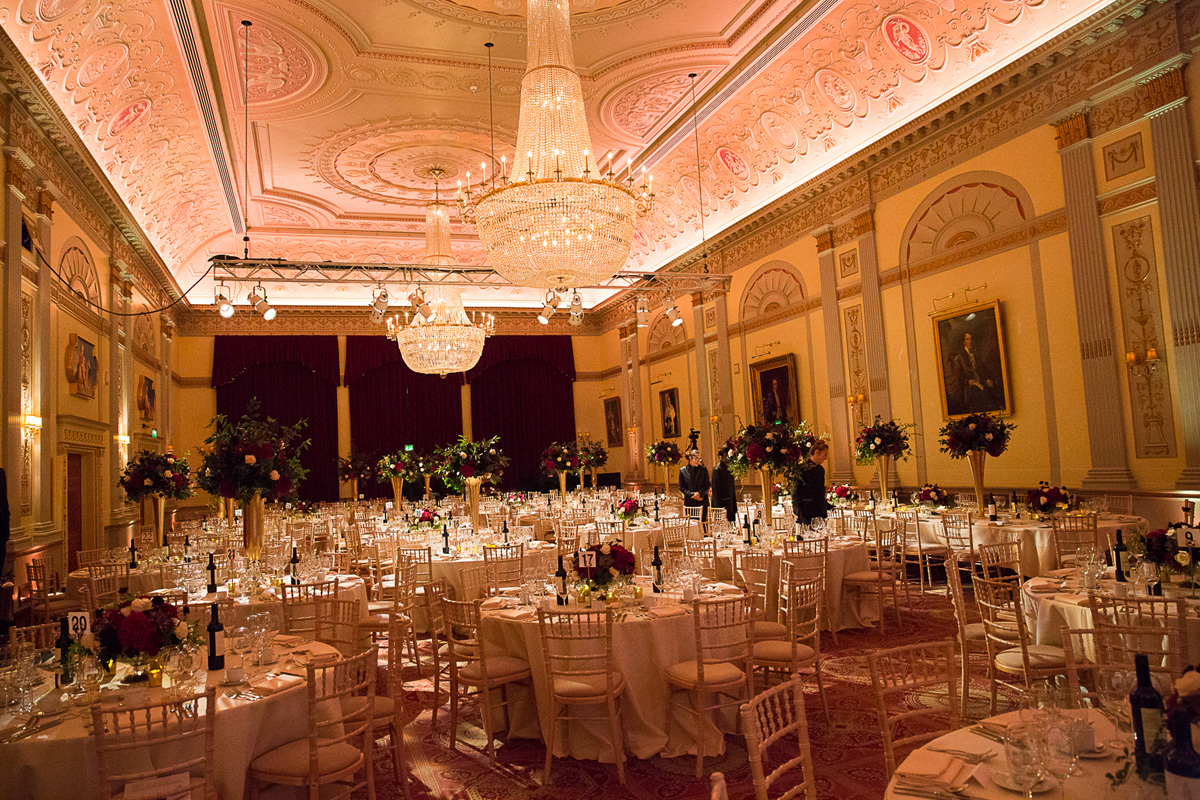 Venue Capacities
Up to 350
Plaisterers' Hall has two key ceremony and dinner spaces, which neatly flow from one to the other. The largest and most prominent room is The Great Hall, which can fit up to 350 for a ceremony or 550 for a drinks reception. Its ornate wall detailing and ceiling will complement any wedding theme, whether it be subtle and classical or richly decorated. Adjacent to this room is the Livery Hall, which works very well as a drinks reception space as guests arrive.
visit Plaisterers' Hall
The Walled Garden is a luxury marquee wedding venue set within the sprawling grounds of Syon Park, just outside of London on the banks of the River Thames. This enchanting spot should be at the top of your list if you're envisioning a secluded countryside setting for your London wedding. The Walled Garden at Syon Park is renowned for hosting incredible religious services and blessings, making it a wonderful choice if you're on the hunt for amazing Asian wedding venues near London. You'll love the exceptional service, impressive catering options, and endless photo opportunities at this spectacular wedding venue in Syon Park.
Click here to find out more, and book your venue viewing by calling us on 0203 870 8881.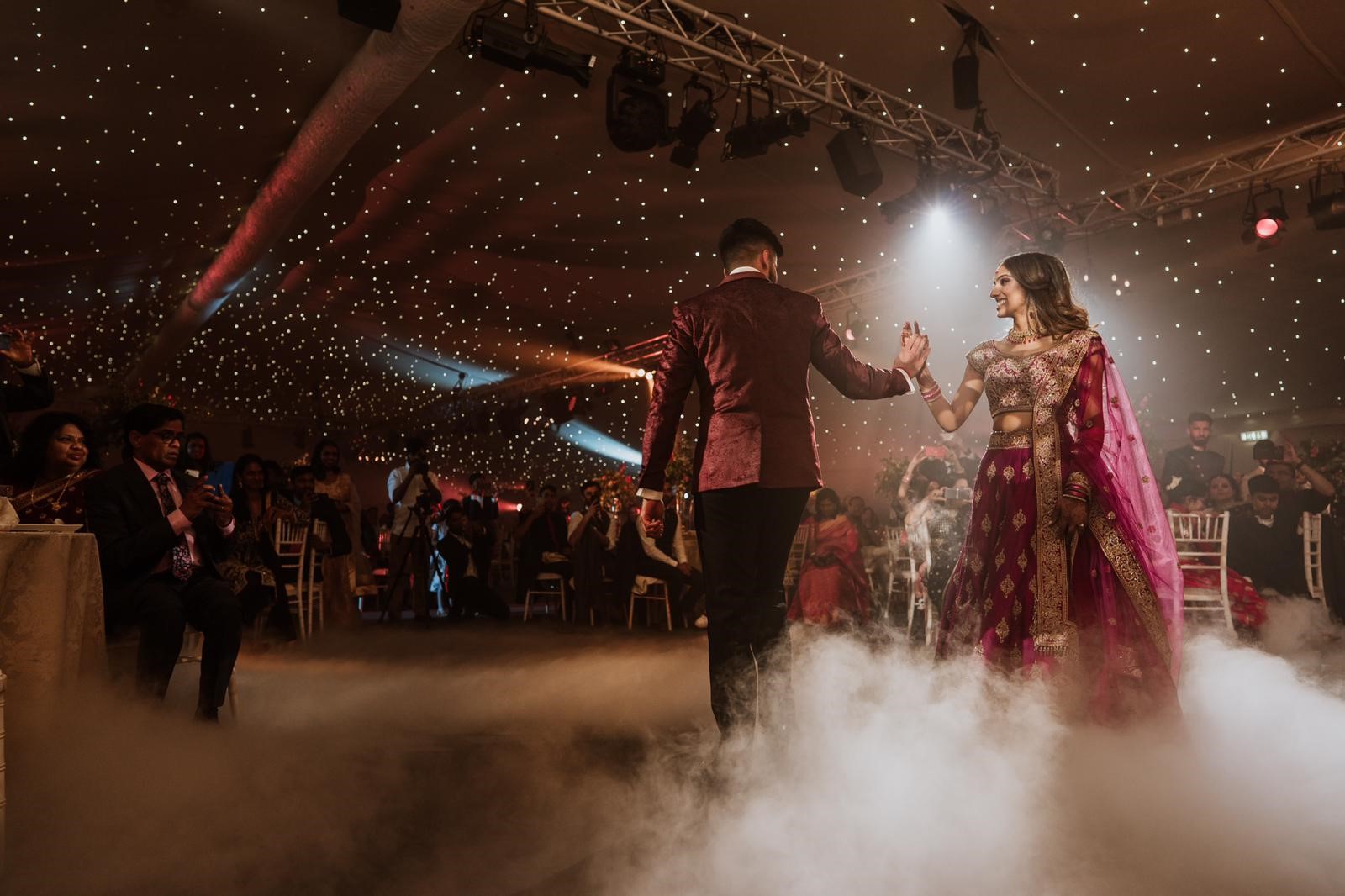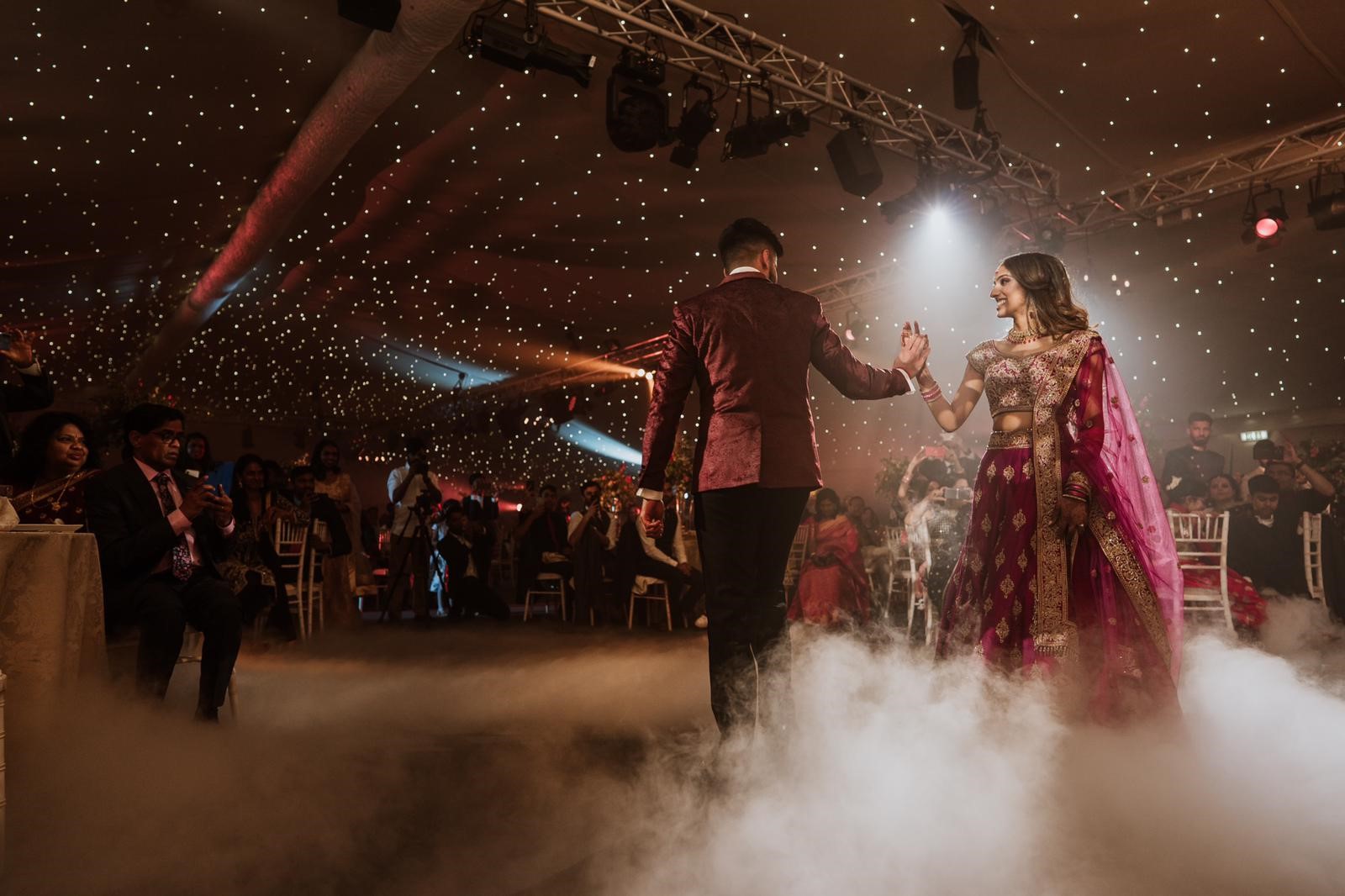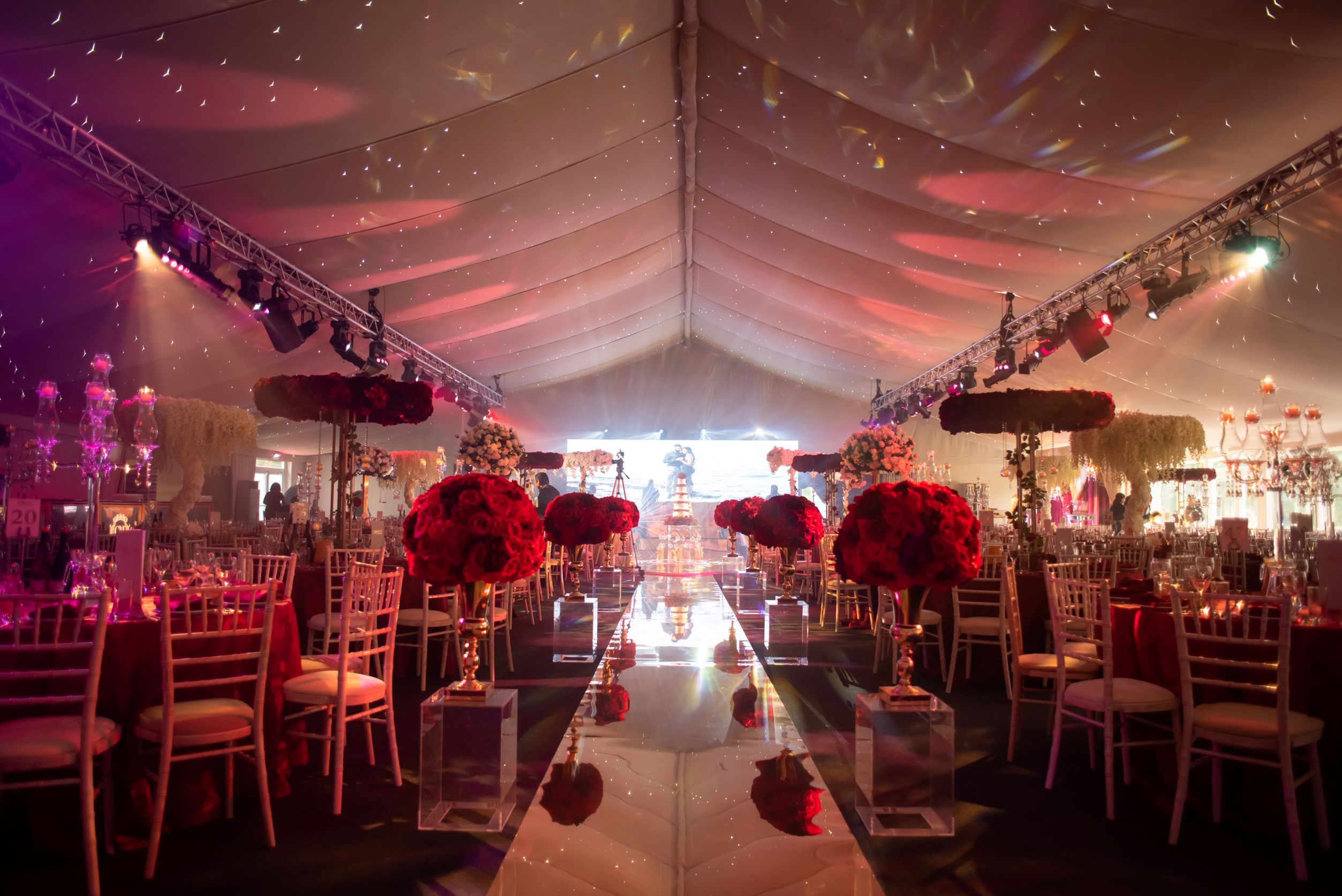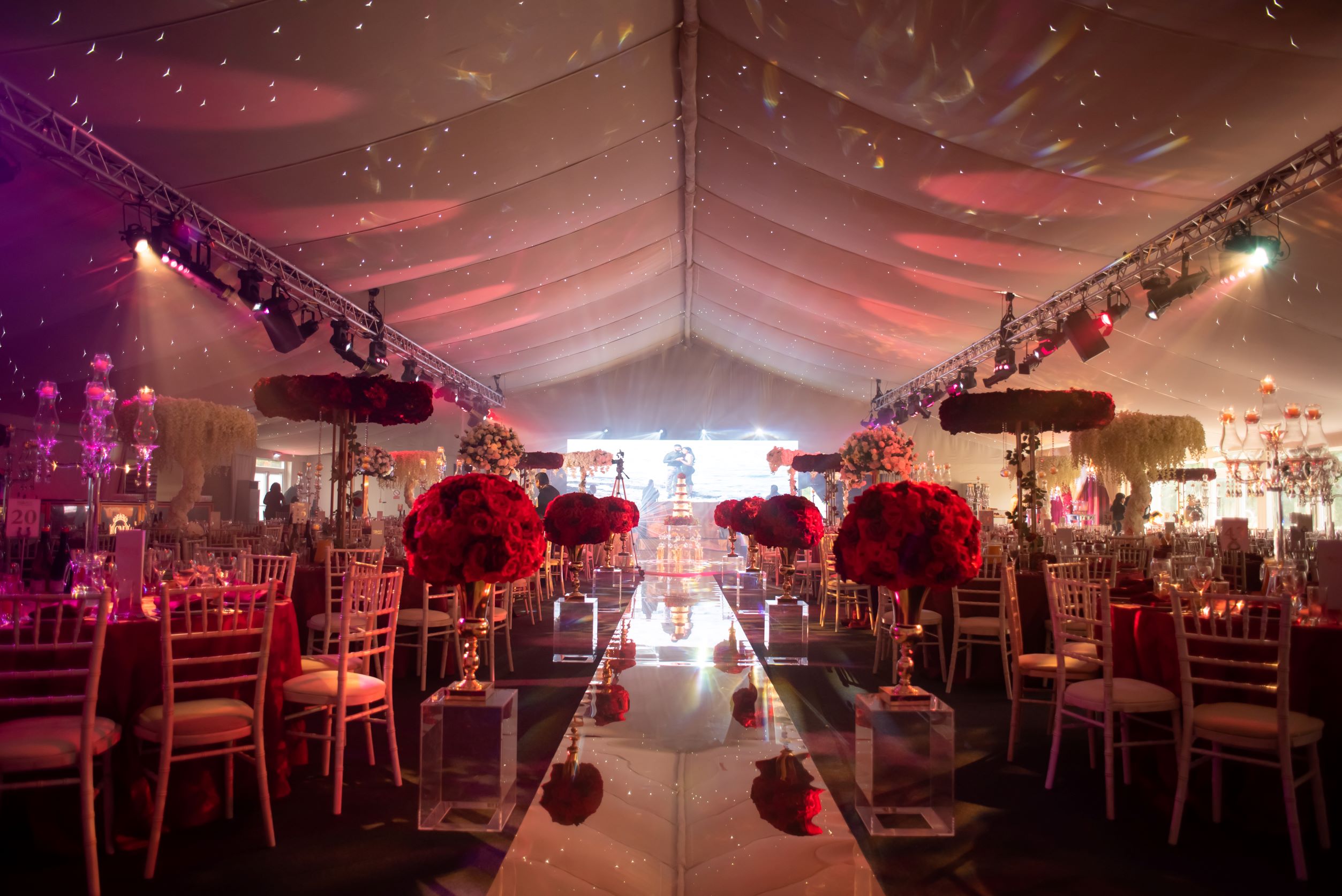 This well-established Asian wedding venue near London is experienced in hosting religious services and blessings. For Hindu ceremonies, you are welcome to have a sacred fire in a Mandap, and the venue will also provide you with a microphone, ensuring all of your guests can hear the special service. The Walled Garden works closely with an array of reputable Asian wedding caterers, including Greenleaf, Laguna, Preeti, Clay Oven and Spice Village. If you wish to bring in an alternative caterer, prior venue approval will be required, along with an additional catering fee.
learn more about this venue
There aren't many wedding venues that also have the privilege of hosting some of the most prestigious sports matches in the world. Twickenham Stadium is imbued with the spirit of Rugby, and this dry hire venue will leave a lasting impression on your guests. The stadium is well equipped for Asian weddings and Mandap ceremonies, with five approved catering companies specialising in Punjabi, Pakistan, Gujarati cuisines and many more. The expert chefs will work with you on a personal level to deliver a bespoke menu that respects all your required customs and traditions.
To accommodate all international guests at your Twickenham Stadium Asian wedding, the 4-star London Marriott hotel in the South stand and the 2000 free car parking spaces on-site will ensure that everyone has a place to stay and park. Exclusive areas are also available to hire for drinks and photographs, including the England Changing Rooms and pitch-side. Imagine capturing your wedding memories in one of the most iconic stadiums in the UK. Twickenham Stadium is one not to miss during your Asian wedding venue search.
Click here to find out more, and book your viewing at Twickenham Stadium on 0203 870 8881.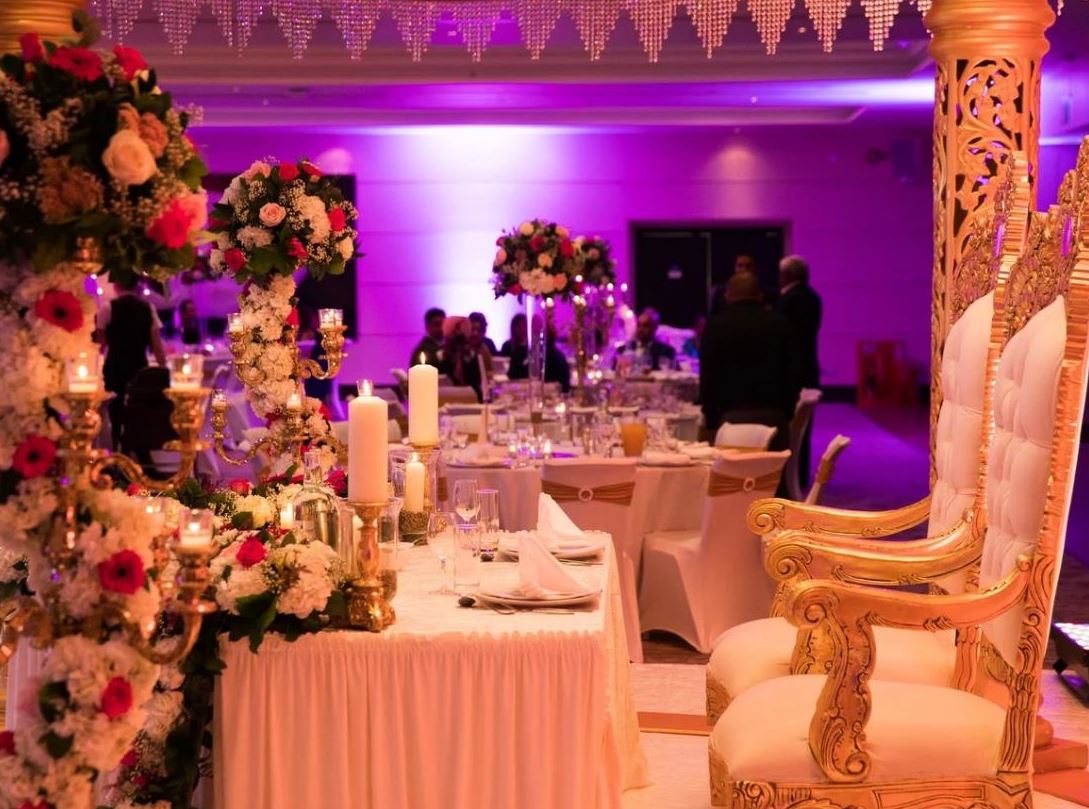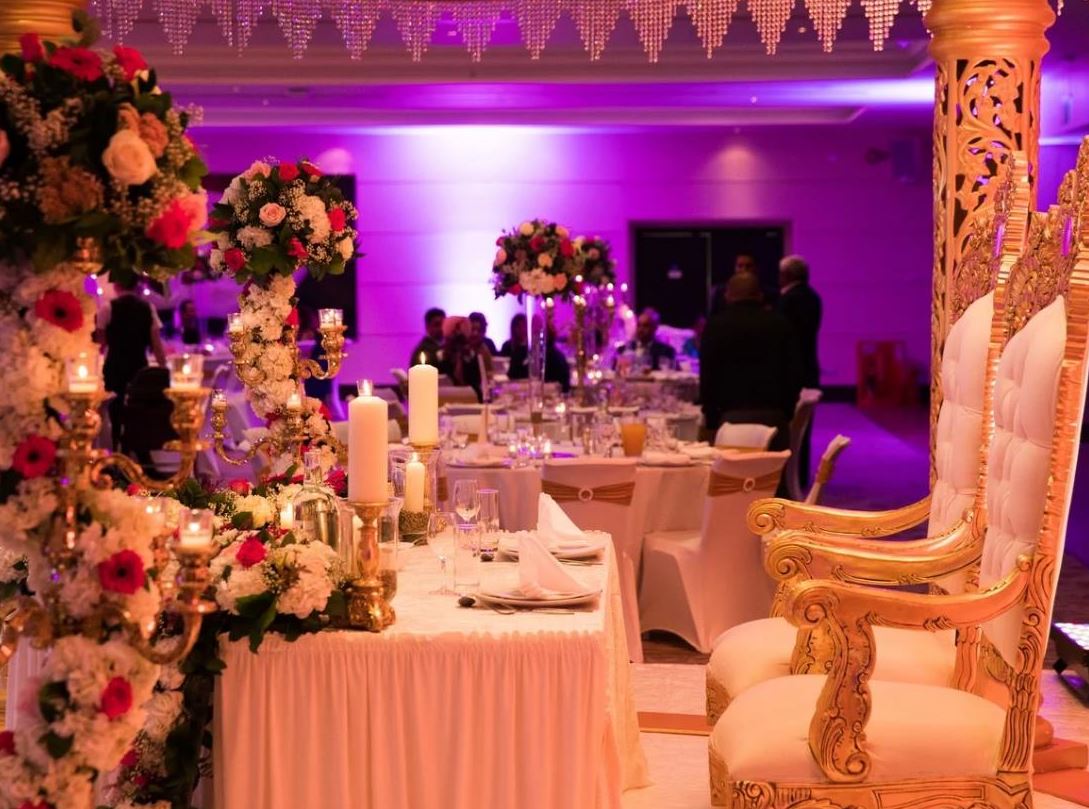 Venue Capacity — Up to 800
Mandap ceremonies at Twickenham Stadium are most popular in the Rose Room and the Live Room. The venue's preferred caterers are very familiar and experienced in delivering the highest quality service in these event spaces. Both rooms are located on the ground floor of the South stand, where there is a private cloakroom, high-quality AV equipment and easy access to the on-site Marriott hotel (the dry hire package includes an overnight stay for the bride and groom). The Rose Room has the flexibility to be partitioned in two for a smaller wedding party. In the Live room, there is retractable bleacher seating to create a tiered theatre-style effect for your Asian wedding ceremony.
check out Twickenham Stadium
A significant focus for Asian weddings is, of course, the wedding feast, and choosing your caterer is therefore very important. Accommodating for large wedding groups is a complex operation, so familiarity with the wedding venue is key. At Easy Weddings, we highly recommend the services of Laguna Catering, who work closely with many of the above-mentioned venues, such as The Grand Connaught Rooms, The Walled Garden at Syon Park, Kew Gardens, and Plaisterers' Hall.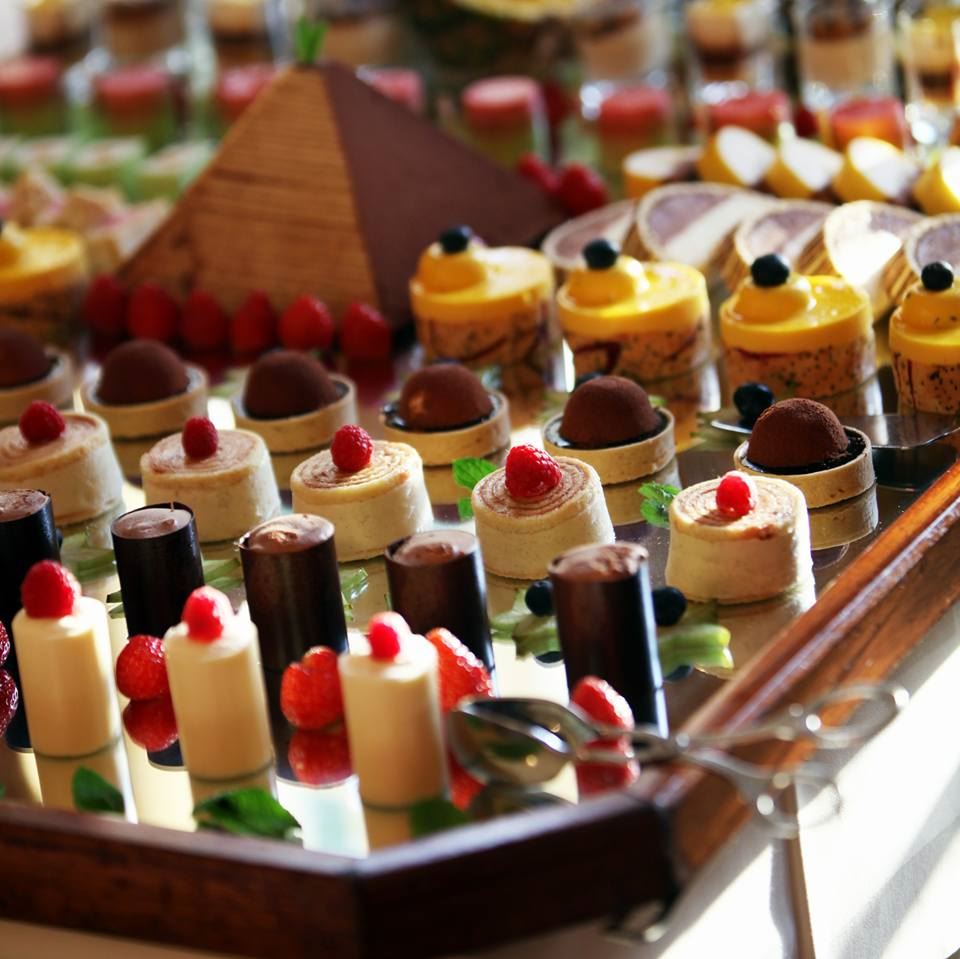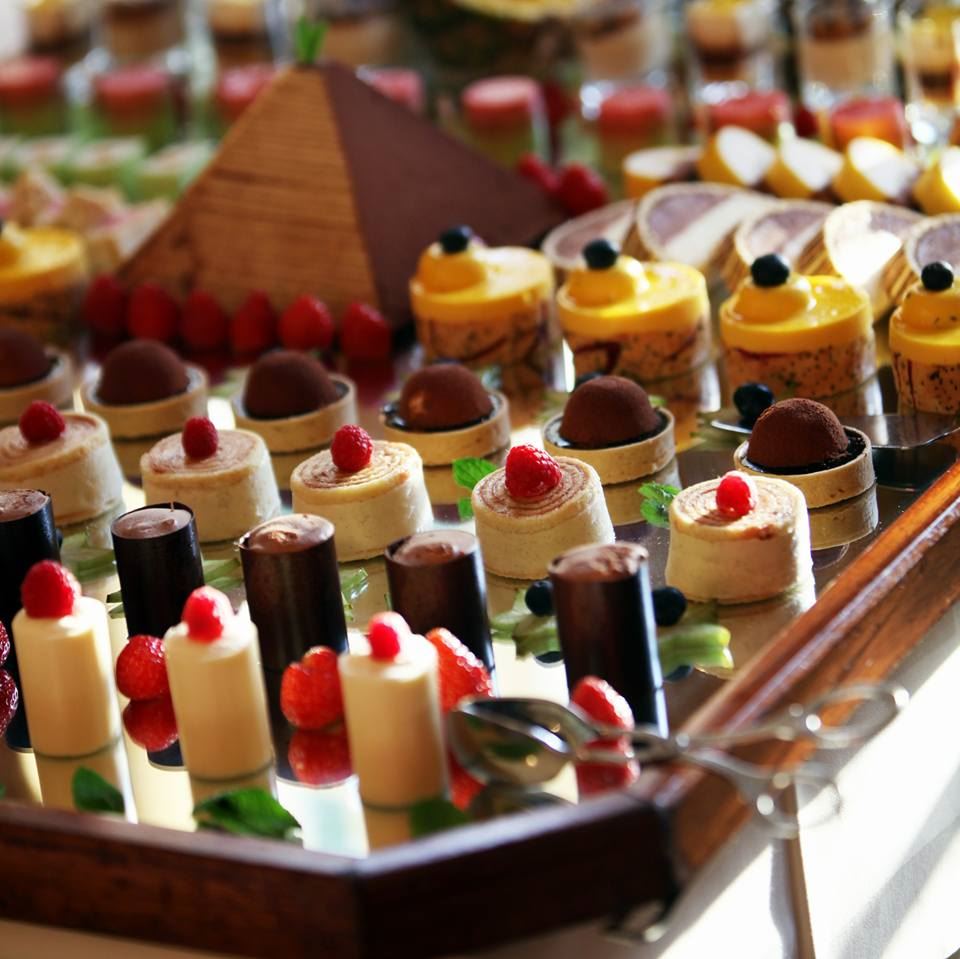 The Laguna Catering team pride themselves on their immaculate attention to detail, and whilst catering on mass, their food quality is never compromised. You can rely on the team's extensive experience, which dates back to the catering company's establishment in 1984. They also can provide event management services, such as Mandap designs, floristry, mood lighting and edible displays. It's never short of spectacular with Laguna.
Click here to find out more, and book your tasting with Laguna Catering on 0203 870 8881.
---