Okay, so do you remember when you were a kid and the most exciting thing ever at carnivals, fairs or birthday parties was a bouncy castle? We all remember those carefree days when all we had to think about was jumping and having fun. They were great times. But don't be sad. You can have them again because the bouncy castle wedding trend is officially in.
The idea of having a bouncy castle at your wedding may seem a little outrageous to you, but don't write it off. It could be the thing you end up loving most about your wedding (other than the actual marriage bit, of course). Here are the pros and cons of having a bouncy castle at your wedding.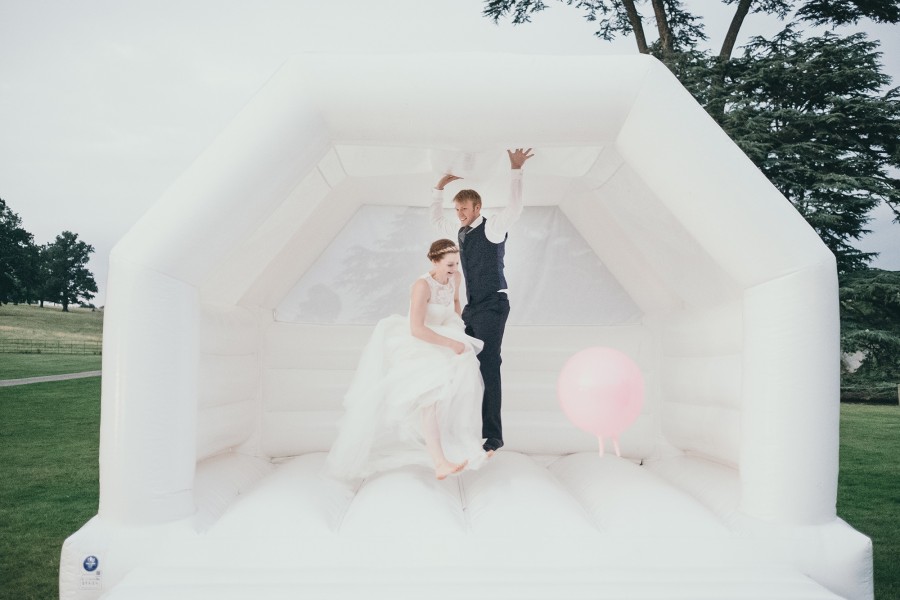 Pros:
It's perfect for entertainment
If you're having a wedding with lots of children, then the bouncy castle is ideal for entertaining those little critters. This is great if you want kids to be entertained safely and for them to have their own area to play in.
But the bouncy castle isn't just for children. Adults also love to jump on one of these inflatable castles so even if your wedding is child-free, the adults at your wedding will have a great time playing on one of these.
The bouncy castle is particularly great entertainment if you're planning on ditching the wedding for an hour or two to go get your wedding photos taken. Your guests won't even know you're gone.
It's ideal for daytime weddings or wedfests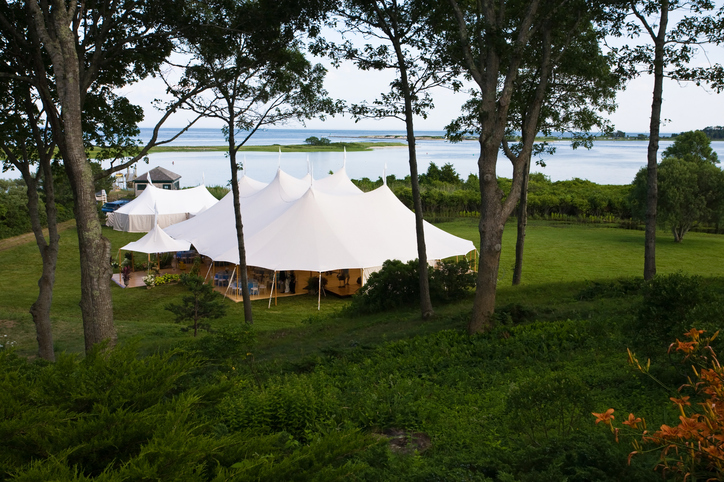 If you're planning on having a beautiful daytime wedding or a luxurious wedfest as your celebration, then the bouncy castle really is the perfect addition. Booking the castle for the whole day or for the entire wedfest is a great way to keep people entertained and add a unique and fun element to your wedding.
It fits in perfectly with a carnival theme
Like the bouncy castle, the carnival theme for weddings is definitely in. To take your carnival theme to the next level, add a bouncy castle to the mix. You can have other entertainment like a magician or clown for the kids at the party, food trucks and lots of bunting and fairy lights to really make the whole theme pop.
Your guests will love the fun nature of your wedding and have the best time both celebrating you and enjoying your fabulous theme.
It's perfect for a photo prop or backdrop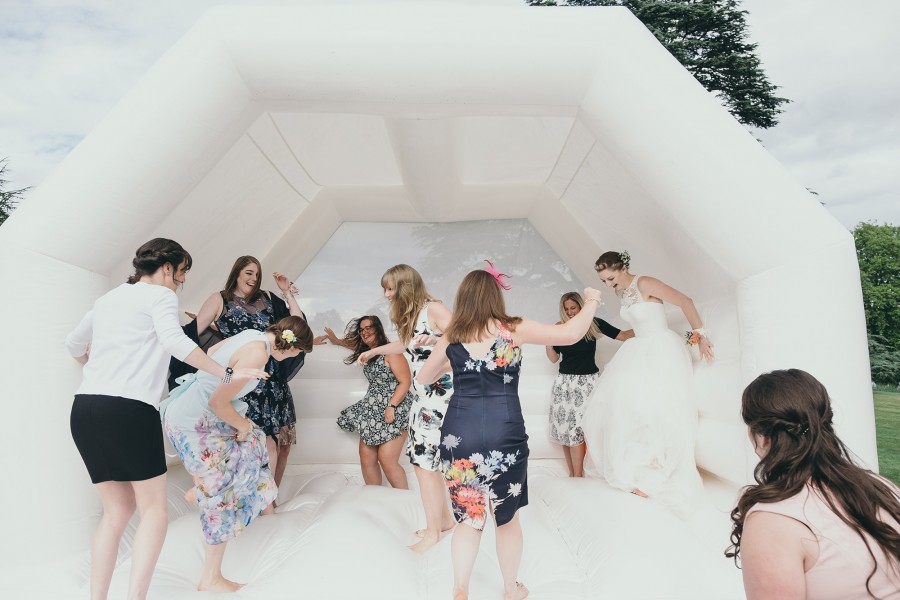 Recently, on Easy Weddings we posted about modern back drops for weddings that are currently in fashion. We're officially adding a new backdrop option to the list: the bouncy castle.
Instead of doing one big group shot where you and your guests all say 'cheese' imagine you all doing something radically different. Instead of this very typical kind of group photo that is seen in most wedding albums, have all of your guests board the jumping castle. You can be photographed jumping for joy as a group and it'll look supremely amazing. This will be hugely fun as well as being photogenic and unique.
If your particular bouncy castle can't hold all of your guests, then consider having some people on the castle for photos like the bridal party and having the remaining guests around the castle. Or just use its pillowy shape as your backdrop and every photo featuring it will look exciting, interesting and so completely fun.
Cons:
It's not great for very formal weddings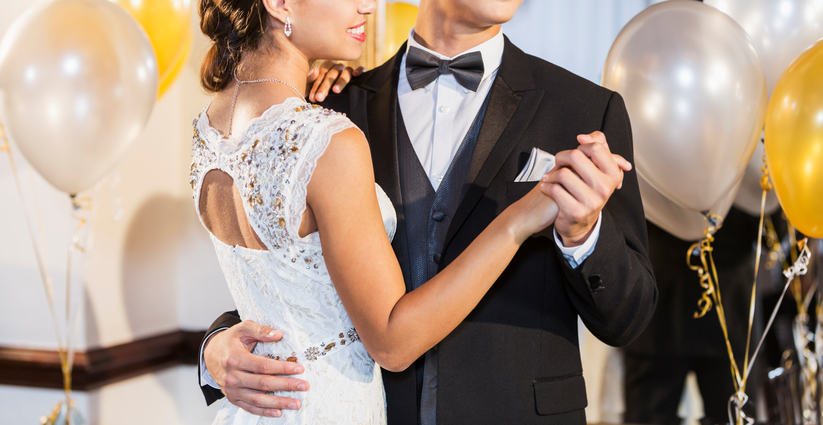 So if you're having a wedding where the guests are going to be very dressed up, a bouncy castle is going to seem out of place. These are meant to be fun and joyful and no one will be feeling this way if they've spent 2 hours getting ready only to be jumping around and ruining their hair and makeup.
What we'd suggest if you really want the bouncy castle to work is to tell your guests beforehand that your wedding has a certain theme, like a carnival theme and that the dress code is smart casual instead of formal. You don't have to tell them you're having a bouncy castle if you want it to be a surprise, however, your little hints on the invites will be enough to let them know something interesting might be happening.
It doesn't work if the weather is bad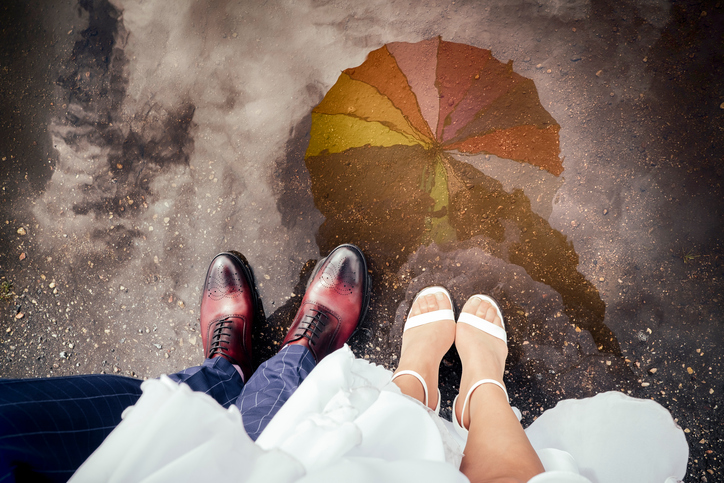 Okay, so unfortunately in the UK we don't have the most reliable weather. In fact, it's extremely unreliable. One minute it's sunny, the next it can be raining. So, obviously this makes things difficult if you've got your heart set on a bouncy castle.
As you may know, bouncy castles don't tend to be set up inside and even if they were able to, your venue would likely not approve this. As this is a piece of outdoor entertainment, if the UK weather is bad, then you won't be able to have your castle.
If you can't bear not having a bouncy castle at your wedding, then our advice would be to have your wedding in summer or spring where the weather is more reliable.
Adults and children play on these very differently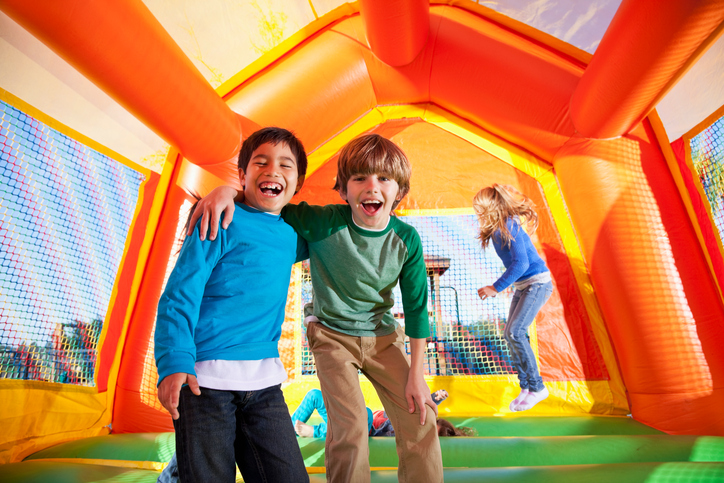 Okay, so you may or may not have noticed that adults and children can play on bouncy castles very differently. Adults on these castles can go a little wild and end up bashing into each other and causing a big raucous. This is all well and good as long as there are no children on the bouncy castle at the time. Our advice here would be to have the adults and children go on separately to avoid any collisions.
There is a chance of injury
Following on from the above, there is a chance of injury on a bouncy castle. People can get squashed or fall awkwardly which can cause sprains, strains or fractures. It's good to be fully aware that these things could happen if you have a bouncy castle at your wedding.