Reviews from past clients can be a huge driver of business, regardless of your industry, but when it comes to weddings, they're even more important because, quite simply, the more reviews you have, the higher your chances of being chosen over a competitor with less reviews.
Easy Weddings runs one of the largest wedding reviews system, with more than 127,000 reviews on our books. If there's one thing we've learned, it's that reviews make a huge difference to whether a bride picks your business – or not!
In fact, according to a recent analysis of Easy Weddings reviews and their impact on a bride's purchasing behaviour, we found startling results.
1 Review increases your results by  25%
11+ Reviews increases your results by  201%
40+ Reviews increases your results by 300%
These statistics are supported by a Neilsen report which found that 90% of consumers are influenced by online reviews.
Based on the above statistics and our years of experience working in the wedding industry, we know that brides click on profiles with reviews over those that don't have any reviews. We also know that the more reviews you have, the more your profile will be seen – and the higher your chances of being chosen.
How to get more reviews
We understand how hard it can be to chase down past clients and then convince them to spend time leaving reviews for you, which is why we have three systems for helping our clients add reviews to their profiles:
– brides can submit reviews themselves via our reviews portal; or
– Easy Weddings can call them for you
Easy Weddings will contact brides on your behalf and have them complete reviews for your business over the phone.
All you need to do is log into your Client Admin and submit the details of your past clients (those who have already married) to us – and we'll take care of the rest.
It's a two-part process. First, we'll speak to the brides personally to authenticate their reviews, then, once the reviews have been verified, we'll publish them directly to a client's profile.
In order to maximise this service, however, it is crucial to ask your customers' permission as to whether they are willing to be contacted by Easy Weddings. If they say yes,  submit their details via your Client Admin and we can call them.
We've found that the success rate of published reviews is significantly higher when the bride knows we're going to contact them.
Our reviews system means clients can focus on running their businesses rather than chasing brides for reviews, but still benefit from those reviews which, our statistics show, vastly improve your chances of being contacted by potential clients.
No matter how busy you are, it only takes a few minutes to submit your brides' details and the benefits far outweigh this investment of time.
You can either submit clients' details in a single batch or as your weddings happen on an on-going basis via your Client Admin.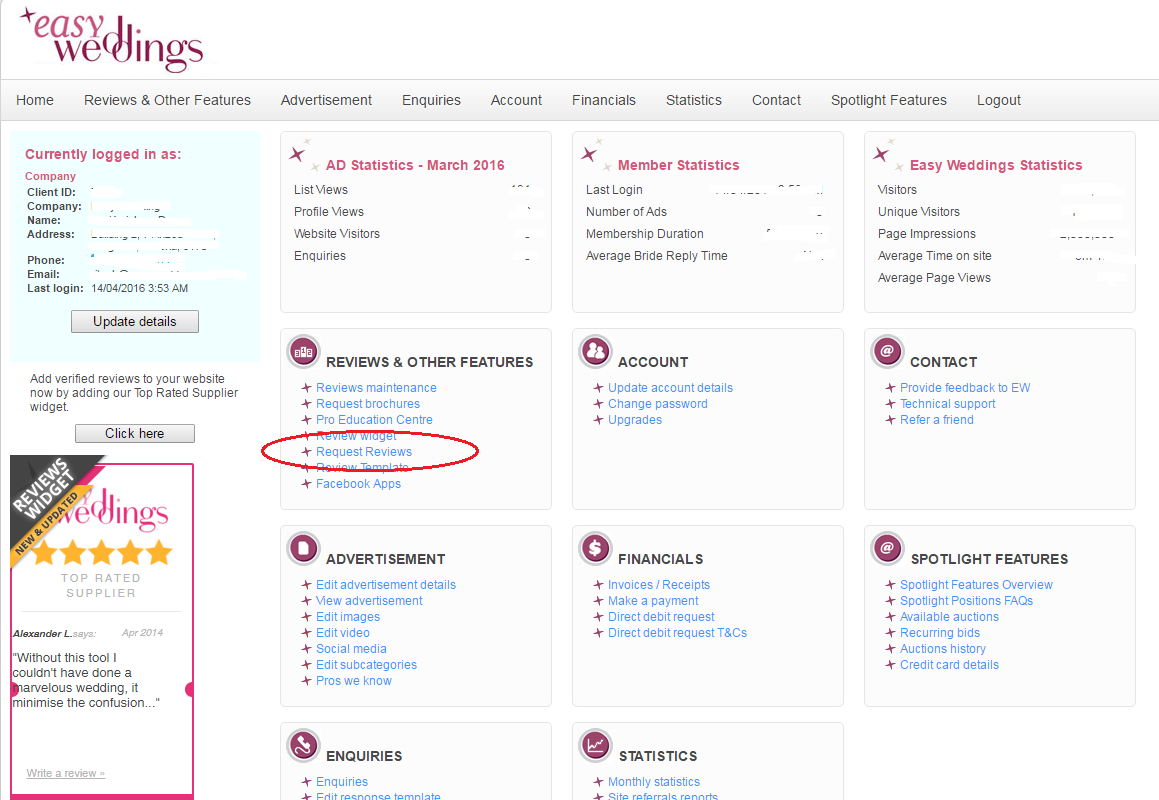 Promote your reviews with Easy Weddings tools
As you build your reviews over time, it's important share these with potential customers as a key part to your marketing activities. We developed two systems to make this easier for you.
Reviews Widget
Our Reviews Widget helps you to display your Easy Weddings reviews on your website, blog or email signature by inserting a simple line of code. This means, every time potential customers visit your website or blog or, every time you send an email, you're always promoting the good work you have done with past clients.
Facebook Reviews App
We developed a Facebook app that displays your Easy Weddings reviews on Facebook. This helps to build trust and confidence among your Facebook followers. It also presents another way for you to market your business on social media by providing brides who maybe doing further research by checking out what others are saying about your business on Facebook.
To access both these tools, simply log-in to the Client Admin Centre. You'll find detailed information and instructions under "Reviews & Other Features"