In order to help our suppliers respond to enquiries as quickly as possible, we've made WedCRM mobile! The WedCRM app is now available both on Google Play and on the Apple store. This app will help you to respond to leads promptly, as well as help you run your business while you're on the go.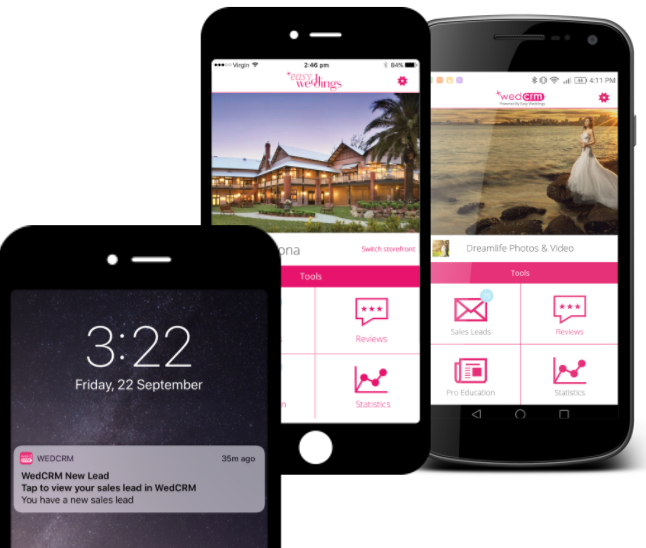 When selling to millennials in the wedding industry, speed is essential. If you're new to WedCRM, our software is a customer relationship management system that we've created to help you better manage your customers in a streamlined and easy-to-use interface. 
WedCRM for mobile allows you to easily manage and respond to leads, reviews and clients, as well as access your Easy Weddings storefront statistics. You can respond quickly to prospects, and instantly sync with your Easy Weddings storefront for access wherever you go.
WedCRM is the key tool for any Australian wedding professional, and all you need to do is log in with your Easy Weddings credentials.
Features:
Push notifications
Receive instant notifications whenever you receive an enquiry or review
Increase your potential to convert leads by getting back to potential clients within seconds
Boost the presence of your business through speedy and tailored responses
Manage Leads
Track incoming sales leads on your mobile

Import external leads from other sources

Follow up with prospects on the same device via text, email or phone

Manage your projected sales pipeline
Update the status, potential and value of sales leads within minutes after chatting with them
Add notes and further information to leads
View Statistics
Access your storefront statistics instantly

Track how many enquiries you are receiving

View and compare your listing performance 

Easily compare your performance month-on-month or year-on-year
Pro-education
Stay up-to-date with industry news and Easy Weddings updates

Articles and tips to help you improve your business

Advice from Easy Weddings industry experts
Reviews
See all reviews made by couples

Track what type of reviews your business is receiving
Respond to reviews from your phone
Filter reviews by date, wedding date and performance
Download the app
You can download WedCRM today for free on iTunes or Google Play. And keep an eye on updates in the app store for new features and versions.
Please note, WedCRM is only available for Easy Weddings vendors. To signup with Easy Weddings, visit our business section.