He Says
Haven't seen you for 6 months – you're off the list!  It gets really cut-throat when you are assessing the pros and cons of who to invite.  Jess and I have gone back and forth a few times trying to get the list figured out.
We would break it into groups and try to keep it on an even keel between bride/groom invitees. But you know for a fact there is going to be something, somewhere that proves to have no easy solution. Our big issue has been that if there is a cut off age for invites to the wedding, what is the age? And does that mean we will be inviting parts of our family/friends families but not inviting other younger siblings – is that ok?
We know this will cause some angst for some of our guests but we are fairly confident that those who are too young (and are not invited) won't actually take it personally. We have settled on 18 as the cut off age. It's seemed the simplest way of ensuring that everyone attending is of a responsible drinking age, and that all parents will be free to let their hair down on the night. And (I understand this will be hotly debated) but there is a solid argument that a child won't fully appreciate a wedding and will end up being bored out of their brain.
Tough call had to be made and we made it, our list is almost locked down (one huge decision at a time).
She Says
The only part of the wedding I have been dreading… the Guest List!
My family is slightly bigger than Jared's, but together I think we reach nearly 70 very quickly, and that didn't include close family friends or our wider groups of friends from high school, footy, work etc. (you get the picture)… So we immediately knew that our wedding was going to be approx 150 guests. But the one aspect I really struggled with was whether we invite children or not?
Admittedly there are not that many children in both families but I questioned whether they would even enjoy the wedding reception? Would the parents relax more if they were or were not invited? Tough, tough decision….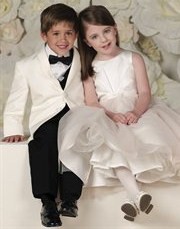 After a lot of debate, Jared and I decided together to have an engagement party where everyone was invited and then make the wedding an over 18 age limit. It made it a little easier that our venue preferred an over 18 crowd, but it was still a difficult decision to make as we don't want to have any regrets and I'm not quite sure how it will go down with the family, friends and particularly our cousins who are under 18.
In the end I hope that everyone understands and enjoys the night.