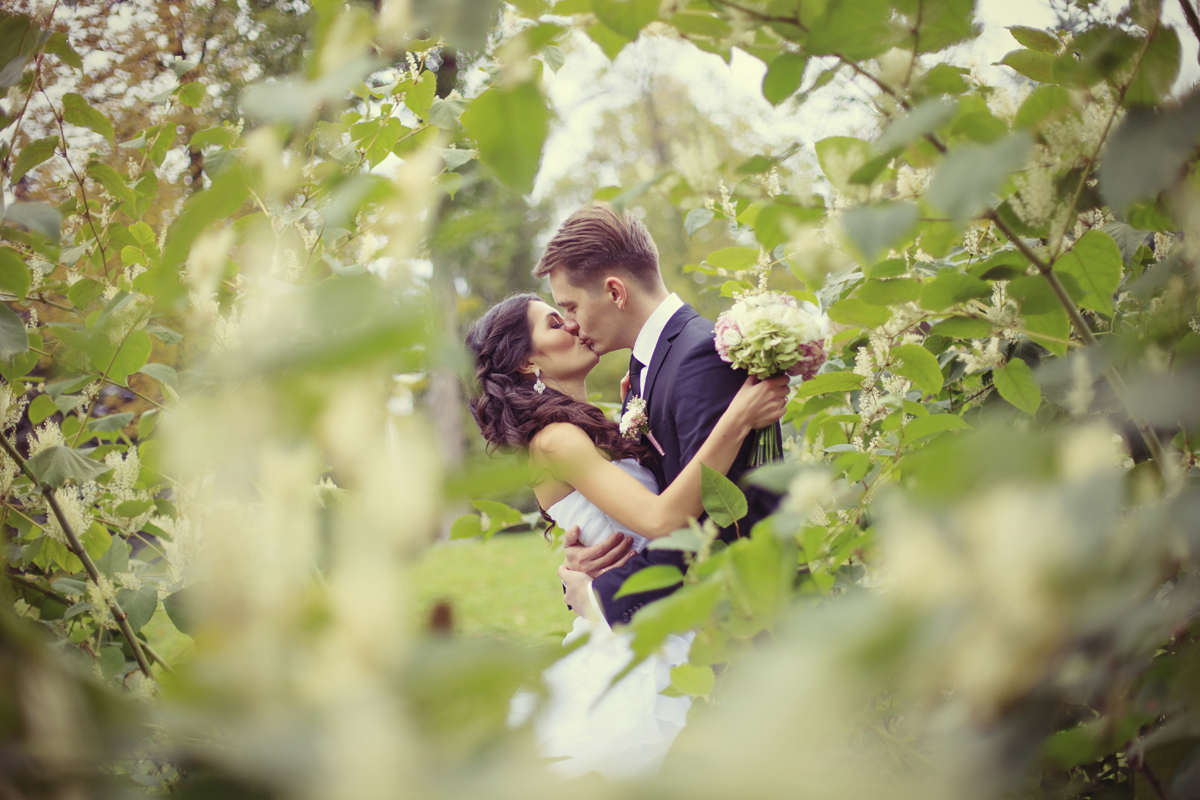 Once upon a time, to use a fairytale introduction, most people thought of elopements as an exclusively Las Vegas concern.
Think Elvis, glitz, glam and a great story to tell when you get home.
But these days, more and more couples are finding you don't need to leave the country to elope. Because the most romantic place to pledge eternal love can be your very own backyard.
Julia Doeven, who runs Melbourne based Julia's Celebrancy Services, says backyard elopements are perfect for couples who want a day that has no fuss, and instead flows in an easy and relaxed manner.
They can be held in a backyard, a park or even her own private studio and offer the best of both worlds – somewhere between a classical ceremony and traditional notions of elopement.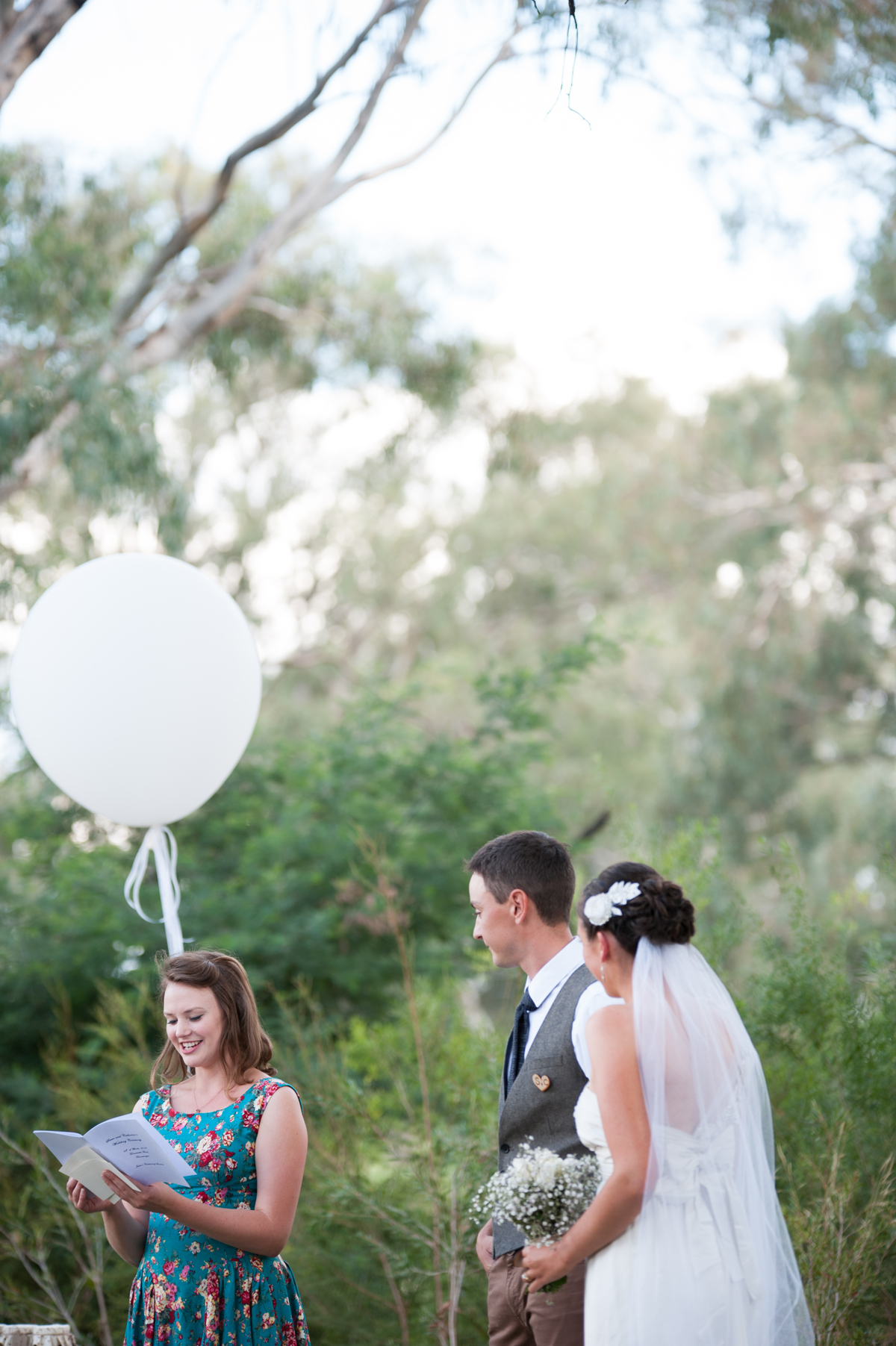 For starters, there are savings to be had, not only from a pared-down guest list, but also because there is the flexibility to wed when, where and how you like. There's also the chance to cut down on stress, which is something you simply can't put a price on.
"What I sometimes find is that couples are a bit overwhelmed by the process of organising a wedding, so they just want to get back to basics," says Julia, who is one of Australia's youngest celebrants.
Among the common issues to arise are family tensions, working out a guest list and seating chart, and simply finding time to plan in a time-poor world.
So by staging a backyard elopement, couples can strip back any drama and focus solely on enjoying their journey to "I Do".
But a wedding is so much more than its practicalities, and a backyard elopement combines the practical AND the pretty.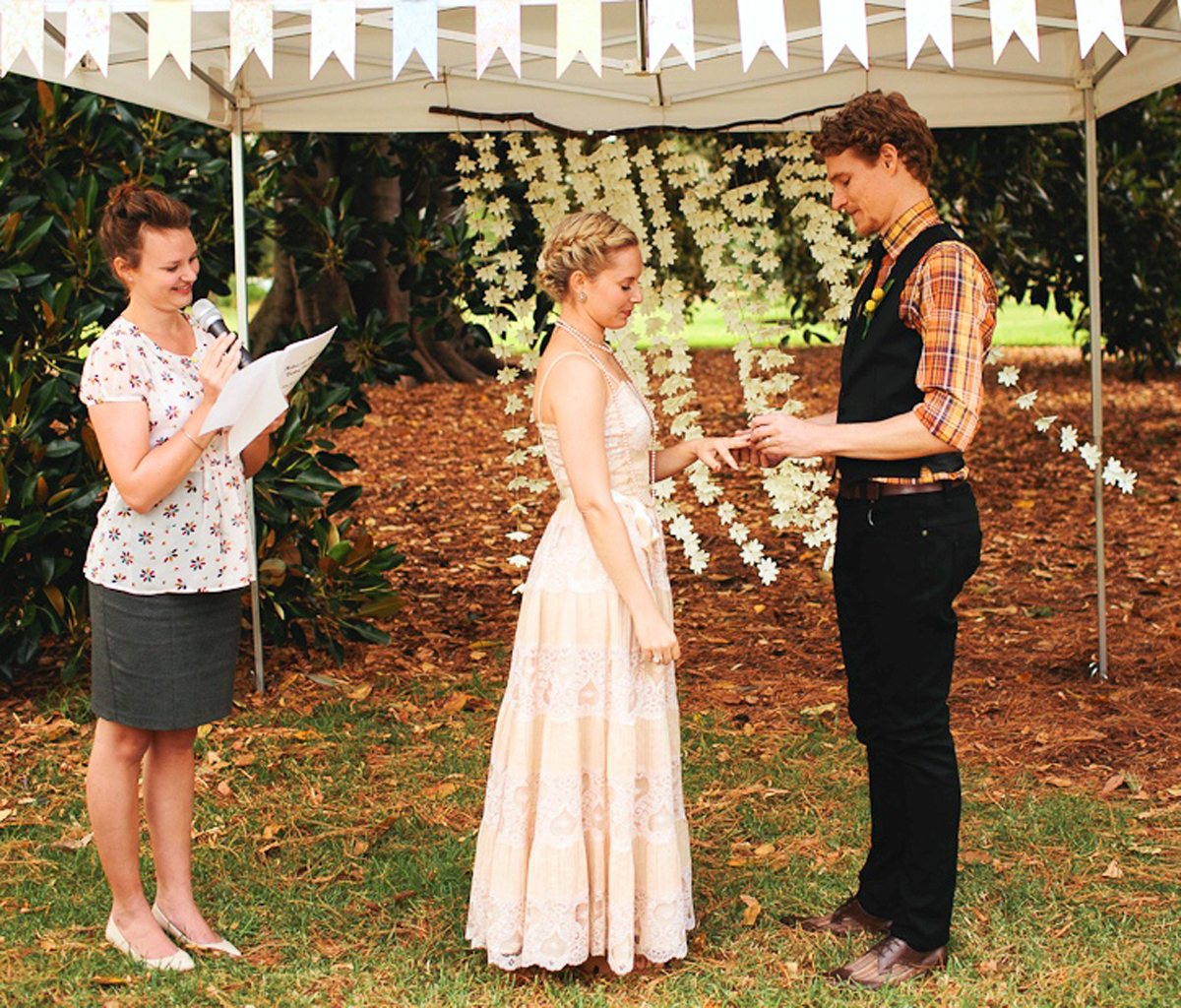 Julia, who has performed nearly 500 ceremonies – and covers everything from classic celebrations to those with a theme – says a stripped-back, almost acoustic-style ceremony, can be incredibly romantic, as they open an avenue to the kind of heartfelt emotions couples may be too shy to offer in front of a bigger guest list.
It brings beautiful truth to the idea that sometimes, less can be more.
"I remember my very first elopement was on a beach, and there was literally just the bride, the groom, the photographer, two other people and their two daughters," says Julia.
"It was a beautiful day and I remember being in tears myself because it was just so romantic, so heartfelt and family oriented.
"I actually think having less people around can really heighten the intimacy of it all because being one of only a few people to witness the vows makes them feel much more special."
This is especially true if couples write their own vows, which happens more than half the time, often with a little help from the self-confessed "lovey dovey person".
"I just love that feeling of being part of it," Julia says. Of helping to translate their emotions into words to make such an important day perfect and a unique celebration of what their love means.
"It's never about where the wedding is, or how many people are looking on, or how glamorous it is. It's the raw emotions, the vows, the tears and the unexpected little bursts of happiness."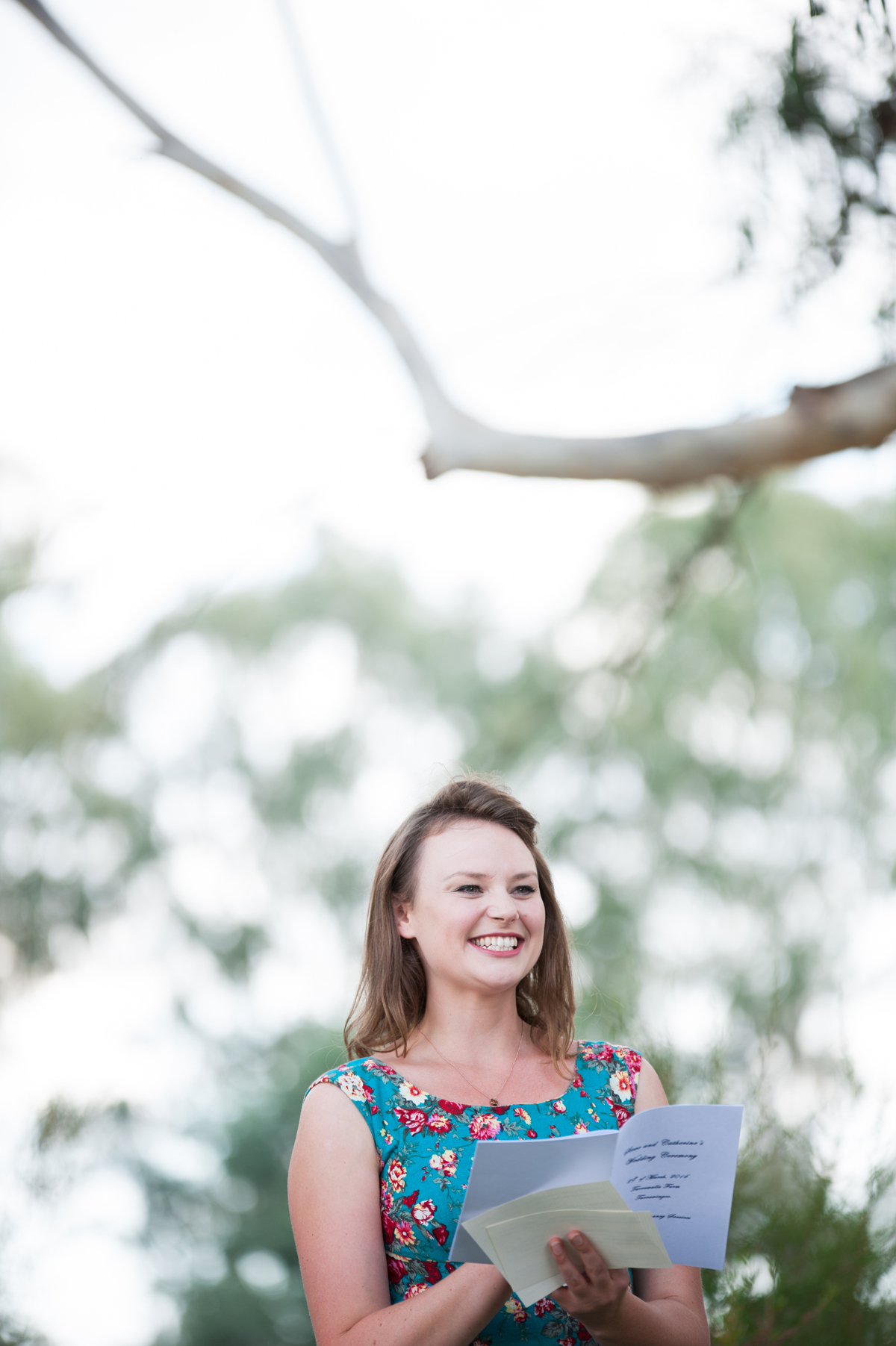 Backyard elopements also bring the freedom to focus on other aspects of the celebration.
"What you sometimes find is that people have a very intimate or small ceremony and then celebrate later with friends and family," says Julia. Not necessarily at a traditional reception, but in a way that reflects their personalities and interests.
"For example, they might have the ceremony and then meet all of their friends at the pub later that night," she says.
Alternatively, they might keep the whole day small, but ramp up the indulgence factor.
"I had one couple who took all of their guests – about 20 in total – to (famous Melbourne restaurant) Vue De Monde, where they sat down for a 12-course degustation meal, and it was just beautiful," she says. "So that's one of the advantages in that it allows you to go to town with other aspects." It's about creating your day your own way.
Julia – who will help couples find another celebrant if she's not available on their wedding date – says the legalities of a backyard elopement are the same in that couples must lodge an intention to marry at least one month and one day before the wedding.
But apart from that the sky is the limit.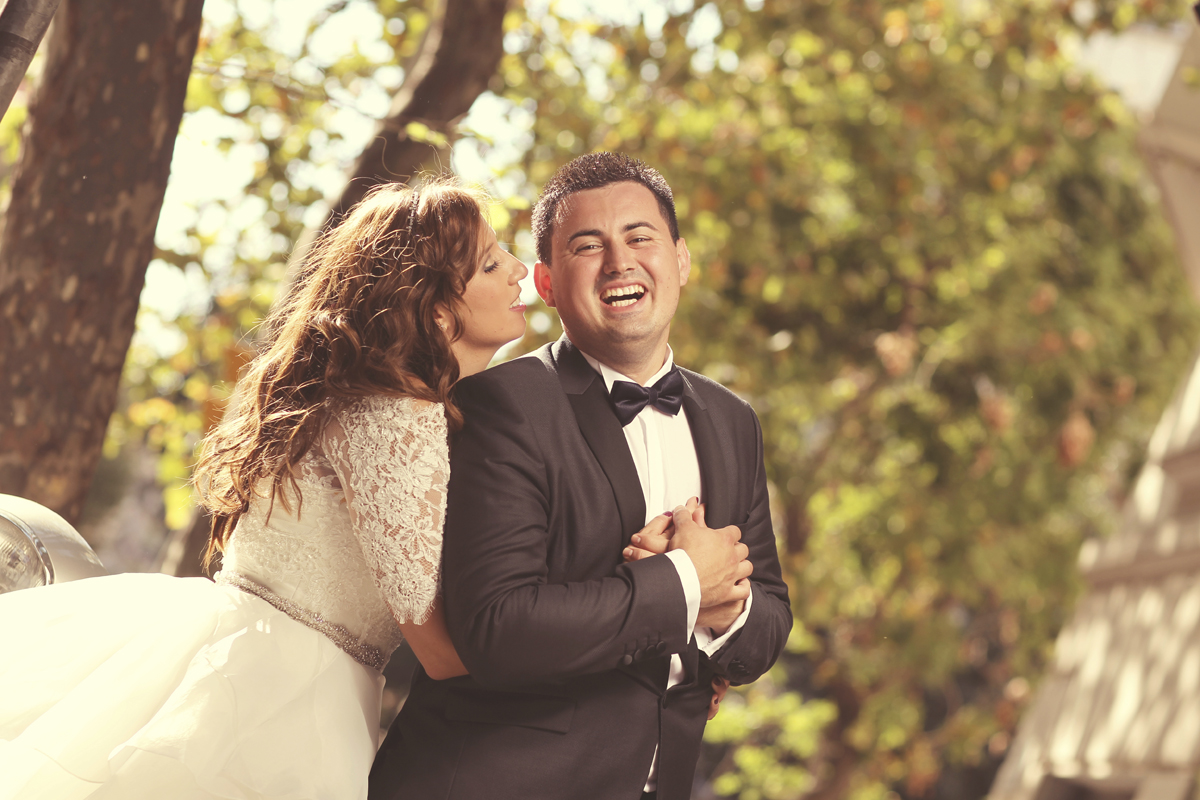 "They're actually incredibly flexible because couples can do it any time of the day as they're not working with a venue," she says. "It can be at 11.30am, at 7.30pm – basically whenever they want.
"Also," she says fondly. "Guys don't have to wear a suit, which I can tell you many of them think is a plus."
One thing that does remain is the opportunity to encompass classical milestone moments. The bride can still make a grand entrance and walk down the aisle, the couple can still organise a musician or special songs for the ceremony and, of course, they can still kiss their new husband or wife to rousing applause.
As Julia says – pointing out she always packs tissues in her own little emergency celebrants kit – it's a day all about romance, about two people and about formally sealing a special and unique love.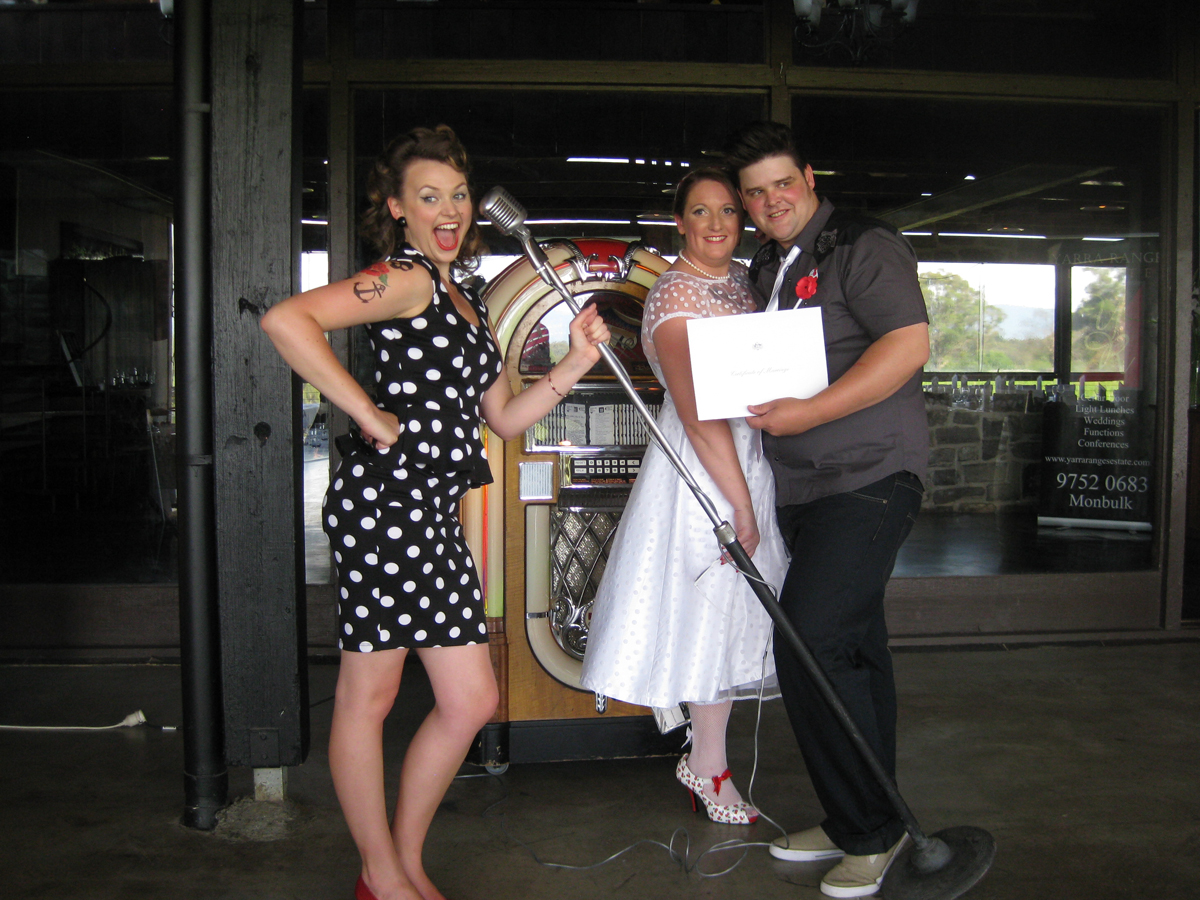 Inspirations for a backyard elopement
When the numbers are small, there's a beautiful opportunity to indulge your inspirations and your guests. You could….
Offer seating for all of your friends and relatives. This could be a collection of vintage chairs sourced from op shops or even your own outdoor dining setting spruced up with ribbons or mason jars.
Make guests feel like VIPs with corsages or single flowers for all the women, and buttonholes for the men.
Ask everyone to contribute in some way, from a reading to a blessing or even the curation of a ceremony playlist.
Have a theme and ask everyone to take part, even the celebrant. As Julia can attest, there's something extra fun about a rockabilly or pirate-themed ceremony.