There's no denying that millennials love succulents. There's just something about a gorgeous plant that can grow and is also a bit easier to keep alive that we love to have in our homes as well as use in our decor.
But succulents can be used in so many ways other than just decorations, and we're seeing some amazing ways that wedding succulents are being incorporated into a couples big day.
Whether it's being used in something that a bride or groom can wear or something that adds to the theme of their day, wedding succulents are a great option when you tie the knot. Due to their easy to care for nature, succulents are not only versatile for your decorations but you can also order and pick them up in advance.
Plus they come in such a range of different sizes, shapes and colours that you can match them to any style for your big day.
Here are some of our favourite ways that you can use succulents for your wedding.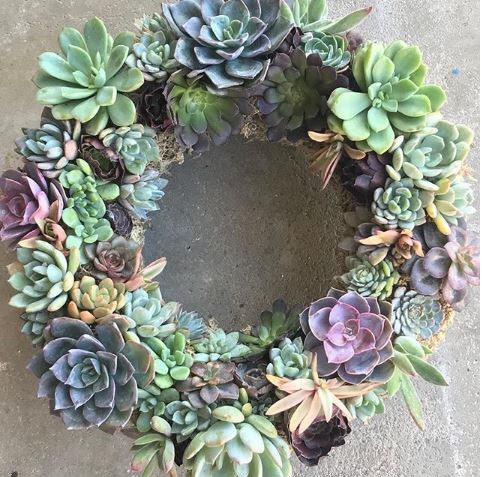 As your wedding favours
While sugared almonds are the traditional choice for favours, chocolate and other sweets have taken over as the more modern choice for wedding favours in recent years. But if you're up for something that your guests can keep rather than eat, we love the idea of giving them a living gift as their own special gift.
Love is nurturing and what better way to represent that than with individual succulents as your favours? Not only do your guests have something cute that they can keep, but because succulents are so fuss-free and easy to maintain it also means that you're not giving them too much responsibility at the same time.
Plus they can be displayed in a range of gorgeous ways, whether it's a succulent gift table for a cocktail reception or as individual plants at each table setting.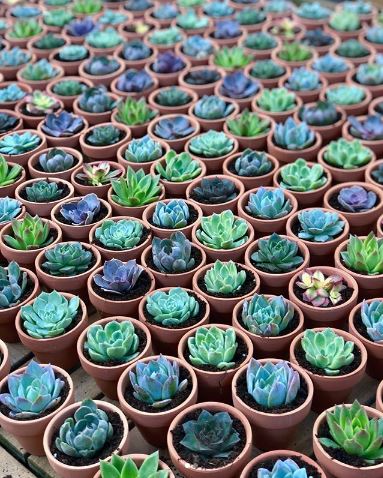 In your bouquet
Because they can come in a range of such diverse colours, having succulents in your bouquet can be a gorgeous way to focus on something a bit different. You can have a succulents-only bouquet or merge them with other florals and plants.
We love the elegance they give to a modern bouquet and the way they give some more dimension to your flower arrangements.
However, if you are merging your succulents with other flowers it's a good idea to go with some more light blooms. Because they generally are thicker, succulents tend to weigh more than other flowers. So make sure you're not having something that's going to weigh you down too much!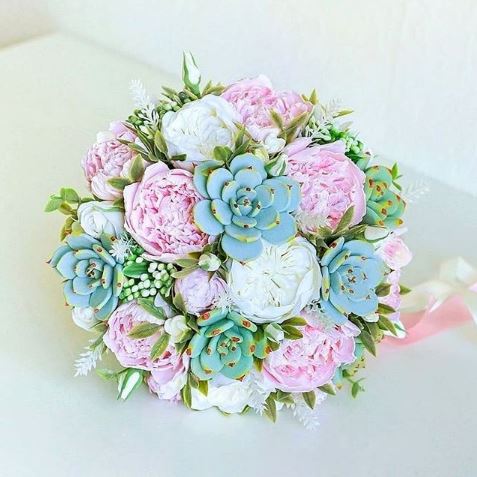 As part of your wedding decor
There are so many different types of succulents out there and so many ways you can involve them in, not just your home decor, but your wedding decor as well.
Whether you go for a larger hanging succulent as part of your greenery, have a range of eclectic pots or terrariums displayed at various points of your venue, or go for succulents as table centrepieces rather than traditional flowers, there are so many ways you can use these cute-as-a-button plants in your wedding theme.
The benefit of using succulents for your wedding decor rather than just florals is that you get to keep them! While sometimes couples can go home with a range of flowers that will die off in the week following their wedding, your planted succulents can be kept around the home and nurtured for years to come.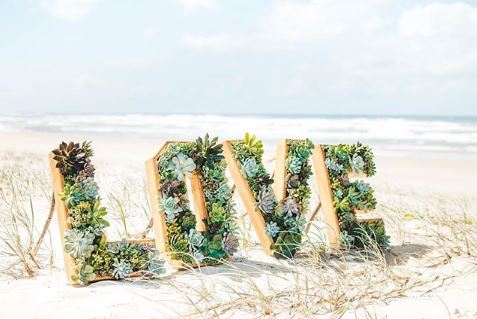 As part of your wedding cake
We love succulents on wedding cakes! With greenery being one of the most popular themes in recent months it's a great way to add a new element to a common trend of greenery and florals on cakes.
Plus a skilled cake maker will be able to use real succulents or create amazing handmade sugar succulents and flowers for you to chow down on at the end of the night.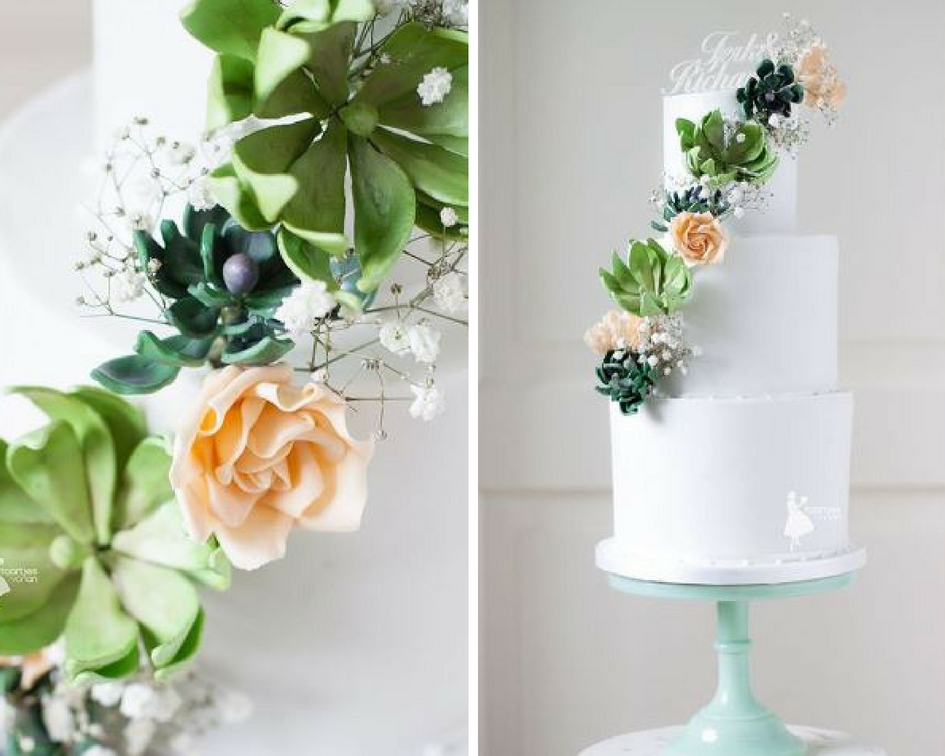 In your hair
There are hair clips and flower crowns, and then there are the hair clips and flower crowns that really make you say WOW. Make your statement piece your headwear with a gorgeous succulent crown or clip for your wedding day.
These creations not only stand out but they also add an element of glamour and uniqueness to your look. There's a range of different succulents colours for you to plan around your colour scheme and flower crowns are still a popular element at weddings so it will help you look both on trend and unique.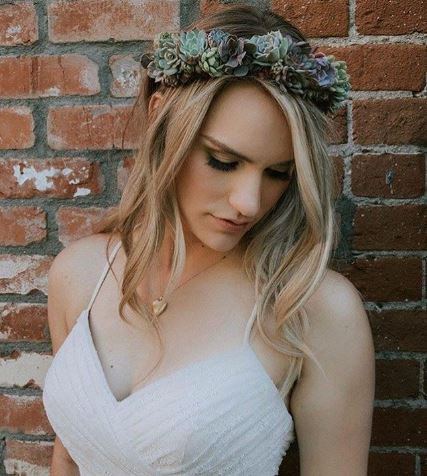 As your boutonniere
Don't think that it's just the ladies who can accessorise with some amazing succulents either. Grooms and groomsmen unite because now is your time to shine.
Some men might think that their pocket flowers, or boutonniere, are a bit off-trend and are instead opting for more traditional pocket squares. But we love this unique take on the boutonniere wedding tradition.
Your boutonniere is also a great way to involve the other men in your life, whether it's your father, grandfather, brother, uncle or just a few of your besties. You can work their special succulent designs to your colour scheme or give them the natural green look for a boutonniere that will involve them but also help them stand out from your bridal party.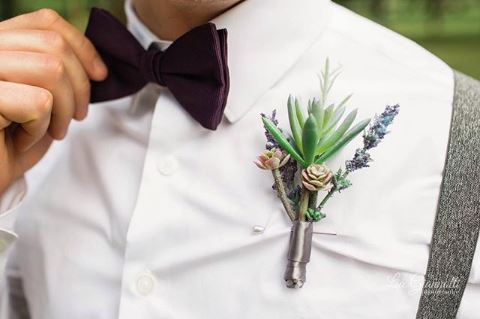 As your jewellery
Don't worry we haven't forgotten the women in your life. For all the mothers, mothers-in-law, grandmothers, sisters, aunties and even flower girls, a piece of succulent jewellery is the way to go.
This can be in the form of a traditional corsage or bracelet, succulent ring, a unique succulent or mini terrarium necklace and so on. There are just so many ways to wear these gorgeous plants!
We also love succulents paired with silky ribbons, leather features and clean, neutral colours to really help make these plants pop and standout while being worn.