One of the most popular ways to feed your wedding guests is by having a finger food buffet. It's perfect for casual wedding receptions or if you are planning an outdoor garden wedding. As your guests are able to eat wedding finger food while mingling, you won't need to provide formal seating and table arrangements.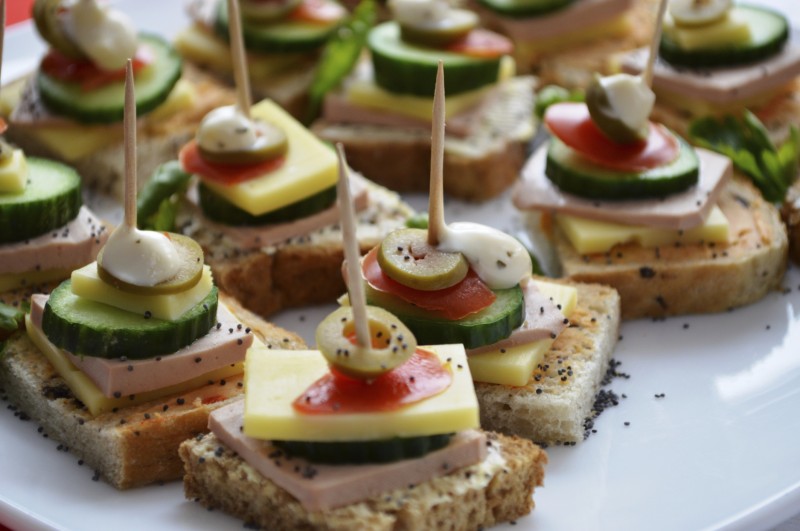 American themed finger foods could include hot dogs and miniature hamburgers with gourmet toppings and unusual sauces.
Bread is crucial for any food finger food buffet, but the kind you choose depends on the style and theme of your buffet. You could go with pitta bread, crusty white or French bread, ciabatta, naan bread, or dark rye bread.
Meat kebabs on wooden skewers are easy to eat on the go. Consider Thai prawns, curried chicken, minted lamb, or vegetables with halloumi to have something suitable for every taste.
Japanese themed finger foods include teriyaki chicken pieces, tiny sushi rolls, baked kabocha, as well as tempura.
Bite size mini quiches are perfect wedding finger food, and roasted peppers together with mozzarella or caramelised red onion with goat's cheese are favourite choices.
Chicken goujons, battered king prawns, and sweet and sour pork balls are all mouth-watering possibilities and breadcrumbs or batter can make meat more convenient to pick up and eat.
You could present samosas, onion bhajis, or pieces of tandoori chicken, together with mango chutney or mint yoghurt dip. Indian bites will add some spice into your wedding food.
Spring rolls, prawn wantons, and crispy duck pancakes are all going to be tasty with other styles of cuisine. Fortune cookies are a fun alternative for Chinese themed weddings.
Potato skins are a fantastic wedding finger food and work great with soft cheese and crispy bacon or hot salsa and sour cream.
Add a healthy dimension to your finger food buffet with vegetable dips and carrots, celery, cucumber, baby corn, as well as spring onions can all be eaten together with a spicy salsa or blue cheese dip.
Toasted bruschettas can be topped with smoked salmon or cherry tomatoes, olives and garlic. They are simple to hold as well as tasting fantastic.
Chinese spoons are a practical and glamorous way to present something hot or messy as part of a finger buffet. They look especially good with a single portion of tortellini in a soup or a single meatball in tomato sauce.
Sandwiches are the core of any finger food buffet, so make the different with miniature tortilla wraps, bagels cut in half, or cubes of focaccia bread with olives or sun dried tomatoes.
Miniature desserts are fantastic sweet treat that can be enjoyed standing up. Chocolate brownies nd bite sized cheesecakes are perfect and you can always include individual scoops or spoons for shot glass mousses or sundaes.
Cupcakes are another ever-growing trend and a decorative cake stand topped with colourful cupcakes will make a beautiful feature on any buffet table.
Use Easy Weddings to connect with your dream wedding suppliers.
Browse the directory and start planning today!