Laguna Event Catering has been established for 36 years, crowning it as one of the UK's most experienced Asian wedding catering specialists. Easy Weddings' Editorial Manager, Emily Williams, meets with Amit to hear more about the family business, his passion for Indian cuisine and its extraordinary ability to bring people together.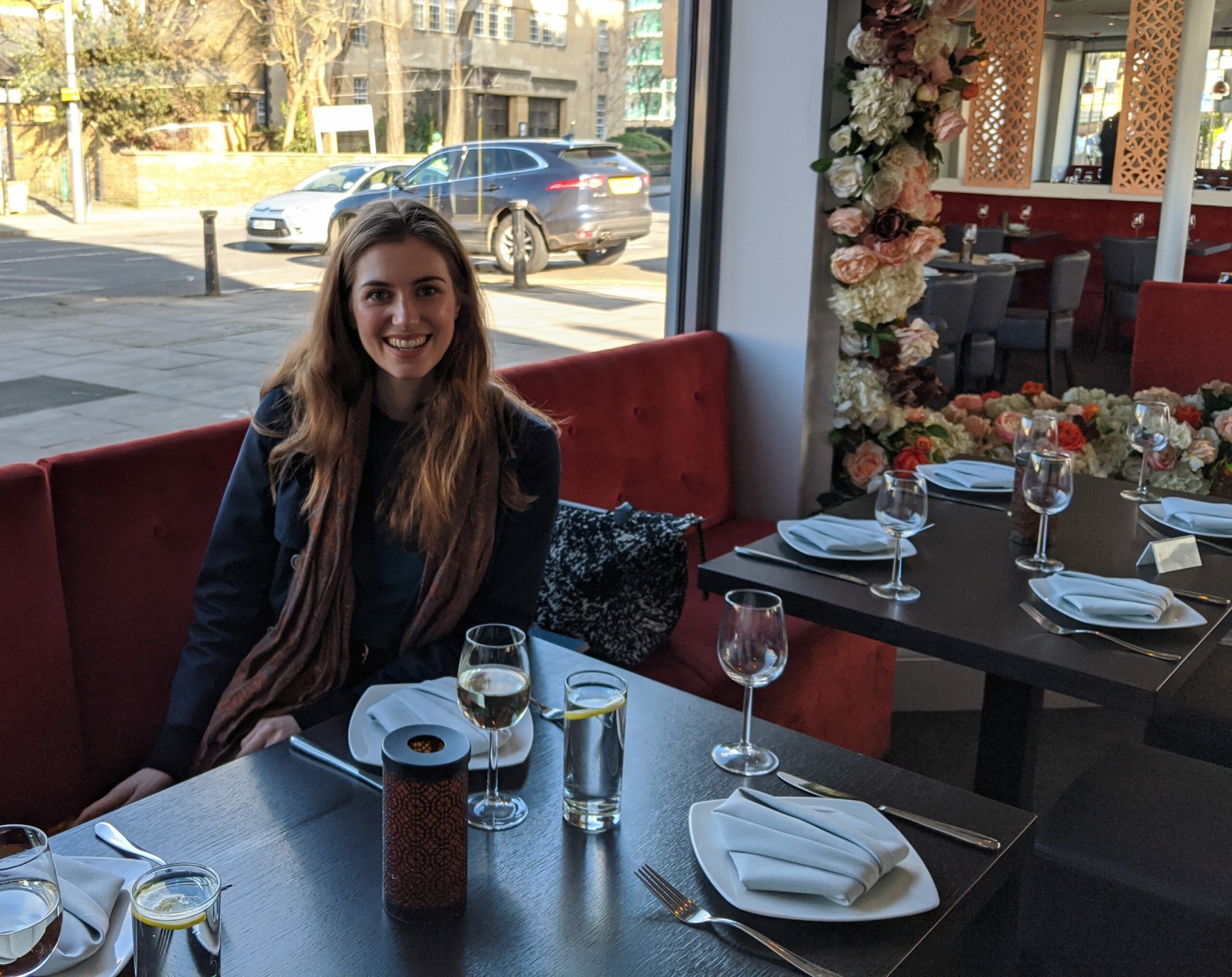 Arriving at Laguna's stylish restaurant feels like you're entering the newest eatery on the block, but its refurbished interior hides all hints of its rich history that dates back to 1984. Whilst Laguna has evolved with the times, the site will always stand proud as Ealing's oldest Indian restaurant. Loyal local residents have regularly visited with their families throughout the generations, and as the business has grown to reach international recognition. Laguna's flavour fuelled recipes and reputable service lie at the core, and they always deliver on both quality and quantity. Perfecting this balance is a challenge, but it's one of the many reasons why Laguna has become synonymous with unmissable occasions and exceptional Asian wedding catering.
As I enter the restaurant, Amit arrives with a warm welcome and guides us to a naturally lit table by the window overlooking the bustling street scenes. Around us, the sleek open-plan restaurant features red accent furniture, attractive garlands of peach flowers on the mirror frame, and not a fork lies out of place. It's already easy to imagine Laguna's limitless attention to detail at every event they cater for.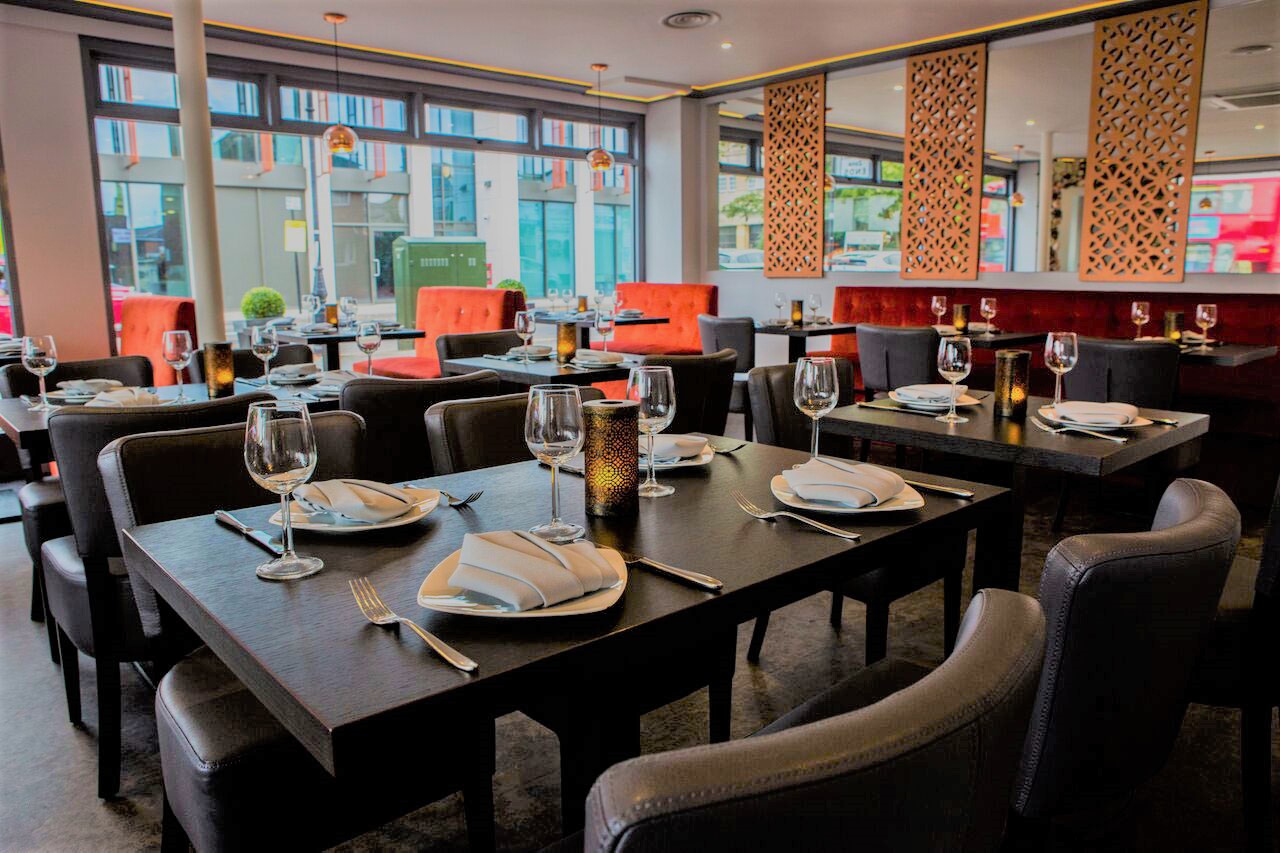 Despite his busy schedule, Amit's laidback and relatable nature makes the food tasting experience engaging from the start. He recognises how important it is for couples to feel relaxed and comfortable when making important decisions about their wedding day. Amit has lived and breathed hospitality all of his life, and he fondly remembers helping out at his father's events in the early days. When the time came to take the helm of the family business, Amit was well prepared and he's continued to lead the company from strength to strength. Now Laguna caters for an impressive 350 to 400 weddings each year in addition to the daily running of its Ealing based restaurant. This multifaceted operation is a credit to Laguna's logistical prowess and passionate team of staff who are all dedicated to exceeding the expectations of each client.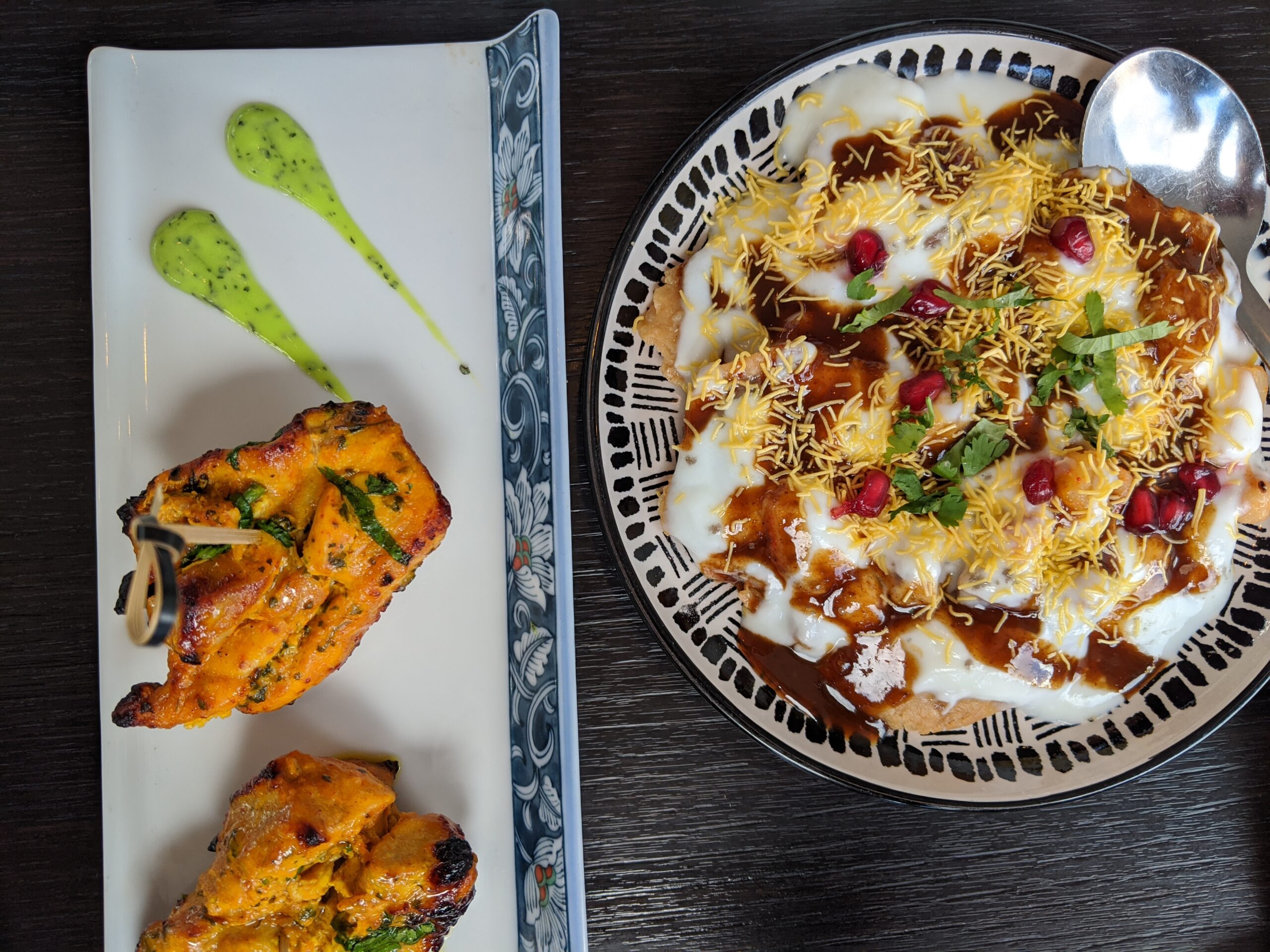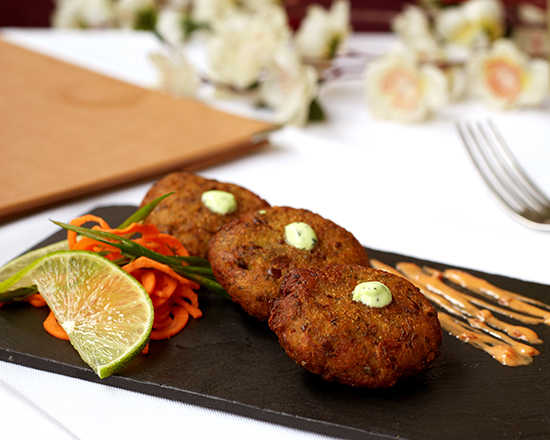 The first course arrives at the table in an enticing explosion of colour and aroma and Amit names each dish without hesitation. He has a strong understanding of the menu and how it can be adapted to suit your preferred portion size and spice tolerance. Here's an overview of the delightful dishes served:
Laguna's Irresistible Starters
Haryali Bhare Kebab
Moreish soft textured patties infused with green peas, potatoes, spinach and cheese. The ingredients are rolled into balls with a falafel-like texture. They make a tasty starter or canape to curb every guest's food cravings.
Amritsari Machhi Pakora
These spiced battered fish pieces come from a small town in the North of India. They make a succulent starter or can be served as bowl food in the typical British 'fish and chips' fashion, with a side of masala fries for an Indian twist.
Murgh Tikka
Chicken breast pieces marinated with Indian spices and roasted in a tandoor. The slow cook consistency gives a well-rounded balance of flavours, and the spices are never overpowering. The small skewers also make the starter easy to pick up and snack on.
Delhi Wali Alu Papri Chaat
This colourful concoction of fresh ingredients is an Indian street food staple. This authentic dish is made up of flour crisps, potatoes, chickpeas, yogurt and sweet tamarind sauce, which give it that desirable balance of savoury and sweet.
Sikandri Paneer Shashlik
Bitesize paneer pieces are marinated chunks of cheese, grilled in a tandoor with peppers and onions. Once cooked, they have a similar texture to halloumi and make a mouthwatering introduction to the menu ahead.
These starters are delicious, Amit! Tell me more about how Laguna began?
It was my father, Sunil, who first started the family business. When he first arrived from Delhi in 1974, he worked in hospitality just down the road from here at the Hilton DoubleTree, and he also helped to set up the first Indian restaurant in Marbella. Amidst these trips to Spain, he's always lived on the same road in Ealing, and so Laguna's roots will forever trace back to West London. Four years after my father got married, he decided to set up his own local restaurant here, and he carried forward the Laguna name from the previous owner (although he does like to say that he had his honeymoon on Laguna Beach as it sounds more romantic!) Over time, the restaurant has become a gastronomic landmark in Ealing and we've got to know our clientele well. Dad still occasionally pops in to keep an eye on our team, and if he's not here for a couple of days customers start asking.
When did you start to get involved with Laguna?
I was surrounded by the world of hospitality throughout my childhood and I began assisting at Laguna's catering events when I was a teenager. After I finished my studies I made the decision to join the family business full time. My father warned me of how demanding the role was, but I knew it was the right path for me. My sister chose an alternative route as an Osteopath, but when she got married, at least the catering was sorted! We laughed because her wedding menu was decided before the groom! But what's special is that we knew my brother in law's family long before he proposed. His family has visited the restaurant for years, and he celebrated his 5th birthday here at the restaurant.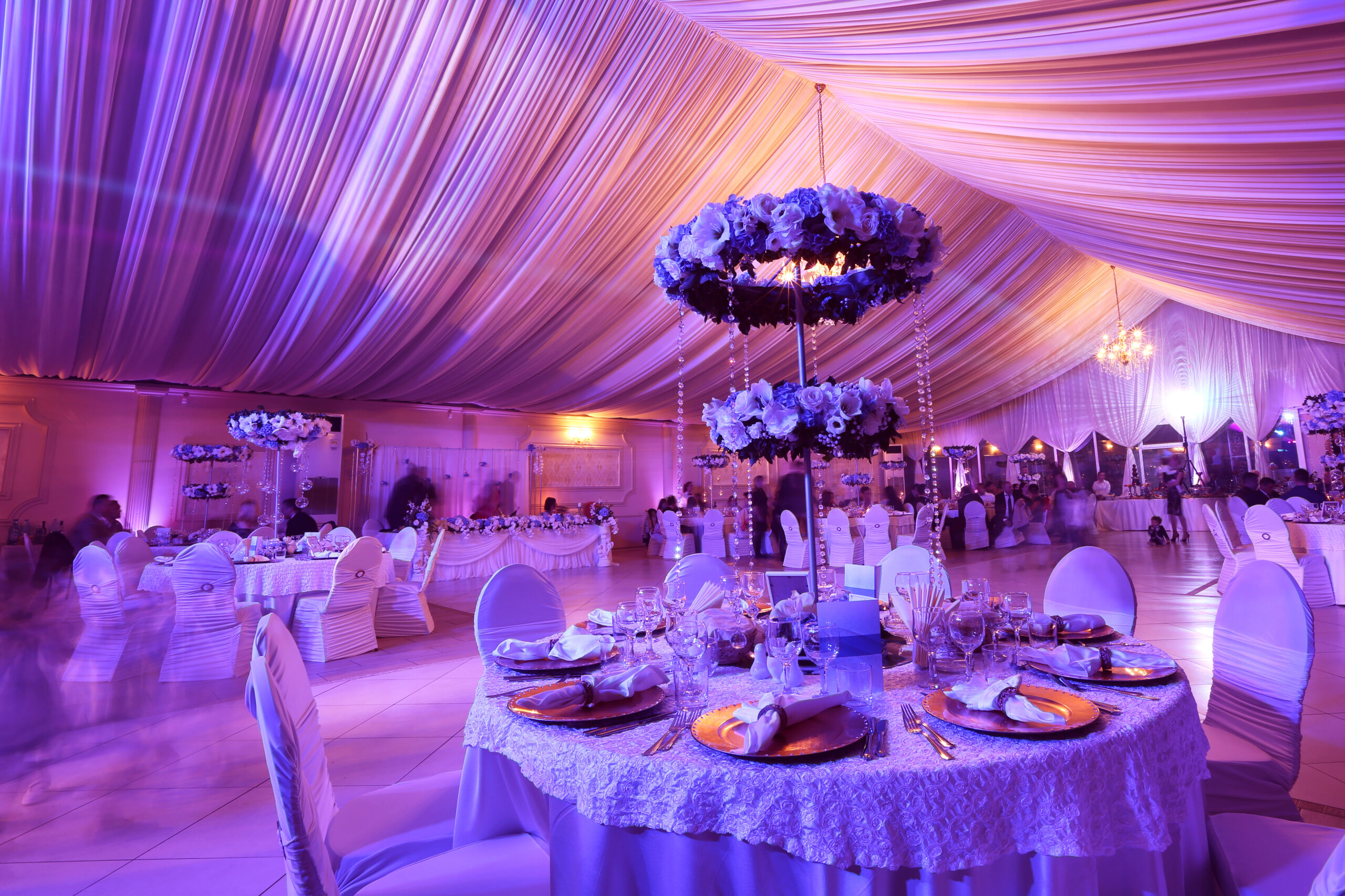 What do you like most about your role and what makes you proud to lead the brand?
For me, I enjoy meeting all of the wedding couples and developing a good relationship with our clients. Sometimes the connection can span over generations, and we've had cases where Laguna has catered for both the couple and their parents' wedding. It's special to watch clients grow up and become a part of their family story. Another example was a recent wedding in Athens, and we had previously catered for the bride's first birthday. It's exciting to travel abroad for events like these, and we've been fortunate to work in countries such as Greece, Portugal, France and Morocco. But above all, I'm proud to lead a brand that was built on the foundations of family. This will always remain at the heart of our company values.
What makes Indian food so special to you and do you have any other favourite cuisines?
There is something mystical and intrinsic about Indian food, and it all stems from the variety of culinary skills that have formed the basis of the cuisine. Passion and reverence are channelled into its preparation, and so the final product is always exciting and sparks conversation. Indian food is inclusive and always tastes better when it's shared. There are also many ways of cooking the same dish, so each chef has their own unique approach. Like Laguna, Indian cuisine has evolved over the generations and is closely entwined with a sense of family. Apart from Indian cuisine, I'd say Thai and Japanese dishes are my favourite!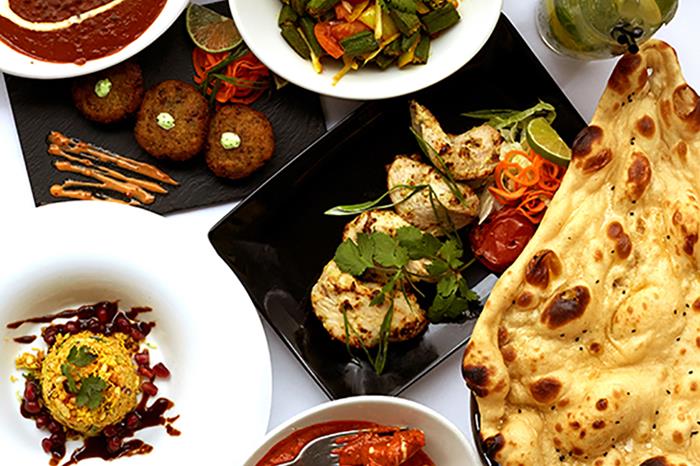 Do you go back to India often and how do their Asian weddings differ to the UK market?
I go to India every few years as I have a lot of family there. It's always exciting to attend an Asian wedding in India as they're on another level! Out there, 1000 guests is considered a small wedding, whereas in the UK, the average function size is 250 – 300. Indian weddings in the motherland offer a limitless buffet spread of food with live cooking stations and dozens of chefs. There's no concept of table service out there, and the events can go on for days. In England, time and venue constraints mean that all elements of the wedding, from the breakfast through to the Mandap ceremony often happen on the same day. There are also stricter food health and safety requirements to adhere to here, such as the HACCP system in the UK. This regulates the temperature changes of the food, so some dishes aren't as easily created here.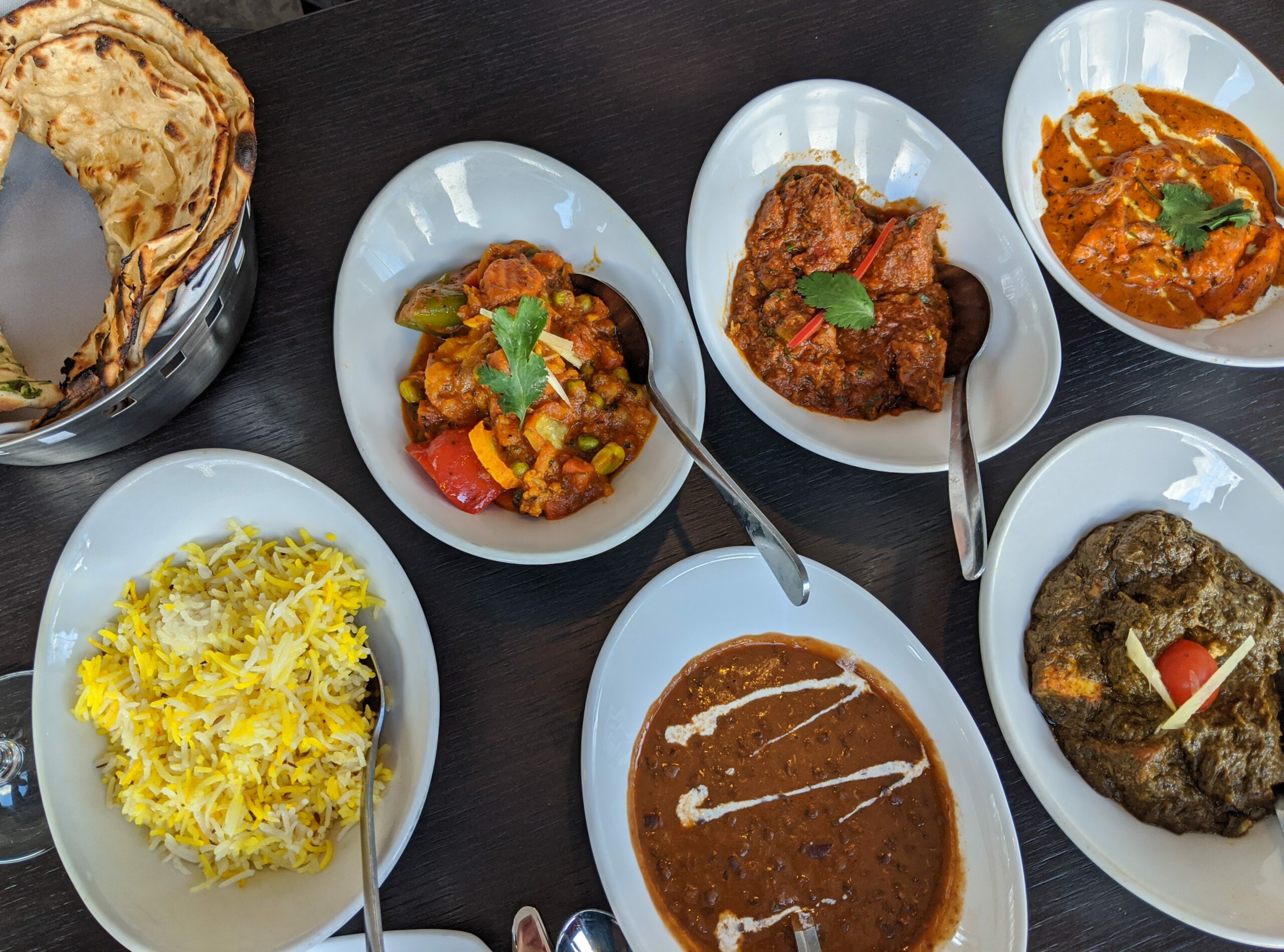 Next, the main course dishes arrive, and after the palatable starters, I know they'll be equally as enjoyable. Here is a breakdown of the smorgasbord of curry dishes that you can expect from your wedding food tasting:
Laguna's Mouthwatering Main Courses
The Butter Chicken
Laguna's speciality is the famous Tandoori baked chicken cooked in a rich gravy with butter and cream. It's also Amit's favourite Indian dish, and I agree that you can never get enough! It's proven to be very popular for weddings, and at least 7 out of 10 couples opt for it.
Lamb Bhuna
A rich curry dish that brings out the full flavour of the meat. The process involves a cooking process where spices are gently fried in plenty of oil to bring out their aromas, and the lamb is added to cook in its own juices. The result is layers of deep flavours with less sauce.
Mixed Vegetable Jalfrezi
A popular North Indian side dish, packed with nutritional goodness. The sweetness of the mixed vegetables comes into full form during the spiced sauté cooking process. This stir fry recipe is perfect for vegan and vegetarian weddings.
Saag Paneer
This creamy vegetarian side dish is composed of paneer cheese and spinach, finished with ground Indian spices. It's a well-loved leaf-based dish that compliments the other curries and Indian breads on offer at your wedding table spread.
Daal Makhanwali
This style of daal also originates from the Punjab region of India. It's made up of whole black lentils cooked with butter and cream, then simmered on low heat to bring out the deep-seated flavours. Daal and garlic naan makes the ultimate combination!
Pilau Rice
To accompany all of the varied curry dishes, pilau rice is a simple and fragrant side dish. Laguna has their own special recipe, with added cumin and saffron. This gives it a colourful appearance and a light fluffy texture.
Lahsuni Naan & Lachedar Paratha
No Indian wedding breakfast would be complete without a mixture of seasoned breads. Favoured choices are the Lahsuni Naan and Lachedar Paratha. Both are baked using different methods in the tandoori or clay oven, and then layered with butter and garlic.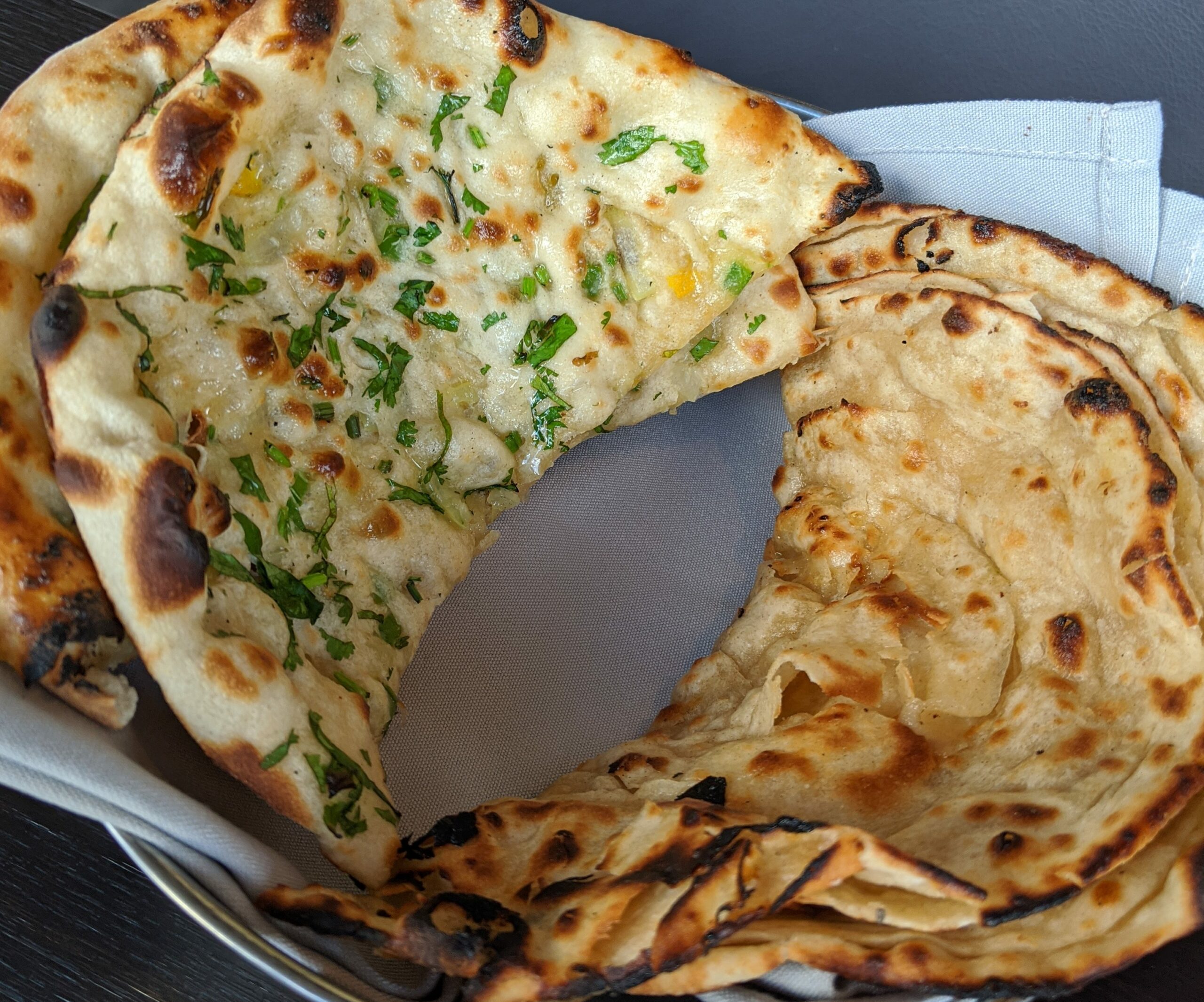 The Main course dishes are so authentic. Do you change your menu often and which Indian cuisine do you specialise in?
Our menus are adapted over time but you really can't beat the classics. Whilst we like to keep up with the latest trends, the base menu usually stays the same unless we run out of space on the menu! We have regular clients who have their favourites, so even if we don't have it on the list anymore we can usually make it. Recently, we started the Laguna Indian afternoon tea, which has been a hit. It includes snacks such as mini paneer wraps; avocado, date and tamarind balls; homemade Indian style biscuits; hazelnut and chocolate noires with edible gold leaf; Masala chai hot chocolate, and Indian style herbal teas. Customers enjoy the surprising fusion of different ingredients. As for Laguna's speciality, we have a particular focus on North Indian Punjabi recipes at the restaurant, but we can tailor your event to serve any style. The team always works closely with the client to make sure that the food is authentic and inspired by the location it comes from.
Check out the extensive Laguna menus via the following links:
Punjabi, Gujarati, Sri Lankan, Lebanese
Where do your chefs come from?
Our highly trained chefs come from India and sometimes it takes up to six months to find the right fit. Interestingly, there's a real shortage of Indian chefs in the UK, as getting chefs from abroad is difficult. The wages that you have to promise them is way over what most restaurants can usually afford. This is because the appeal for Indian chefs to come over is a lot less than it used to be, as India's developed so much and the market for eating out is huge. In the UK, there's no homegrown chefs, as there's no cookery schools, so it's just a case of whoever has come to live here. Sometimes we find that catering competitors ask for chefs, so we have two extra chefs on the books just in case. Luckily, the government is working towards lowering the minimum requirements to encourage Indian chefs to migrate, seeing as Indian restaurants in the UK are on the rise. We are proud to have a strong group of chefs that embrace the traditional cuisine of India's most famous culinary regions whilst injecting their own personality and flair.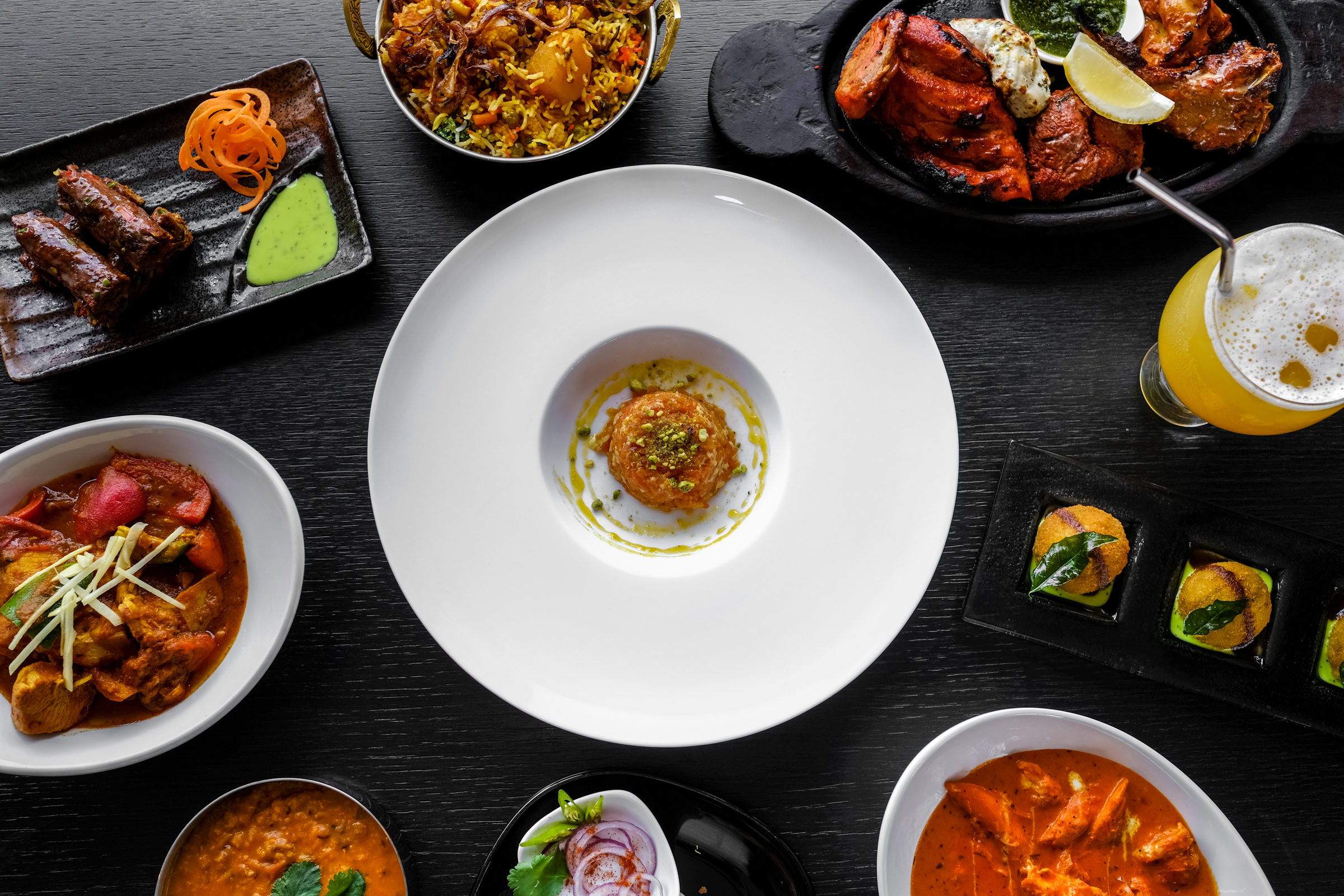 How did Laguna branch out from the restaurant into the events industry?
Laguna's first event was a simple buffet at Lord's Cricket Ground in the late 80s. It was small scale and all of the equipment was kept in our garage down the road. From there, our accreditations kept growing and now we are recommended Asian caterers at over 150 venues nationwide. This is now the main part of the business and Nitin is the General Manager for all events and operations. When we develop a relationship with a venue, the way we think is always very long term. It's important to protect the venue's brand, and treat the property with care like it's our own site. The main thing was learning exactly how they wanted to work and adapting ourselves for them. For example, at the V&A Museum, we are given one hour to set up, and as there are no kitchen sinks, we set up a basin from our base in Acton. With this strong knowledge of the venue's layout and facilities we can streamline our production to make it as efficient as possible. We are now proud to work across a whole assortment of venues, from exclusive hotels through to traditional stately homes, marquees, stadiums, historical palaces and even the intimacy of the home.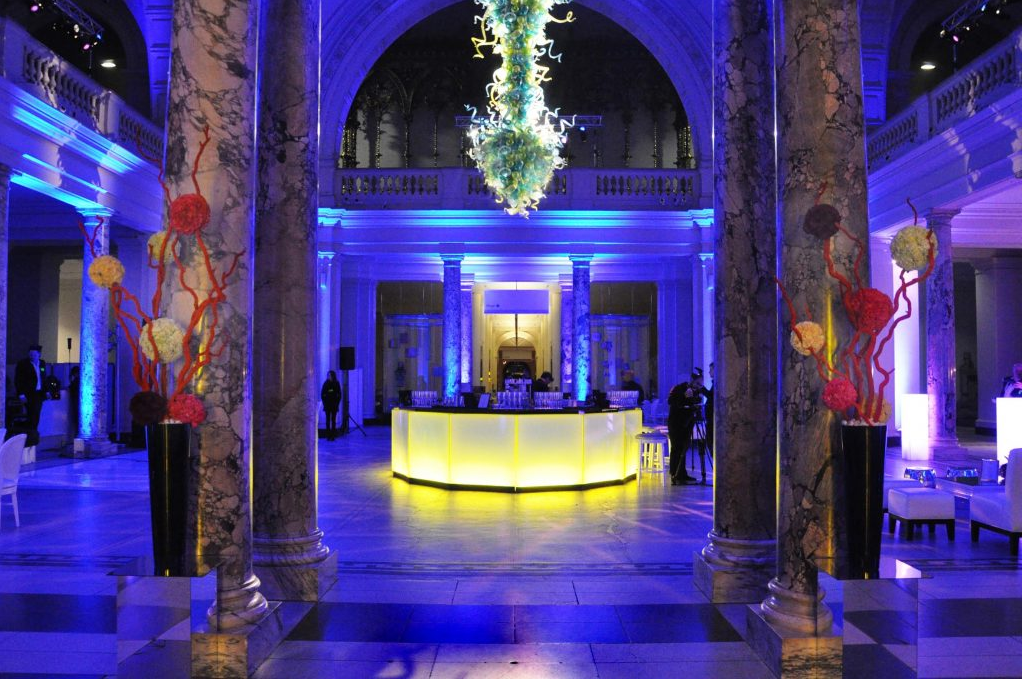 What would your tips be for couples on their search for a caterer?
I'd recommend that couples meet their caterer in person, as it's essential to get the menu right on your wedding day. Laguna always invites new clients to a food tasting like this, so the client can trial the food, experience the service and ask as many questions as possible. The more transparent the couple is, the easier it is to tailor the catering to your dietary and style requirements. From here, we build a great trusting relationship that could last for generations! Over the years, we've orchestrated countless events from conception to conclusion, so by the time your wedding day arrives, you can relax and enjoy the day, knowing that all of your friends and family are well looked after.
Find out more on the Laguna website, and book your wedding food tasting today.
Laguna Reviews
The Event Sales Manager at the Sheraton Grand Park Lane and Le Meridien Piccadilly describes Laguna as a real pleasure to work with: '
they are extremely efficient with the guest and venue with regards to sharing and coordinating all the important details with the lead up to the wedding day. I always feel confident that each bride and groom will be in good and very capable hands with Laguna, and I have no hesitation in recommending them to any couple looking for a wedding day caterer'.