Over the past few years, shopping at charity shops has become a popular pastime. People no longer buy everything new and prefer to see what they can get second-hand to find better quality items, rare or unique items and to save money.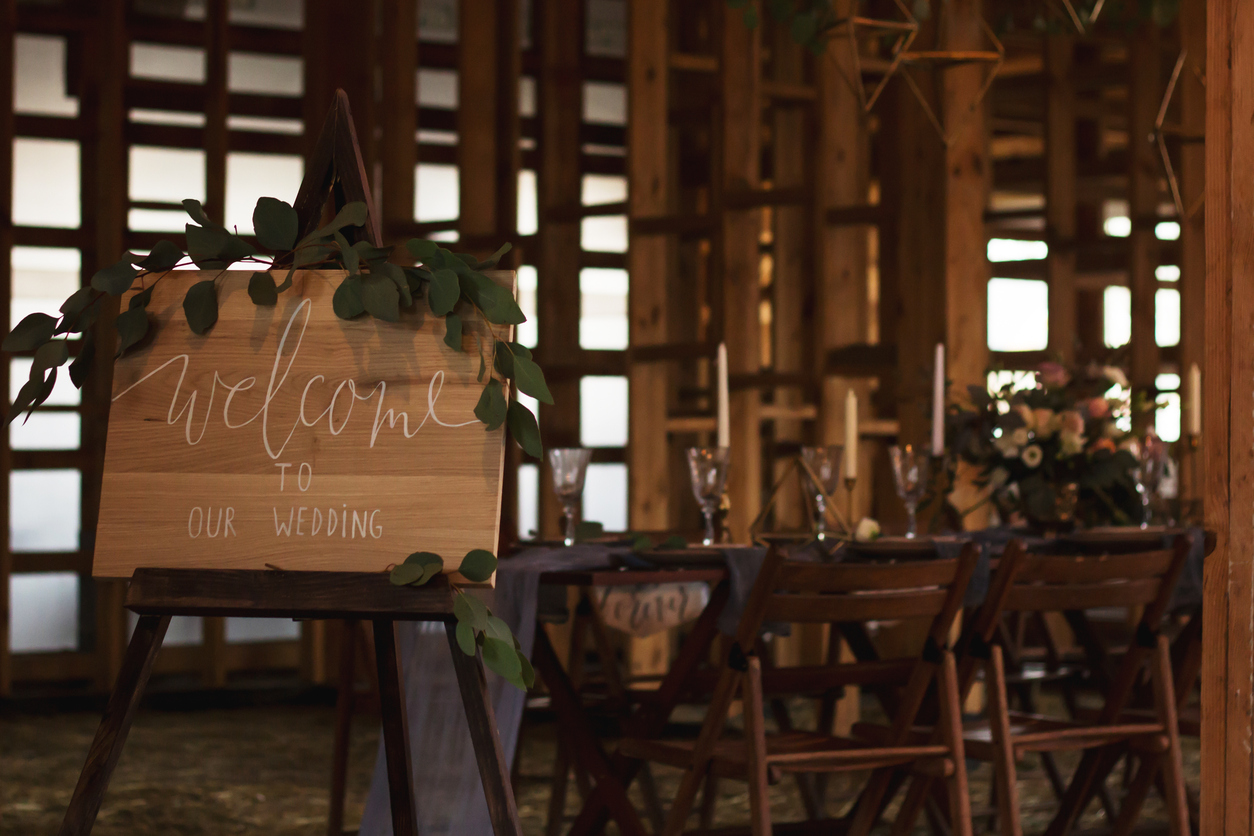 These same principles can be applied to your wedding. You may be having a vintage style wedding and so require vintage accessories. You might be trying to save money by buying your own crockery and glasses. All of these things are regular finds in your local charity shop.
Where to start
An easy way to begin your hunting for goodies is to start with a bit of list so you know what you're looking for. I don't know about you but I often get so excited by the amount of second-hand books and vintage clothes in charity shops, that I often forget what I came in for. Avoid buying the entire store by sitting down and coming up with a list of things that you need like crockery or jars.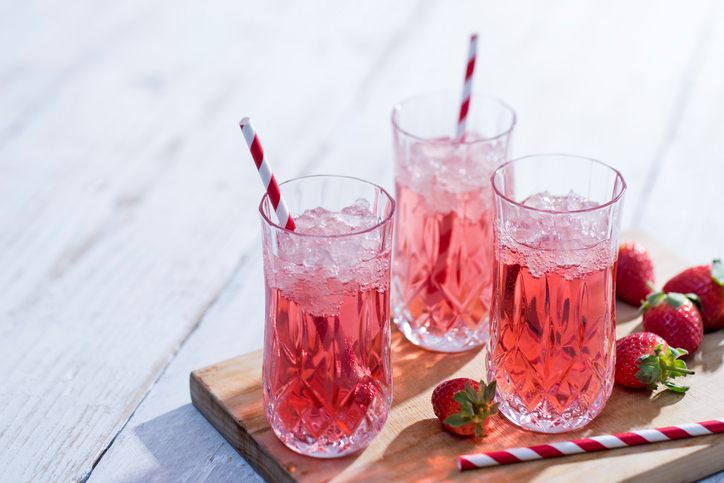 Crockery and glassware
Anyone who loves a second-hand shop knows that they're full of crockery and glassware. These items are perfect if you're having a vintage, rustic or boho themed wedding as you don't need these things to match as these themes are enhanced by mismatched items.
Floral side plates are regulars at charity shops but these may not suit your theme. If you keep searching, you'll find prints that suit more but remember that you can always mix and match a bit of floral with some plain white to create a unique style.
So if you're looking for dainty teacups for a tea station or unusual tumblers for your place settings, make sure you go down to your local charity shop. You'll be sure to find some goodies.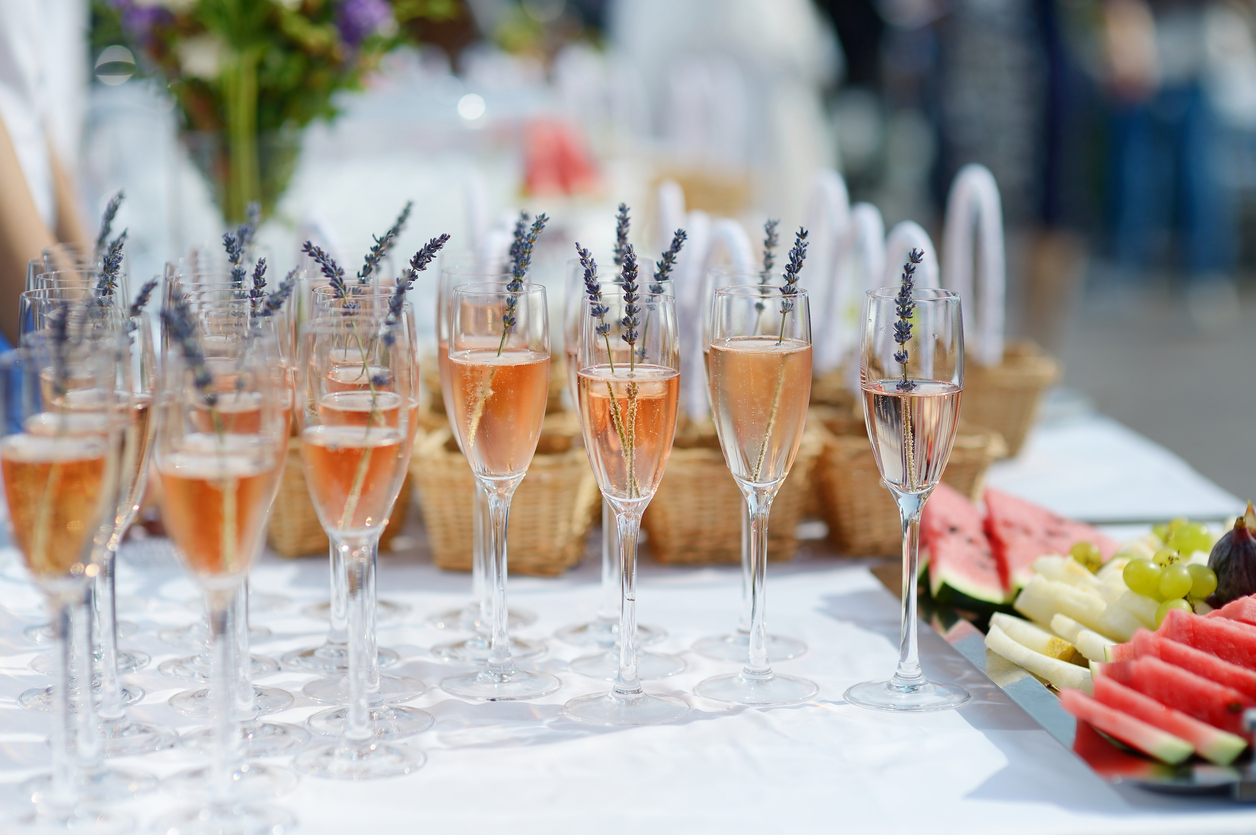 Décor and furniture
Weddings these days don't have to follow the rules. No longer are there standards for everything to match perfectly. In fact, lots of couples prefer the mismatched look to things being too perfect. Depending on your theme, of course, charity shops are the perfect place to find larger items for decorations or even pieces of furniture.
If you're having a rustic theme, you might be in the market for a beautiful rustic dining table or desk to house your guest book and seating chart. Something like this would be a regular find in a charity shop or antique furniture store.
For vintage or boho themes, you'll find plenty of delightful mirrors second-hand. And for those looking to have a DIY photo booth, old photo frames are an easy charity shop find that you can use as props for your booth.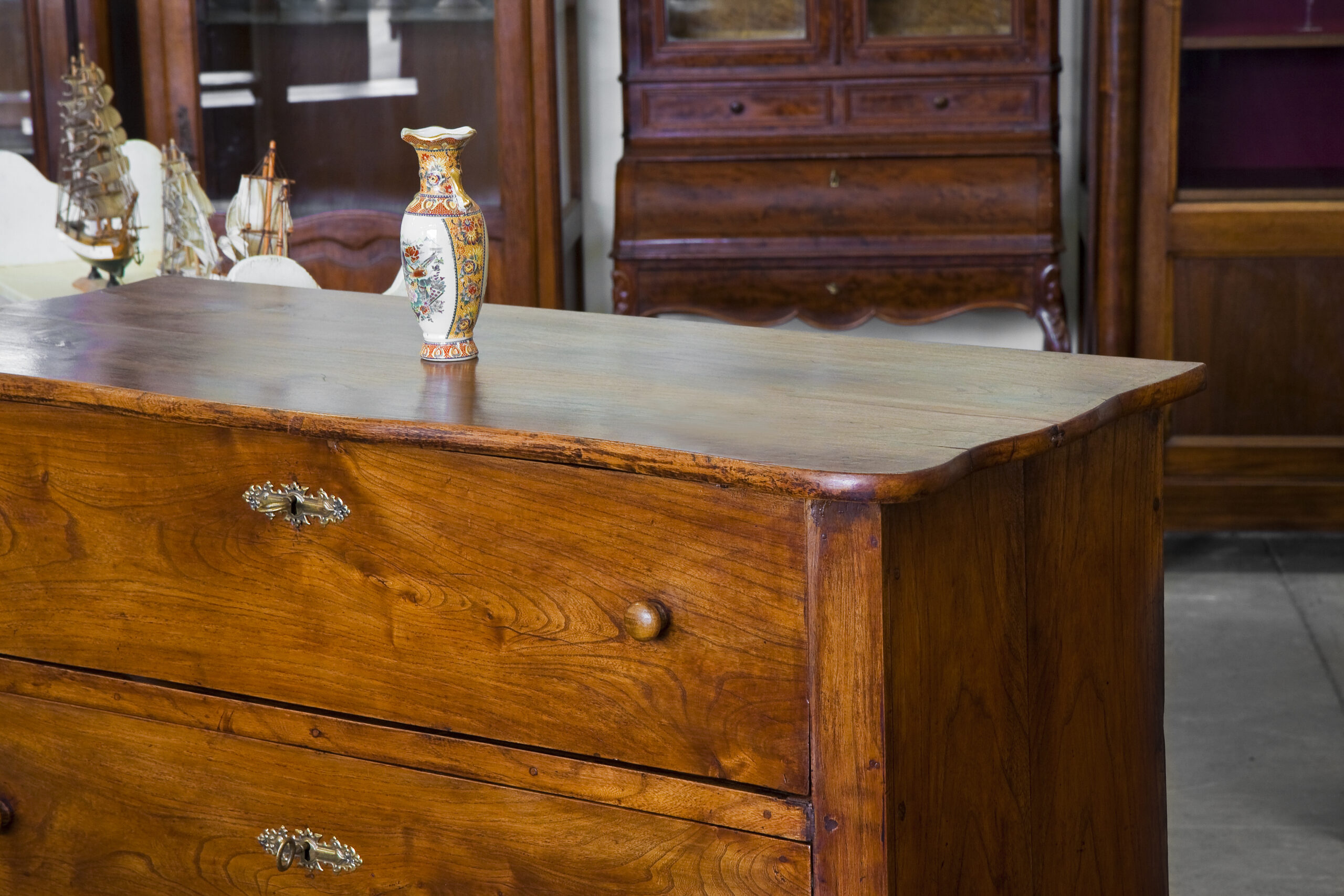 Formal wear
As vintage clothes alongside eco-friendly ideals are becoming more popular, inevitably second-hand wedding dresses, suits and other wedding gear are being worn more and more.
Buying your wedding dress or suit in a charity shop has its perks. Firstly, it'll be affordable. Many brides report tales of finding a designer dress for a fraction of its original cost or finding a 1950s gem in charity shops. So keep digging through those racks and you'll be sure to find a bargain.
Secondly, you'll likely find something quite unique. A wonderful thing about getting second-hand clothing and furniture is that it's usually unique. So if you're looking for a different silhouette that isn't in all the wedding shops, then try out a charity shop first.
Lastly, it's good for the environment to recycle clothes and give them new life.
So if you're not already convinced, why not take a jaunt down to your local charity shop and see what you can find in the clothes section. You might surprise yourself.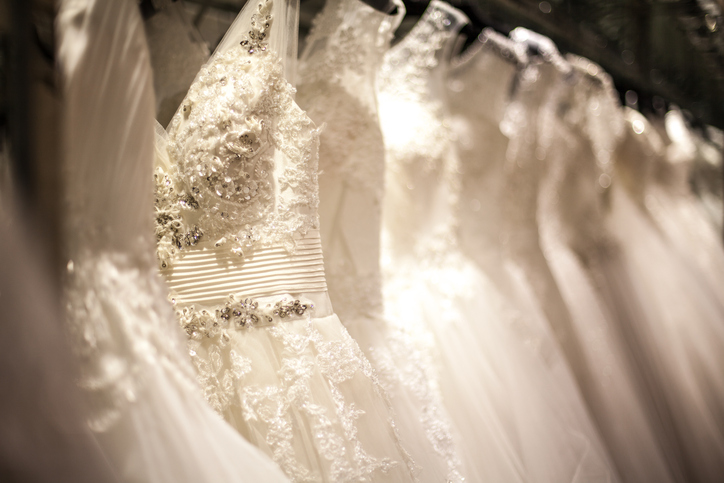 Jewellery
Another type of treat to be found second-hand is jewellery. While you will often find a lot of cheap costume jewellery, you can also find a lot of great vintage pieces. You could try to find something for you to wear as you saunter down the aisle, or you can grab a range of items for props for your photo booth. Going second-hand for your jewellery will be a great money saver and you'll be sure to find something truly unique. Guaranteed you'll find a few hidden gems amongst the junk.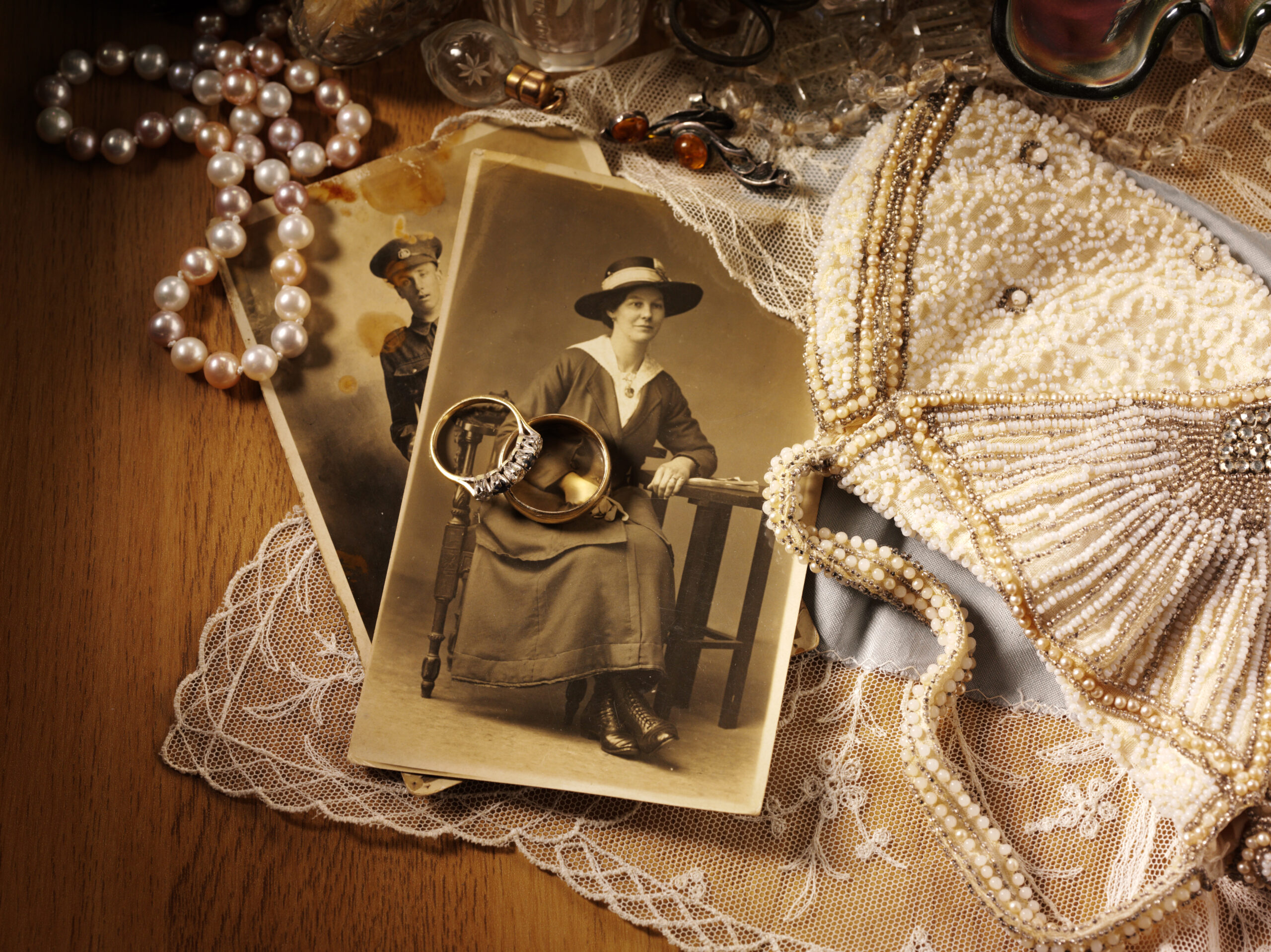 Wedding favours
Searching for your wedding favours in a charity shop may seem like an unusual choice but it's actually really cool. You can find a lot of great things to gift as wedding favours here if you get creative.
You can look for jars to make your own candles or to gift other little treats, or maybe you want to create living gifts by planting succulents and cacti inside vintage teacups. Either of these options allow you to bring out your creative side.
Another fun idea for wedding favours would be to go to charity shop where the books are cheap and grab a whole stack of them. Wrap them in brown paper and tie them up and write on the paper what genre the book is, for example 'romance with a hint of drama and intrigue' for Wuthering Heights or 'Romantic coming of age' for Call me by your name. Your guests will love the mystery and fun of these wedding favours, plus they're super cheap to create.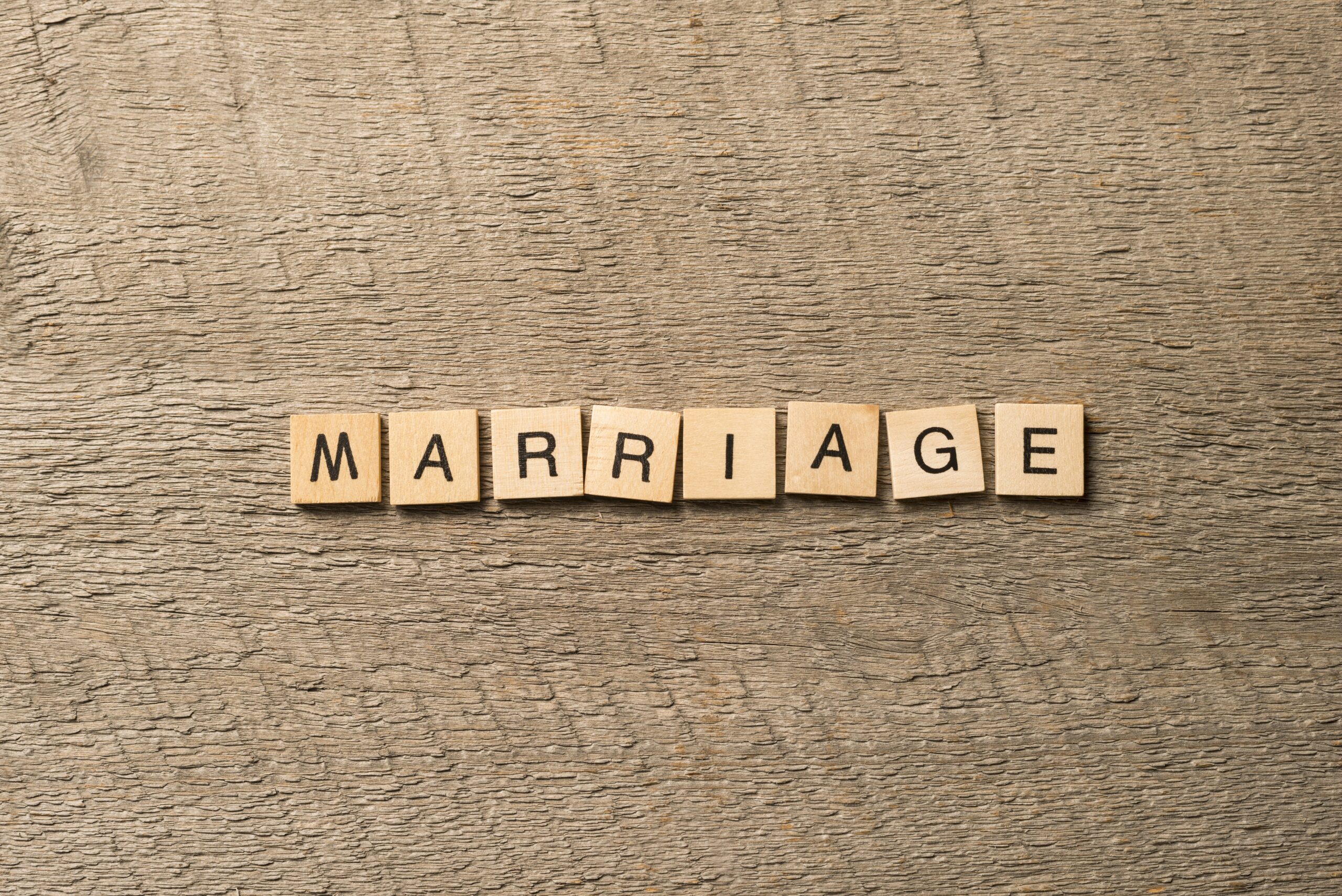 Themed items
For couples who are having a strong theme, charity shops can be great places to find items that would otherwise be expensive. For a Harry Potter theme, you'll likely find copies of the books or plastic wands, so grab all you can find and use them for decorations. For music themed weddings, pick up stacks of CDs or records at low prices to add to the theme.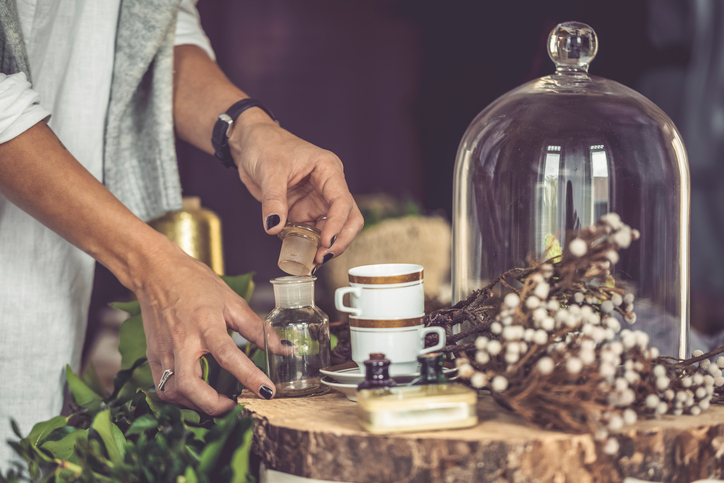 Kids entertainment
For the little people in our lives, we need ways to entertain them at our weddings. A great way to do this on a budget is to pick up some toys and board games. Buying these things new is often very expensive but you'll find great quality toys, games and puzzles in charity shops that still have tonnes of life left in them. You can also find a great selection of children's books which are ideal if you're creating a reading nook for the younger guests at your wedding.