When you think about your wedding reception, you're obviously going to think about the food. For couples who want their food to be a bit more relaxed and fun, a buffet is the ideal choice. You might have had the odd bad experience with a buffet. Let's face it, they're not all going to be great but if you find the right caterer, a buffet can be just as high quality as serving a la carte style.
So make sure you do your research and taste menus from potential caterers so you end up with food that you love. If you need help picking the style of food, we're here to help. Here are the trendiest wedding buffets.
Oysters and champagne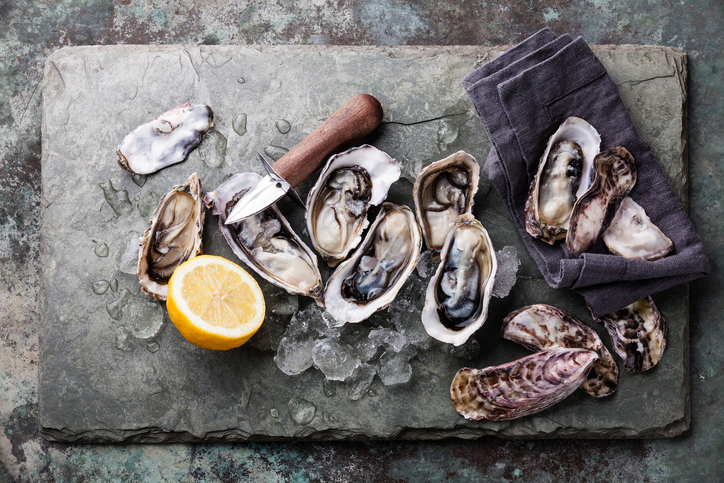 If you're having a glam or luxe wedding, then this chic option is definitely worth considering. Oysters and champagne are delicious but also have that air of high society glam that you might be looking for. This option is especially good if you're getting married near the beach or in a famous oyster region. You always want to serve fresh food at your wedding and local is best as well.
Sweets
For the past few years, we've seen sweets tables become all the rage at weddings. Everyone loves these at weddings, they're not just for children. Consider making yours a little unique by choosing speciality sweets. Choose sweets from all the countries you and your partner have visited for example. Or choose a range of modern and old-fashioned sweets. Parma Violet anyone?
High Tea
While High Tea isn't typically what you'd describe as a buffet, it's very similar and it's also super chic. Have your guests served stands of perfectly made cakes, scones and sandwiches for them to snack on. Doing this is supremely elegant and also adds a real fun touch to your wedding. You could do this as your main meal at your reception or consider making the portions extra small and having this instead of canapés before the reception officially starts.
Donuts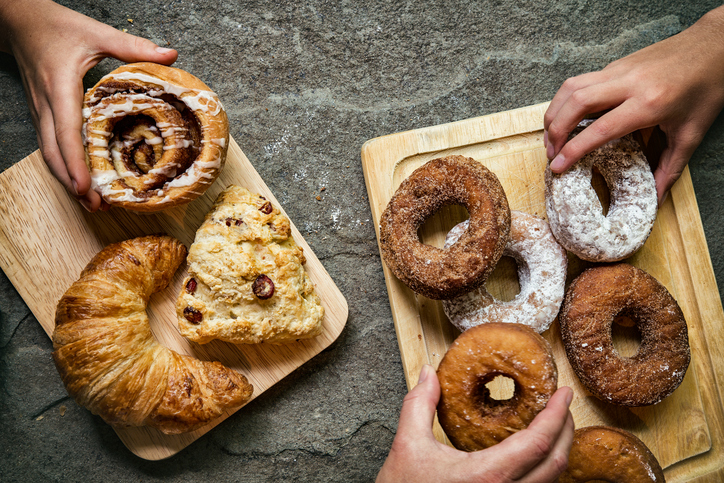 Everyone loves a donut. They're the perfect sugary treat. They're like the most substantial of all the sweet treats and they're just plain irresistible. If you're a big donut fan, then have a donut buffet at your wedding. Lots of couples are opting to hang their donuts on boards for a really modern and sleek look. If you want something a little more rustic, consider trays of donuts. Mix and match flavours or types of donuts for a surprise that everyone will love.
Bar on wheels
Again, is a bar really considered a type of buffet? To us, it definitely is. Try a bar on wheels for your wedding and your guests will love you for it. Not only will they be getting some wicked drinks, they'll love the quirky novelty factor that comes with booking a bar like this. You can ask your pop up bar bartenders to serve particular cocktails or have it be free reign. Get creative with your bar menu with this boozy buffet option.
Cheese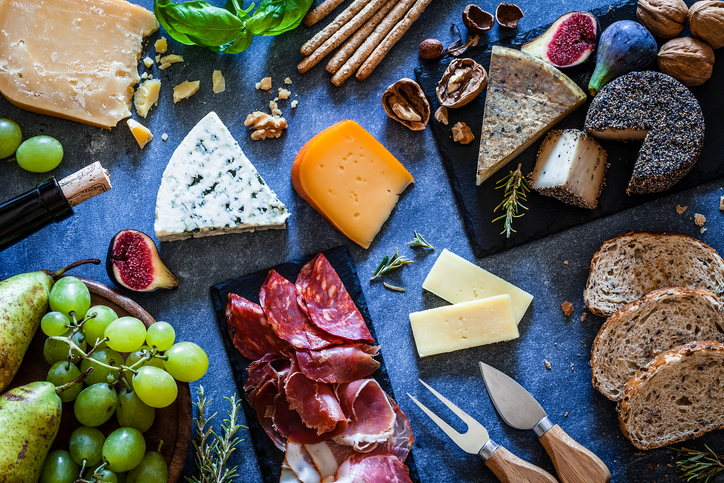 We had to mention cheese. Cheese is that universal food that pretty much everyone loves. So of course it is the perfect option for a buffet at your wedding. Have different varieties of cheese like baked camembert topped with roasted garlic and rosemary or goat's cheese served with honey. Have all the accompaniments like quince paste, breads, butter, olives and delicious crackers. Go all out on this fabulous buffet option that is impossible not to love.
Slushies
Slushies are not just a far too sugary drink that children only enjoy. No, adults can enjoy them too. And how do we make that happen? By adding booze. Obviously. Hire your own slushy machine and look up a recipe for making alcoholic slushies and let the fun begin. This is great option for that DIY wedding.
Ice cream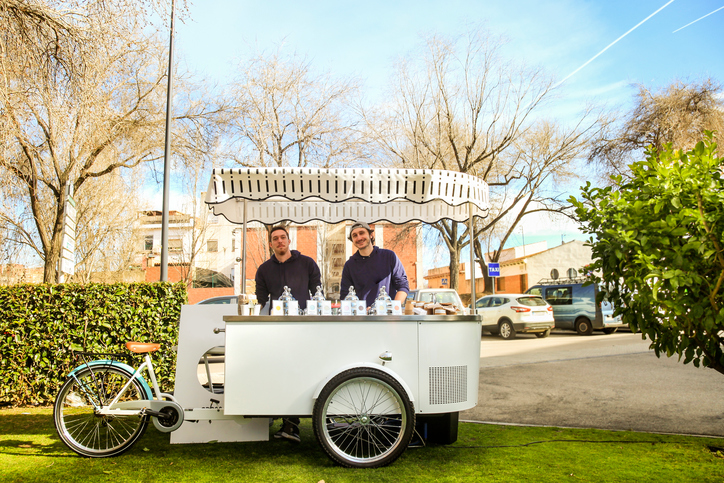 Ice cream is a total crowd pleaser. Who doesn't love a bit of ice cream? Hire an ice cream vendor for your wedding so you have the coolest treats for your guests. You could opt for this option where your guests are served whatever flavours they choose in cones or in cups which has a fun novelty factor. Or if you want to make it more DIY, hire an ice cream dispenser and have it dispense soft-serve ice cream. Your guests will then be able to make their own sundaes with all the trimmings like nuts, mini marshmallows, chocolate chips and various delicious sauces. This is perfect for couples having a vintage themed wedding. Either have your ice cream dressed in a red and white stripy hat and shirt, or use vintage looking glass containers for the ice cream and the toppings. It'll look amazing!
Breakfast
If you're particularly passionate about breakfast foods, consider a breakfast buffet. You can have waffles, pancakes and of course delicious crispy bacon. Have a few fringe options like gourmet French toast and indulge in homemade syrups and toppings for your pancakes and waffles. This is really quirky and fun option for your wedding day feast. Everyone will totally love it. They have all-day breakfasts at most cafes for a reason!
Milkshakes
Similar to the ice cream idea, consider having a milkshake man or stand. Have guests pick from a wide range of flavours and mix ins so that everyone can create their own unique drink. If you're going DIY, then hire a few industrial milkshake makers and have guests whip up their own creations. If unattended, this station could definitely get a little messy, but think of how much fun it'll be!
Paella and tapas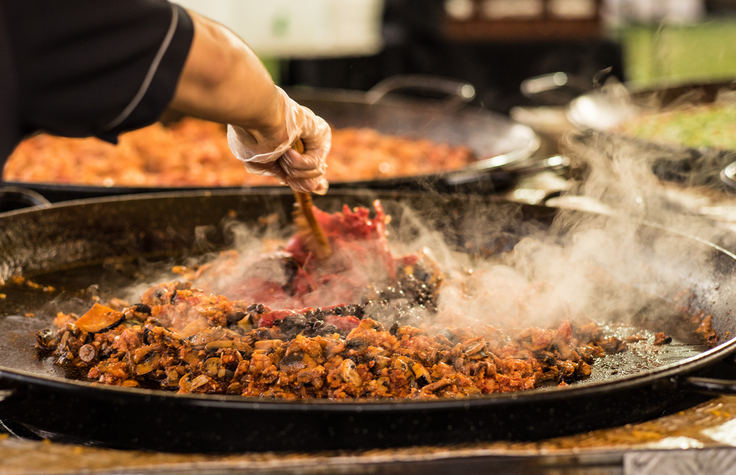 Paella is a food traditionally made in big batches. This makes it perfect for a wedding day buffet. Have your caterers whip up a big tasty batch of paella filled with yummy vegetables and meats. Your guests will love this option as it's so unique and it's also one of the heartiest meals you can eat. Have the paella cooked in front of the guests for that entertainment quality and also have a beautiful tapas buffet to accompany this hearty Spanish meal.
To find your caterer, click here.