While vintage weddings have become more and more popular in recent years, the same kind of vintage weddings are cropping up. We're not saying that they're not unique, every wedding is, all that we're saying is that many of them have similar styling and décor inspiration.
Many vintage weddings these days are not specific to an era, but have mismatched vintage elements and therefore are just being coined as 'vintage'. For some couples, this is not going to be good enough for a vintage wedding. If this is how you're feeling, you might be craving a 1800s inspired wedding or a grand 1920s affair. Whatever vintage style you're feeling, you'll be sure to find your inspiration here. We're going to take you through some bygone eras and what weddings were like at the time.
1500s
What weddings were like at the time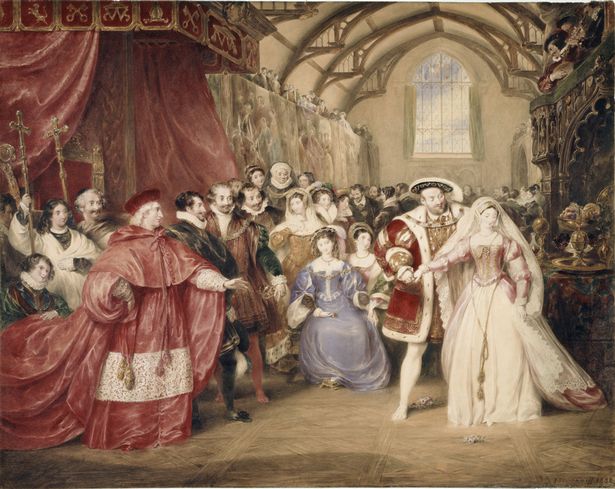 Everyone knows Henry VIII as he's a pretty famous figure from UK's history. His previous residence, Hampton Court Palace is still one of the most visited Palaces in the UK, and the Tower of London, where Henry had his wife, Anne Boleyn executed is another of London's most famous attractions. So, we're going to use Henry as our example for weddings in the 1500s, seeing as he had so many of them (6 to be exact), he was more of an expert on them than us.
Since the 1500s, you'll find that weddings haven't changed too much. While the entire weddings, especially those in royal standing were very lavish, the ceremonies themselves were a lot like what we see today. The wording of the vows, the placement of the couple, the exchanging of the rings and the whole thing ending in a celebratory feast was commonplace and greatly reflects what we see today.
The meals served at weddings during this time were meticulously planned and often featured unusual and exotic dishes including things like peacock. Like today, ale and wine were often favoured as drinks.
Weddings during this time didn't tend to be for love. You'd see couples being matched for political advancement rather than by choice. Women were not able to have any opinion or say in who they married either, where her parents would often make the decision.
Contemporary inspiration from this era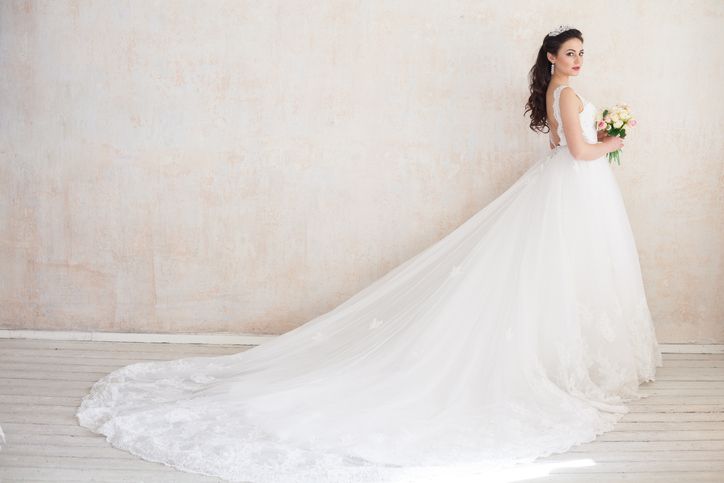 While you don't have to have a lavish wedding with 1500s style clothing or other quirky customs of the time, there are things you can certainly be inspired by for your modern wedding. Using very luxurious colours like reds, blues, golds and greens in your wedding décor is a great throwback to a royal wedding back in the 1500s. As well as dressing in a floor-length, regal-like dress.
Another great way to reflect this era is with a huge hearty feast. You don't have to have unusual and exotic meats, but instead choose to have roast meats, lots of vegetables, cheeses and hearty and warming desserts. Even choose to house your lavish wedding in a building from the 1500s to tie it all together. Watch The Tudors for inspiration.
1800s
What weddings were like at the time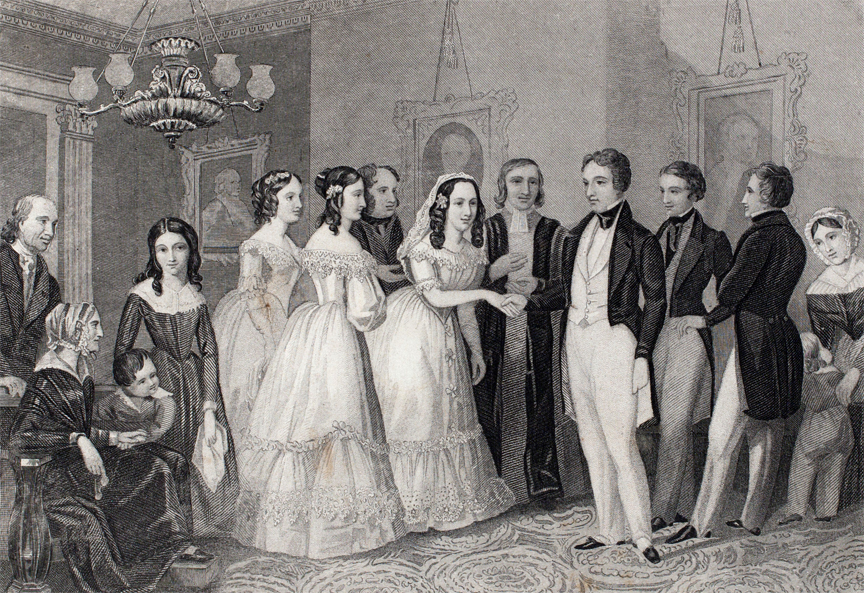 While weddings had certainly progressed from the 1500s, where you'd see love match weddings becoming more prevalent, a wedding was still largely planned and matches still made by the parents in the 1800s. At this time, matches were made primarily for financial gain – remember Victor and Victoria's match in The Corpse Bride? – that was beneficial to both families.
By this time, weddings were smaller in size and the bride would have bridesmaids that were dressed similarly to each other. The traditional morning breakfast was the norm during this time, with ceremonies taking place in the morning with the breakfast to follow.
Contemporary wedding inspiration from this era

If you're a fan of Jane Austen, then you'll find a lot of beautiful pieces of inspiration from the 1800s peppered throughout her books. Brides during this time would wear white or silver. Their dresses would be adorned with beautifully delicate lace and embroidery details. Fresh flower crowns were prevalent during the period. These things alone are beautiful things to take inspiration from, but we have more!
The bouquet at these weddings were often quite rustic looking and a lot less structured compared to what we have today. Your inspiration for this kind of bouquet would be picking wildflowers and herbs in a meadow and tying them up. This kind of rustic bouquet is definitely becoming more and more popular these days, especially with rustic and vintage weddings.
For your modern wedding, choose a floaty and romantic dress, a flower crown and have your beautiful bouquet of wildflowers. Have your ceremony in the morning and have it and the reception near each other so you can easily walk there afterwards. Think village church and gardens. You can have lawn games and a maypole. It'll be like boho wedding that's less hip, but way more romantic. Re-read all of your favourite Jane Austen books or watch the tv and movie adaptions for inspiration.
1920s
What weddings were like at the time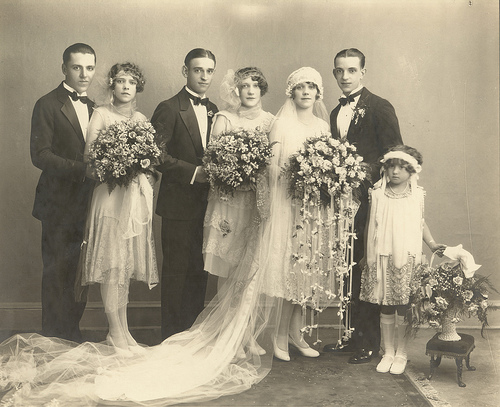 After the trauma of the First World War began to subside, weddings in the 1920s began to become much more lavish. You'd see bigger and more elaborate parties that included meals that could last for hours with the amounts of courses. You'd be treated to a string quartet or orchestra and as it was very popular at the time, there'd be lots of dancing.
During the 1920s, you'd see brides in white with fairly simple silhouetted dresses. Sleeveless and sleeved dress were both in fashion and you'd see the use of lace quite a lot. The veil had now come into fashion, with the Juliet cap veil being one of the most popular styles. This is where the veil is pinned to the bride's hair and falls behind her but doesn't cover her face. Cloche hats were also worn when veils were not.
Contemporary wedding inspiration from the era

Okay, so we all have an idea of what a 1920s bride looks like with their pinned up dos or their bob cuts. To imitate a 1920s wedding in a contemporary setting you can opt for a slim cut dress that is delicate in style and silhouette. Adorn yourself with a long pearl necklace and pearl earrings. If you're going for a 1920s look for your hair, either have it pinned in a beautiful up-do that is reminiscent of the style or you could get it cut into the iconic 1920s bob.
The Juliet cap veil is still popular today, however you could opt for a bespoke flapper-style hair piece which will also encapsulate the era as well. These types of hair pieces are very popular and look perfect with a 1920s hairstyle and a gorgeous 20s style gown.
Have big open roses for your bouquet with greenery draping down. This is also perfect for your centrepieces. Choose delicate colours like soft pinks, paired with rich tones like gold, deep green and burgundy. Don't shy away from vines and greenery as they'll really add some beautiful 1920s vibes to your reception.
For something unique for your reception, choose to have high tea instead of a standard sit down meal. This is nice contemporary twist on the lengthy meals that were prevalent during the 1920s. As for your wedding cake, a multi-tiered tall and gorgeous white cake adorned with edible pearls and sugar roses will be utter perfection.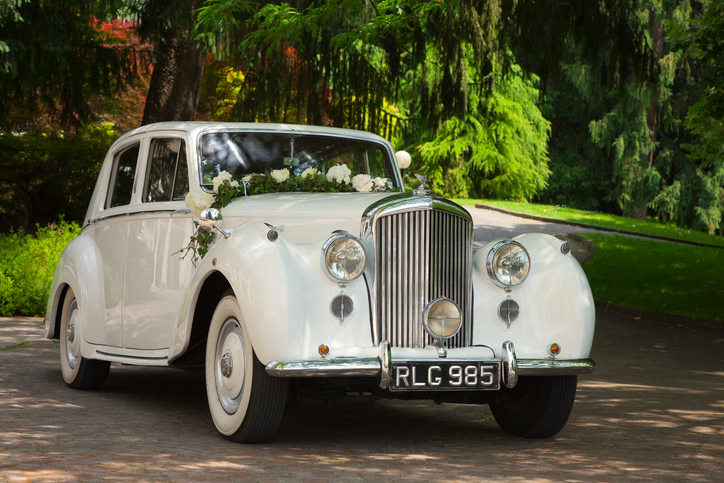 Arrive at your wedding venue in a genuine vintage car from the 1920s, like a Roll Royce or hire a 1920s style modern make as they're very popular and readily available all around the UK. As for your wedding venue, pick somewhere that oozes elegance and class. A beautiful big room with a crystal chandelier would be perfect.
If you need some inspiration for your 1920s style wedding, re-watch Downton Abbey or the Australian classic, Miss Fisher's Murder Mysteries (it's on Netflix!) for some seriously fabulous 1920s style.
1930s
What weddings were like at the time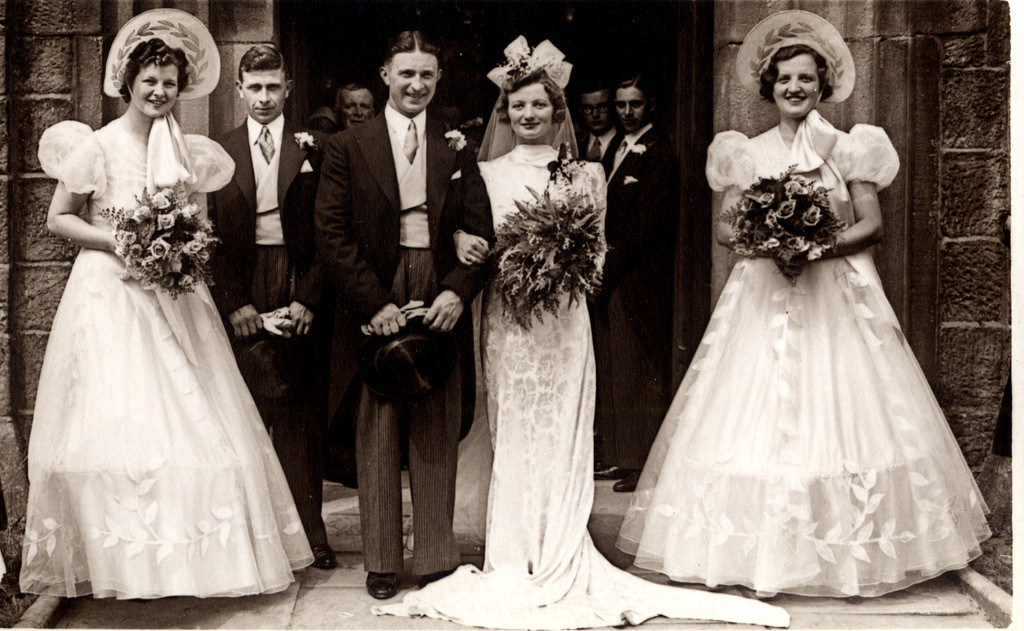 In the 1920s, we saw the comeback of joy in life. Parties were had again and celebrations not spared. In the 1930s, we saw this be taken up a notch. The 1930s is the era of jazz and swing, big brass bands and complete and utter opulence. A wedding with 1930s inspiration will be big and wild, with a long reception where you and your guests dance until the sun comes up.
As the 1920s ended and the 1930s began, we started seeing more and more skin from women. We're talking about the infamous flapper dresses making an appearance.
Contemporary wedding inspiration from the era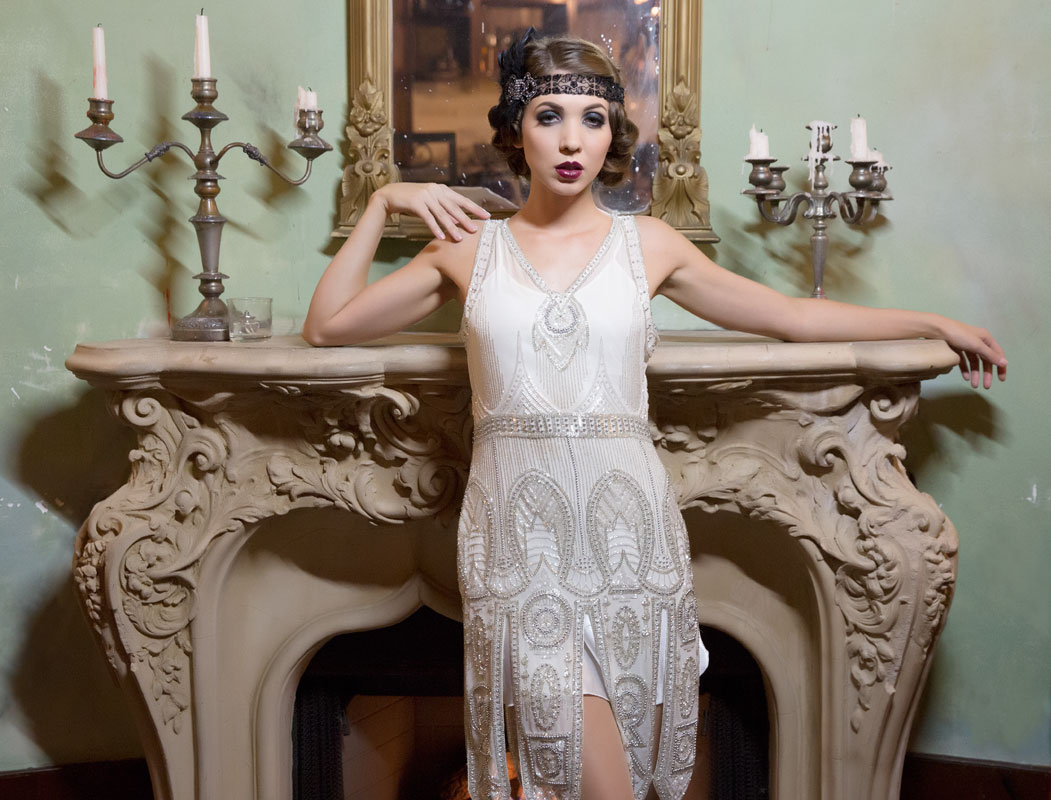 So we've established the length of dress that was common during the 1930s: the flapper dress is a straight style that fell to the knees. If you opt for this style of wedding dress, don't fret that it might be too simple. The women of the 1930s would have lots of detailing in their dresses which is perfect for a modern wedding too. Pearl, lace, fringe or feathers are all perfect adornments for your 1930s flapper-style wedding dress.
Jewellery was hugely popular during the 1930s so if you're obsessed with lots of jewels, then this era may be perfect for you. Have layers upon layers of beads or pearls and an abundance of bracelets. If your dress style is quite simple, going bold with the accessories not only reflects the era but it's also very modern and cool too.
Have your man and groomsmen dress in black-tie. And your bridesmaids can be in dresses of the same length and style as you but in different colours, like a deep red or burgundy or even an elegant navy. You can even tell your guests to come in black-tie so your entire wedding feels hugely extravagant.
At your reception, you're going to want to have lots of cocktails and champagne. A big and loud brass band is perfect for your wedding music and make sure there is a huge dance floor so that everyone feels the urge to get up and dance the night away. Pick a venue in deco style or one with a grandiose room to cater for your big and fabulous wedding.
Use The Great Gatsby at your inspiration for your 1930s style wedding.
1950s
What weddings were like at the time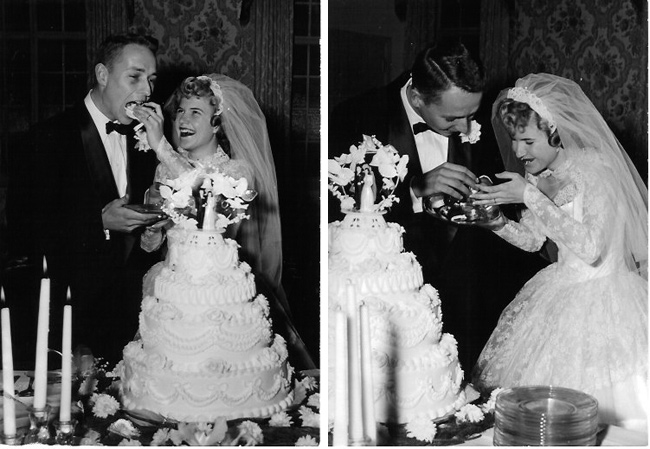 You'll find that weddings in the 1950s were very similar to what they are today. Couples typically married in the church with big bridal parties, a big reception and lots of food and cake.
Wedding dress styles were cinched in at the waist with big poufy skirts often held out with many layers of tulle and crinolines. The lengths of these dress was often tea-length but were seen in longer lengths as well. Bridesmaids dresses were in the same style, just in different colours. You'd often see pastel pinks, light blues and greens.
Contemporary wedding inspiration from the era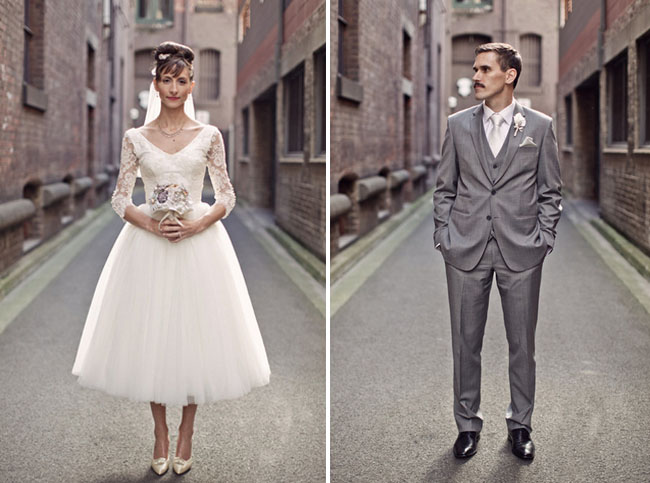 For your modern 1950s style wedding, you can ask all of your guests to dress in 1950s style formalwear. This will not only reflect the era perfectly but it'll also add some wonderful fun to the day that you'll bask in.
With music, there was a lot of popular music at the time, the biggest act being Elvis Presley. As jukeboxes were hugely popular during the 1950s, you could consider hiring one out that is loaded with all of your favourite tracks from this time. You and your guests can all pick the songs you like and dance the night away doing popular dances like the jive.
Your wedding dress will have to be a genuine 1950s number or a vintage style dress. The cinched in waist and big skirt is the main icon of the 1950s so it'll really tie everything together if you go with this style.
Use lots of black and white check with pops of colour like pinks and reds to make your reception pop. Rock up to your fabulous 50s wedding in a 1950s classic car like a Chevrolet or a Cadillac. Use Happy Days, Grease and Funny Face as your inspiration.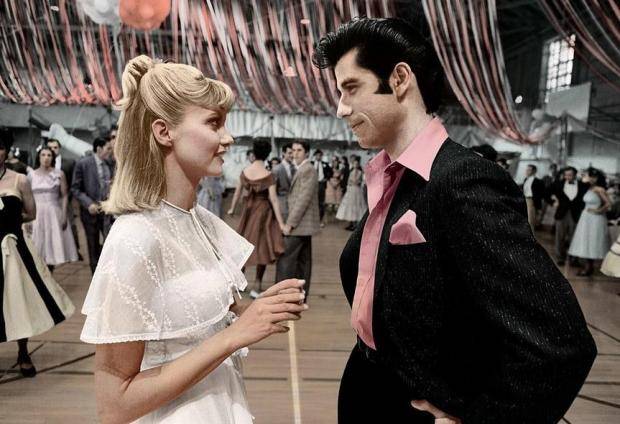 Are you significantly inspired and ready to find your venue? Click here for venue options.