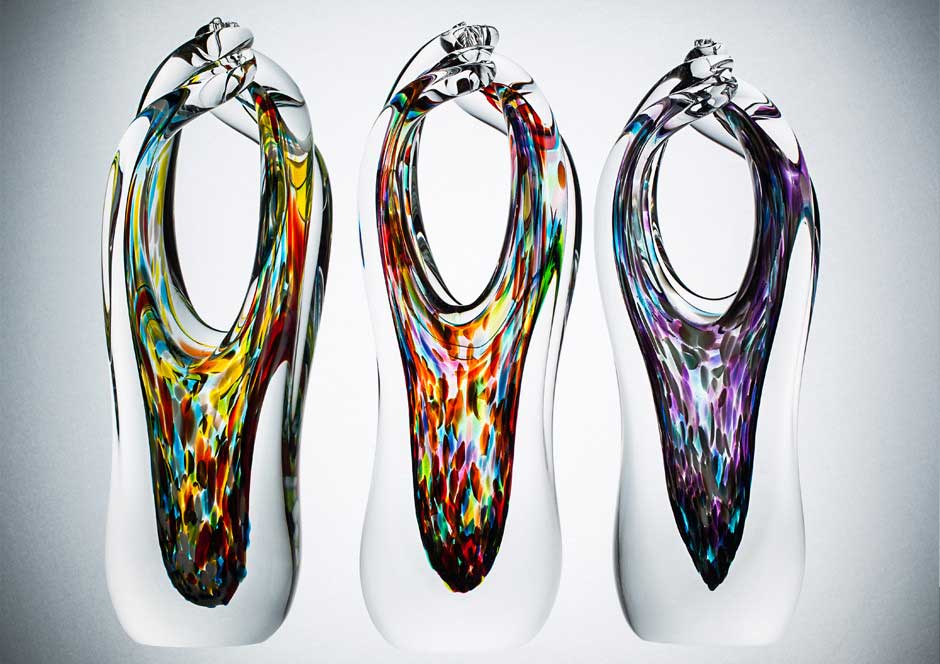 Some of the world's most inspiring discoveries, everything from penicillin and the microwave to Teflon and, even, Velcro happened by accident, so it's fitting that's exactly how one of the wedding world's most dazzling innovations, Unity in Glass, was born. By accident.
The company's ravishing, one-off wedding keepsakes, fashioned from glass crystals poured at the very moment a couple weds, are proving a global hit. But, had it not been for a bride-to-be seeking something "truly different that will last a lifetime" to commemorate her upcoming nuptials, Unity in Glass' inventor, American Lee Ware, may never have been able to turn his talent for the ancient art of glass-blowing into a thriving global business whose exquisite, light-filled offerings have garnered hundreds of five-star reviews from couples across the globe.
"A lady walked into Lee's Texas studio in 2010 and asked him to blow her a vase that would, somehow, preserve the layers of sand she and her partner would mix during the sand ceremony at their upcoming destination wedding so that it wouldn't mix on the flight home," says Guillaume Perben, founder the European arm of the business, Swiss-based Unity in Glass Europe.
The mixing of sand is a symbolic gesture that, often, takes place during unity ceremonies, non-denominational celebrations uniting two people. Each person pours in a portion of coloured sand signifying the two individuals coming together as one.
"Lee was a bit stumped," says Guillaume. "He couldn't immediately think of a way to preserve the sand in a vase that didn't involve glue."
Finally, searching for inspiration around his studio with his very creative brain firing, it hit him: glass crystals.  It was actually a brilliant idea, after all, glass is made of sand!
By having couples mix glass crystals instead of sand, not only could they choose from an array of rich glass crystal colours, Lee could shape them into a sculpture, creating an absolutely unique and truly lasting keepsake.
He set about perfecting the technique, then sent the client a box of crystals in her desired colours, which she and her fiance then mixed together during their wedding ceremony.
The client was thrilled with the final result – and the new 'glass ceremony' caused quite a sensation among her guests.
Word of Lee's dazzling creation quickly spread and that one order turned into two and two into 20. Before long, Lee's "little idea" turned into a full-time business and, with orders arriving from well beyond Texas' borders, Lee soon find himself needing to hire more practitioners of the 2000-year-old art form in order to meet demand.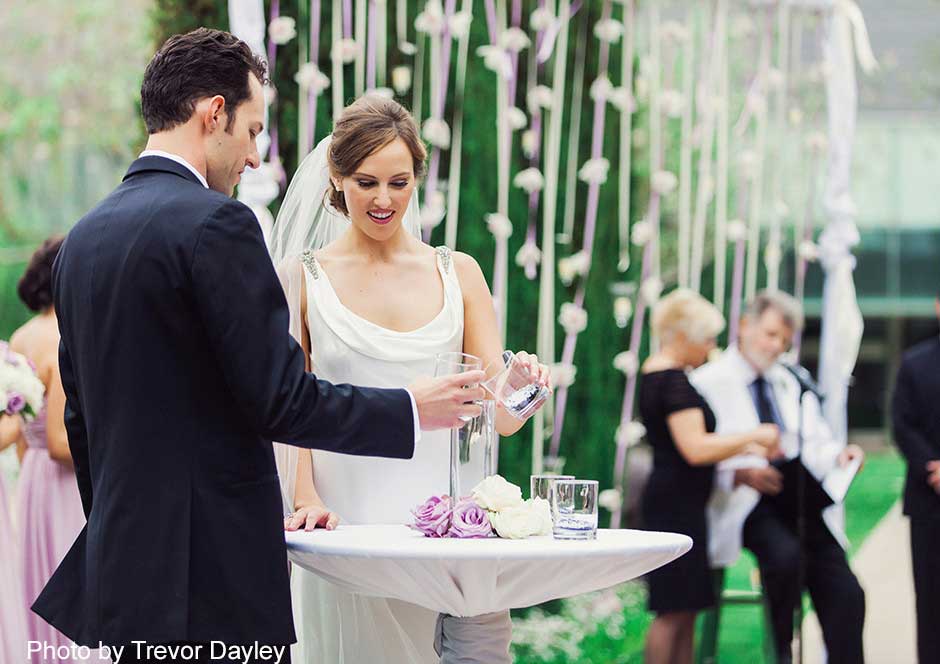 That first customer's desire for a wedding memento that went beyond a photograph or video of their big day led to the creation of something truly unique and elegant.
"I think the reason people love their Unity Sculptures so much is that it's more than just a very beautiful reminder of a very beautiful day,'' says Guillaume. "It's equivalent to your precious wedding ring or wedding photos.
"You can't look at either without remembering one of the happiest days of your life.  Especially given that it is hand-made for you from the very glass crystals that you mixed during a very emotional – and significant – part of your wedding ceremony."
That's what sets Unity in Glass apart from anything else on the market. It's not just a pretty sculpture blown and handed to the couple in question, "it's a totally collaborative creative process that actually captures the spirit of the couple – or family – being united," says Lee.
Couples wanting a Unity Sculpture simply choose up to eight of 16 colours offered based either on their wedding theme, their favourite colours, or colours that may have some other special significance to them.
Most couples choose from three and five colours.  For example, one parent may choose green, the other may choose yellow, and they may also add in some blue for their child, or to commemorate the colour of the sand at the beach where their vows took place.
The artists then send out 400 grams of glass crystals in each chosen colour, which the couple can mix together on their big day.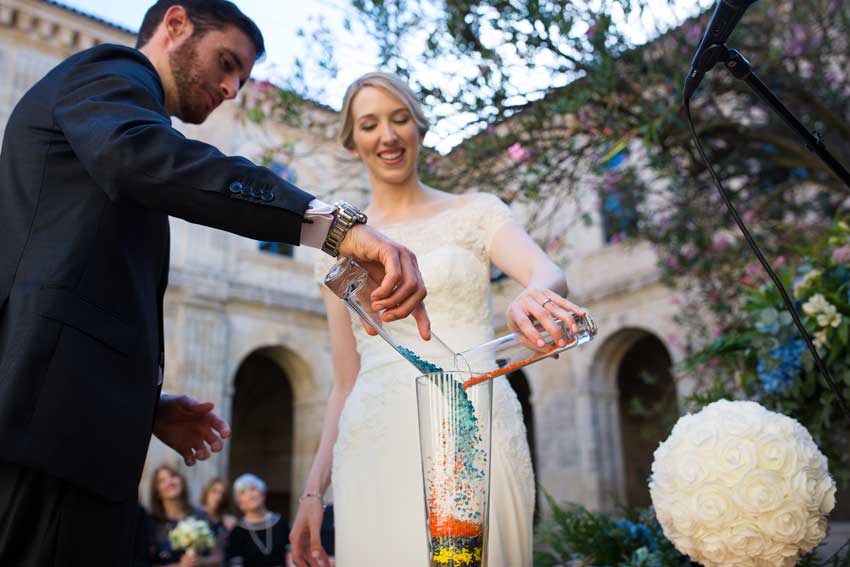 Though the process naturally suits a unity ceremony, this "glass ceremony" can easily be incorporated into any wedding ceremony.
It has proven popular for civil weddings, cross-cultural marriages and gay weddings. It has also been embraced by blended families who can include their children in crystal pouring ceremony if they wish.
"We have seen children join in and, even, grandparents," says Guillaume, whose own loungeroom is adorned with several unity sculptures, including one he created with his wife Wendy, who is creator Lee Ware's cousin.
"Some couples even ask each of their wedding guests to pour in a little pinch of glass crystals, so that the final product contains a little piece of every person who witnessed their wedding."
Once the ceremony is over, the couple sends the crystals back to the glass studio (via a pre-addressed envelope), where they will be incorporated into a one-of-a-kind piece of art by Unity in Glass' small team of highly experienced glass artists.
"The entire process, from when the mixed glass crystals arrive in the studio, takes between three to six weeks," says  Guillaume.  Once finished, the sculpture is signed, carefully hand-packed, and sent back to the couple.
The couple's mixed crystals can also be crafted into ornaments, paperweights, even jewellery.  Couple often order these very unique and personal pieces as gifts for parents, children, friends, or their wedding parties. A favourite order, too, is as an anniversary gift which can be crafted from any leftover crystals.
"From the moment we first talked to Lee about branching the business out internationally, we loved the concept," says Guillaume.
"It is elegant, it is original, and it is so personal – and couples today really are looking for ideas like that, but most of all, we love that it can be personalized to celebrate any and every kind of love story.
"It's really great to be part of something so special."