Most guests will expect to get fed when you invite them to celebrate your big day. This doesn't mean you need to provide them a gourmet five course meal however. Your wedding food selection will depend on the theme and style of your wedding as well as the time of day your wedding takes place. Here are three popular types of wedding food.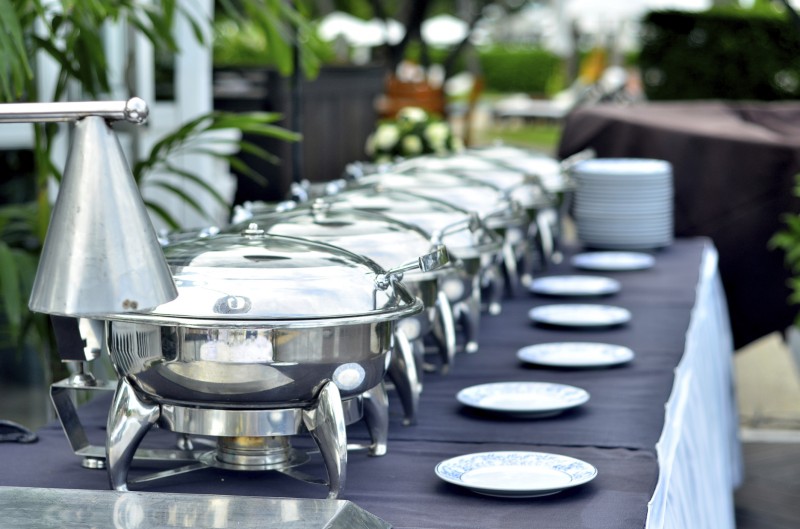 Tasting menu or appetisers
A tasting menu or hearty appetisers is a fantastic alternative to a sit down dinner if you are planning a relatively short wedding reception, and suits a cocktail party style reception very well. You can even utilise popular food stations to serve themed appetizers. Appetisers typically work out a lot cheaper than a full meal and you can be creative with tiny wraps, colourful sushi, Chinese spoons and miniature desserts.
Tasting menus or appetisers are more sociable than sitting down for a meal, as guests can eat and mingle while enjoying the food. You can also have a wide range of food types to suit all tastes. Wedding food often gets thrown away anyway, as guests are mainly busy with mingling, drinking, and dancing, so they will most likely end up eating as much if you provide appetisers as if you provided them with a full dinner. Appetisers probably aren't a good option for a daytime wedding, where guests can typically expect a full meal prior to the evening reception starting.
A wedding buffet
A buffet is typically a more affordable option than a sit down dinner as there isn't any need for waiting staff and individual plates don't need to be made up. It is also a sociable choice as guests have no option but to get up and mingle if they wish to eat. With a buffet you can serve a greater variety of foods to suit different tastes, and guests are able to eat as much or as little as they want. A buffet is a less formal and more laid back choice for wedding food, and is perfect for a relaxed reception style such as a garden wedding.
One potential disadvantage of a wedding buffet is that there is more chance of food getting spilt on beautiful wedding outfits as your guests gather around the buffet table. While you aren't likely to actually run out of food at a wedding buffet unless your guests have enormous appetites, you may find that the favourite dishes go first and the guests at the end of the queue are left with just a few options. Guests are also required to work for their food, which may not be a popular option with everybody.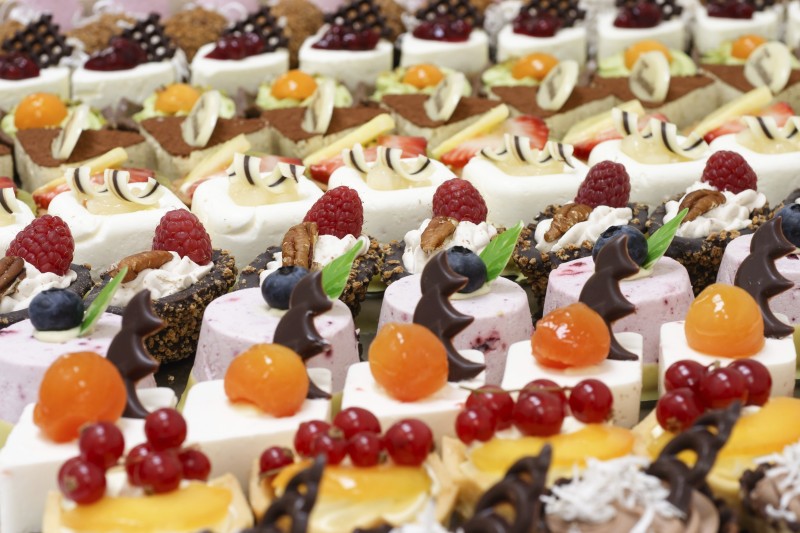 Sit down dinner
A sit down meal is an elegant option. Your guests will be waited on and won't need to leave their tables, and this is a good idea if there isn't much room in your venue to move around or you have guests with reduced mobility. A formal dinner is thought to be a more generous gesture towards your guests, especially those that have arrived from further away just to come to your wedding. A sit down dinner is a sophisticated choice for a formal wedding, and is surely going to impress your guests.
However, a sit down dinner can be a somewhat inflexible choice, usually involving a set menu. If your guests don't like the food being presented, they might not be able to order something else. The main downside of a sit down dinner is that it can be quite costly, especially if you wish to have more than three courses. You are required to pay a fixed cost per head whether guests want to eat or not.
Use Easy Weddings to connect with your dream wedding suppliers.
Browse the directory and start planning today!