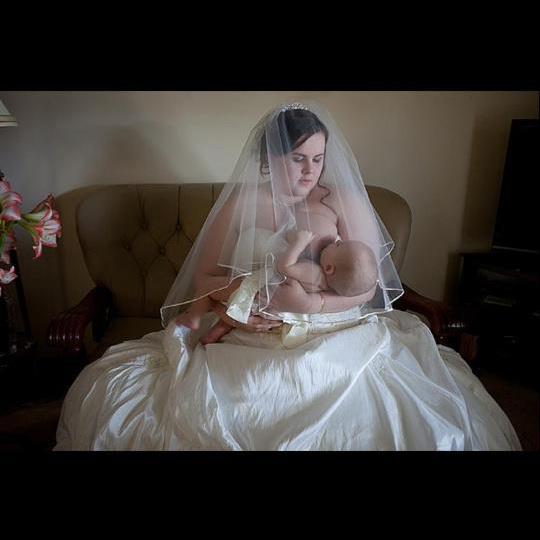 It's one of Jo-Hanna Gordon's favourite moments from her wedding day, feeding her six-and-a-half-month-old son Andy before heading off to church to marry his father.
But not everyone sees the beauty in the image and, after a Facebook user reported the image, it was removed, much to the 25-year-old Canberra bride's chagrin.
"It's my favourite photo from my wedding day," says Jo-Hanna who married Tristan Gordon on the Gold Coast in October. "I was so focussed on giving my little boy one last feed and thinking about how I was about to marry his father, and the photographers managed to capture that special moment.
"I cried when I saw the photo and, though I understand it's not everyone's cup of team, I'm really proud of it."
The first the former primary school teacher heard of the image's removal was when contacted by the photographers, Margan Photography, who were notified the image had been removed by Facebook.
Facebook's policy on nudity is clear, it will delete images that breach its Statement of Rights and Responsibilities. It is equally clear about its policy on pictures of breastfeeding, which states" "Yes. We agree that breastfeeding is natural and beautiful, and we're very glad to know that it is important for mothers to share their experiences with others on Facebook," says the company's Help Centre.
"The vast majority of these photos are compliant with our policies, and we will not take action on them. Photos that show a fully exposed breast where the child is not actively engaged in nursing do violate Facebook's Statement of Rights and Responsibilities. These policies are based on the same standards which apply to television and print media.  It is important to note that photos which we act upon are almost exclusively brought to our attention by other users who complain about them being shared on Facebook."
But, says, Jo-Hanna, as far as she is concerned, it's a "double standard."
"I think it's one thing to say you support breastfeeding, but you have to put your words into action. If somebody reports a breastfeeding photo, I think it should be about more than a strict policy.
They [Facebook], maybe need to contact the person who reported it and offer them options so they can block or hide the images rather than just deleting them.
"It's a double standard, especially when there are plenty of pictures of topless women or people in tiny bikinis with some very offensive comments attached."
At the time of writing, Easy Weddings was unable to get in touch with Facebook for comment.
UPDATE (11:57pm 13/11/12): Facebook has responded to this story saying:
"Facebook is glad that mothers and their families – including many who work at Facebook – use Facebook to share their parenting experiences, including breastfeeding their children. By uploading photos, joining groups, and engaging with different organizations, these families are able to share and connect on a very important topic, and we are thrilled they are using Facebook to do so."
They added: "Facebook receives hundreds of thousands of reports every week, and as you might expect, occasionally we make a mistake and remove a piece of content we shouldn't have. When this happens, we work quickly to address it by apologizing to the people affected and making any necessary changes to our processes to ensure the same type of mistakes do not continue to be made.  We encourage people to re-upload the photos they believe were removed in error."