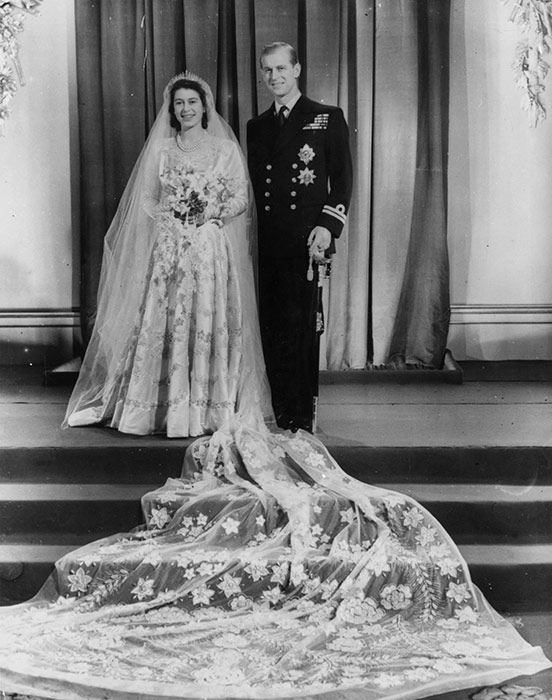 Today marks Queen Elizabeth's 65th wedding anniversary.
On November 20, 1947, a 21-year-old Princess Elizabeth of Britain married Prince Philip of Greece and Denmark at Westminster Abbey in a ceremony broadcast to 200 million radio listeners across the globe.
Decades later, she is the first British Monarch to reach her 65th year of marriage and the royal couple will celebrate their Blue Sapphire anniversary privately at Buckingham Palace.
Elizabeth met Prince Philip of Greece (her second cousins once removed through King Christian IX of Denmark and third cousins through Queen Victoria) when they attended the wedding of Philip's cousin, Princess Marina of Greece, to Princess Elizabeth's uncle, the Duke of Kent.
Before the wedding, the then Lieutenant Philip Mountbatten had to become a naturalised British subject and changed his surname from Schleswig-Holstein-Sonderburg-Glücksburg (or Glücksburg for short) in order to marry Britain's future Queen.
He also had to renounce his own royal titles.
Elizabeth and Philip's marriage provided a desperately needed morale boost to a country suffering the after-effects of several years of war.
In fact, rationing was still in place while the wedding was being planned and the future bride famously had to save ration coupons in order to buy the material needed for her ivory silk Norman Hartnell gown.

The dress:
Elizabeth's gorgeous ivory duchess satin gown was created by renowned British designer Norman Hartnell, who dressed Elizabeth's mother, Queen Elizabeth I. It was decorated with 10,000 American seed pearls and crystals, and was topped off with an intricate four-metre star-patterned train.
The dress was sewn using silver thread and also featured tulle embroidery.
The shoes:

Princess Elizabeth's custom-made shoes were crafted using matching ivory duchess satin and embellished with pearls and silver thread.
The jewellery:

The fringe tiara worn by Elizabeth was made for Queen Mary in 1919 and can be turned upside down and worn as a necklace. It was given to Queen Elizabeth's mother and loaned to Princess Elizabeth for her wedding.
The shorter of Elizabeth's pearl necklaces is said to have belonged to the last Stuart Queen, Ann, while the longer one, the Queen Caroline necklace, is thought to have belonged to the wife of King George II.
Both were given to Elizabeth as a wedding present from her father, King George VI.
The earrings worn by Princess Elizabeth were given to her by her own grandmother, Queen Mary, who herself received them from her aunty, Princess Mary, Duchess of Gloucester in 1897.
The bouquet:
The bride's bouquet was made of white orchids and a sprig of myrtle (from the very same bush grown from the myrtle in Queen Victoria's own wedding bouquet) and, as per the family's tradition, it was laid on the grave of the Unknown Soldier in Westminster Abbey the following day.
The tradtion dates back to when Elizabeth's mother married her father, King George VI. The Queen mother's elder brother, Fergus, had been killed in WWI before their wedding and, after their big day, the Queen mother laid her wedding bouquet on the Tomb of the Unknown Solider in memory of him and other soliders who had died in battle. All royal brides since have done the same.
The cake:
A gorgeous and very grand affair, the Queen's wedding cake stood nine-foot high and weighed 500 pounds. All four tiers were made from ingredients sent by the Australian Girl Guides and the cake was cut using Philip's sword.
One layer was kept for the christening of their first child, Prince Charles, while another layer was sent back to Australia by way of thanks.