There's an art to holding a memorable wedding, let alone a truly spectacular one, but gallery owners Sharon Dawson and Dianne Bartholomeusz have stumbled upon an idea guaranteed to get your guests talking – if they can pick their jaws up off the floor, that is.
The art-loving duo run Smart Artz, a light-filled contemporary art gallery on the outskirts of Melbourne's CBD, that doubles as a most unique wedding and party reception venue: Guests can mingle over cocktails and munchies while perusing paintings and sculptures from some of the country's best-known contemporary artists (or discovering some of our brightest up-and-comers).
"Cocktail weddings allow couples to keep the price of their weddings down, but also the hassle and stress,'' says co-owner Sharon who, along with Dianne, turned the rundown former industrial space into a sparkling and spotless venue that is today worthy of the many corporate events – and weddings – that are regularly held there.
"With cocktail weddings, bridal couples don't have to worry so much about all the little things like where to seat people or about place cards or who can eat what and who can't etc. They and the guests just turn up and mingle – and look at beautiful artwork in our case!
"As long as you have enough food and drink for everyone, the night will go well!"
Sharon and Dianne have run Smart Artz Gallery for four years and say the biggest drawcard is the huge array of artwork on display, of which 20-40 pieces are usually on show at any one time.
"We have a lot of beautiful pieces and the atmosphere is very classy. It's great for guests, too because, who hasn't been to a wedding where you've not known many people or had no one to talk to? We solve that problem because the walls are covered in beautiful works of art that give guests another focus.
"Not only do guests get to see some fantastic artwork, they don't have to be alone all night if they don't know anyone!"
Sharon says Smart Artz Gallery also holds hen's nights, which usually kick off with (if the bride-to-be doesn't mind) with a life drawing lesson with an instructing artists – and a nude model – all over canapés and drinks.
"Many brides-to-be kick off their hen's night this way before heading off to the clubs. It's something a little different that people definitely remember and it's a great way to kick off a big night on the town."
Also featured the gallery is an original Wertheim Grand Piano, once owned by Dame Nellie Melba, that was recently nominated for National Treasure status.
"The sound of that piano when played by someone who knows their stuff is just amazing and resonates beautifully in such a large space.
"Between the intimate lighting, the cocktails, the artwork and the music, how could it be anything but a most magical night?"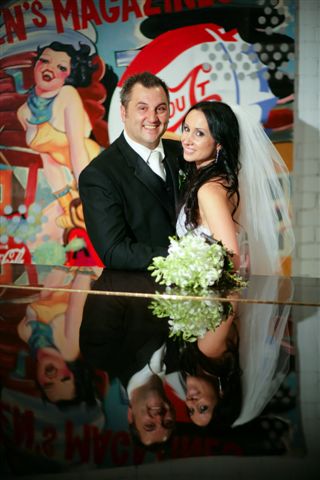 Despite the up-market air, Smart Artz's rates are affordable, starting at about $59.90 per head for several hours of cocktails and canapés. Bridal couples can also supply their own spirits, which the bar staff will mix up for them.
Sharon says this offer saves couples about $15 per head.
Aside from the affordable prices, guests on the night will receive 15%-20% off the price of displayed artworks for sale, while the bridal couple will receive a $500 voucher* towards their first piece of artwork at the gallery.
Smart Artz Gallery comfortably fits about 150 people for a cocktail wedding and about 120 for a more formal sit-down event.
"A cocktail wedding at Smart Artz gallery is a truly classy event, but without the price tag," says Sharon.
Visit Smart Artz Gallery's profile on Easy Weddings
* Conditions apply.