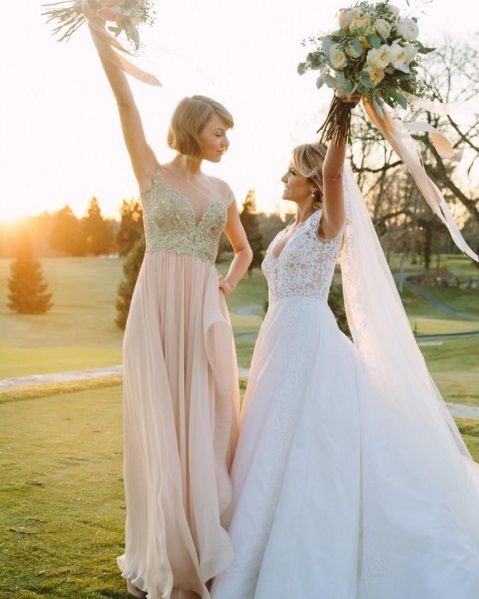 Ten time Grammy Award winner Taylor Swift has assumed Maid of Honour duties – and, by the look of the pictures she shared on social media, the Bad Blood singer had a great time doing so!
Taylor and her childhood friend Britany Maack looked stunning in their dresses, by Beirut desinger, Reem Acra, as they both walked down the aisle at the Chapel of the Bernardine Franciscan Sisters near Alvernia University Pennsylvania.
Britany married Benjamin LaManna's, a friend of Tay Tay's since she was 4, on on Saturday February 20, 2016.
"I met her when I was 10 days old, and him in kindergarten," Taylor captioned the photo (above/below? Which photo) on Instagram, "Now they're married and I'm the happiest maid of honor ever. Congratulations @britmaack and Ben!"
Taylor spoke of the importance of being a Maid of Honour during an interview last year for People Magazine. "I've never been a Maid of Honor before.
This is my first time, and it's really, really important to me because this is my best friend, who I've known since I was born. And she's marrying someone I've known since I was four."
By the look of the pictures, the wedding day was beyond Britany and her dutiful maid of honour's wildest dreams.