Thinking of including a special little girl in your wedding, but unsure what her role actually involves other than walking down the aisle and scattering rose petals? Here are a few tasks to give your flower girl in the lead up to your wedding to make her feel more included.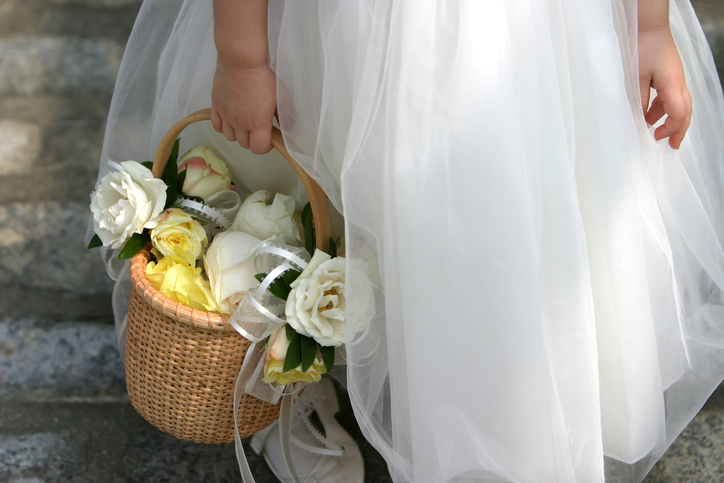 What does the flower girl do?
Every bride has her own ideas about what they would like their flower girl to do, but usually, she walks down the aisle in front of the bride or maid of honour scattering rose petals in their path. Many venues no longer allow petals to be strewn on the floor so modern flower girls often simply carry a basket of flowers or a miniature bouquet.
Take her shopping
Gone are the days where the flower girl would be dressed in a white dress that is kind of like a mini-me of the bride.
Now there are so many options for dressing your flower girl. You can have her match your bridesmaids, or pick out a completely unique dress that makes her stand out.
To make your little lady feel more included in your wedding, why not take her dress shopping rather than simply picking something out for her? She will feel like a real princess trying on lots of lovely dresses.
Just remember, her stamina and enthusiasm for shopping will nowhere near match yours, so plan short trips and try to have an idea of what you are looking for before you take her in, so you can be selective of how many dresses you ask her to try on.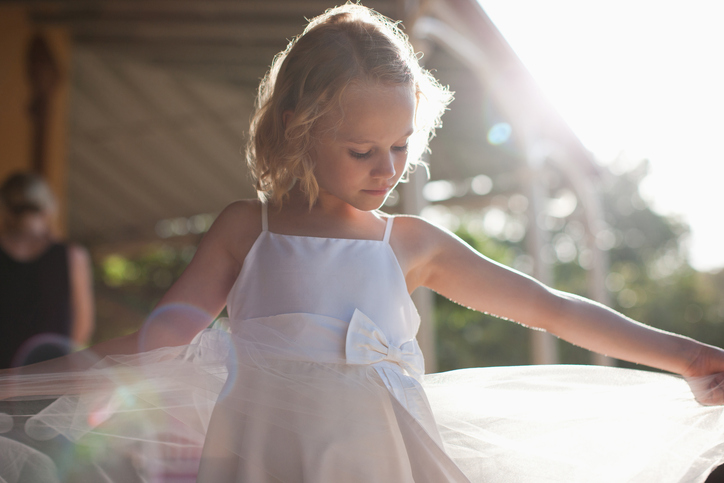 Meet the bridesmaids
You can help your little flower girl to feel more at ease hanging out with you and the bridesmaids by arranging for them all to meet in an informal setting before the wedding.
Maybe your flower girl can make a cameo at your bridal shower, or if your bridesmaids are young-at-heart, you can all meet at a local park for a little play date. Having that rapport will help your flower girl to feel more at ease among familiar faces when the big day arrives.
Give them a buddy
If you are having more than one junior cutie in your bridal party, consider pairing them up for the walk down the aisle.
This will help to take some of the pressure off the younger flower girls and/or page boys and also give the older buddy a sense of responsibility.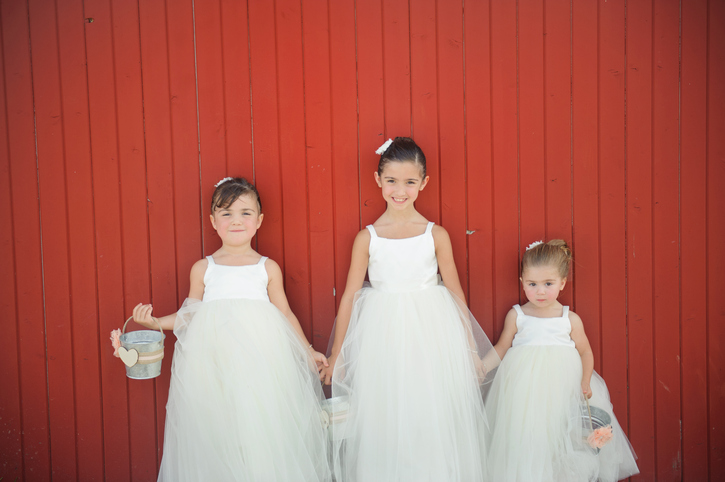 Offer them the chance to stand with you
Yes, children + weddings = unpredictability, but you can offer for older flower girls to stand at the front with you and the rest of the bridal party during the ceremony if they want to.
As a backup, it's a good idea to have her parents (or caregiver if she is your child) seated in the front row, so if she gets sore feet, or just bored with standing in one spot, she can easily retreat back to a seat with minimal fuss.
Praise for a job well done
We all like being told we've done a good job, and your flower girl is no exception. When you have said, "I do" and the ceremony is complete, making time to thank your flower girl and heap praise on her for doing a great job will really make her feel proud to be part of the wedding.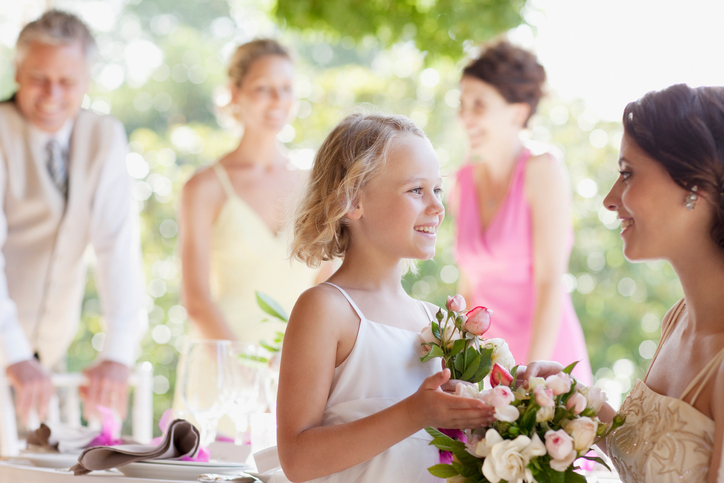 Make her the photographer's first star
While your photographer will no doubt capture some gorgeous images of your flower girl doing her thing while walking down the aisle, you will no doubt also want her to feature in some bridal party photos.
Make sure you get the photos with your flower girl taken first, so she can pop off to play and not miss out on being the star of the show. Getting her photos taken while she is still energised will lessen the chances of a tantrum.
The reception
While you might be happy for your flower girl to spend some time with you at the bridal table, chances are it is going to be a logistical nightmare to have her seated with you for the entire reception.
See if you can add a temporary chair to the table, so your flower girl can enjoy a drink of water or juice with the girls in the front before heading back to her parents or caregiver for the rest of the evening.