If your wedding is fast approaching, you're likely feeling completely overwhelmed with the amount of tasks to do and things to remember. One thing that you've probably got on your mind is wedding traditions. You're probably wondering if they're for you or if you should just have them to please those around you. Whatever your thoughts on wedding traditions we are here to help you figure it all out.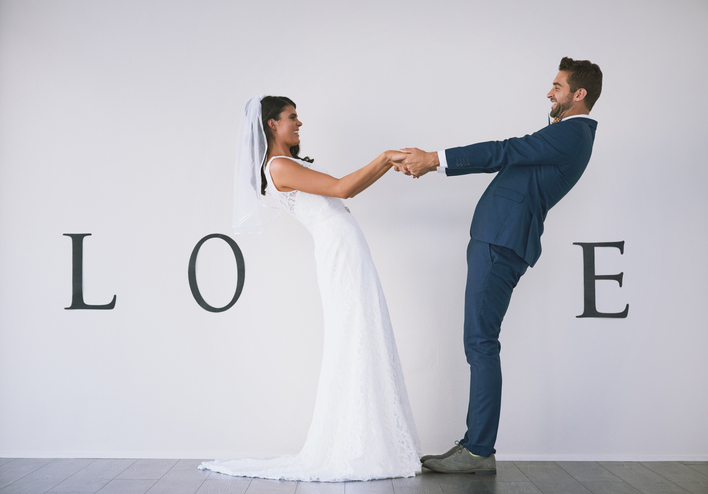 First thing's first: do you have to include all of the old wedding traditions if they don't seem relevant?
Wedding traditions are just one of those things that seem to stick. A lot of people either stick with tradition because they don't think otherwise and others like to because they believe the sentiment behind the tradition is beautiful and worth preserving.
As it's your wedding, you don't have to do anything that you don't want to do. So if wedding traditions don't resonate with you, then of course you needn't include them. Yet if you think they're sweet or if someone close to you thinks certain traditions are important then you may change your mind on the subject.
Some people that you know, whether it be your parents, grandparents or your spouse-to-be will find it difficult to ignore the traditions. This is where you may find yourself agreeing to them when you're not entirely sure about the whole thing. It is your wedding day, however if you don't really mind about a tradition, yet your partner will be devastated if you don't do something, then it's probably best to just go along with it.
In the end, all you need to do is make sure you're feeling okay about the whole thing, because it's your big day and – hopefully – you're only going to do this once.
Wedding traditions that are still relevant
To help you decide on whether wedding traditions are for you, we've gathered a few of the most popular to give you an idea of the meaning behind them.
Being 'given away'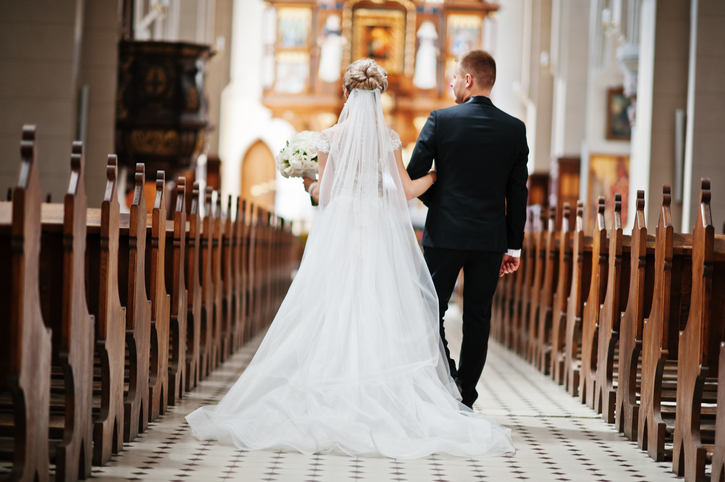 These days, we don't tend to feel like we need permission from our parents to marry or to be 'given away' at our weddings. This idea of the parents being in charge until the little lady has been married off so someone else can then be in charge may have been where being 'given away' came from, but it's not really what it means today.
The idea of a father giving away his daughter at her wedding is actually a really beautiful tradition. These days it's a representation of the parents raising their child, having done all they can and then sending her off to a new adventure. The adventure of marriage. See, that's totally adorable, right?
This tradition tends to mean a lot to parents so if you are planning on cutting it, make sure you're not going to upset them. The last thing you want to do if offend people with your special day.
Not seeing each other before the wedding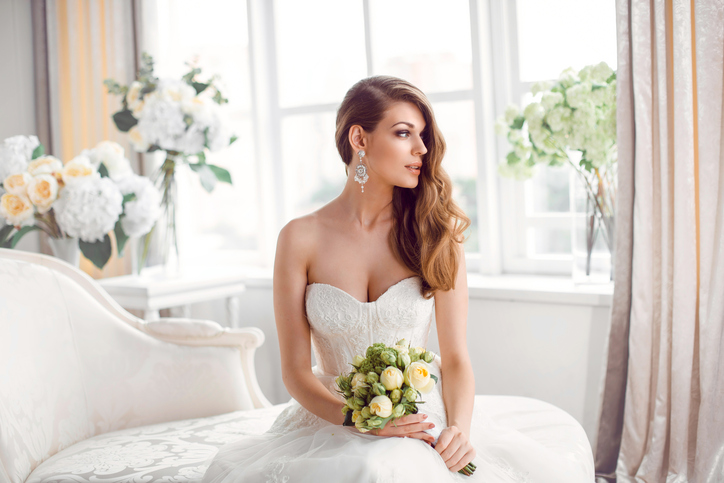 While the idea of it being unlucky for couples to see each other before their wedding is pretty outdated, there are parts of this tradition which we think are worth keeping. You might decide to spend the night apart, like most couples do. Or perhaps you'll spend the night with each other and then separate in the morning to get ready. Whatever you decide we think it's important to have a little break from one another before the wedding.
There is something just so super romantic about surprising each other with your wedding outfits on the day of your wedding. You won't have seen each other all prettied up and it'll be a beautiful surprise. This is a feeling you won't want to miss out on. We recommend keeping the essence of this lovely tradition, yet tweaking it to suit you.
Exchanging rings

So back in the day, wedding rings were worn by women only to signify that she belonged to a man. This idea isn't so nice being as it's one-sided. In modern times, we've adapted this idea to become more equal. Now brides and grooms exchange and wear rings. People do this proudly to show that they belong to someone and someone belongs to them.
It's not a legal requirement to exchange or wear wedding rings when you're married, however we still think that a symbol of belonging to each other is truly beautiful and worth doing if this resonates with you.
Having a bridal party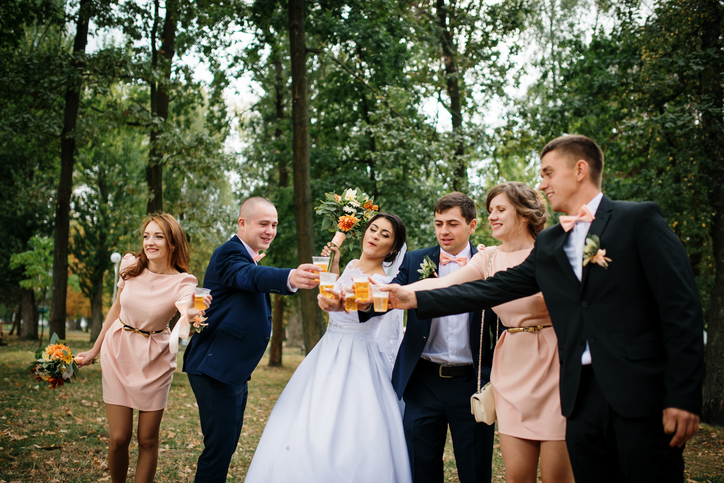 Bridal parties used to be married couples who were close to the couple getting married. These days, bridal parties consist of basically anyone the bride and groom deem worthy. While you definitely don't have to have a bridal party, they can be good for a few reasons.
Having a bridal party means picking your closest friends or family to stand up there with you. This is beautiful way to honour your friendships and show your friends how much you appreciate them.
It also happens to be really convenient if you need someone to hold your bouquet or if you're feeling a bit nervous being up in front of everyone, you know you've got your friends there with you.
At the end of the day, having a bridal party is completely up to you. If you feel like this idea of honouring your friends is important for your wedding day, then by all means do it. Otherwise just keep it simple with just the two of you if that's more your speed.
Throwing confetti or rice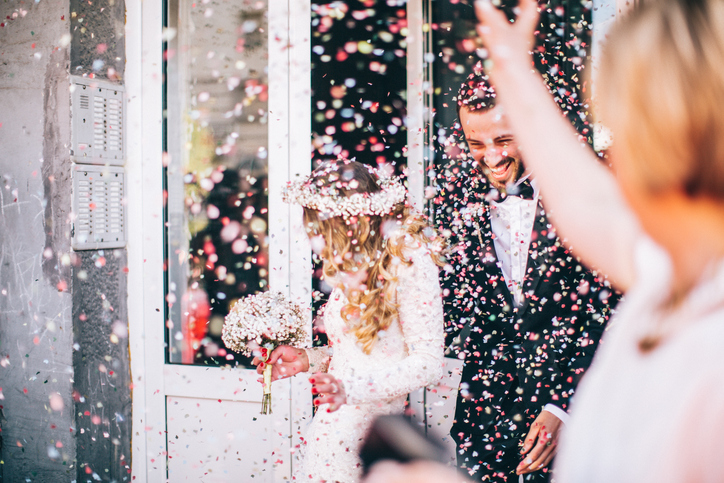 Throwing confetti or rice is one of those traditions that is a little odd in practice. In theory though, it's quite lovely. This one symbolises your guests wishing you prosperity as a couple. Which is always a nice thing.
These days, throwing uncooked rice is still fine. That thing that people say about it hurting birds or making them sick is actually a myth so animal lovers don't need to fret about that. The issue with throwing rice is that it's kind of painful. Confetti is an okay choice, but it's not environmentally friendly unless you opt for a type of confetti that is made of biodegradable paper. We'd suggest bubbles, petals or leaves as the safest options. Plus, they're more modern and fun!
A bride wearing white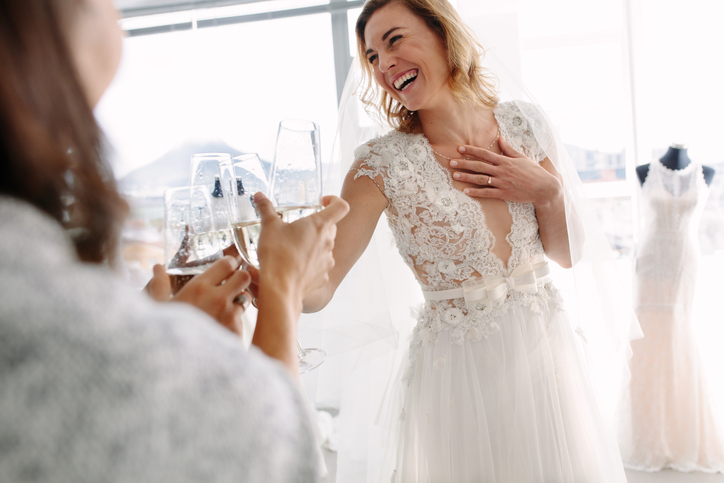 Undoubtedly you know that brides traditionally wear white to signify their purity. This is not super relevant today as most couples tend to have sex and live together before tying the knot. So the ideas behind wearing white are outdated, however the white wedding dress is still as popular as ever.
Even if brides don't embrace the origins of this tradition, they still want to walk down the aisle looking like an angel in their white dresses. This is because it's usually the only time in a lady's life that she'll get to wear a big elaborate white dress. So if this is how you feel, then stick with tradition and wear white.
If this isn't you, then ditch tradition and wear whatever colour you like. Heaps of brides marry in colours these days, so don't be shy!
Cutting the cake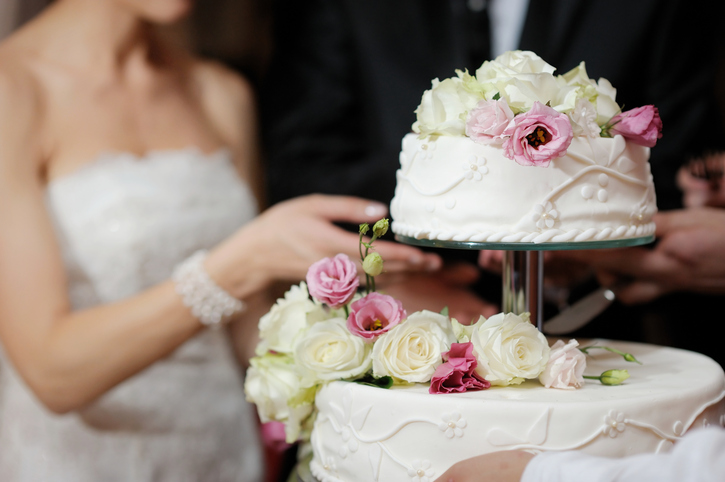 Traditionally the wedding cake was a wedding loaf of bread. It is broken or cut in front the guests to bring luck to the happy couple. This one is sweet to do if you're having a wedding cake at your wedding. Not every couple will resonate with the luck superstition, but in all honesty this one is just a bit of fun and it involves cake, which is always excellent.
Throwing the bouquet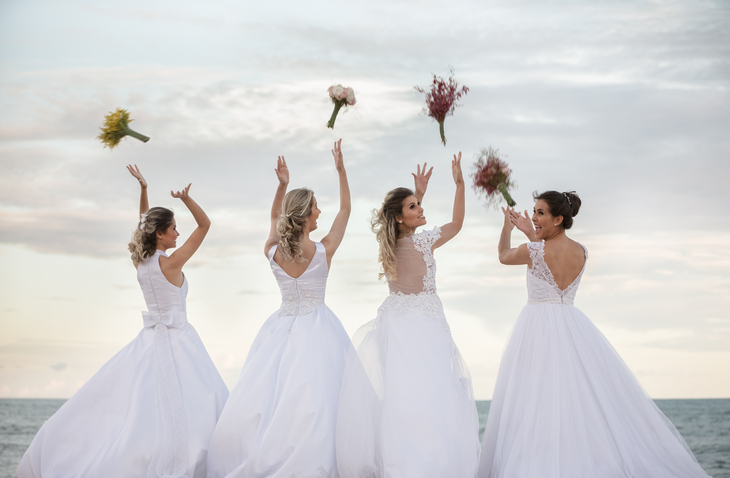 We could take or leave the throwing of the bouquet. This tradition is not the nicest one at weddings and it makes the participants feel pretty awkward. If you've ever been a single lady at a wedding, then you'll know the bouquet toss is actually so unpleasant for those who having it thrown at them.
Lately, we're seeing less and less brides participate in this tradition, however some still think it's important and see it as a bit of fun like the cake cutting. If you want a bit of fun for this part of your wedding, but don't want a traditional bouquet toss, you can update it to suit you. Give the bouquet the couple who are getting married next, or give it to the couple who have been married the longest. These are lovely options that still add a bit of interest to the end of the wedding reception.
Removing the garter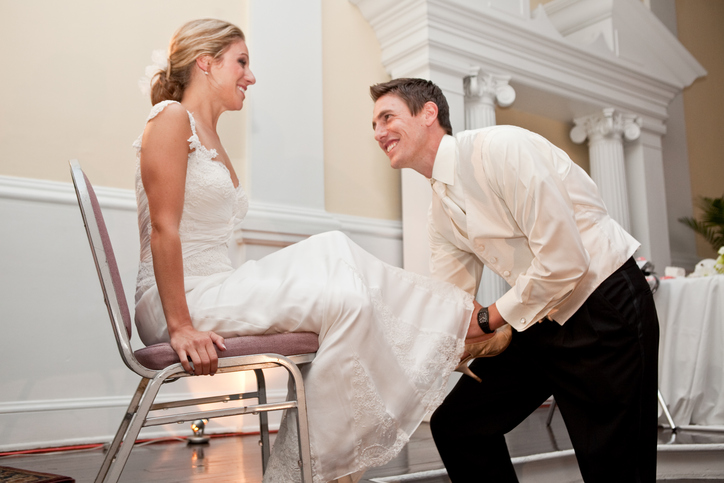 Like the bouquet toss, the removal and throwing of the garter is looking like it's fading out of popularity. Many brides will still wear the garter but don't tend to participate in this activity. If you're feeling like it'll be fun to do towards the end of the night, then go for it. But if this is one tradition you'd want to miss, we wouldn't blame you.