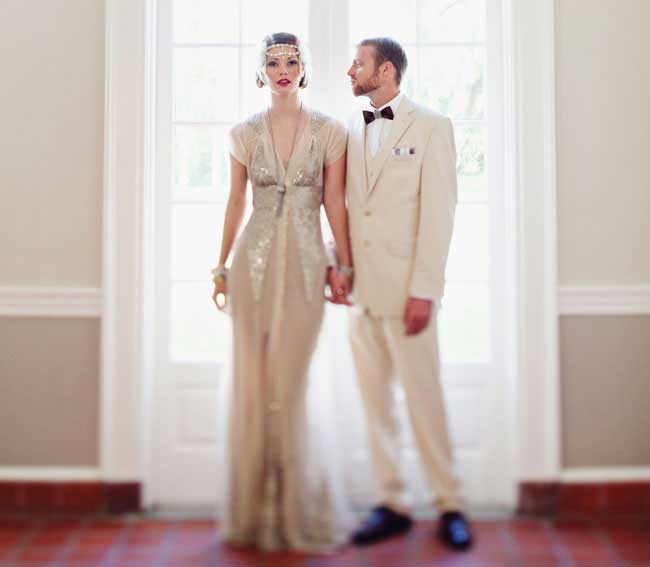 Gatsby style is all about the roaring 20s: plush, lavish and elegant. Sounds too much for a wedding? Absolutely not. If anything, it's one that'll make a statement—a really sparkly one.
Have a look at these wonderful Gatsby-inspired wedding ideas and let your inner Baz Lhurmann do the wedding planning.
Your wedding invitation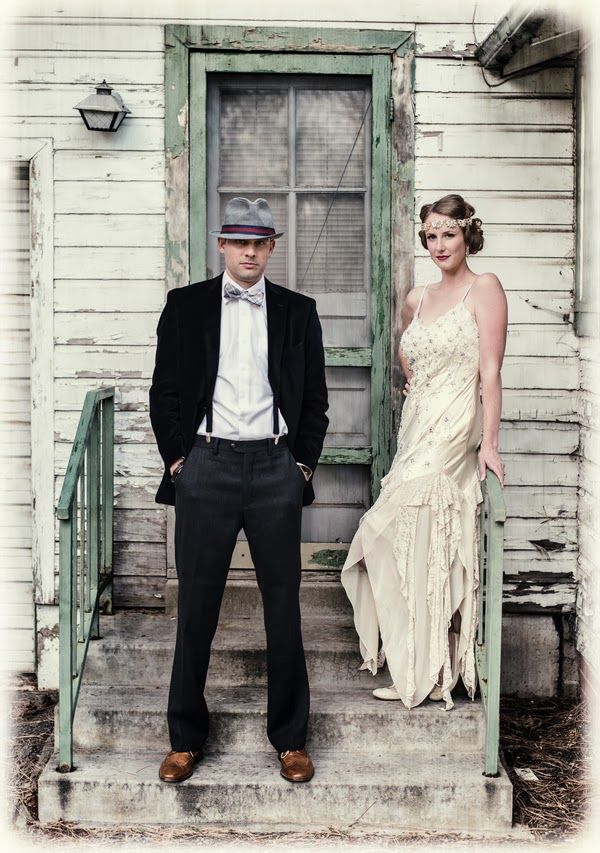 Once you're fully committed to having a Great Gatsby themed wedding, geometric patterns will be your new best friend. Play around with a range of colours (the more metallic the better) and pattern combination on your wedding invitation, RSVPs and thank you cards.
Your event decor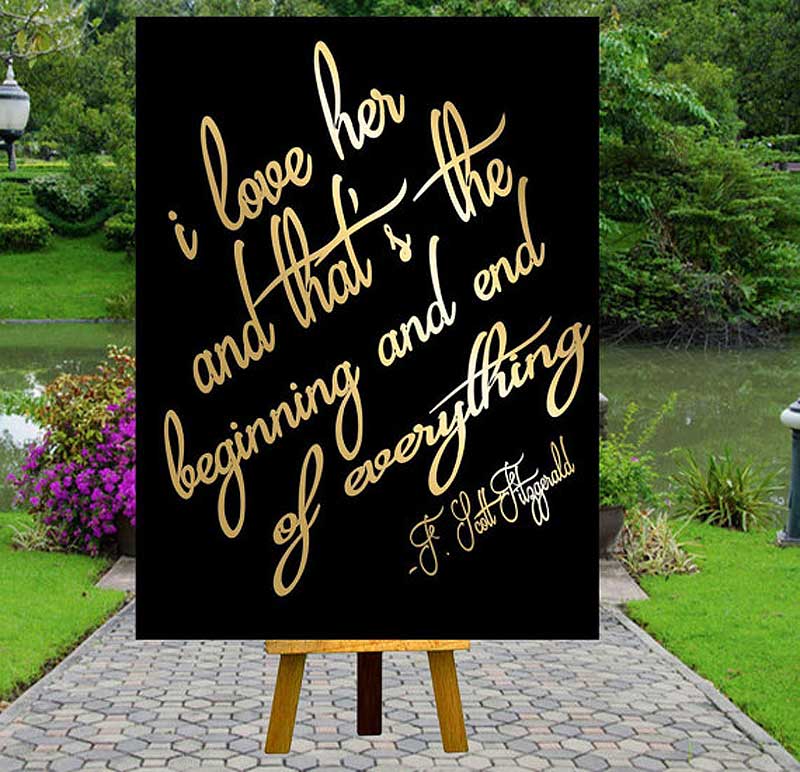 The Great Gatsby contains plenty of quotes that aren't just beautifully written, they make for excellent wedding signs, too! Write them on a blackboard using metallic pen for that added glitz. Of course, if you don't want to worry about such things yourself, a wedding stylist will be able to help you pull off the perfect Gatsby look!
Your table set-up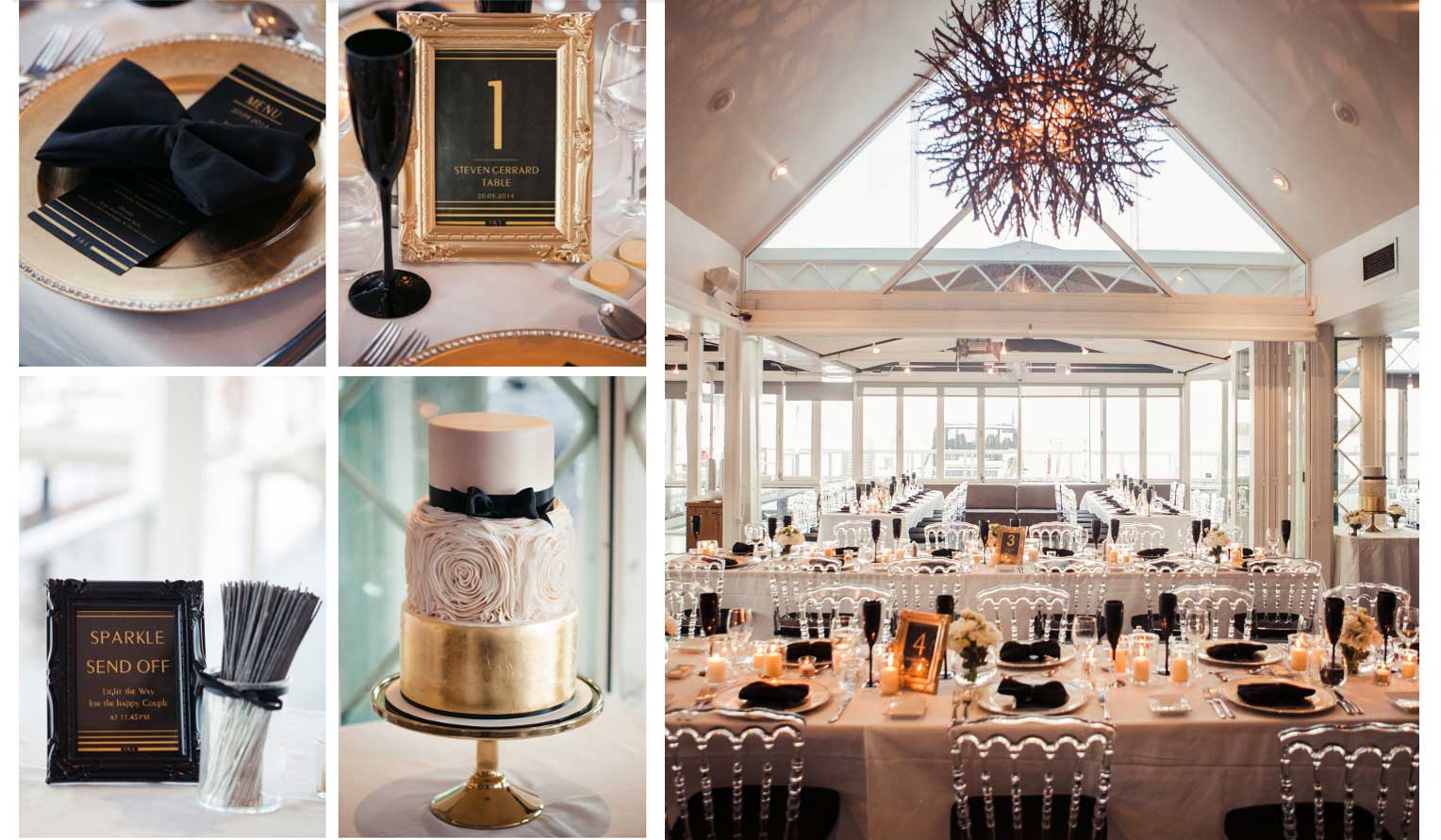 Have your guests wine and dine in style by ensuring your art-deco theme is continued throughout your reception, including your table settings and, of course, your all-important wedding cake. 
Don't forget your bridal party (or the car)!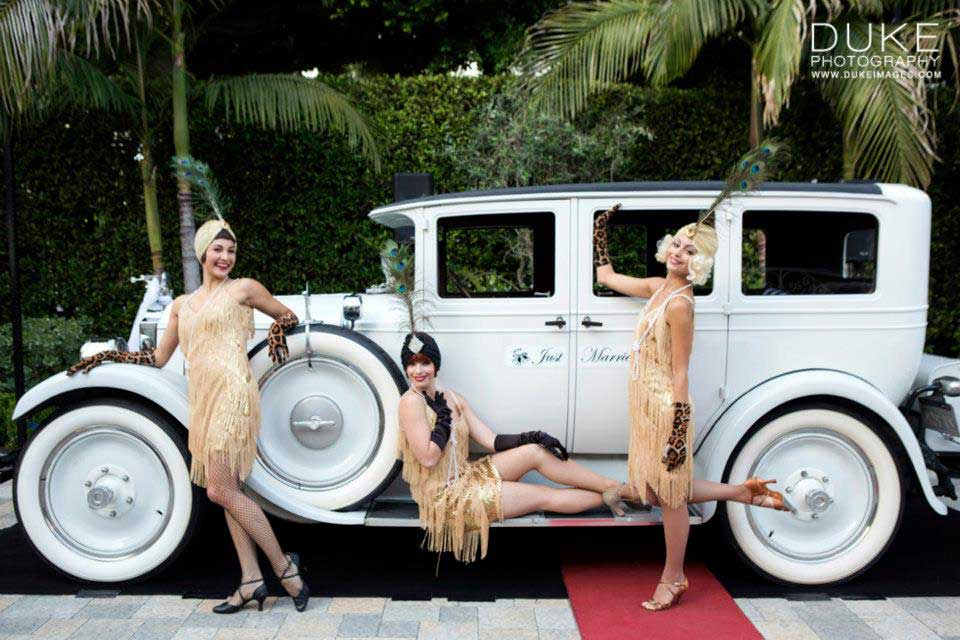 Part of the fun of holding a Great Gatsby-inspired wedding is dressing up – and not just for the bride and groom, but for the entire bridal party. We LOVE these flapper-style bridesmaid dresses – and, of course, the amazing vintage hire car!
Your wedding band/singers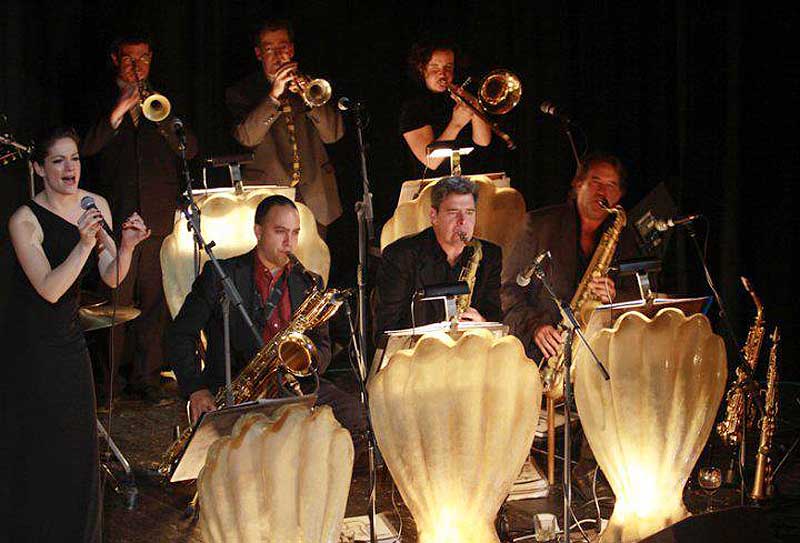 It's not a Gatsby-themed party without some rocking music, preferably with a band that can play the classics. Or better yet, one that can also play classic jazz covers from the roaring '20s.
Oh, and you have to have cocktails!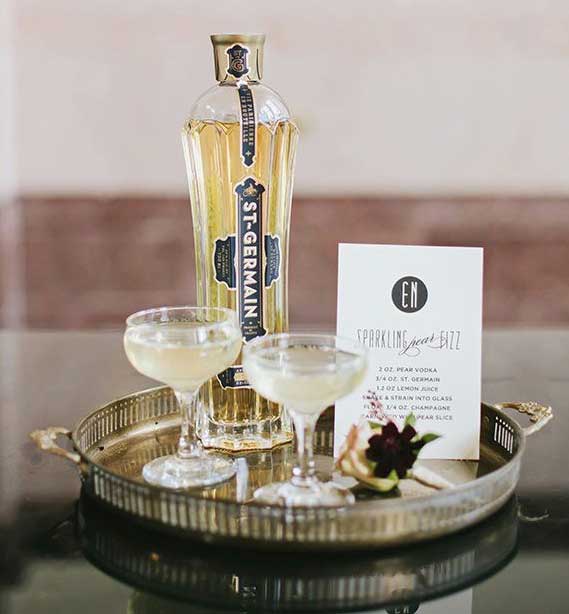 Have your caterer serve round after round of tasty cocktails, all in good looking glassware, of course – and don't forget the fancy trays. You can't go wrong serving mint juleps, gin rickeys, bee's knees and, of course, classics such as Manhattans, daiquiris and martinis.
Your wedding dress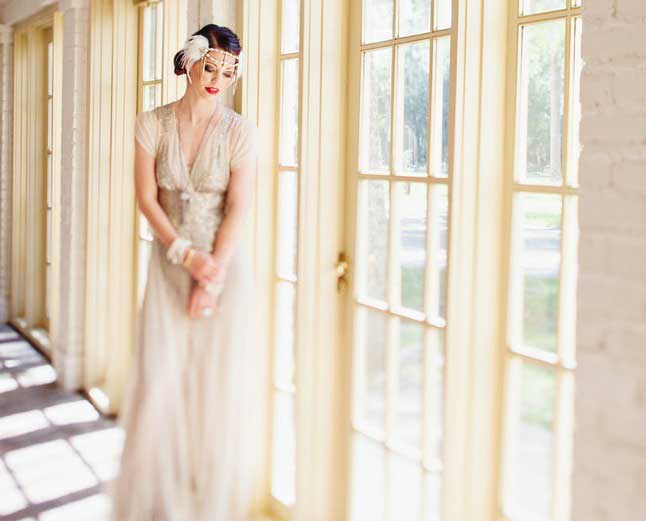 Channel Mrs. Buchanan with a '20s inspired wedding dress, complete with sequins, feather or pearl accessories. (Finally, here's the perfect excuse to dress up in all these at once.) Wear your sexiest red lippy to boot!
The groom's suit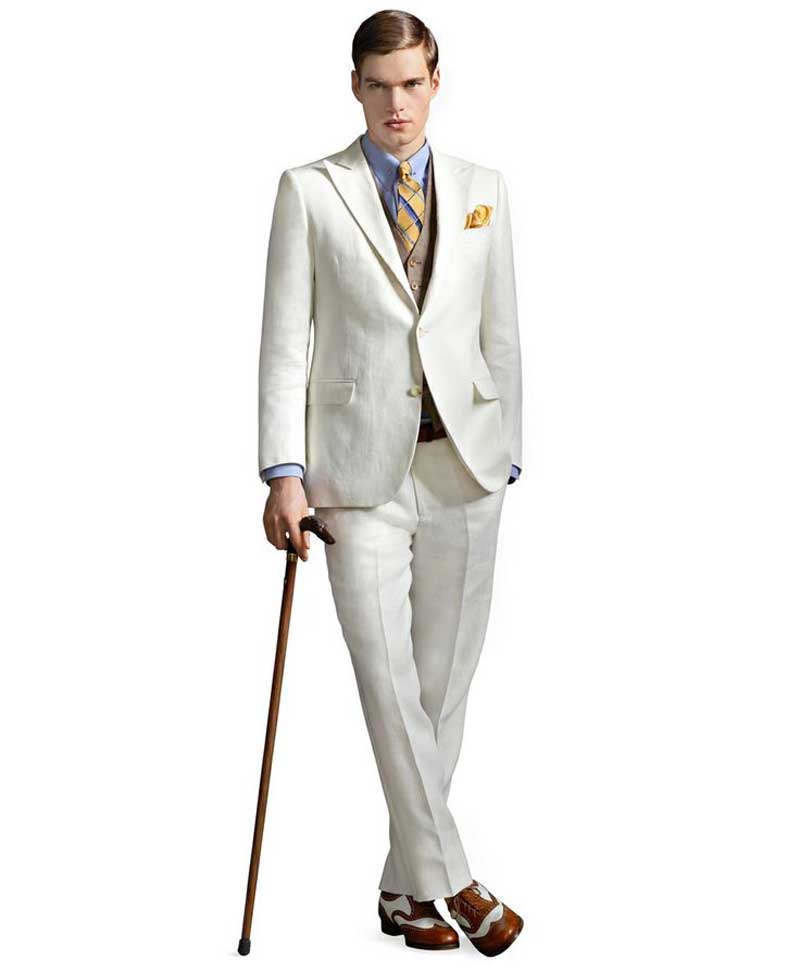 Look as dapper as Jay Gatsby with a bespoke tux or suit and a pair of brown leather shoes. You can probably skip the cane, but not that sleek hairdo!
Art-deco dessert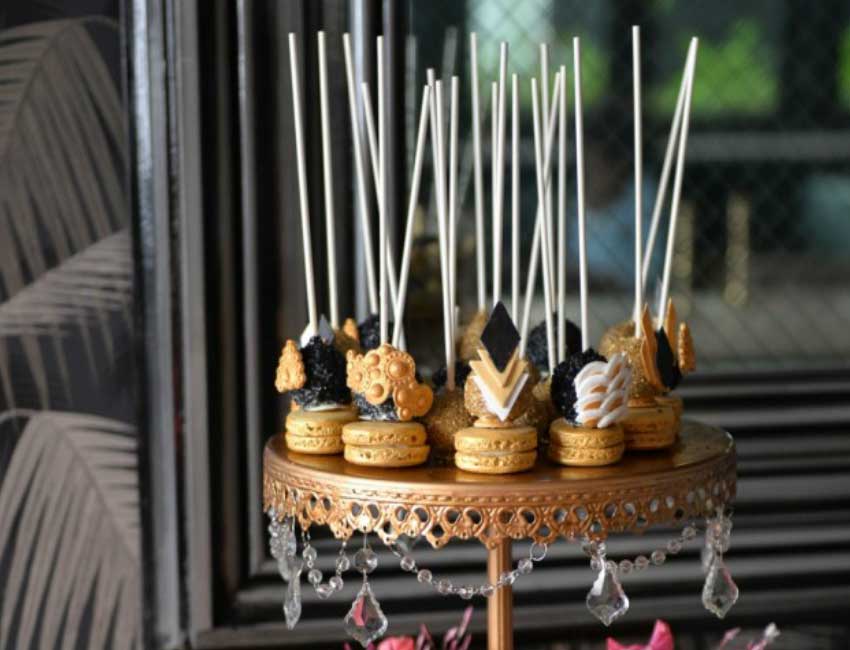 Art deco meets patisserie. End a sumptuous meal with these elevated macaroons that look almost too pretty to eat – or any other rich and decadent desserts.
Start/end the party with a (golden) bang
Start your wedding party in Jay Gatsby fashion using a blizzard of golden confetti. It makes for picture-perfect moments, happy children and a sparkly dance floor.
Wedding cake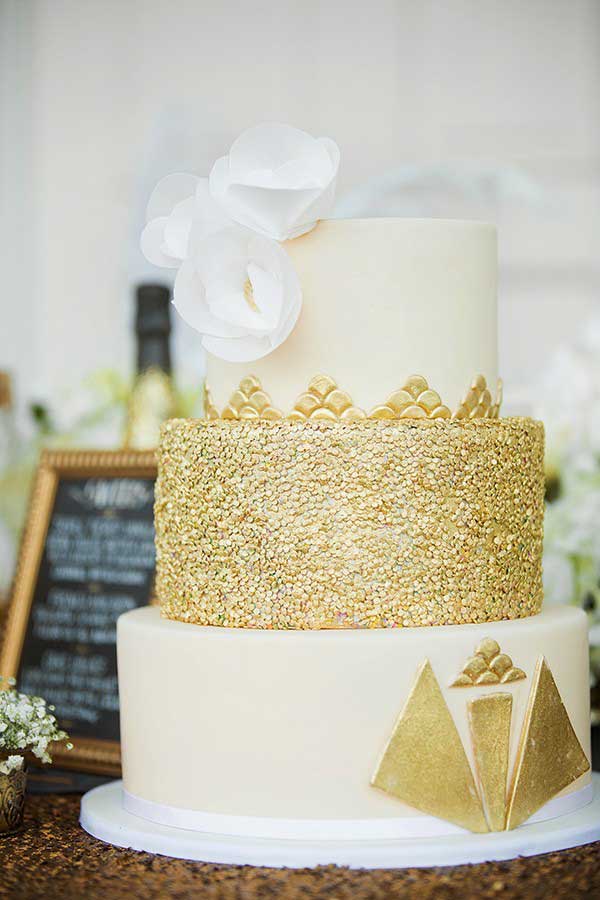 Don't forget your Gatsby-esque wedding cake. White fondant covered in gold embellishments will do the trick and something like this superbly art deco wedding cake would be a fantastic centerpiece for at your Gatsby-themed dessert table.