Move over diamonds! Long gone are the days when diamonds and only diamonds are a girl's best friend. Think outside the diamond ring box and explore the beautiful world of precious earthly (and from the ocean!) treasures.
Have you been shopping around for your dream engagement ring? Have you, like many of us, being sold by the world's biggest successful marketing campaigns of all time?
Let's start with a little education in the business of diamonds. Back in the day, we are talking 1800s, diamonds were first discovered on a small South African farm by two Dutch brothers. Due to high demand, the farm was turned into a mining site and named De Beers mine after the brothers and also a British company was established with the same name.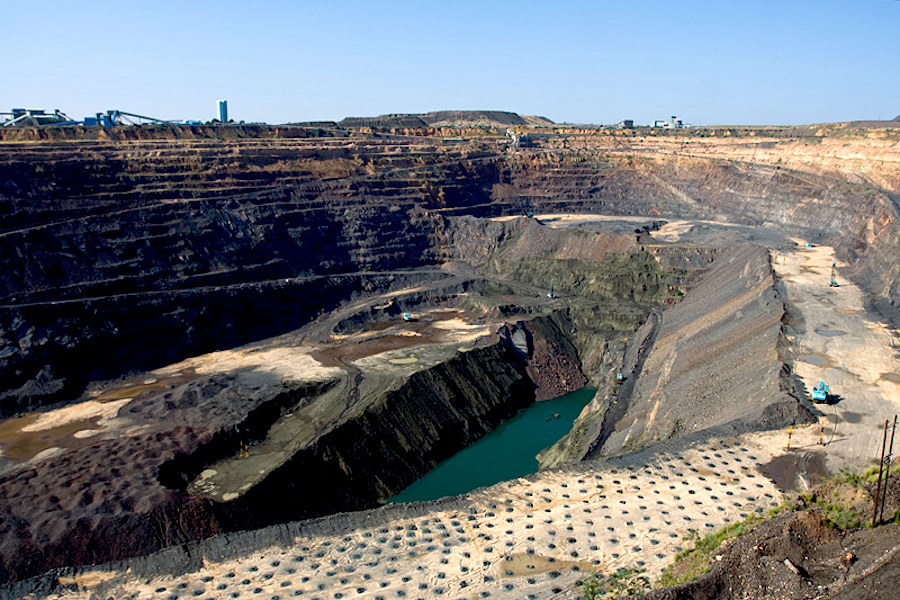 Initially, diamonds were very rare and valuable because it took a lot of time and resources to mine them. It was seen as a luxury only the most wealthy in the world could afford. Fast forward to World War I and the Great Depression, De Beers had stockpiled so much diamonds that there was too much supply so the prices of diamonds hit rock bottom. So what did De Beers do? Hire the best ad agency of their time who started the most effective marketing campaign that has maintained the luxury status of diamonds and has people paying thousands of dollars on these tiny rocks to this day.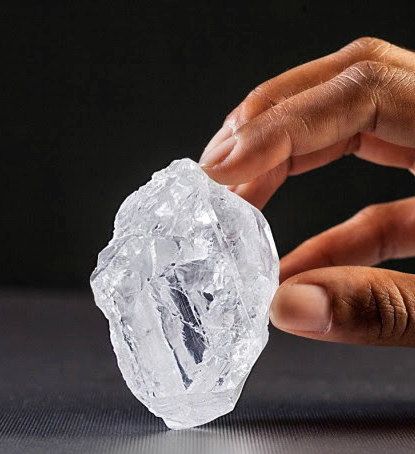 "A diamond is forever." was one of the most famous slogans the ad agency came up with. Another one was "Isn't two months' salary a small price to pay for something that lasts forever?" The two-month rule had somewhat changed to a four-month rule over time and we can be pretty sure De Beers was behind that too.
We've uncovered the marketing ploy behind the diamond industry and if you're still unconvinced, there is the issue with unethical mining where hundreds of miners are killed each year due to dangerous working conditions. As attractive and sparkly as these little rocks are, the value falls by almost fifty per cent once you leave the diamond store so they really aren't good investments.
With that said, if you're looking for an alternative to diamonds, we found some of the most stunning non-diamond engagement rings for you.
Sapphire
This bespoke stunner from Cushla Whiting Jewellery is hand-made with a 2.64-carat unheated parti sapphire. It is paired with a band consisting of tapered baguettes and round brilliant diamonds, which has been custom designed to be worn together.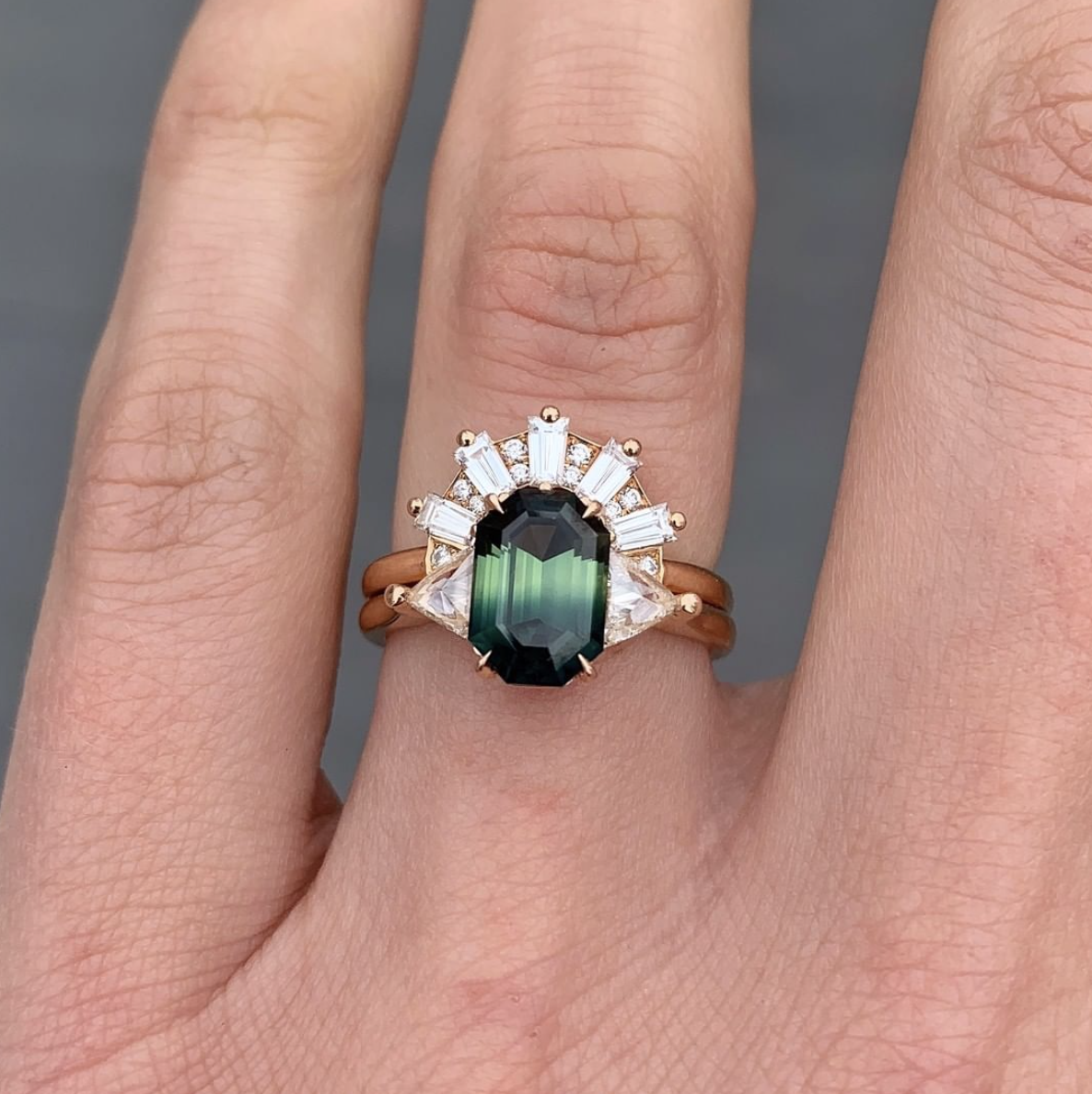 Blue sapphire engagement rings were made famous first by the late Princess Diana then later Duchess of Cambridge Kate Middleton. Sapphires are the second toughest stones after diamonds and they symbolize wisdom and virtue. As an engagement ring, sapphires represent faithfulness and sincerity.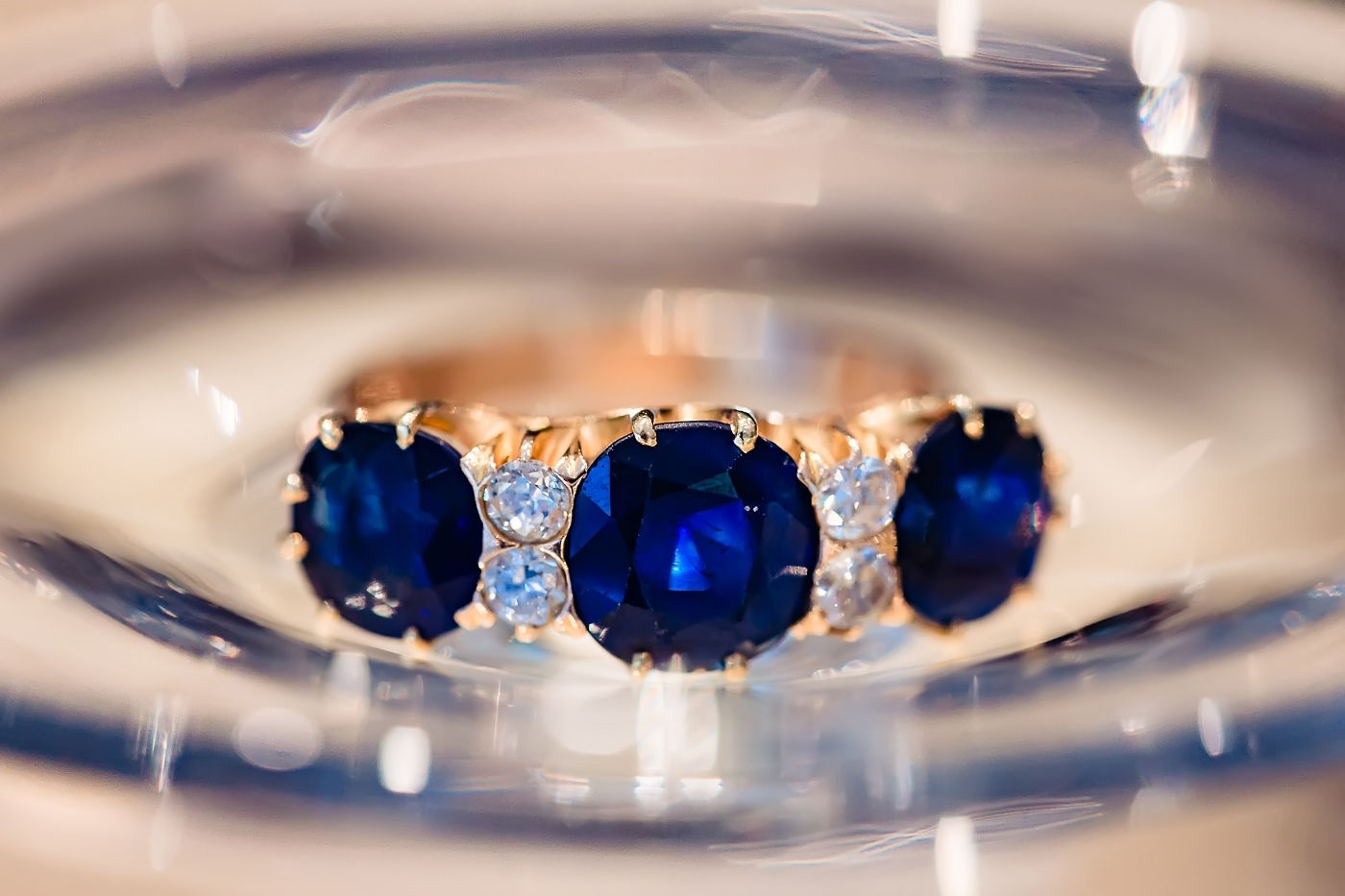 Rose Quartz
Custom made wedding bands that are designed to curve around the main stone is very on-trend and we've been seeing a lot of independent jewellers creating unique designs. This gorgeous ring is oval-cut rose quartz set in halo design. The rose gold brings out the pink tones perfectly. Rose quartz is the ultimate symbol of love and is believed to attract and support unconditional love.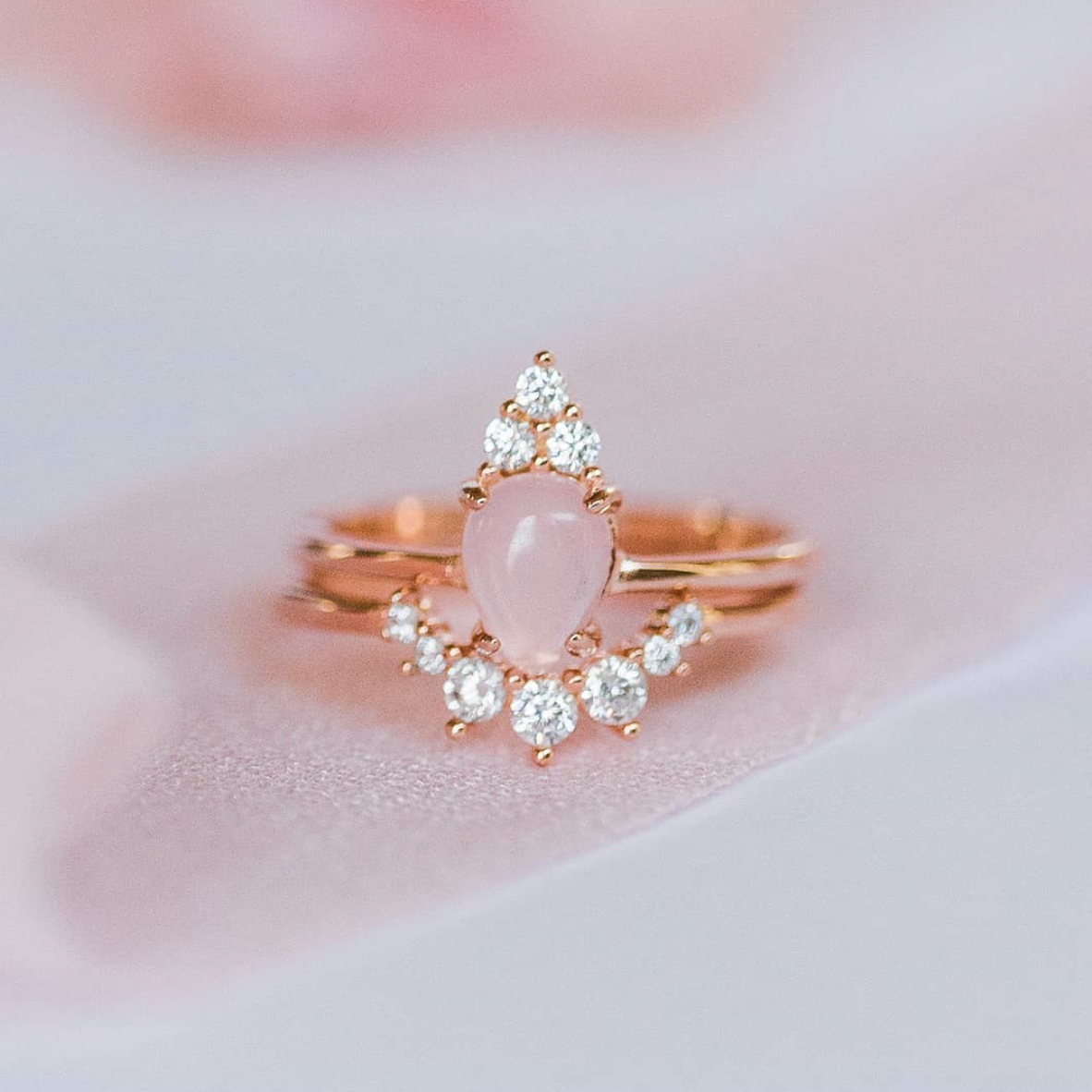 Emerald
Emeralds are known as stones of successful love. They represent healing and fertility and embodies peace, balance and patience. Many cultures believe emeralds bring good luck as it represents loyalty and domestic bliss.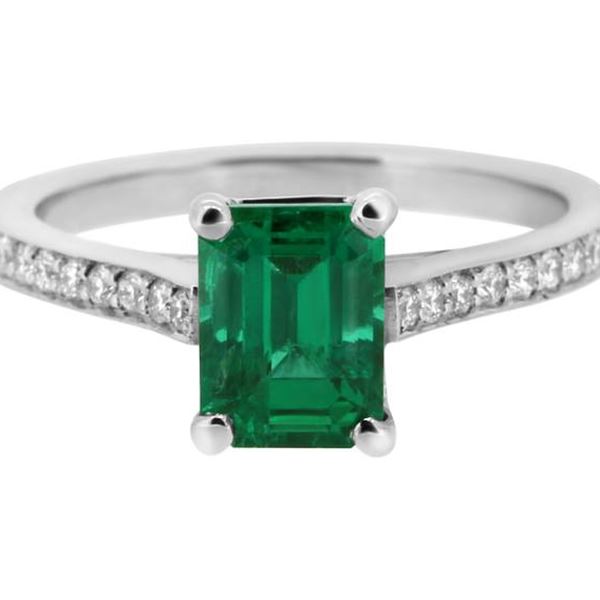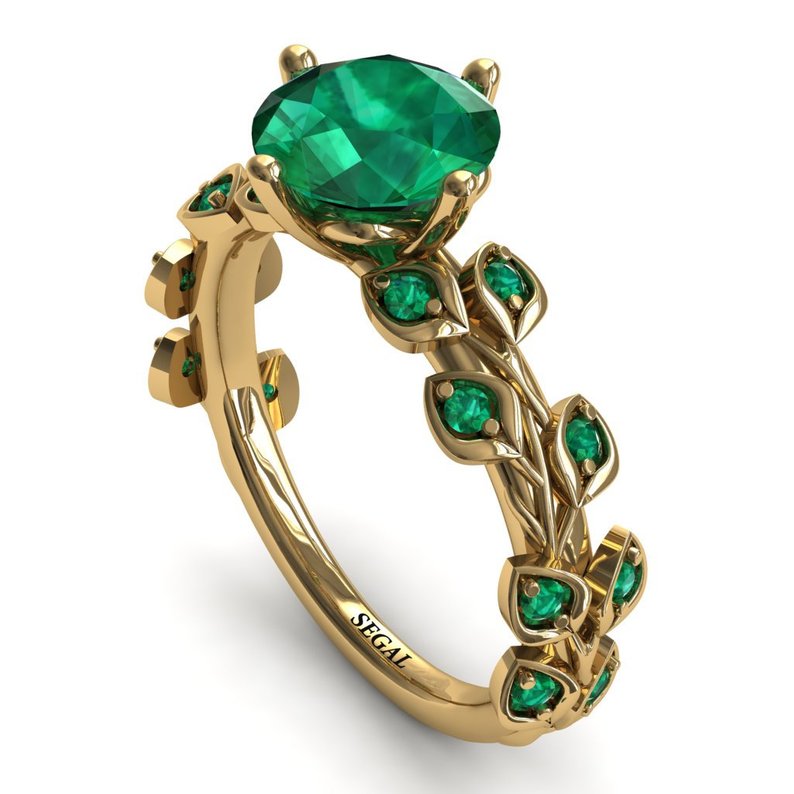 Aquamarine
Aquamarine, directly translated as "water of the sea", was believed to be the treasure of mermaids and used by sailors as a talisman of good luck and protection. Today, aquamarine represents fluidity and the calming, soothing and cleansing effects of the sea. They also make stunning engagement rings for the free-spirited brides!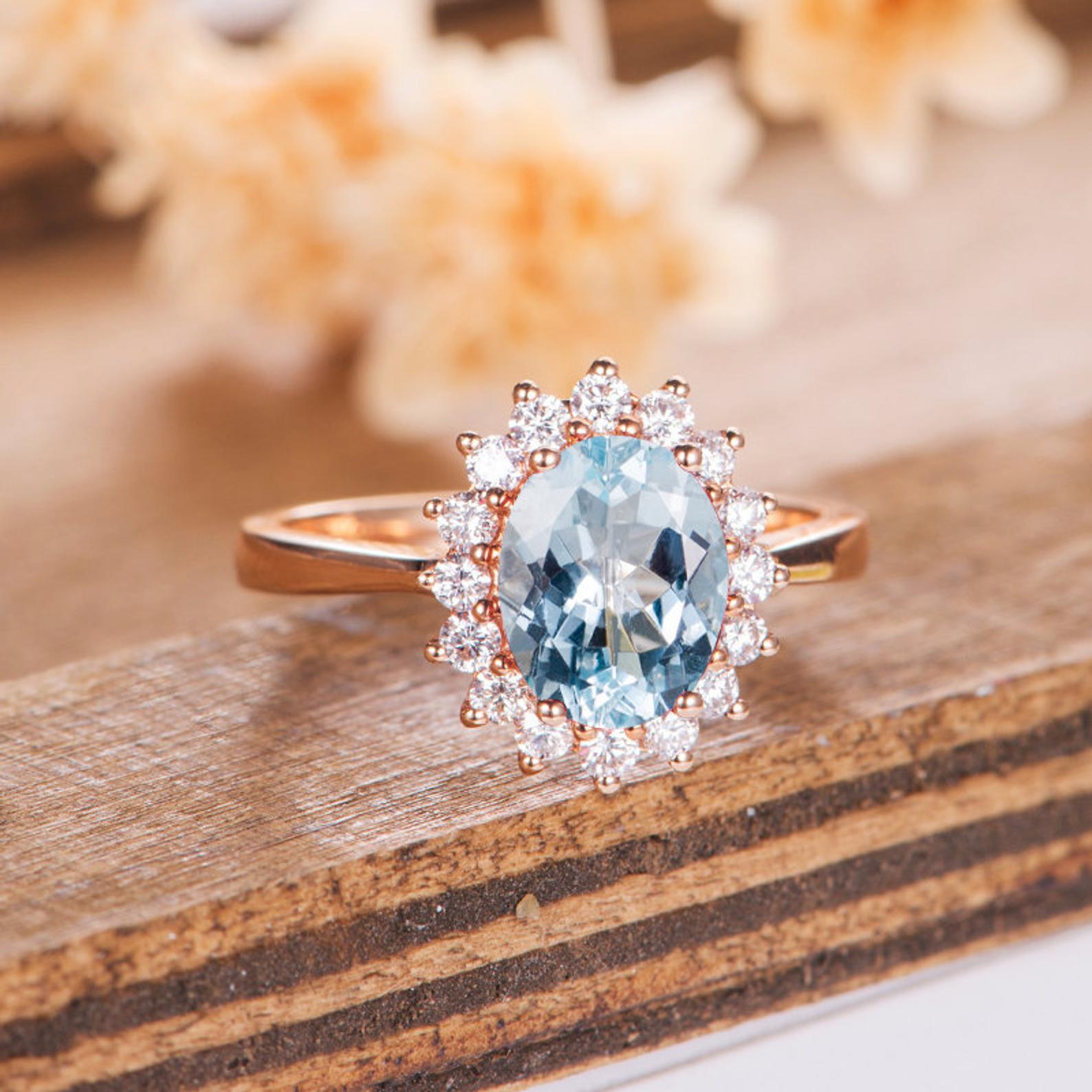 Ruby
Do you love rubies as much as we do? The most valuable and costly rubies are pigeon-blood rubies from Burma!
If the colour of the ruby doesn't already convince you that it is the perfect stone for an engagement ring, it also symbolizes energy, passion, power and zest for life. This precious stone used to be reserved just for Kings and palace loyalties. Rubies are known for boosting energy and promoting creativity and vigour in your life.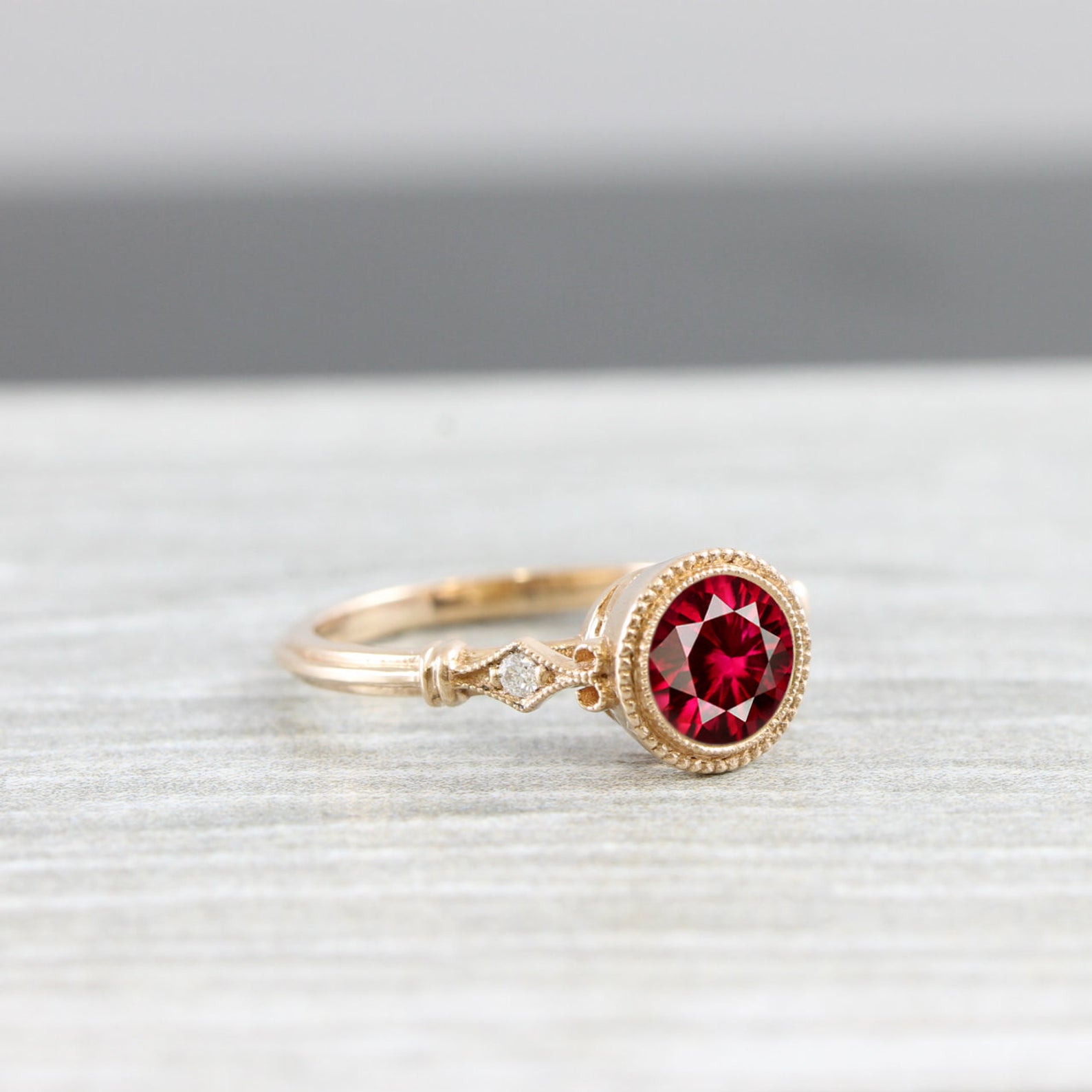 Moissanite
Moissanites are not fake diamonds! They are naturally occurring and are even rarer than diamonds. Luckily, the brilliant scientists have found ways to manufacture them in labs so they can be available commercially.
Moissanites have a score of 9.25 on the Mohs Scale of Hardness where diamonds are 10, meaning they are almost as tough as diamonds. The main difference between moissanite and diamond lie in the refractive index, the former being more sparkly and having more of a rainbow sparkle than a white sparkle.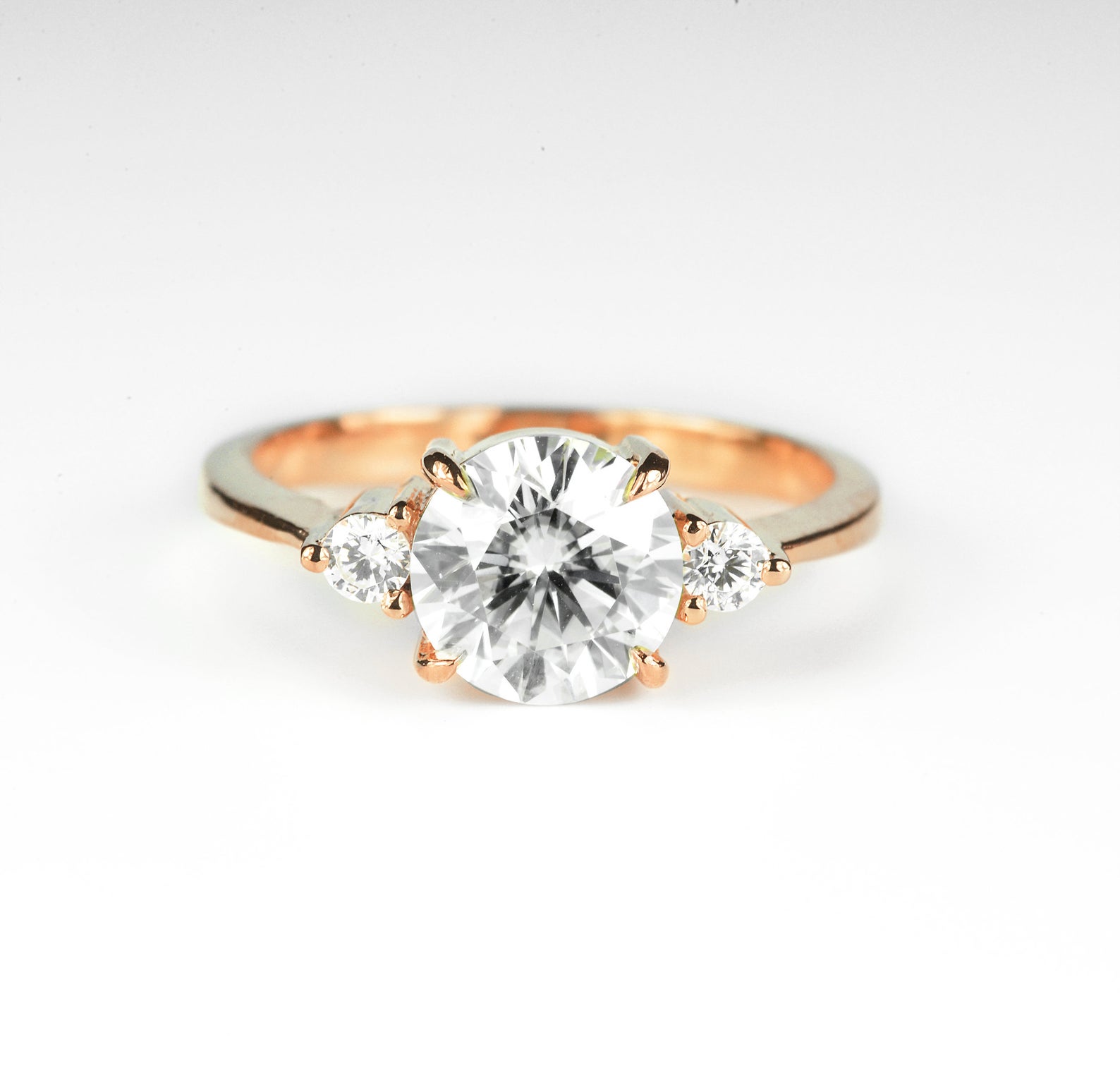 Opal
Opals are found in abundance in Australia but that doesn't make it any less desirable. It is, after all, known as "precious stone" in Sanskrit. Opals encourage accessing and the ability to express your true self, strengthens memory and wearing opals brings loyalty, faithfulness and spontaneity.
White opals, in particular, are believed to change negative energies to positive and often bring good luck to the wearer.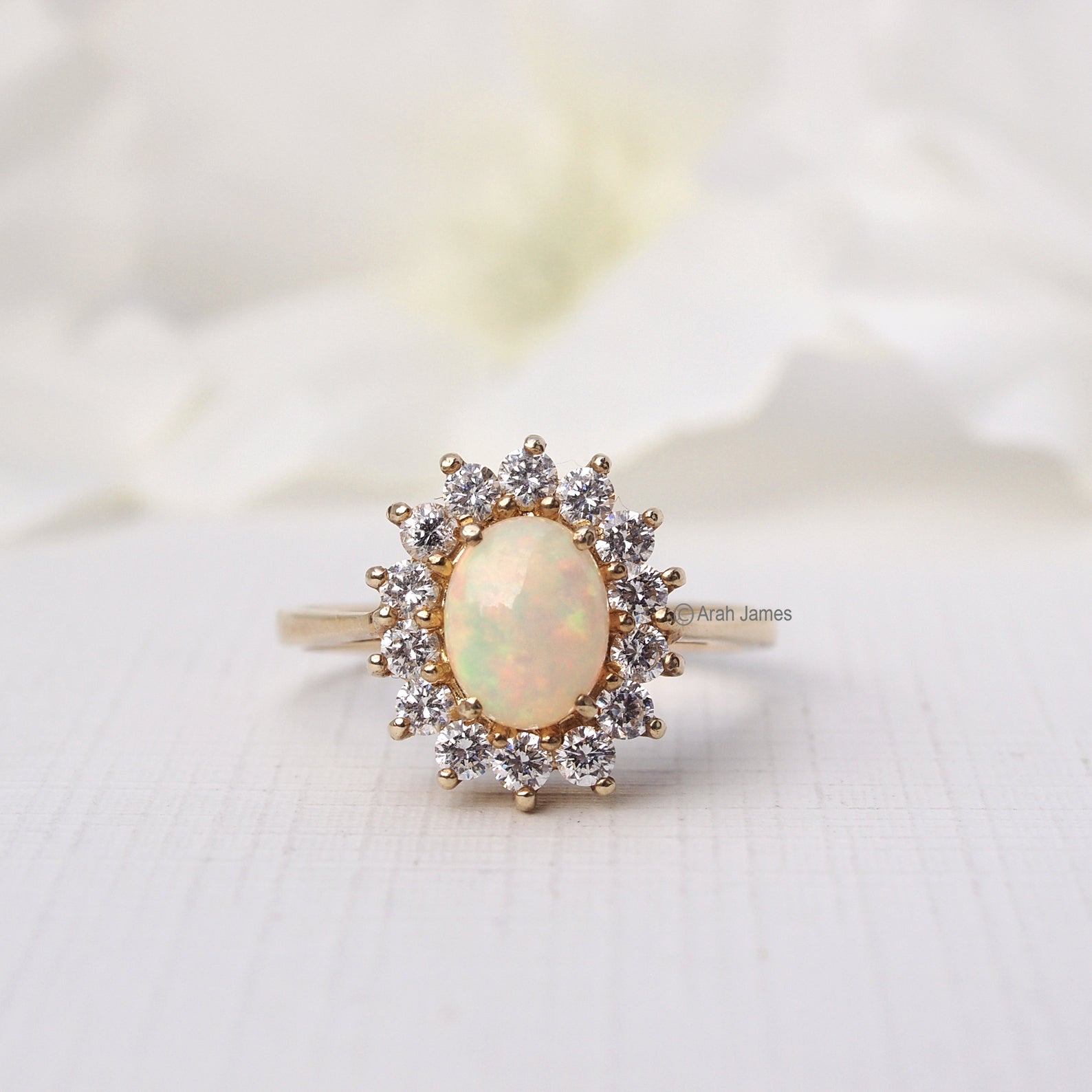 Morganite
Morganites have gained popularity in recent years as an engagement ring stone mainly because of their pretty colours. These semi-precious stones can come in pale pinks to bright salmon hues. They look best in rose gold settings as it brings out the colours of the stone.
Morganite stones bring healing and compassion energies to relationships and the gentle pink energy is in tune with the heart and the Heart Chakra. It is also an excellent stone to heal past emotional trauma and it helps you to come to terms with your past and encourages moving forward to finding your true path and purpose in life.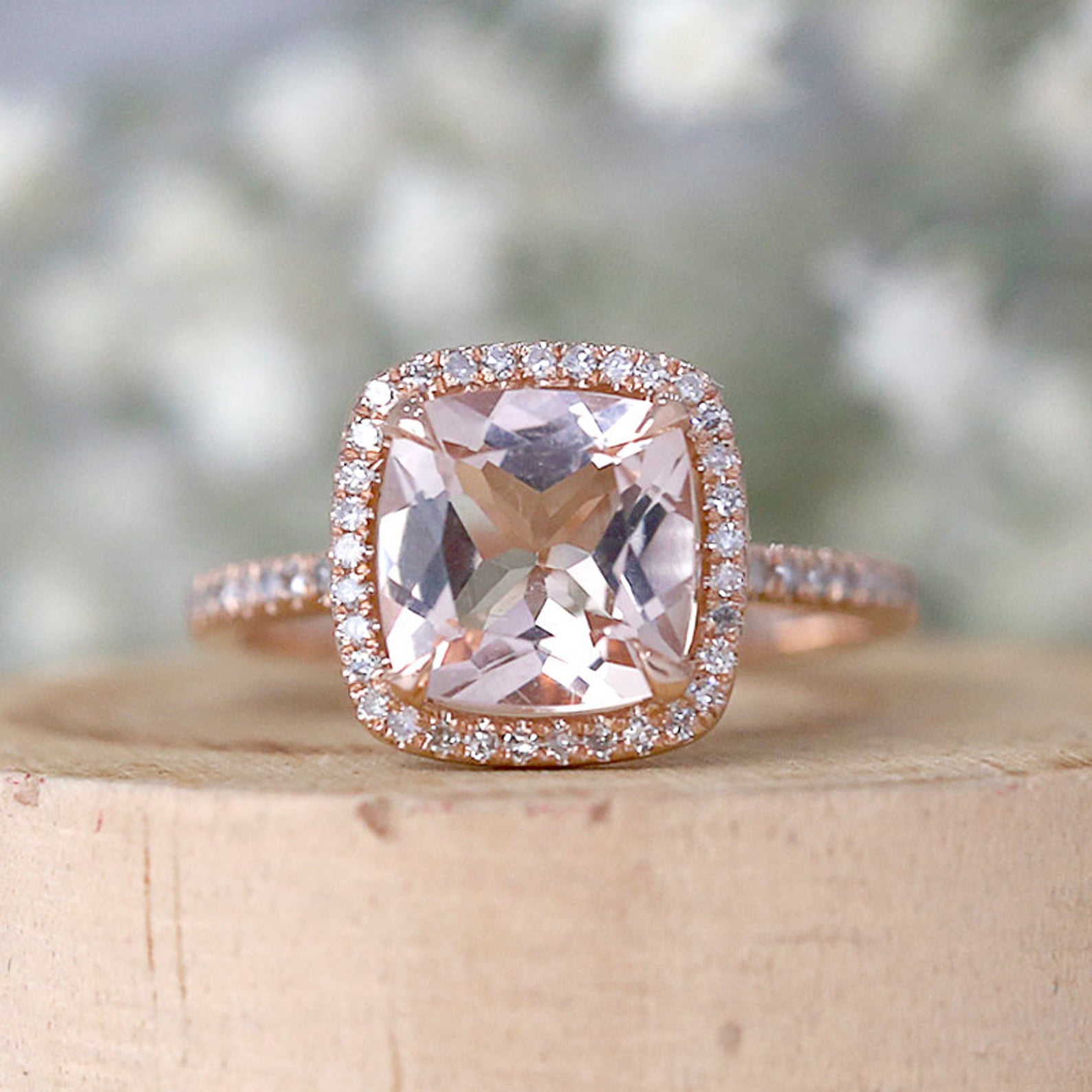 To find your perfect engagement ring, click here!