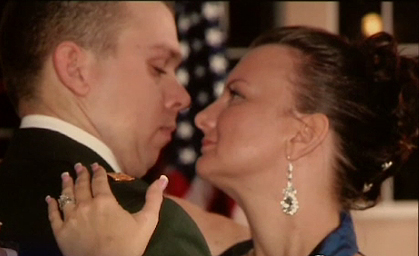 An American army reservist who has been called up for service has been dealt a double blow. Not only will he have to cancel his wedding, he'll also lose thousands of dollars since several suppliers are refusing to refund his money.
After a tiny ceremony the first time around, Justin McIlwain wanted to give his wife, Victoria, their dream wedding, so, for their fifth anniversary in January, they decided to have the wedding they both dreamed of.
Victoria even bought a wedding dress, but their plans were thrown into disarray after Justin was called up for service in an unknown location for an unknown period.
As soon as the Florida couple were notified of the change in Justin's orders, they immediately started contacting suppliers to inform them that the wedding was to be postponed and all but two of the suppliers were willing to help out given the circumstances and the fact they were beyond the couple's control
"When you're part of the military and they tell you to go, you don't ask any questions," Victoria told wtsp.com, adding that most suppliers were sympathetic to their plight.
"Every single vendor, except for one, worked with me," says Victoria who has since discovered her venue also  won't be refunding their $4,800 deposit.
Christine Hackett, the home-based florist refusing to refund the couple's $640 payment flower deposit said,  "My heart goes out to her," but, she adds "I have a contract on it and the date was saved for her,"adding that the couple knew of the arrangement when signing up.
Hackett has admitted that she has not yet purchased flowers for the McIlwain's wedding, but, in refusing the refund, has factored in  the time she spent planning the flowers with Victoria, and also the fact she also turned down another wedding set for the same date.
"It's just business! I'm trying to earn a living in this lousy economy too." Hackett points out that the couple knew Justin could be called up at any time and that she had an email
Victoria says that they've given suppliers nine months' notice, plenty of time to replace her booking and asks of Hackett, "With nine months notice, what have you done with my deposit that you can't refund me my money?"
"I don't understand how people can disrespect the military. They don't understand what he does."
What do you think? Should Just and Victoria's money be refunded? On the other hand, they did have a contract and Hackett is running a business.