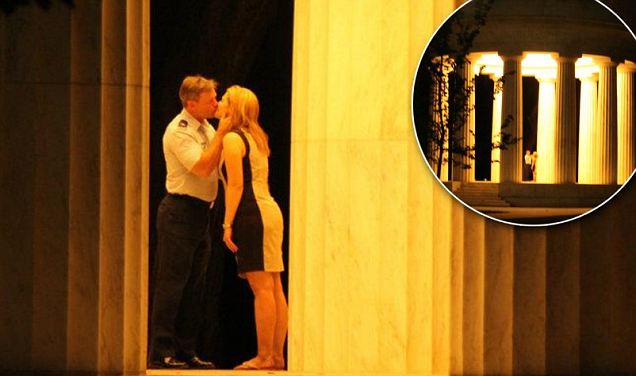 While wandering around snapping pictures of Washington D.C.'s War Memorial one evening earlier this month, primary school teacher Angila Golik happened upon a most intimate scene.
Standing in the middle of brightly-lit rotunda on the other side of the park, she spied a young man in a crisp military uniform proposing to a lady in a black and white dress.
The moment touched her heart so deeply, she quickly snapped the scene hoping to give it to the couple.
She waited until "they looked liked they were wrapping things up" and shouted to them, but, being so dark, they couldn't see her and walked off.
Unable to forget the loving moment, Angila, who had only been visiting America's capital for a conference, decided to try to find the couple and share the once-in-a-lifetime shot with them.
She tweeted the picture and uploaded a video to YouTube pleading for help finding them.
Naturally, the video went viral and quickly surpassed the 217,000-hits mark.
Within days Golik started to receive calls from journalists all over the US, then the world, all of them as keen to discover the identity of the mystery couple.
And they did. Well, kind of.
Yesterday, the mystery couple emailed Golik a statement through an Air Force acquaintance, Lt. Col. Ann Knabe, asking for privacy.
"They are requesting their privacy be respected," said Knabe before adding that "The couple is delighted that this intimate moment at the War Memorial has brought warmth and inspiration to many hearts.
"It does them good to know the photos have restored hope in the idea of love for some, based on the comments readers and viewers have posted on the Web. The couple would like to thank Ms. Golik for capturing photographs they might not have otherwise had."
Golik immediately removed the YouTube video and canceled all upcoming televisions appearance saying, "My goal was to find the couple and give them the photos.
"I don't need to put my face out there everywhere if they've been found."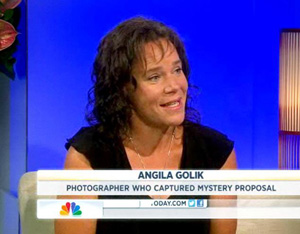 However, you can see the original tweet and photo here.
She said that Knabe also corrected some of her assumptions about the photo.
"The Air Force member was not proposing to his fiancee … at least not for the first time, as they had become engaged two weeks prior to these photos," wrote Knabe.
"Instead, they were walking around several memorials to determine if one of them would make a good location for their wedding ceremony. The photographer happened to catch the couple acting as if they were reciting their vows in the middle of the memorial, and reliving their sweet moment from two weeks prior."
Regardless, Golik says the moment remains a most magical one for her and the hundreds of thousands of people who were equally touched by the photograph and its story.
"I am happy that we found them and I am still happy to give them the photos," she told The Huffington Post where more than 1000 people commented on the story.
"It will make for a great story for generations to come."
What do you think? Should Angila have snapped the private moment and then shared it online or should she just have kept it to herself? Should she have even snapped it at all? What would you do if it was your proposal caught on camera by someone you didn't know? Please tell us below.