Finding something comfortable and flattering to wear when you're pregnant isn't easy, but finding a wedding dress that's comfortable and flattering when you're pregnant is near impossible.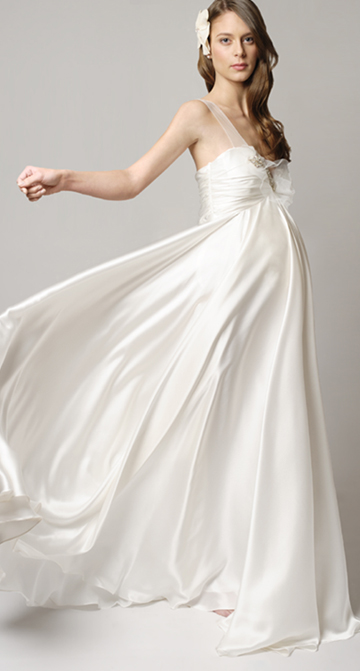 With more and more pregnant brides proud to show off their bumps on their big days, Ontario-based gown designer Tina Mak has turned her love of creating etheral wedding gowns into a profitable niche market and has released a stunning new range of white, off-white, ivory and dove grey wedding gowns designed specifically for pregnant brides.
While running her own couture wedding gown label, Partina (French for By Tina), for seven years, Mak began to notice an increase in pregnant brides, about 1 in every 10, requesting her gowns. All were having difficulty choosing a wedding dress that would not only fit them, but be comfortable on their wedding day, which was often months down the track.
The solution? Dresses that are designed to accentuate a preganant bride's belly – not matter how big it may grow between fittings!
The result is Maternity Wedding Dresses by Tina Mak, a sumptuous collection of breathtaking gowns designed to ensure pregnant brides are not just comfortable – but also gorgeous – on their big day.
According to Tina, the first step for pregnant brides choosing a wedding dress is deciding on a silhouette.
"Do you want to accentuate your tummy or wear something more flowing and ethereal?" asks Tina. "If you will be less than 14 weeks pregnant on your wedding, you will be able to get away with a more form fitting regular wedding gown.  If you will be 15 weeks or more by your wedding date, I highly suggest you select a style that is specifically designed for maternity brides. These styles are typically empire or styles designed to accommodate a growing tummy."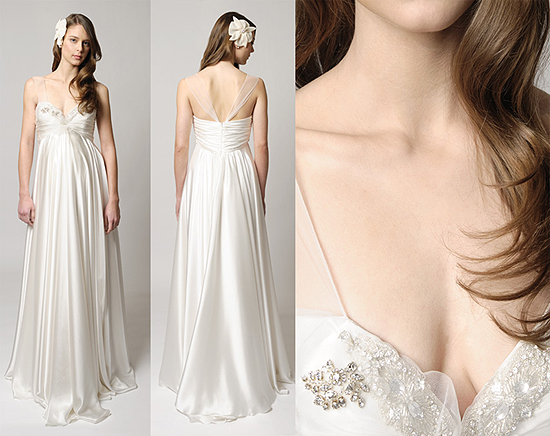 Next, she says to choose soft and flowing fabrics such as chiffons, georgette's, charmeuse, and silk tulle, which is softer and drapes better than regular nylon tulle.  Because silk is a natural fiber, it is cooler to wear than synthetic fabrics which you may want to consider if you are getting married during summer.
Tina adds that opting for a strapless dress is always a great option, but "just make sure it is constructed with boning for extra support.  If there is boning in the front, make sure it stops just at the ribcage otherwise it will dig into your tummy.
"Make sure you know how far along in your pregnancy you will be on your wedding day," Tina adds, "as this will help determine which size you should order.  Keep in mind to factor in how much more you would grow by your wedding day.  If in doubt, the sales specialists should be able to assist you with the size.
"There is no need to hide your baby bump – be proud and celebrate your joy with grace."
When selecting a dress size choosing one size higher than you require as alteration is easier when it comes to reducing a dress size versus letting out a gown.
Keep in mind that every pregnant woman's body is different, but studies show that you will increase by one or two bra sizes and your ribcage will expand two to three inches by the time you reach the 32 to 36-week mark.
As such, it is ideal to schedule your dress alteration fitting no more than two weeks before your wedding date to ensure that you will obtain the best fit possible.
In terms of colour,  there is no hard or fast rulefor pregnant brides.  Be yourself and select a colour that you like and one that complements you.  Ivory is the most popular colour because it is flattering on all skin tones.  Blush, light grey, and champagne are wonderful alternatives. Stark paper white is often too harsh on any skin tone.
When to start the bridal gown search?  Start as early as possible  to get an idea of what's available. Different companies will have different ordering lead-times. Do factor in the time that you will need for alterations..  I typically suggest brides to allow two weeks for alterations so make sure the dress arrives on time.
All of Tina's maternity wedding gowns are super comfortable, having been stitched from 100 per cent silk fabric and all are reasonably priced, costing between $USD890 and $USD1700. Add a further $USD120 for delivery via Fedex.
Tina's gowns can be found at www.tinamakweddings.com.