So finally we get to the big day! I was up at 6:30am with my sister, after a flock of noisy birds outside my window decided 6am would be a good time to start screeching!
Craig was awake from 4am, as his best man was really sick and he had to call an ambulance! (It turns out that he had two strokes, but is on the road to recovery now). Craig also realised that his best man was driving him to the wedding and he couldn't find his car keys! So a quick phone call to my dad and they detoured to pick him up – so crisis averted! One of Craig's friends stepped up at the last minute to fill in as best man and even went and bought a new black suit so he would fit in!
As far as I was aware that was all the drama for the day! After a few stressed phone calls and a cup of coffee we were back on track! Melani from BlackCatsAngel Designs did an amazing job with my makeup – it lasted all day up until I washed it off at 9pm! Which was an awesome job given all the cheek kissing I did. My sister's friend who stayed with us to help do the girls hair, helped me get my hair sorted as well and after getting my gorgeous dress from Carousel Bridal and Formal on, and a few hundred snaps from Serendipity Image,  we were on our way! Running slightly behind schedule, but i'm told it's improper for a bride to arrive on time for her wedding!
It was a lovely day for a wedding, slightly overcast but with patches of sunshine, and there was only a touch of drizzle as we made our way through the scenic Yarra Valley to Elmswood Estate. My nerves started to kick in when I started to see the road signs for Elmswood Estate pop up. More happy snaps with Julian and then we were finally driving down the entrance!
And finally I was standing with mum and dad by my side waiting for my ceremony music to start, my feet started tingling when Adele's "One and Only" started playing and it was all I could do to stop my self from running down the aisle!
Craig was waiting with David at the end and l had to stop myself waving at him (yes I'm a dork). I made it all the way to the end without falling over (high five!) and stood next to my husband. The ceremony David wrote was amazing, it was absolutely perfect, I even shed a few tears as I said my vows, Craig held it together very well. When David pronounced us husband and wife, we both exhaled! My sister did a great job with the hand-fasting (she had been practicing all morning!) Craig and I also stepped away for 5 minutes and just had a quiet moment to ourselves. It was lovely and I highly recommend it! It was nice to be surrounded by everyone but still be able to have a moment as husband and wife.
We did our big group shot in front of the vines, and then Julian and Sally whisked us away for an hour and we did our photo shoot. Julian is phenomenal! He was up trees, lying down in the grass, contorting at strange angles and it all seemed very natural to him. Craig and I finally got a minute to breathe and relax. I can't wait to see the rest of the photos, because the sneak peak Julian and Sally showed us is incredible.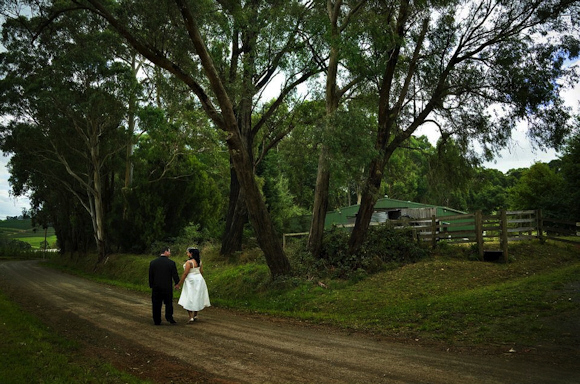 We also panicked the staff at Elmswood Estate as we hadn't told them we had left and no one could find us! Craig and I had a chuckle as my best friend called the photographer and tracked us down. We then got the photos Craig wanted, of us walking down the Elm lined driveway leading into the winery and I went off to do a costume change.
We had a quick drink with our bridal party and a few minutes to chill before we were introduced to our guests as Mr & Mrs Craig and Karishma Dunn! Was so awesome and you couldn't wipe the smile off my face.  Then the moment I think everyone had been waiting for – Lunch! The spit roast buffet was spectacular, we are still getting comments from guests about the wonderful food. Most importantly, we got to try it! Stephanie our Reception Coordinator made sure the Bridal table went first.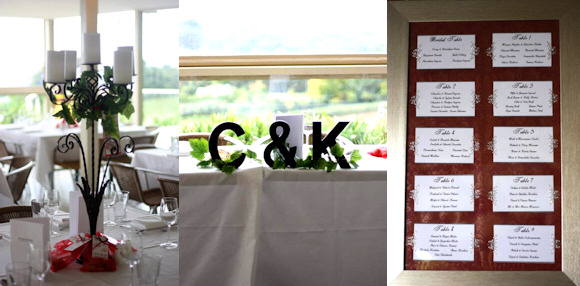 My dad's speech had everyone is stitches, I think most of the guests were looking forward to it – my dad is a man of many talents and writing an awesome speech is one of them! I went next as Craig doesn't like public speaking neither do I and I'm not sure how I ended up doing it!
We then cut the cake, which was sooo yum!  Emily one of very talented Account Managers at EW, made a chocolate mud cake with chocolate buttercream for us – it was so good we had it for breakfast the next day!
Our first dance was a a few moments of swaying before everyone joined us on the dance floor and then our fantastic DJ from DJ Masters got the party started with some Jackson 5! Everyone got up and busted a move it was great to watch. Even my new husband got up and had a boogey with me which was a first as he doesn't dance in public!
We made our way around to as many people as we could, I'm sure we missed some, we also tried to get a photo with everyone there – I want to use the photos as my thank you cards – so each guest will get an A5 photo from the day with a little message on the back – but that's for another blog post!
We also sat down and tested out the dessert buffet – I still daydream about those desserts! Had a bit more of a dance and then more photos! Sally and Julian stayed til after the reception was finished and took some beautiful shots of Craig and I in the vines, capturing the stunning clouds in the background. They were simply amazing on the day and I am glad that we booked them, they have been so helpful and accommodating, and I am itching to get my hands on our wedding album!
After all the photos, we went back to the venue and picked up all the leftover cake, the decorations and the lovely bottle of sparkling wine that Stephanie gave us and made our way back home.  All in all it was an amazing day that just flew by, I was worried the ceremony would be too long and wondered where it went once David had finished. I was also worried people would get bored but the day was timed well enough that there was always something going on.
I made sure the formalities were out of the way quickly and then we didn't worry about a thing for the rest of the day and it was the best decision I made! Everyone looked amazing, the food was incredible and we are incredibly happy with the way everything turned out.  After all the planning, stress frustration and drama, we are finally married! I loved every minute of it. We really missed Craig's best man, who is family as far as we are concerned, and the day wasn't the same without him and his wife, not having them there was our only regret.
So Easy Wedding-ites this is my final post as a Real Bride! It has been a pleasure sharing my wedding planning with you! Make sure you keep an eye on our Facebook page, once I have more photos I will be sure to share them with you all!