Wedding invitations. They're more than merely pretty pieces of paper informing guests of the date and place of your nuptials.
They can be works of art, truly beautiful creations that reflect your unique style, but also they give guests their first inkling of what your big day may hold.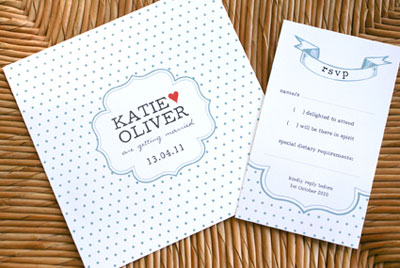 "Your wedding invitation is important in the overall flow of your wedding," says Broni McDonald, owner of Love Notes, a new online ready-made invitation and DIY stationery store.
"It offers guest a subtle hint of what they can expect at your wedding, so it should be inviting, but also enticing."
"The trick, when choosing your wedding invitation, is that it shouldn't give too much away. Your invitations (and overall stationery) should reflect your style and personalities as a couple, but also the theme of the wedding – all without giving too much away and leaving a little mystery and surprise for your big day."
Choosing just the right invitation is crucial, not only in maintaining an overall, matching theme, but wedding invitations are often kept, sometimes for decades, by both the couple getting married and their guests as a precious memento of such a special day.
However, with tens of thousands of styles, colours, materials and non-paper options available in the wedding invitations space, narrowing it down to a single one can prove daunting.
"Tie your invitation into the overall wedding theme," says Broni. "If you're having a garden-themed wedding, for example, you could opt for a vintage design or floral inspired invitations, perhaps on eco-friendly paper."
"If you're having a vintage-inspired wedding, I would recommended monogrammed invitations or even a letterpress-style invitation. Letterpress is a traditional style typeface that is very old world."
It can be overwhelming attempting to narrow down your options so, if you're really stuck, remember less is more.
"You can never go wrong with classic black and white, and that leaves you room to add other colours down the track, but without it looking out of place, so it's a clever option," says Broni, a confessed "girly girl" who adores beautiful things. The prettier, the better.
As such, it was inevitable that when she set up Love Notes, everything in her store would be, well, beautiful, and it is.
Broni's Love Notes range of classically elegant and charming invitations draws on more than 15 years in the wedding industry, where she has had, in some way, a connection to more than 1000 weddings.
Her previous roles included planning and theming weddings and, before that, organising nuptials for Japanese couples wanting to marry in Australia.
Her biggest wedding involved planning for 600 guest, while one of her most memorable involved a gentleman who proposal to his girlfriend in a helicopter as they flew over a beach with the words, "will you marry me?" written in the sand.
"I really do love weddings," says Broni, who brings her wealth of experience and love of all things gorgeous to brides on their wedding day.
"I breath, sleep and eat weddings and it gives me a lovely feeling on the inside knowing I'm an important part of someone's special day and that my invitations will provide them with a truly special, life-long memory."
"It's why I started Love Notes. I wanted to bring together the most beautiful designs I could find, but I also wanted to ensure anyone who wants beautiful invitations and stationery could have access to it – regardless of their budget."
That philisophy is the reason behind her ever growing DIY range, which includes exquisitely crafted papers, ribbons, cards and embellishments for brides on a budget.
"The DIY range is popular with a lot of brides, especially those wanting to hand customise their invitations so they truly reflect their style, but I didn't see why brides on a budget should miss out on beautiful invitations."
"So, I figured I could help them create their own without compromising on style or quality, but within their budget," says Broni.
Click here to find out more about Love Notes