For many people, the idea of children or animals at a wedding sounds like one thing: a disaster just waiting to happen. Yet, for those of us who have children already or have a fur baby that we think of as a child, finding a special place for them on the most wonderful day of our lives is imperative.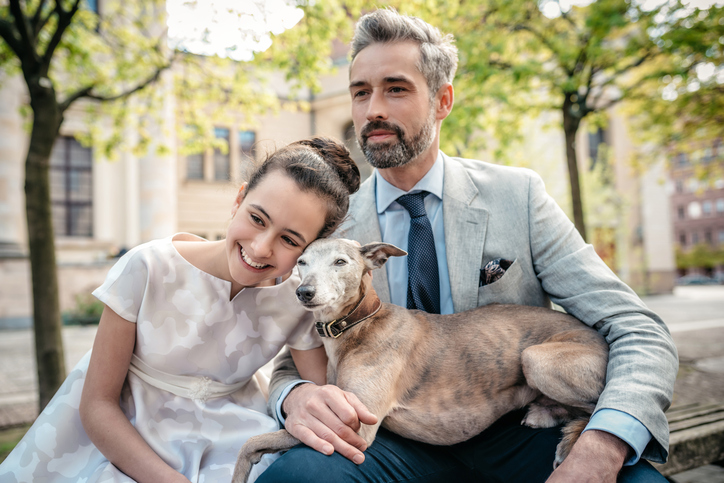 Having children or pets at a wedding need not be a disaster waiting to happen. It can easily be something that is celebrated and embraced if they have their own roles to play, along with a way to be entertained. So, stick around for some truly adorable ways to include children or pets at your wedding.
Ring bearer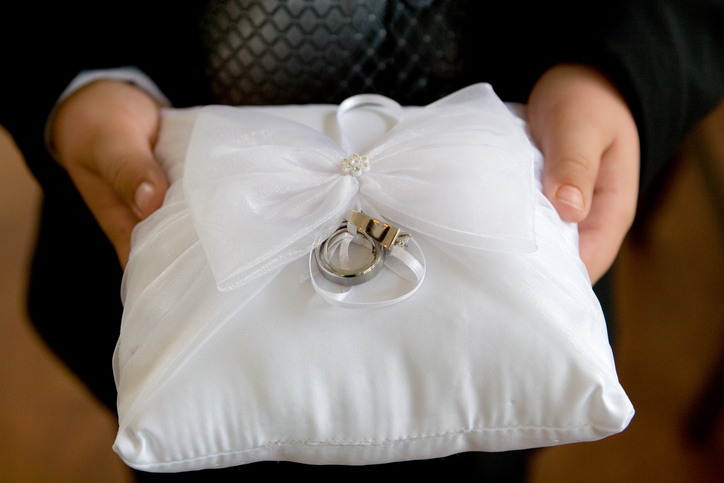 A traditional way to include children or pets in your wedding ceremony would be to have them be ring bearers. Many couples avoid disaster by making this process more for show than anything else and so the real rings are never actually with the child or pet until the last minute. This is an easy way to make your babies (fur or real) have a special place at your wedding.
Flower girl, boy or pet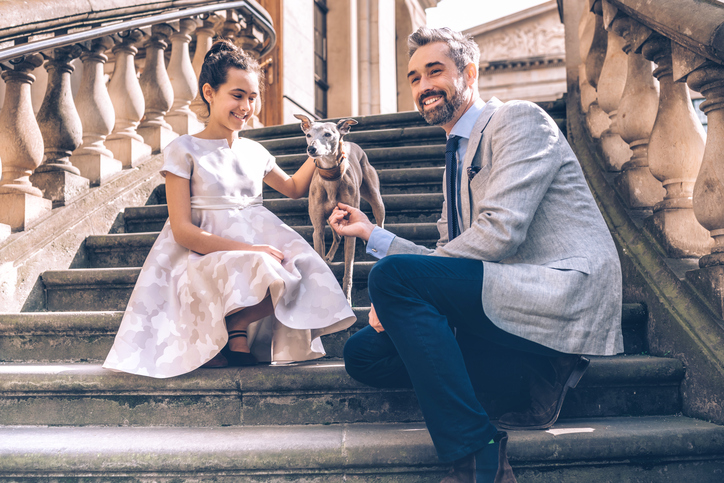 This role is similar to that of the ring bearer, however it's a lot more relaxed. Many couples who marry these days often choose not to have a ring bearer but still think a small, adorable child in a fancy outfit is too sweet to pass up. Dogs also make pretty good flower pets. They obviously won't be throwing petals own the aisle, but they can wear a small floral wreath around their necks and be walked down, perhaps even by a child. Whatever you decide, the effect will be unbelievably cute.
Including them on the invitation
Many invites these days are very personal. It's quite common to use a photo of a beloved pet, with a sign around their neck displaying the wedding date as the front of a wedding invitation. This is a lovely way to involve your pet in the proceedings. You can also do this with your children. Dress them in their Sunday bests and have them hold a sign with the date. If you want to make things more interesting in the invitation itself, you can also use your pets or kids names in place of your parents' names, as though they're the ones giving you away and doing the inviting. You can't get any cuter than that. Your guests will love receiving such a personal invitation and your little ones will love all the attention.
Have them walk you down the aisle
A lovely way to include your special little people, is to have your child or your beloved dog walk you down the aisle (sorry fellow cat people, your cat will likely wander off if you try this). This is a way to not only show your children or pets how special they are to you, but to also show everyone else the role they play. If the person you're marrying has a child from a previous relationship, asking them to walk you down the aisle is a lovely way to signify you all becoming one happy family and it'll make them feel truly special.
Include them in the vows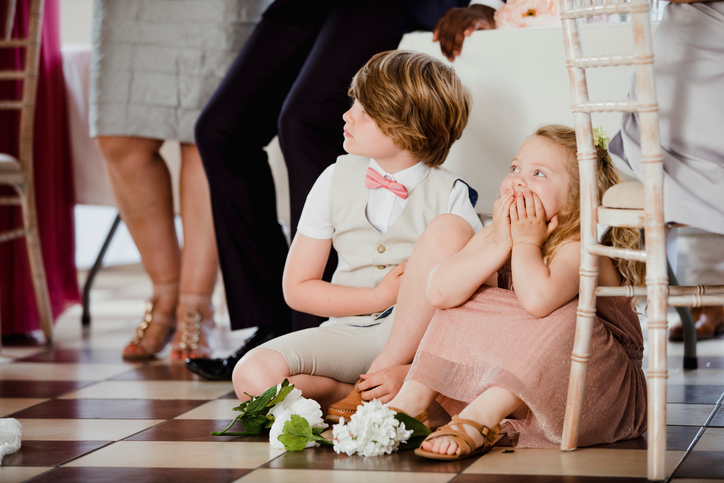 Now this is probably one just reserved for children as your dog will have no idea what you're talking about. You can include your child in your wedding vows. Both of you or just one of you could vow to always hug your little one when they're sad or make them banana pancakes every Sunday. Anything that will make your child feel like they're not being forgotten and that they're completely involved in the process. These kinds of vows can be silly or sweet-natured, whatever you like. It'll add a real personal touch and your guests will be highly entertained.
Ask their permission
When the celebrant asks, 'who gives these people away?', instead of having parents do the honours, let your child do it for it. They'll love having a starring role and will find the ceremonial aspect of the question fun.
Ask them for a reading or poem
A lovely way to include your child in your wedding would be to have them read something during the ceremony. Many couples choose to have friends or family members read out poems or book excerpts but having your child do it will give them a truly special role and it'll help them express the way they're feeling. Authors like A.A. Milne and Dr Seuss have a plethora of wonderful passages your child could read out at your wedding.
Even something as simple as "If you live to be a hundred, I want to live to be a hundred minus one day so I never have to live without you", will be so beautiful if read by your child.
Hand over the first dance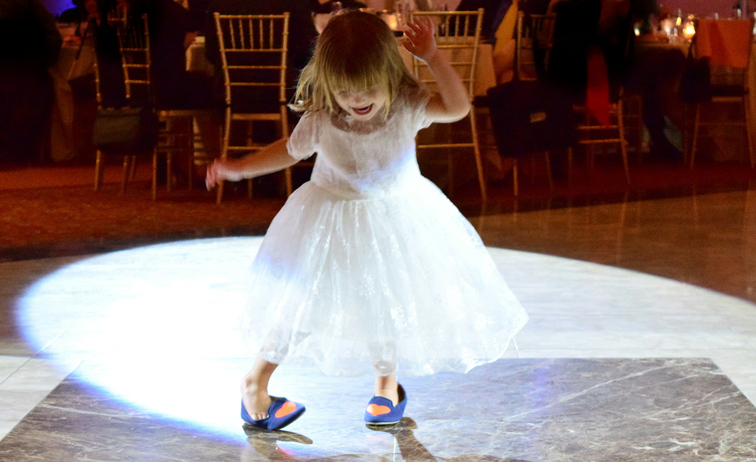 This one is a really special one for couples who have children from previous relationships. If you have a daughter, your new husband could ask her to dance as the first dance of the night and it'll be a beautiful and meaningful moment. Often when people marry and they've already had children, the child can feel out of place in the new family. So this is a beautiful way to keep them feeling including and loved. If you've got children together, you could dance as a little group, cementing your commitment to the family you have together.
Videographer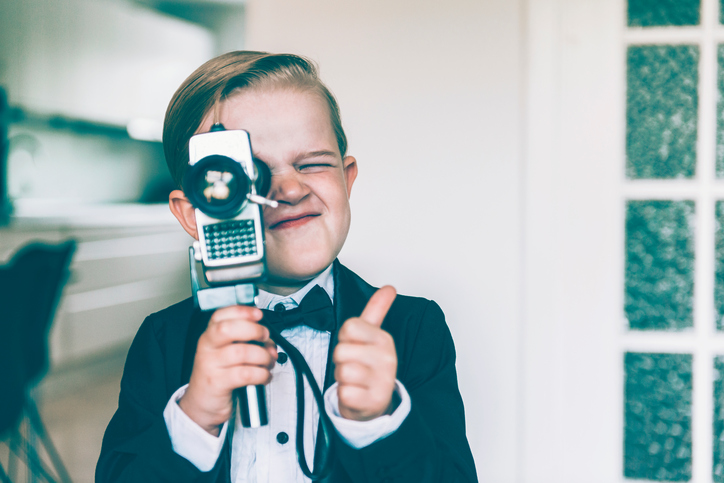 For older children, you can ask them to be your "official" videographer. Get them to go around with a video camera and take footage at the reception. They can interview guests and capture fun and silly moments. A slightly older child will love the responsibility you're giving them and they'll have a great time. Just make sure they don't get in the way of your videographer! 
If you're looking for child and pet friendly venues for your wedding, why not click here for our venue suppliers. You'll be sure to find something perfect in your town.