Now that the beast from the east has almost, pretty much moved on from the UK, we can all start thinking about warmer days. Ahh, summer afternoons soaking up the sunshine and days spent lounging by the pool. Summer is a time for relaxing and absorbing all of that sunshine. It's a time to escape work and the everyday. Everyone begins to feel a little less uptight and a little happier when summer rolls around.
Because of all these things and more, you're probably thinking about having a summer wedding. If you still need a little convincing, maybe this will help.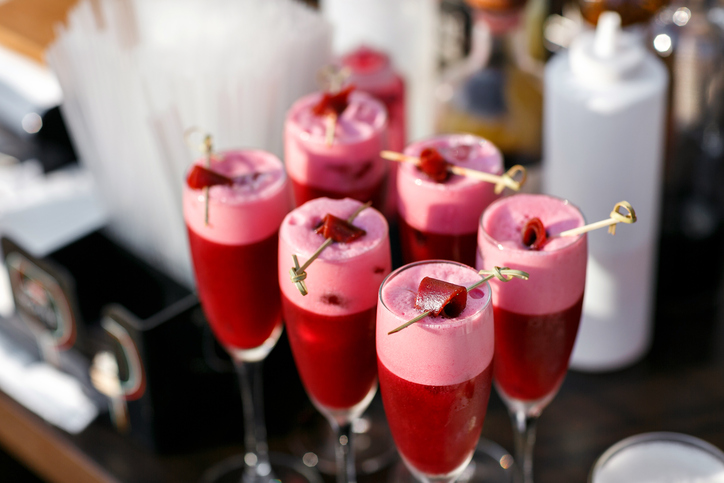 Reasons to consider a summer wedding:
The warmer weather that summer brings will mean that your guests will be a more comfortable temperature throughout the day and into the night as well

More dress choices, from strapless to tea length

If you're not a fan of heels, shawls or boleros, ditch them all. You can totally do that in a summer wedding!

Have your nuptials by the beach or a beautiful lake

Turn your wedding into a wedfest by spending long summer days hanging with your guests on either side of your ceremony

You can have the wedding outdoors. Hello glamping!
Summer wedding essentials
Themes and venues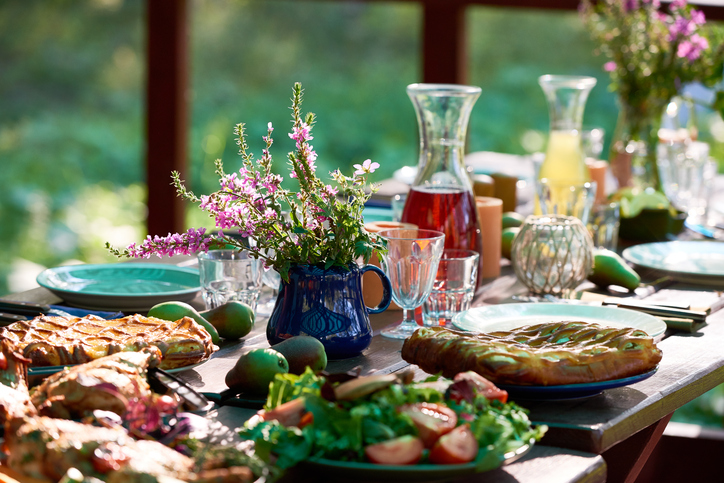 When most people think of a summer wedding, they think outdoors. This doesn't necessarily mean you need to be at the beach. Summer is about enjoying all things about being outside, not just swimming or tanning. Cities are fabulous during summer and any of the UK's best ones would be ideal for a summer in the city wedding.
Forests and national parks sing during summer so consider one of the plethora of gorgeous sites around the UK for your wedding. Extend your celebration of the outdoors further with a rustic, glamping or bohemian theme, all of which are delightful during summer.
The great thing about summer weddings is that all colours seem to work for your theme. Almost any colour that can be mimicked in nature somehow is perfect for a summer wedding. Fancy getting married in purple? It screams summer thanks to thistles, lavender and Scottish heather. Need we say more?
Invitations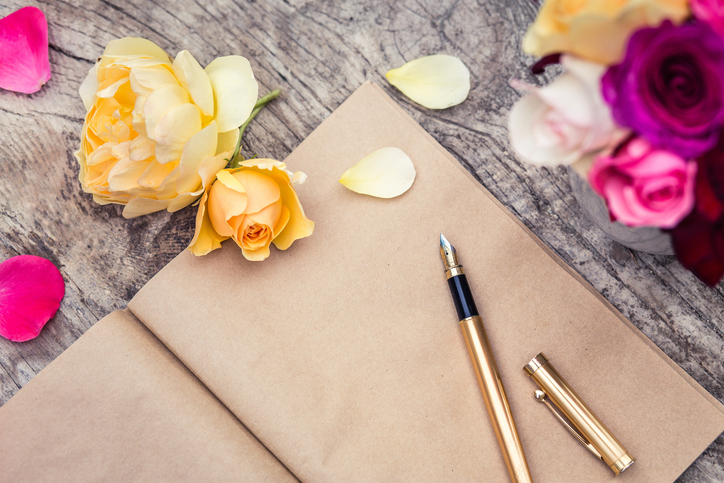 Obviously your invites will vary based on your theme and your colour scheme, but summer invitations can be some of the best. Handwritten lettering and hand-painted watercolour motifs are extremely popular these days. This style works perfectly with summer as the loose style of watercolour painting alongside the handwritten lettering have a true sense of ease and relaxation, just like summer itself. If your summer wedding is going to be outdoors, choose invitations with nature themes too to really evoke that joy of being outside.
Dresses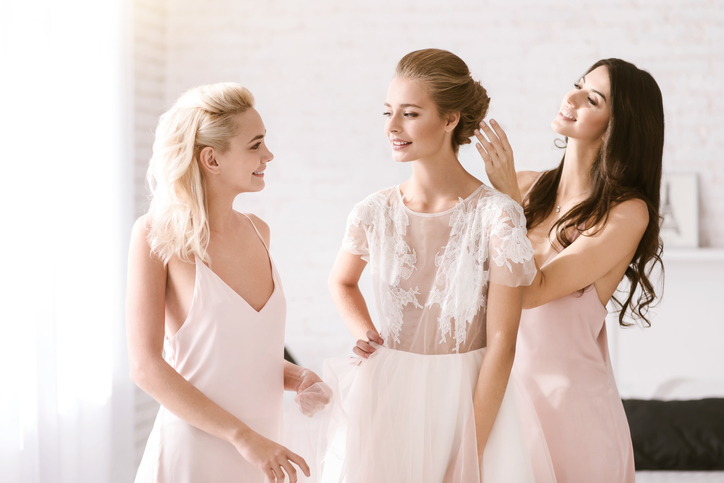 If you like the idea of choice and variety in your wedding dress, then summer is likely the perfect time of year for you to get married. Unlike colder seasons where covering up is necessary, in summer you can literally wear any style that you want. Unless you're sporting something from the 1800s, wedding dresses are not particularly warm so any style will work for a summer wedding. You can go something super summery with a strapless flowy Grecian style number or choose a 50s tea length dress.
For your bridesmaids, anything also goes. You might want them in halter-neck floor length dresses or thigh-length simple light pink dresses that are ideal for a hot day. The sky is the limit!
Food and wine
Eating seasonally for your wedding is always the best way forward and summer has some gorgeous produce that you can include in your wedding feast. Here are some menu suggestions:
Calabrese salad of tomatoes and mozzarella

Roast free-range chicken with new potatoes

Perfect potato salad with spring onions

Spinach and ricotta cannelloni

Eton mess

Raspberry and rhubarb pie

Seafood platter

Antipasto plates

Bruschetta with fresh tomatoes and basil
For drinks, of course, wine and beer are favourites. But also consider some summery cocktails like margaritas, espresso martinis and bellinis, and of course champagne!
Flowers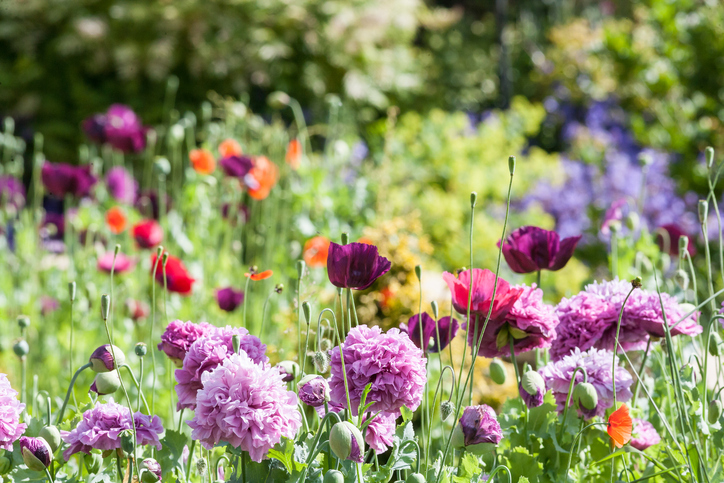 Choosing local, in season flowers at your wedding will not only be beautiful but also cheaper. You can choose literally anything in terms of colour as there are so many stunning blooms in summertime. Hydrangeas are always a beautiful choice for your wedding flowers. White, pink, blue or purple coloured hydrangeas are all an option and all look gorgeous in a summer wedding.
Peonies are another delightful choice. These flowers are very popular for weddings as they're so elegant. Pink or white peonies would be ideal wedding flowers.
Of course, roses are always a beautiful choice and they're versatile as they come in so many colours. If you like bright colours, consider marigolds. Their bright orange and yellow shades will be the perfect eye-catching summer bouquet.
Decorations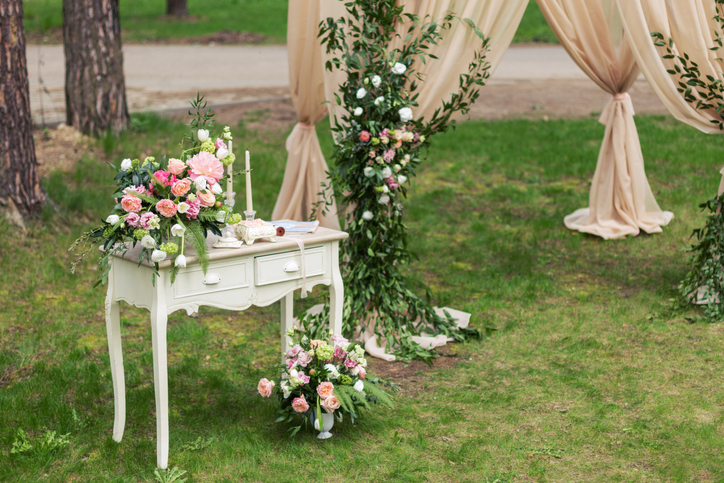 If you're marrying outside on a warm summer's evening, bunting and fairy lights should definitely be part of your decorations. Showcase nature by having an abundance of flowers and grape vines to decorate.
For an outdoor wedding, a crisp white marquee with lots of fairy lights and candles will be elegant and refined. For a boho vibe, have cushions and rugs around the place and host a barbecued meal instead of a sit down dinner.
During the afternoon when you're having your ceremony, if it's a particularly hot day consider passing out little fans, parasols and having a chilled water station. Your guests will love you for it.
Games and entertainment
Lawn games are perfect for a summer wedding. No one wants to be outside on a winter's day but during summer, your guests will luxuriate in being outdoors and partaking in a few games. Provide giant Jenga and Chess, croquet and lawn bowls.
If you're looking for something a little less active, consider organising a wine tasting for the afternoon while you're off getting your photos. This idea is very cool and who doesn't love wine?
If you want something more family friendly, consider having high tea instead of a wine tasting. This way you can ditch having canapés and provide delicious treats at your high tea instead. Set it up outdoors so your guests can get the full summer wedding experience.
Need to find your perfect summer wedding venue?
Click
here.