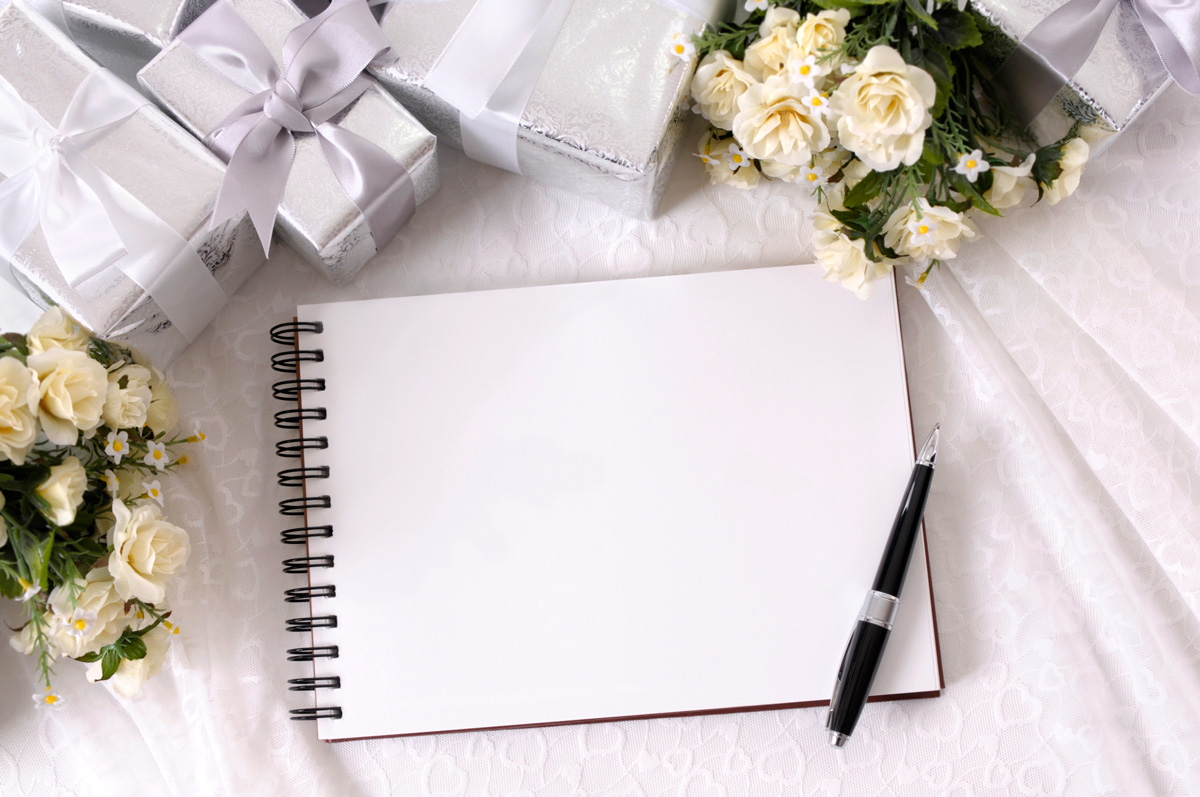 Planning a wedding can be a wonderful experience for some and a dread-filled, awful experience for others. The biggest difference between the two experiences isn't necessarily budget, but time, your most precious resource.
If you've been putting off your wedding planning (or starting it for some of us), the new year is the perfect time to turn over a new wedding planning leaf and, the best bit is that if you do plan your planning, your wedding will go off without a hitch!
Here are a few resolutions that will ensure your wedding planning goes smoothly and with as little stress as possible.
Resolution No.1: I will manage my time efficiently
Time management is the key to stress-free wedding preparations. In order to stick to your budgets and timelines, you MUST plan. Last-minute purchases could be costly and may not be exactly what you want, but if you give some serious consideration to time and how you'll use it, you'll be able to by balance your work, home and family life nicely – all while planning one of the biggest events of your life!
Remember the people around you. They're part of the wedding too and it's important you don't just ignore your friends and loved ones. Be sure to stop, be in the moment, enjoy the planning and the people involved. You can only do that if you have mapped out your time and aren't so crazy busy you don't have time for life and the important people in yours.
Sign up for Easy Weddings' FREE wedding planning tools, particularly the wedding planner
Resolution No.2 – I must make time for my health and body
Who doesn't want to look hot walking down the aisle on their big day? However, there's no point looking like a supermodel if you've worn yourself thin through reckless dieting and stress in the months before your wedding. You must make time for your health and your body and though looking fantastic will be a natural result of healthy eating and exercise, it is also the result of a stress-free existence. Promise yourself that matter how busy or stress you fell, you will make time for exercise, even if it's just dancing around the loungeroom once every few days or walking the dog every night!
Resolution #3 – I will set a realistic budget – and stick to it
If wedding money is tight and, let's face it, for most of us it is, be realistic about your wedding budget. Once you set it, unless it is absolutely necessary, don't exceed it. Managing your finances realistically and cleverly will ensure you don't end up stressing out over money, something that will surely ruin your wedding and honeymoon.
Once you set your wedding budget, keep checking and refining it. If you do come across something really special that costs more than you bargained for, a few tweaks in other areas may cover the extra cash you're needing, but you'll only know that if you monitor your budget regularly. Don't just set it and forget it!
Also, part of this resolution may mean cutting back on other things through the planning stages, but don't worry, it's only for the duration of the planning! You can go back to your normal ways once your wedding is just a beautiful and distant memory. Try packing your own lunches and skipping your daily coffees during the wedding planning because it all adds up and, frankly, on your big day all your scrimping and saving will seem well worth it!
Sign up for Easy Weddings' FREE wedding planning tools, particularly the budget planner

Resolution No.4 – Be flexible
This doesn't mean you must compromise unreasonably. It just means that you need to be ope and flexible to specifics of your event. Being able to make changes along the way will ensure a smoother path for you and your groom. Depending on your budget or the availability of, say, your dream venue, you may have to forgo certain things or change them around. It can be disappointing, but sometimes being flexible from the start means your dream day will go off as you, well, dreamed it would.  For example, so what if the venue you're after doesn't offer the exact menu? Yes, it's annoying, but is it annoying enough to force you to choose another venue that may not be as beautiful or convenient? You can always be flexible and inventive enough to get over little hurdles so that your big day goes off with a bang.
Resolution No.5 – Get your guest list done early
As frightening as creating a guest list may seem, it isn't – unless you leave it until the last minute! Creating your guest list must be a high priority task because it will determine so many other things, from which venue you choose (there may be seating limitations) to how much items such as invitations or bonboniere will cost (and consequently how much of the budget needs to be allocated to those things). It really is a vital step and by getting stuck into it early will give you lots of freedom when it comes to other parts of the planning!
Resolution No. 6 – I won't try to do everything myself!
Ok, as much as you'd like to take control of everything, unless you're super organised and love weddingplanning, you're not going to be able to do it yourself, nor should you have to! That is, after all, what your bridal party is for! Don't be shy about asking for help with any aspect of the planning because, especially if you become overwhelmed, you're going to be stressed and could get sick, frustrated or, worse still, turn into an ill tempered and exhausted exhausted bridezilla!
Enlist the help of our bridal party, friends, family and even your wedding suppliers. Yes, you can still "supervise", but delegating some of the legwork will mean you're less stressed and have more time and energy for those parts of the wedding planning that truly need  YOUR attention specifically.
Resolution No.7  – I will have fun!
As mentioned above, your wedding day is going to be huge, a day you'll remember for the rest of your life, so enjoy yourself in the planning stages and be present in every moment. It is fabulously fun to go looking for wedding venues with your fiancee and testing cakes and trying on dresses with your besties in tow, too, is a lifetime memory, so stop, breathe and take it all in. If you stick to the resolutions above, you're guaranteed to be happy and healthy, and to have an absolute blast!