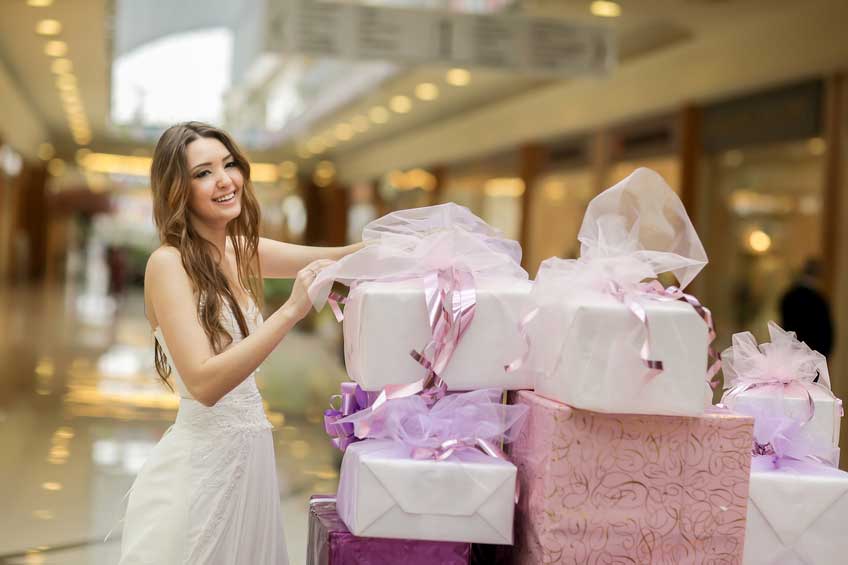 Your wedding present is a token of your love and well wishes for the couple marrying and it can be as big or as small as you wish – and can afford. However, whatever its size or price, it's always nice to choose a wedding gift the happy couple truly want or need. So, here are six ways to ensure your gift is something lovely that will mean even more to the newlyweds because they'll actually use it!
Do they have a gift registry?
If your couple already has a gift registry, you're in serious luck because they've chosen exactly what they'd like to receive, right down to its size and colour, usually. Most couples pepper their wedding gift registry with the items they'd truly love in their home – in a range of price ranges, so if they have a registry, well, all you have to do is choose your budget and hit Buy! You'll also be 100 per cent sure that their wedding gift is something they actually want.
What are they like – or do they like – as a couple?
What does your couple like to do? What do they like in general? Sports, interior design, camping, cooking? Whatever the couple's passions are will guide you towards where you can look for a wedding gift. If they love travelling, maybe a new set of suitcases will suit? Perhaps they're fans of theatre? What about tickets to the latest hit musical about to hit town? Just remember, the gift should be something BOTH of them will love, not just something that indulges the passion of just one partner.
What about a team effort?
If there's something on the couple's gift registry  that is a little pricey – or, perhaps, something you know they're saving for such as a holiday or painting – you and a few other guests could pool together your resources to either purchase the big-ticket item outright or, at the very least, put a dent in its overall cost. Couples can also register for online wishing wells and cash funds, where they can direct guests and specify something they're saving for, such as a honeymoon. Guests can then contribute funds towards it!
Cold hard cash
Today, most couples live together before marriage. They have homes well and truly established and don't need the traditional wedding gifts of linen, crockery and cutlery. Instead, they opt for wishing wells, where guests can give cash gifts rather than traditional 'wrapped' gifts. Of course, not everyone is comfortable with the idea of either asking for or giving cash gifts, so it's up to the couple, but if you really have no idea what to give a couple, you can't go too wrong with cold hard cash!
Don't forget the receipt
Another way to ensure your couple gets something they truly want is to provide the receipt for your present. That's not, necessarily, so they can send it back and purchase something they'd like – or redeem it for cash (though that's a possibility, of course, if you do provide the receipt). It's so that if you buy, for example a queen-size bed set but the newlyweds have a king-size bed, they can return it and swap it for the version of your gift that best suits their needs.
Ask them
And, if all else fails, ask them what they'd like to receive. Though most people are very coy when asked about what they'd like to receive, be it for a wedding gift or a birthday present, if you stress to them that you really want to give them something they truly love that will remind them of their wedding every time they use it, you'll, likely, elicit a favourable response! Just ask…
If you don't want to ask the couple directly, ask someone close to them, a bridesmaid, best man or family member. Chances are they'll know the couple's tastes, wants and needs and will be able to point you in the right direction making it far easier to chose a wedding gift they'll truly appreciate and, even, adore!