Your beautiful wedding gown, the hair and especially the bridal makeup will guarantee your groom does a double take as you walk down the aisle. If you don't usually wear a lot of makeup, your wedding day can be a great opportunity to choose a different look. These makeup tips for brides will help you to create a stunning look for your big day.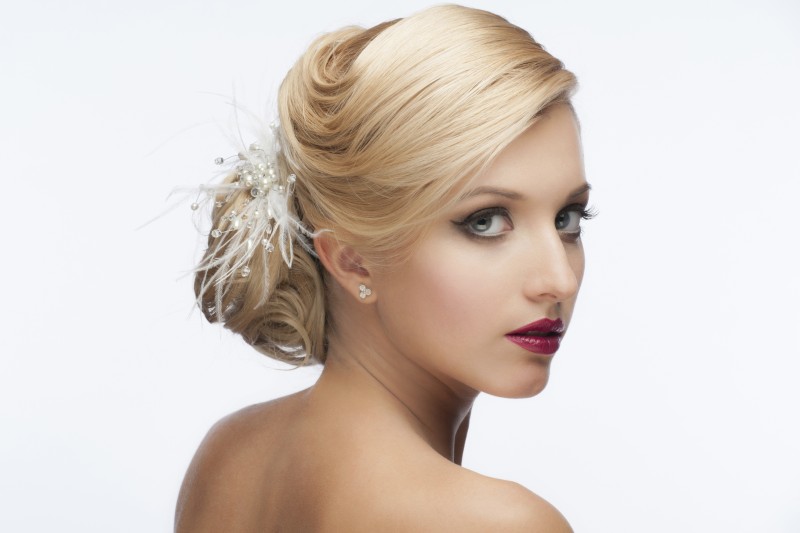 Here are ten makeup tips for brides that can help you create a beautiful look and make your groom's legs shaky on your wedding day.
Keep in mind that your wedding makeup will have to stay on all day because you won't want the trouble of reapplying it. This applies especially to lipstick. You will only want to reapply your lipstick for the pictures so ensure your overall look is complete without it.
Have plenty of trial runs of your wedding make-up, particularly if you are doing it yourself, so you are aware of how long it takes. You don't want to rush it on the wedding day.
Perfectly shaped eyebrows can finalise your look so have time to have them professionally waxed and plucked a week or so prior to the wedding. If needed have them tinted, or use a brow pencil to add some extra definition.
Remember that pictures will pick up the red and pink lines in the skin, so you should have some yellow tones in your foundation to counter this. Finishing your foundation with a yellow-toned loose face powder to make it stay longer and give you a matte finish.
When adding blusher to highlight your cheek bones, you might want to go with a cream blush as it lasts longer than powder and can provide your face with a pretty shine in the right spots.
Bronzer is great for adding a healthy glow, although you should probably be flushed with happiness on the day anyway! It needs to be applied to the places you would naturally tan such as your forehead, nose and chest, as well as your cheek bones.
Try pairing two or three shades of eye shadow, which get progressively darker as you move down towards the lash line. If you generally use brown shades, try greys instead for a slightly different effect.
Keep cotton pads handy on the day – preferably in your clutch bag – to get rid of shiny patches that might just ruin your wedding pictures.
Cream based eye shadows last longer than powders, and won't fall down all over your foundation. Just be sure to try them out beforehand as certain brands can be prone to creasing.
Once you've created the desired look, relax and stop thinking about it. This is your big day and the last thing you want to be mulling over is how your make-up looks. If you are worried, chat to your maid of honour in advance and ask her to tell you if you need a retouch, otherwise just forget about your make-up and focus on having fun.
Use Easy Weddings to connect with your dream wedding suppliers.
Browse the directory and start planning today!