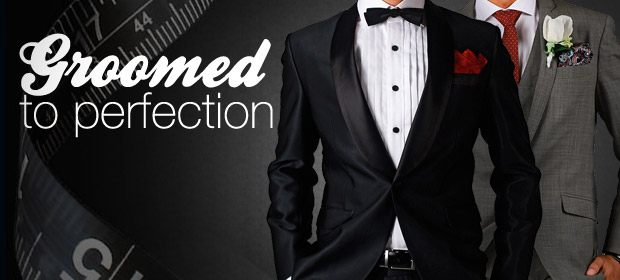 Let's face it, when it comes to weddings, it sometimes seems as though it's all about the bride.
From her dress to her shoes and her bridal bling, she's very much the focus of the day. But weddings are about two people and, though the blushing brides will probably always take centre stage, there's no reason why her groom can't shine just as brightly.
"A bride's wedding day is one of the most momentous in her life, but it's just as special to the groom and, increasingly, that's being reflected in the attention to detail being paid by grooms in selecting their wedding outfits," says Martin Scicluna, co-owner of Sydney-based Montagio custom tailoring.
"More than half our business is tailoring suits for grooms who want the perfect suit, one that fits well and stands out. Believe it or not, most grooms care very much how they look on their wedding day and every day we have grooms coming in wanting something that is as unique and special as their bride's outfit.''
Traditionally, a quality tailored suits cost upwards of $2000 and varies in price according to the fabrics used and how labour-intensive the customisation. Montagio's tailor-made offerings are more affordable without compromising on quality. Their basic tailor-made suits start at under $600 with most two-piece suits costing around the $1000 mark.
"There's nothing wrong with a ready-made suit, but they're created in large quantities for a generic body shape'' says Martin, whose favourite suit remains a light grey, three-piece suit made from Italian cloth.
"You might find a style you like, but you don't like the colour or, perhaps, it fits across the chest, but the sleeves are too long. With a tailor-made suit, you don't have these problems because it's made for your exact body shape and size. It will fit you absolutely perfectly."
Though it seems like a habit from days gone by, Martin says tailor-made suits for grooms and groomsmen, as well as business people, are still incredibly popular in Australia and, in the six years Montagio has been in business, they've custom fit and tailored thousands of suits for men of all ages and from all walks of life.
Crafting a suit for a groom (or his groomsmen) requires a different level of work from a business suit and, says Martin, it's a much more intensive and intricate process with lots of small touches aimed at making the suit "pop" on your big day and differentiating it from an every day work suit.
"After all,'' says Martin, "you don't want to look like an accountant on your wedding day – even if you are one."
"You have two choices when it comes to tailor-made suits for your wedding,'' he adds. "You can either be very practical and opt for a suit that looks beautiful, but can be reused for other formal events such as the races or even another wedding, or you can go for something truly unique that makes you stand out, but you may not want to wear again."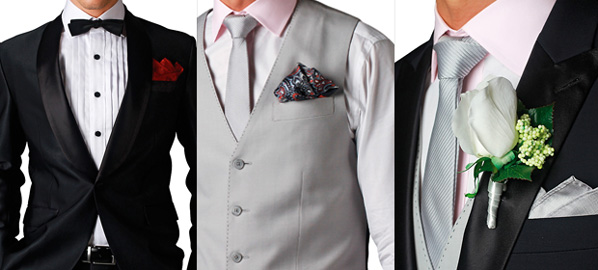 Montagio hand make everything from standard work suits to ornate works of art customised right down to the colour of the stitching and weave of the fabric. They've created suits for CEOs, school dances and, of course, weddings.
They've even created one suit for a magician.
"That was a lot of fun," says Martin. "And I don't think I've ever seen so many hidden pockets on a suit in my life!"
Of course, that is the aim of tailoring a suit, that it can be customised – right down to the hidden pockets!
"The main reason grooms and groomsmen should consider tailoring their suits is that you can get a suit made that fits your body perfectly and the other reason is styling,'' adds Martin.
"Then you can customise every groomsman's outfit to match, but also fit their body exactly. You can't imagine what a difference a perfectly fit suit makes and how amazing it looks until you try it."
The process starts with a 45-minute one-on-one consultation (by appointment only) at which a tailor will discuss the wedding theme, time it will be held and where it will be held. After all, a thick wool suit won't do for a beach wedding in Fiji.
The suit will take between four to six weeks to sew and, depending on what materials are chosen, won't likely cost too much more than an equivalent quality off-the rack suit.
"It's not just the bride that deserve pampering," says Martin. "I think every man should experience the luxury of having a suit tailor made for them at least once in his life. It really is a very special experience."
Visit Montagio's profile on Easy Weddings