A flower girl is an adorable addition to your wedding party, but the whole event can be a bit overwhelming for a young child. Our flower girl guidelines give you some tips on calming those nerves and making the experience fun.

Coping with flower girl nerves
Here are some flower girl guidelines for coping with nerves
Have an activity to keep your flower girl busy just before the ceremony so there isn't time for nerves to kick in. This is a fantastic time to give her a thank you present as it will provide distraction, but just ensure she has somewhere safe to put it.
Spend at least a few minutes with your flower girl prior to the ceremony so she feels she is a special part of your wedding. Ensure your flower girl has met and got to know your bridesmaids before the wedding so there are familiar faces surrounding her.
If your flower girl isn't throwing petals you could propose that she carries her favourite doll or teddy bear with her, perhaps dressed in a complementary wedding outfit. Little girls are often much braver with a teddy by their side.
Have the flower girl make her way in front of the maid of honour instead of the bride. This ensures that the maid of honour can escort the flower girl if she suddenly feels last minute stage fright.
If you're visualising an aisle full of petals have an adult scatter a lovely layer just prior to the bridal party arriving. Your flower girl could still throw a few petals on top, but she's not responsible for the whole look which takes the pressure off.
Have the flower girl's parents or grandparents sitting near the front of the ceremony on the aisle so that she is able to focus on them as she walks along. They should smile and encourage her if she seems to be getting nervous.
Using two flower girls to walk down the aisle, or having the flower girl and page boy walk down the aisle together can really boost their confidence.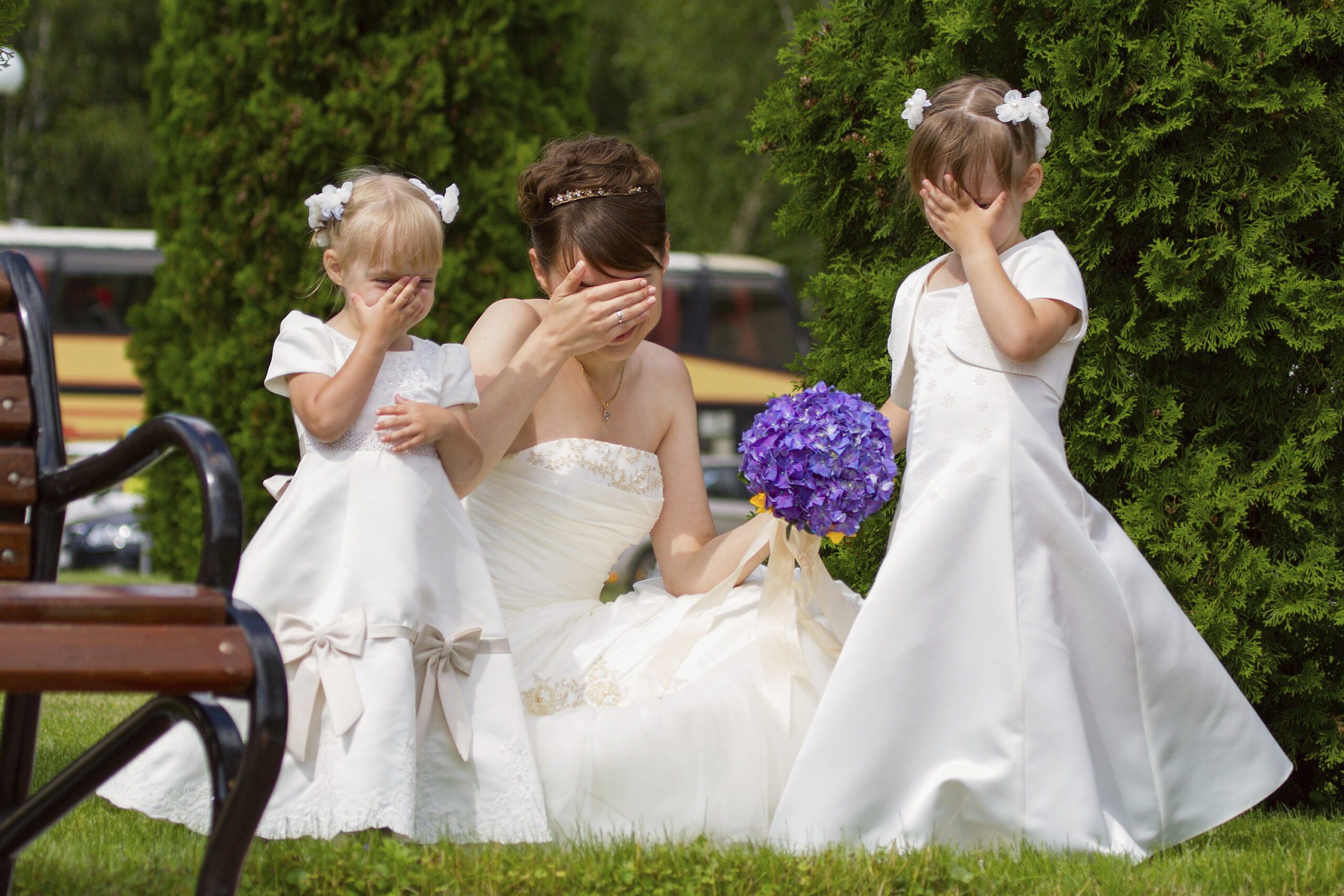 Be clear on the flower girl's role
Each bride has different ideas about what role they want their flower girl to play, but generally the flower girl walks down the aisle in front of the bride while throwing rose petals in her path. If the venue doesn't allow petals to be scattered on the floor, or it's too much for the flower girl, she can simply hold onto a basket of flowers or a miniature bouquet.
Older flower girls could stand at the altar with the bridesmaids, while younger ones often want to sit with their parents or grandparents during the ceremony. After the ceremony the flower girl's main duties are all about looking cute and featuring in the wedding pictures.
Flower girl rehearsals
If your flower girl has been to the wedding rehearsal she will know what to expect. Walking down the aisle might sound simple enough but your flower girl must also practise her processional pace; otherwise in the excitement of the occasion you may find her running full tilt down the aisle. She will need to spend some time walking in her dress which may be longer or more rigid than she's used to, and also walking while carrying her basket which may be a bit heavy for her small arms.
If she's scattering petals, take a few moments to talk to her and explain how you would wish her to scatter the petals, perhaps a small handful of four or five petals with every step she takes, so you won't have all the petals at the entrance and none towards the altar. Maybe her parents can practise this with her in the days before the wedding.