You might vow to be together through rain, hail and shine, but does flooding count?
This couple in the Philippines thought so and wouldn't let a little bit of water get in the way of their wedding vows.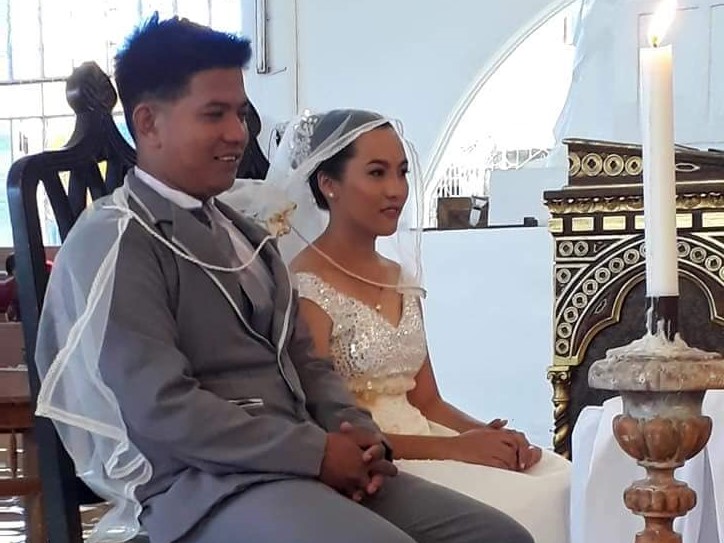 Jobel Delos Angeles and now-husband Jeff fought through a flooded church to get to the aisle and say their wedding vows.
Their church was flooded during tropical storm Yagi, but despite it being monsoon season the pair still went on with their plans.
In a video posted to Facebook, Jobel can be seen smiling as she walks down the aisle with her dress in one hand and her bouquet in the other. Jeff meets her at the end of the aisle in a suit and sandals to help guide her the rest of the way while their guests watch on in ankle-deep water.
https://www.facebook.com/jennifer.debaja1/videos/1761420763905048/
It wasn't the first time the couple had to change their plans for the day. No vehicle would transport them through flood waters to get to the church so they caught a boat instead!
"Even if it floods or it rains, nothing can stop me. I was marrying the man I love," Jobel told the AFP.
"My gown got wet and heavy but I told myself it was as if I was walking on a red carpet. I am so happy. It shows the lesson that there are no what ifs."
Meanwhile, in New Jersey, this wedding party got a bit more than they bargained for when their wedding car tried to drive through flood waters.
Luckily the Bogota Police Department was on hand to help them out and get their wedding day back on track!
It's true, love really does conquer all!
https://www.facebook.com/BogotaPD/videos/1145110815637931/