Your wedding hairstyle is an important part of your bridal look. It will be your browning glory and will make you feel extra special. There are all kinds of different hairstyles for brides from short and quirky to long and curly.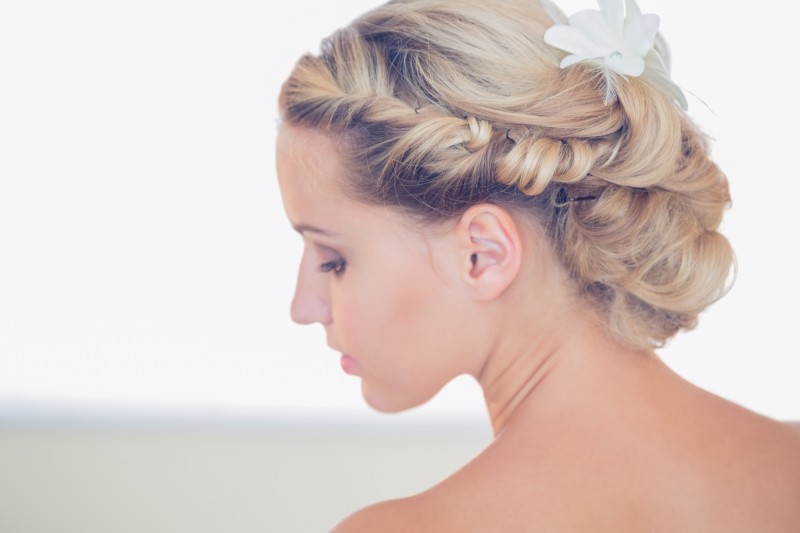 Let's have a look at the hairstyles for brides, with a few pointers for each.
Short and quirky
There is a current trend for brides to wear their hair short and cut into a sharp, sleek style. The golden rule for bridal hairstyles is to work with your hair and your face shape, not against it. Highlight your hair's best features; don't try to turn it into something completely different. Picking a special version of your usual style is usually better than going with something completely new that will make you self conscious.
Short hairstyles for brides work best with simple hair accessories such as a single hair bow or flower. Using a hair band, with pearl or diamante detail to match your gown can be a contemporary and elegant alternative to a tiara and a hair band will also work well with a veil.
If you are going with a short bridal style make sure you have it cut, and if necessary coloured, around ten days before your wedding. On the morning of the wedding you should have your hair professionally blow dried to make the most of the style, and use a glimmering spray to keep it shining all day.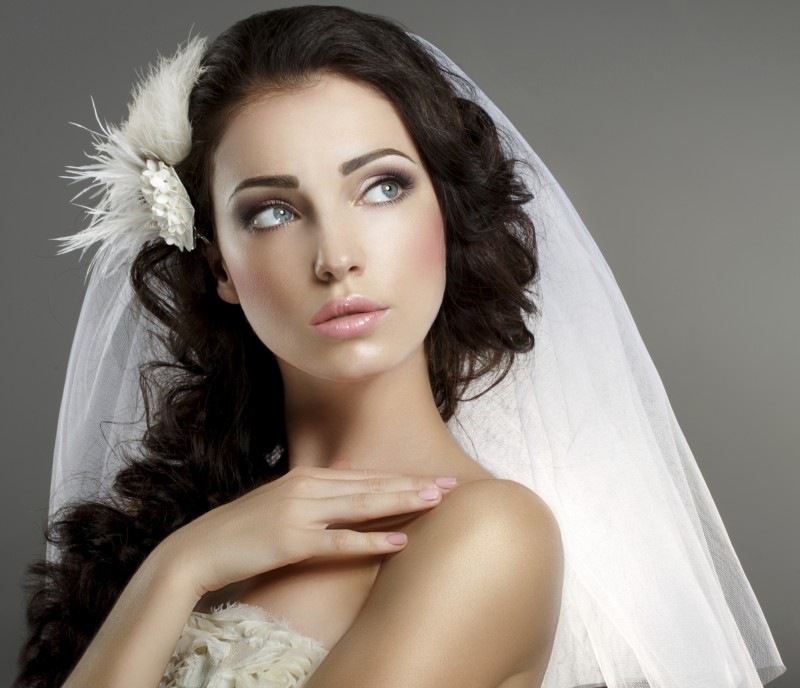 Long and wavy
Dead straight hair doesn't look great on your wedding pictures so curls are often the focus of long wedding hairstyles. Large sculpted curls add elegance, glamour, and volume, although there has been a recent trend for funkier bohemian style waves held back from the face with a clip.
Brides with especially thick or heavy hair might have problems holding their curls for the entire day, but a good blow dry lotion and finishing spray should help. If you don't have naturally curly or wavy hair, ask your hairdresser for tips on guaranteeing your style will last all day. If you'd prefer a long loose style, but don't want to grow your hair for the wedding, you could consider having extensions to temporarily alter your look.
The classic bridal look
Brides often go with an up-do for their wedding because it provides glamour and elegance, and isn't the sort of look you would wear every day. Your wedding is a one off event so it is a great time to experiment with bridal hairstyles that you haven't tried before. If you don't have enough hair to create the look you want, you could consider a hair piece to provide the extra length or volume.
If you are planning an up do you will want to have a couple of trials with your hairdresser to make sure you have a look you are happy with and can wear throughout the big day. Bring with you any wedding accessories you want to wear such as a tiara or veil, to ensure they match well with the hairstyle.
Modern brides keep hair accessories to minimum, using a veil and hair band, a single flower, or a stand-alone clip. Depending on the style of your gown you may need larger jewellery, such as a statement necklace, when you have your hair in an up do to stop you looking too bare around the neck and chest.
Use Easy Weddings to connect with your dream wedding suppliers.
Browse the directory and start planning today!