Your flower girl will look adorable no matter what she wears, but to make her feel more like a part of the wedding party you may want to indulge in some flower girl accessories. Follow these top ten tips on flower girl accessories.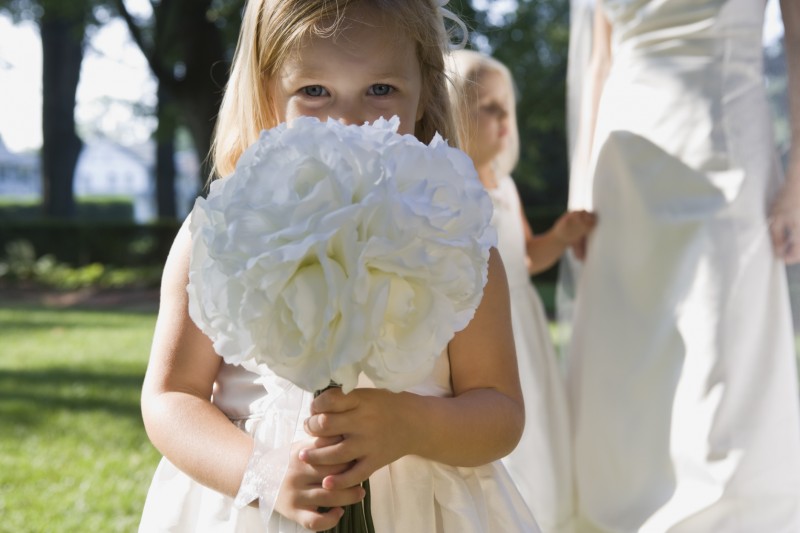 Don't limit yourself to traditional jewellery such as like necklaces, bracelets and earrings, but also add some special flower girl accessories. She will be young enough to enjoy wearing fairy or butterfly wings, a floral headdress, or a sparkling wand.
Some jewellery stores allow you to create and design your own accessories using beads and charms. Asking your flower girls and bridesmaids to create their wedding accessories can be a fun day out for all of you, and an opportunity for your flower girl to meet the older bridesmaids.
Purchase jewellery that will last all the way through her childhood to remind her of the role she played in your special day. If you are purchasing a necklace or bracelet, try to find one with an extension chain so she can keep wearing it as she gets older.
Keep the flower girl's accessories simple with just one or two pieces as she is too young to be covered in accessories. Look for a single necklace, or a headpiece and bracelet.
With flower girl accessories you need to find the right balance between a childish item, and a piece of jewellery that is going to be too grown up. Keep the emphasis on cute, with flower, heart, or butterfly pendants and bracelets, while ensuring the accessories are still tasteful.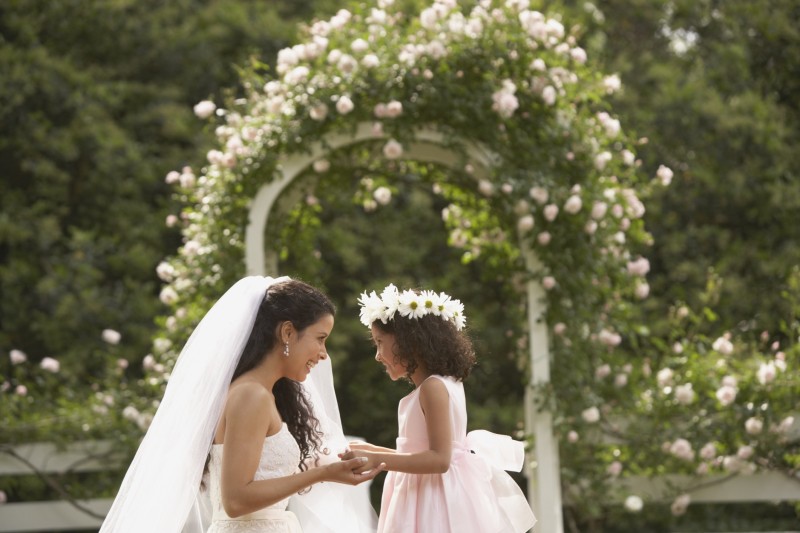 If you wish for your flower girl to wear earrings ask whether she has pierced ears. Ensure you buy good quality gold or silver earrings as skin reactions to cheaper materials are not unusual, especially in recently pierced ears. If she doesn't have pierced ears you may want to change your options as clip on earrings can easily slip off and get lost, or get crooked.
Young girls look fantastic with a bit of colour, so consider going with flower girl accessories that includes gemstones or glass beads in your theme colour. If the flower girl has a coloured version of your bridesmaids' accessories you will create a unified look.
Your flower girl will most certainly treasure her wedding accessories, so don't be mad or offended if they get lost or broken. Necklaces can easily snap and bracelets can often slip off small wrists. Try to choose accessories that are strong and durable, but if they gets damaged or lost be prepared to console her.
Treat your flower girl like your bridesmaids as much as you can. She will love to feel grown up and z part of the bridal party. If you are presenting their accessories in a pretty gift box, find a way to do the same for her even if her accessories are from a different shop.
Giving your flower girl her wedding accessories as a thank you gift will make her feel very special, especially if you present them in the morning when you are all dressing up together. Ensure you tell her parents that you will do this beforehand so they don't purchase her something themselves.
Use Easy Weddings to connect with your dream wedding suppliers.
Browse the directory and start planning today!