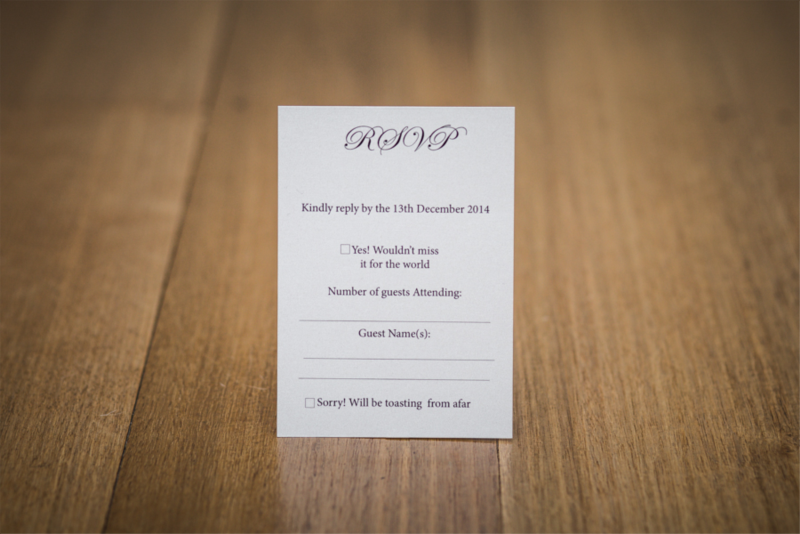 Every time we go shopping for wedding invitations, we are asked if we would like RSVP cards. I know what they are and why many couples include them, but I'm a little too shy to ask what exactly RSVP stands for. Could you please help?
Oh, you're soooo not alone in asking this question!
We all know what the general concept of an RSVP is: They're a response to an invitation, typically, an acceptance or a refusal, perhaps, even an undecided.
The actual phrase, RSVP, comes from the French term 'Repondez, s'il vous plait,' which roughly translates to 'Please reply'.
When used in on a wedding invitation (or any invitation, for that matter), it effectively asks the invitee to 'Please reply and tell us whether or not you will be attending our event.'
The term RSVP is usually followed by a date by which a reply should be received. That way, the couple marrying can finalise figures and finances with regards to seating, catering etc, before their big day.
By including RSVP cards with your wedding invitations (or, perhaps, an email address or phone number via which guests can RSVP), you provide guests with a quick, easy and effective means of informing you whether or not they will be attending your wedding.
It helps with your wedding planning because you'll have a general idea of how many people will be attending your wedding in time to work out logistics and numbers. Unfortunately, even if you do include RSVP cards – or another means of RSVPing to you – many guests won't reply on time, usually because they'll forget to do so.
Don't fret. Here's our advice for ensuring you find out who is attending your wedding in a timely fashion.