Gold bands and big rocks; It's what people expect to see when news of an engagement breaks on Facebook, but not what everybody has in mind!
Here are some unconventional engagement (or even wedding ring) ideas for all the non-girly girls out there.
Wooden bands
You like the idea of the diamond, but you're not crash hot on the gold, so get rid of it and replace it with a wooden band. A Care-for-Life guarantee means it'll be as shiny now as it is on your 75th wedding anniversary.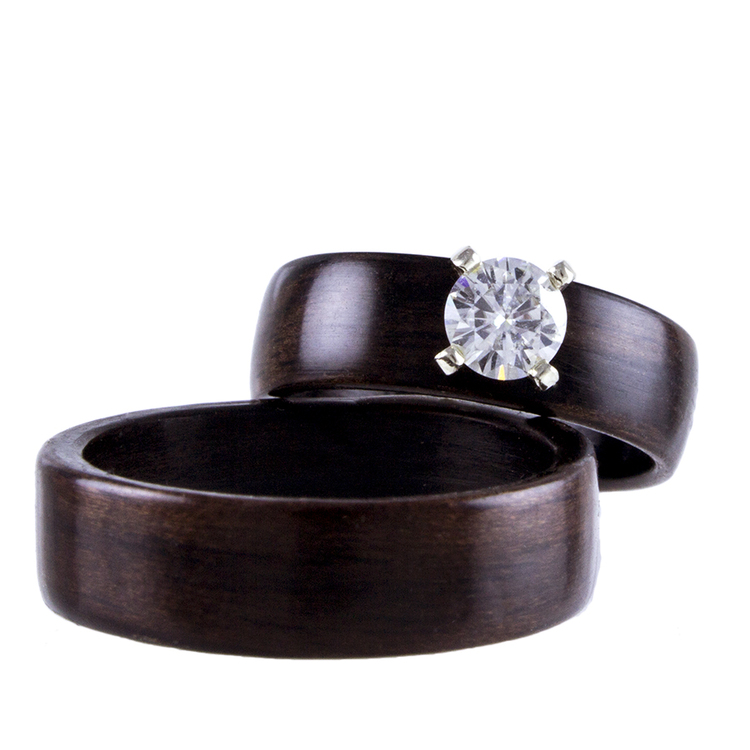 Eco rocks
Rough things up with a raw, uncut, eco-friendly diamond. You can drop it on the bathroom tiles as many times as you like and hubby will be none the wiser. Sleep easy knowing the solid handmade recycled 14k yellow gold setting is made from sustainable sources recycled from non-mined materials.
His 'n' Hers
Get next level cute with matching 24k gold plate brass bolt his 'n' hers engagement rings. The stone in this duo is actually set into the men's ring, which when screwed together sits against the woman's finger…Ahhh-dorable. But look, nobody is going to call you bridezilla for claiming the white zircon for yourself.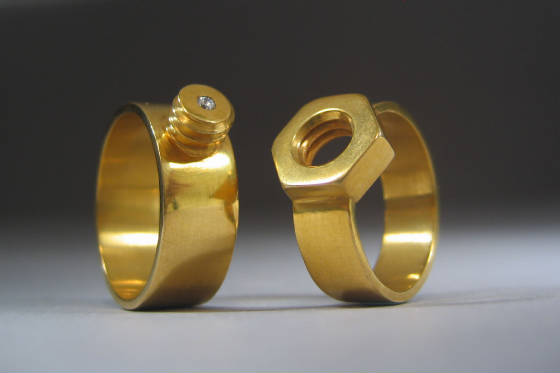 Fingerprint rings
What's a lot less creepy than carrying a vile of your lover's blood around on a necklace, Angelina Jolie style? Having your partner's fingerprint imbedded into a custom-made sterling silver ring. Want a diamond on it? Throw a diamond on it. Want a wobbly organic edge? Yep, you can have that too. That's the beauty of custom fingerprint wedding bands.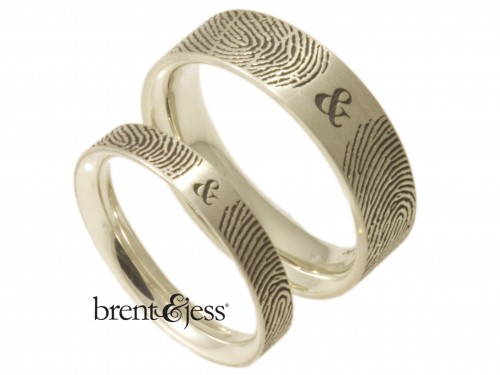 Hobby rings
Of course you want your engagement ring to symbolise the love and unity shared with your partner, but what if you and your partner share a recreational passion? Music lovers will appreciate the physical sound wave representation of "Yes, I do" etched into this ring. If it was photography that brought you together, perhaps a lens-inspired engagement ring with AF/MF autofocus toggle switch is a fitting non girly girl alternative.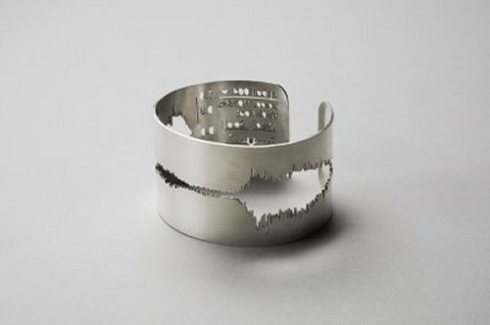 Mixed Metal
First crafted in 17th-centurey Japan, this mixed metal was traditionally used for sword fittings. When the sword industry slowed down, the artisans were left with no choice but to make decorative items with it instead; a blessing in disguise for soon-to-be engaged non-girly girls, eh?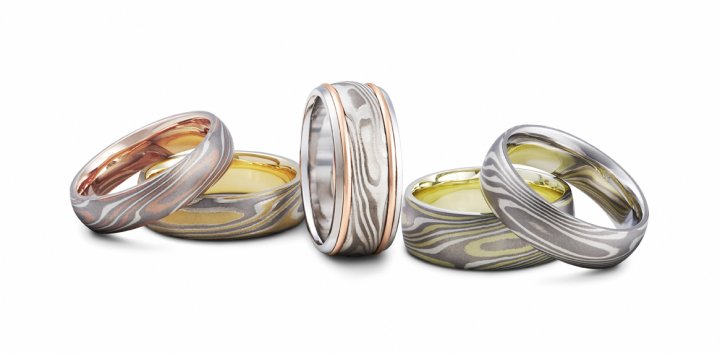 Found a non rock'n'gold ring you think we should know about? Let us know in the comments!