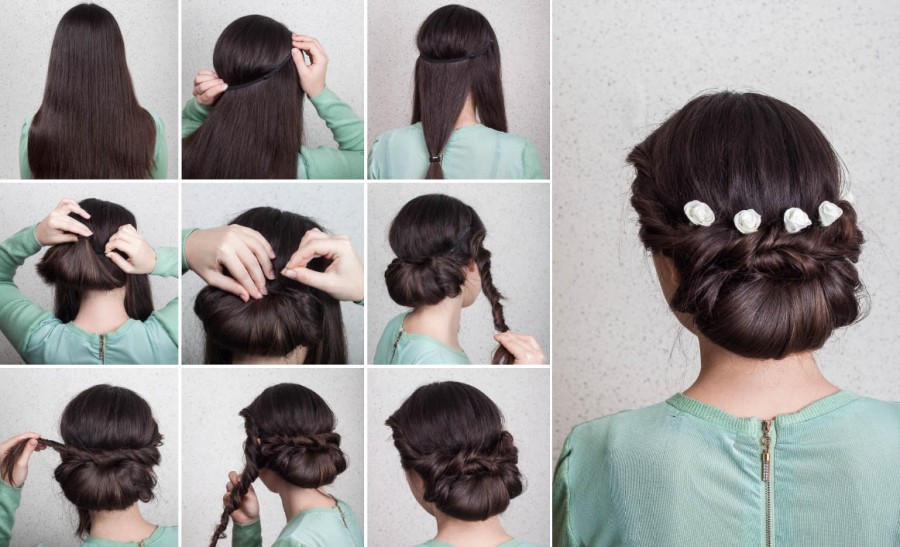 Constructing an elegant bridal updo is easier than you think. Here's a quick updo tutorial showing you how to create a simple, elegant updo perfect for a bride or her bridesmaids, in just 10 easy steps.
Step 1. Wash and dry hair straight
Make sure your hair is dry and fairly straight, as this look doesn't require lots of curls.
Step 2. Place elastic hair band around the crown of your head
Place an elastic hair band around the crown of your head, ensuring it's hidden at the front of your head by your hair.
Step 3. Tie the middle section of your locks just below the nape of your neck
Section a large portion of your hair in the middle and tie it loosely with a hair-tie, just below the nape of your neck. Leave smaller sections hanging on either side.
Step 4. Tip the ponytail upside down and pin the ends under the elastic
Tip the ponytail upside down and tuck the bottom of the pony tail under the elastic band you've wrapped around your crown. Make sure when you do this that your hair fans out at the bottom to create the volume you need for your low-bun.
Step 5. Create volume and texture in the bun
Once you have pinned the tips of the ponytail over and under the elastic, fluff the bun up a little and create a little extra texture and volume. You can use your fingertips or even a teasing comb. However, remember that this look isn't textured, it's supposed to be sleek.
Step 6. Twist the hair that's left hanging
Take one of the sections of your hair that were left out of the ponytail and begin loosely twisting it.
Step 7. Wrap one piece along the top of the bun
Take the twisted section and bring it across placing it over the top section of your textured low-bun. Pin this piece in and make sure it stretches as far across as it can.
Step 8. Twist the other side and wrap it over the other twisted piece
Take the other section and twist it, bringing it over and lay it across the other twisted section of hair. Pin this securely and then pull at it slightly to create a little extra volume and soft texture.
Step 9. Pin everything in
Use bobby-pins to secure your masterpiece, making sure that you have hidden the elastic band and there aren't any spiky tendrils or ends poking out of your bun.
Step 10. Pin some rose buds
Take some fresh or fake rose buds or small rose heads and pin them above your bun using bobby-pins. To create this look you will need four roses, and you will need to pin them in a row just above the twisted sections of hair.