Forgive me Easy Wedding-ites it's been 9 days since my last post.
This is mainly due to the madness that is our engagement party.  Between organising invites, the guest list – which my mother managed to keep under 200 and if your Indian you know this is no easy feat, food, decorations and coordinating suppliers, it has been a bit of a blur!
But in 2 days our local community hall will be awash with colour, music and fun!
Alex from Event Photo Booth is providing us with a photo booth for the night.  I have been busy designing the graphic that will be featured on the photo strips.  Alex has been incredibly friendly and helpful, even taking my phone call whilst he was on holiday! If you're looking for a committed wedding supplier look no further!
We are also having our engagement shoot with Gary Lee. Which should be interesting as neither Craig or I enjoy having our picture taken – which has resulted in a complete lack of any nice photos of us. So we are putting on our brave and smiling faces for Gary and having some pretty pictures taken at the beach. We really like Gary's relaxed style of photography so can't wait for this!
And if that wasn't enough I have the gorgeous Melani from BlackCatsAngel Designs doing my makeup trial and party photos. I have known Mel since I started with Easy Weddings and not only is she amazingly gorgeous but she is also incredibly talented! If you need a photographer or makeup or both! Make sure you get in touch with her.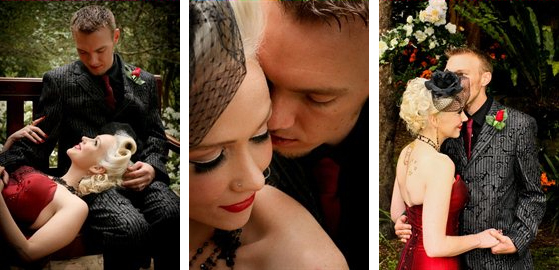 Have I missed anything? I'm sure I have, but can't remember for the life of me. I will be sure to post lots of photos next week, and of course give you a full run down of the craziness!
So I hope all you folks have a great weekend – I won't be getting any sleep but I hope you do!