Even if you've not heard of a breakfast wedding before you may be intrigued by this concept. You'll be surprised to hear that in England from the 1500s onward, these early-bird weddings were standard practice and nowadays are slowly creeping back into fashion. The background on these early weddings is, of course, based in religion. Weddings were a religious act and Mass is traditionally a morning affair, so it all makes sense that the breakfast wedding would come to be. Here are our reasons to consider a breakfast wedding and how to find your dream wedding breakfast venue.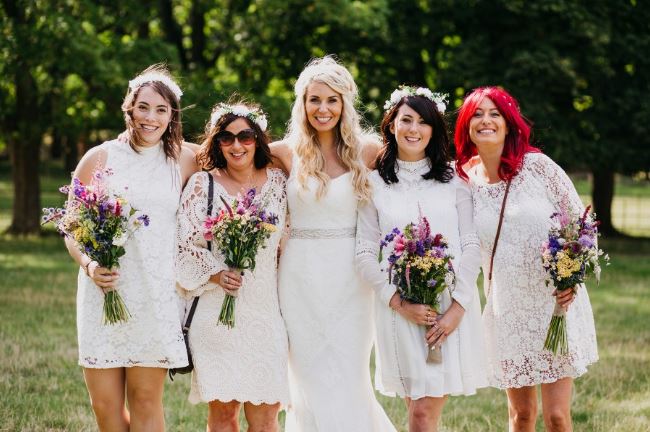 Out of the ordinary
During wedding season, you'll likely be invited to a plethora of afternoon and evening weddings. These are the most common times to get married. Many couples marry in the afternoon, take advantage of afternoon sunlight for their photos and then party the night away at their reception.
If you've always been a unique soul and you want something that is more original, then the breakfast wedding is perfect for you. Instead of an evening reception, choose a breakfast, brunch or lunchtime one and soak up the beautiful day. Spend the afternoon with your guests, basking in the day, playing games and eating great food. Your wedding will feel more like a fabulous picnic than a traditional wedding. If you want your wedding to stand out, this will definitely get you there.
Family friendly
If you have a lot of friends or relatives with children, you'll love how family friendly a breakfast wedding is. Children will be in their element at your wedding and you'll not have to deal with their tired tantrums from being up all day and into the night. Older guests will also appreciate a breakfast wedding as it means they don't have to stay up longer than they usually would.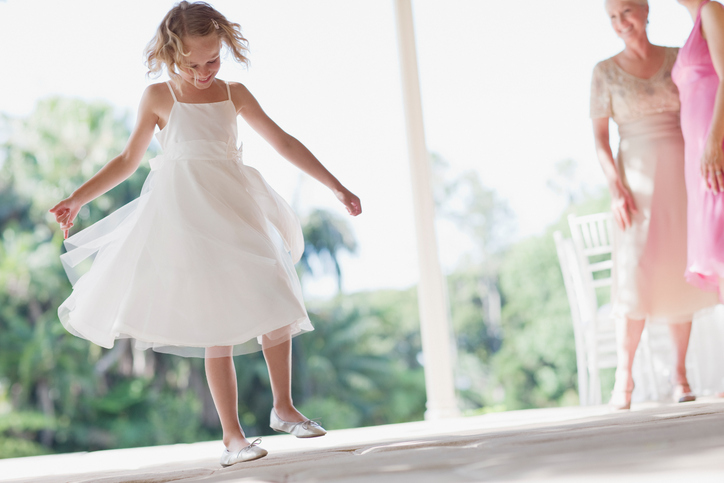 During popular wedding seasons, you'll find out soon enough that really popular venues book out fast. Faster than you'll believe. Most popular venues will require you to put your name down over a year in advance and for those of us who like to live in the moment, this kind of excessive planning can be a challenge. Here's the trick though: if you have a breakfast wedding, many popular venues will happily book you in for the morning despite having another wedding later in the day. This will give you much more choice for wedding venues as morning is such an unusual time to get married. So, where you may have missed out on a high-end venue before, you'll get a chance to book your spot at one of these places.
In addition to this, you may have a favourite café or brunch spot that may not be open for an evening reception but will happily be open for your breakfast wedding. This is a lovely way to incorporate a place that holds a lot of meaning for you.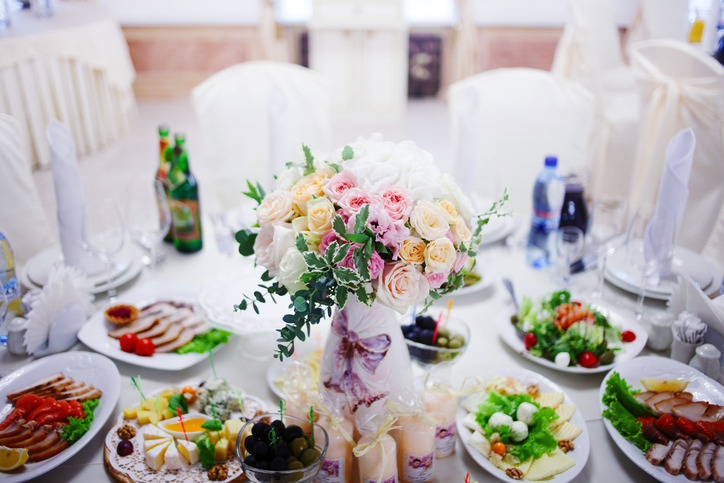 Your food bill is reduced
Lucky for you, the cost of a breakfast or brunch wedding is cheaper than a standard afternoon or evening wedding. Guests tend to eat less at morning weddings and as the food is often cheaper to make, you won't be asked to pay as much. Obviously preparing brunch foods like sandwiches, soups, bruschetta, pancakes, waffles etc, will be cheaper than preparing plates of duck and veal with perfectly cooked sides. Less time preparing the food means less cost to you. Plus, you'll get to eat breakfast food on your wedding day and what's better than that? It's a win-win.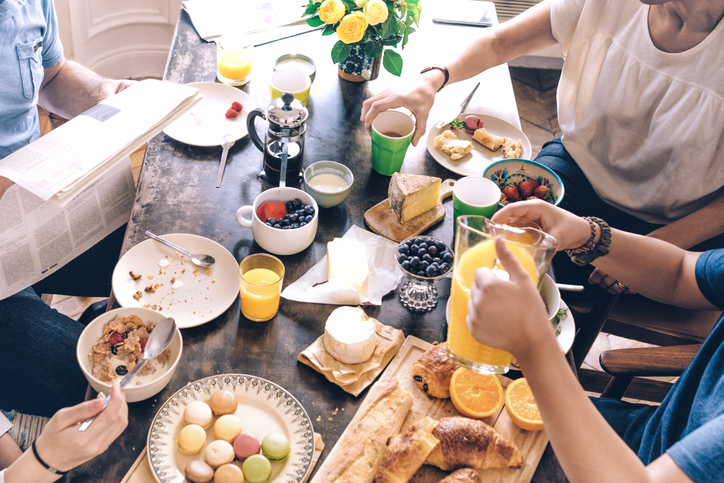 Cheaper bar tab
So while you're saving money on food, you'll definitely be saving money on your bar tab. There'll definitely be a little drinking like champagne toasts and such, but not many people drink a lot of alcohol for breakfast so you'll find that your guests will prefer to drink coffee, tea and juice as opposed to the standard beer and wine. Because you'll be saving money here, you could have your bar staff serve beautiful fruit cocktails like bellinis or mimosas which are great for breakfast. This is a nice thing to do if you wanted these kinds of drinks for your wedding but didn't think you'd be able to afford them.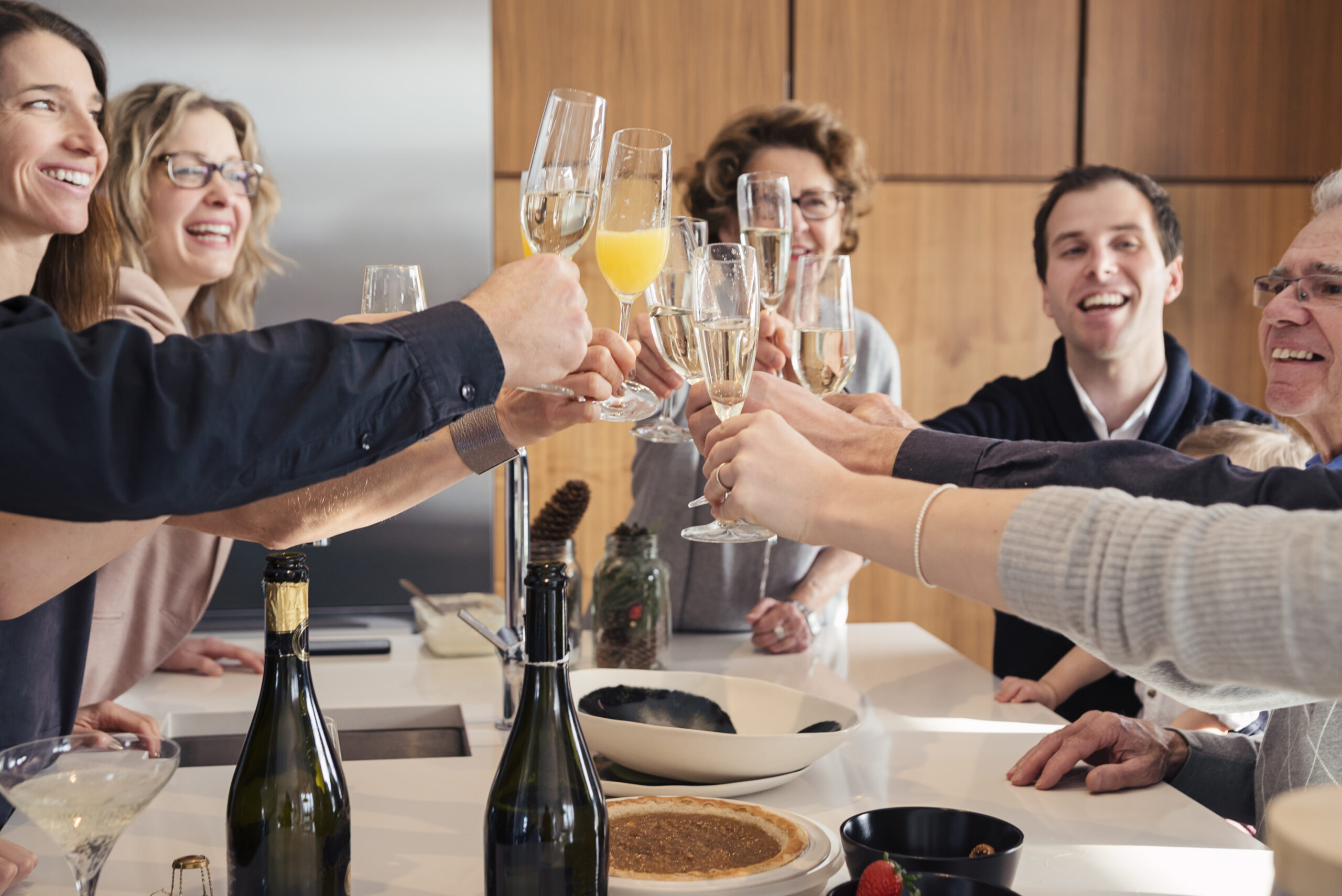 You could get married at sunrise
This all hinges on whether you're a morning person. If you are and you love sunrises even more than you love sunsets, then if you have a breakfast wedding, you could get married at sunrise. Morning light is some of the most beautiful throughout the day so you'll get the most beautiful photos if you choose this time of day to say 'I do'.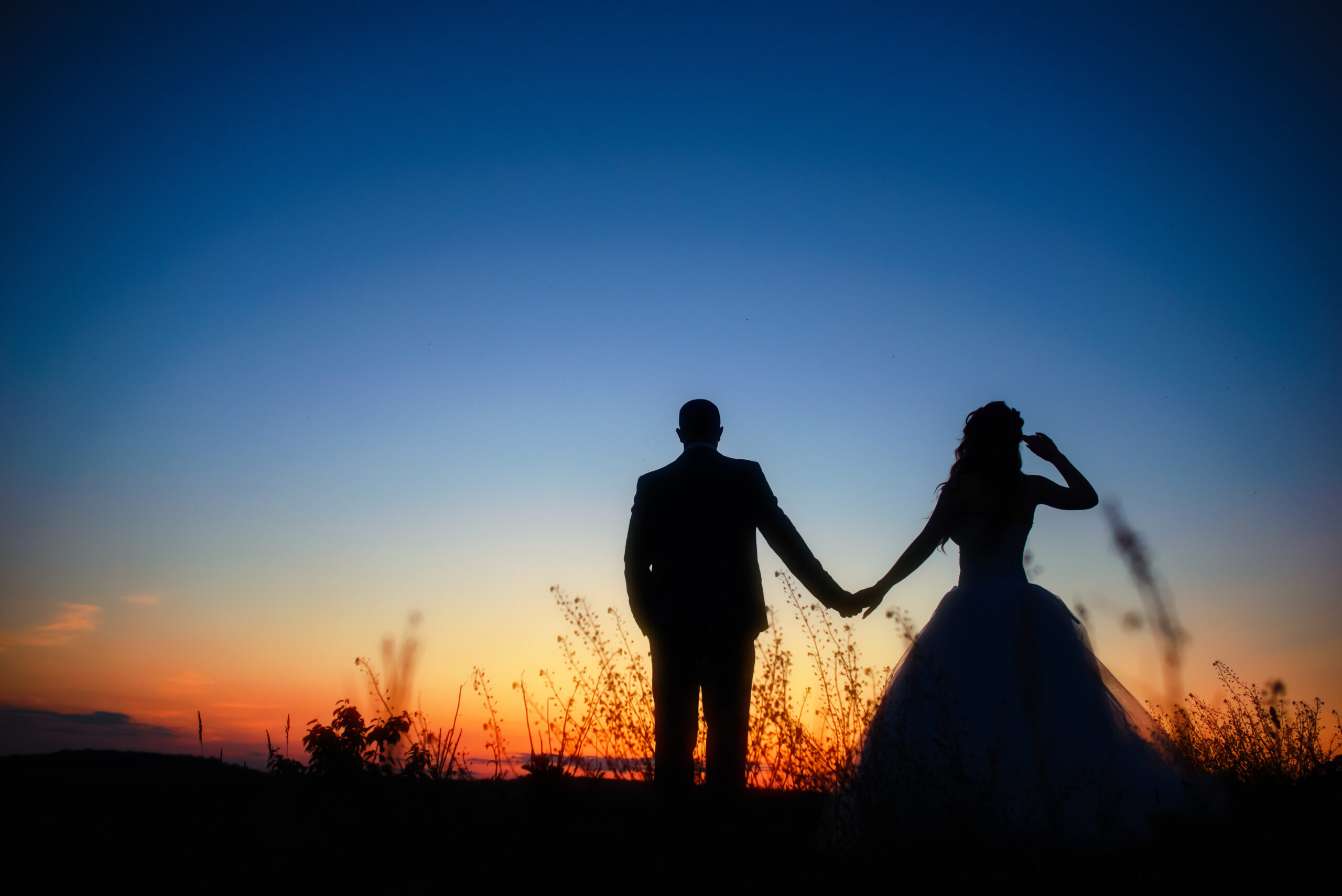 Turn the whole day into an event
By having your ceremony and reception early in the day, you'll then have the afternoon and the evening to hang with your guests. You could do this by planning outdoor games, you could have a high tea, wine tasting or have a barbecue as the sun starts to go down. The whole day could turn into a really fun event.
If you're having your breakfast wedding abroad, consider all going and doing some sight-seeing together in the afternoon and having dinner somewhere as a group in the evening. Instead of spending your morning getting ready in anticipation for your wedding, having it earlier like this allows couples who are feeling the nerves to get the formalities out of the way so they can enjoy the remainder of their day.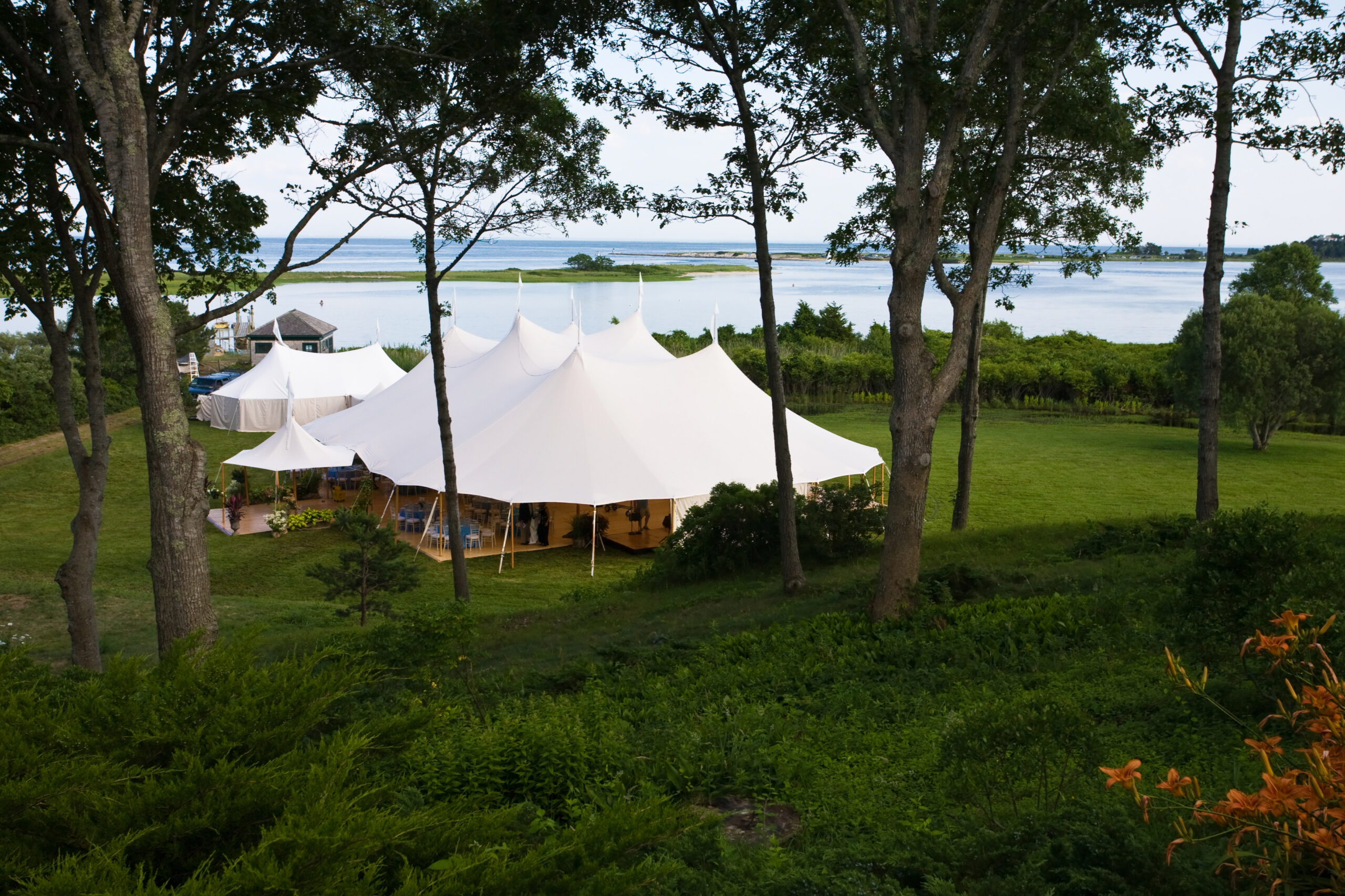 Perfect for spontaneous couples wanting an intimate wedding
Because the breakfast wedding is such a unique affair, you'll be able to plan this wedding quicker than other weddings. You won't have to put your name down at a venue early to secure your spot. You'll very likely be able to book something with short notice.
If you're also a fan of smaller weddings, the breakfast wedding may be perfect for you. Having your reception in a café with just your nearest and dearest will mean that no one gets lost in the sea of guests and the most important people will be around you. Because you're not exhausted after a huge day, you'll find it way easier to talk to all of your guests and catch up with them, meaning no one leaves feeling like they didn't spend any time with you.