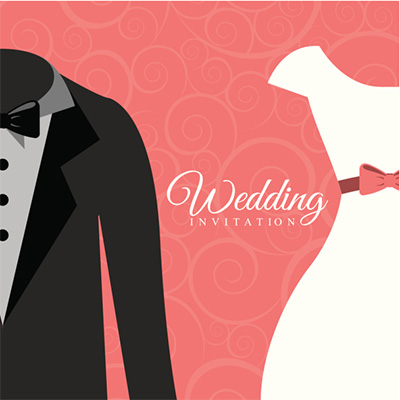 Your wedding invitations may be at the very back of your mind when you start your wedding planning, but it shouldn't be because there are SO MANY little elements to consider when choosing the invitations for your big day.
When your guests open their invitations to your wedding, you want them to see something that perfectly reflects the theme of your wedding as well as the individuality of your relationship. From the embossing to the font, everything can affect the overall look and feel, so be sure to decide upon your overall theme before you even start thinking about shapes and sizes and colours and card stock!
It may seem like a daunting task to have to sit down and choose all your wedding stationery at once. In fact, it's often the first big task a couple has to tackle about when planning their wedding. While most couples will have some sort of idea of what they want their wedding invitations to convey, nailing down the final design is the trickiest part.
Whatever you decide, you need to be aware that your wedding invitations (or, if you're sending them, your Save the Dates) is the first physical hint your guests will receive regarding your upcoming nuptials.
Serious thought should be put into what your invitations say about the wedding you're planning to hold. A funny cartoonish invitation won't convey a black tie feel, will it?
A date and time is the first obstacle many face when choosing wedding stationery, but by the time they come to designing the invites, they have often decided and also gone ahead a booked their wedding and reception venue.
This is crucial because, without this basic information, well, you don't have anything to tell your guests regarding when the wedding will be held or where, which is the whole point of a wedding invitation! 
Traditionally, wedding invitations are sent out about two months, or eight weeks, before the actual wedding which gives those who receive them time to plan whether they'll be coming. This varies slightly for more unique weddings, in particular those that are to be held abroad.
The RSVP date is traditionally set as a month after in invitation is delivered (about a month before the nuptials).
For weddings being held in 'peak' wedding season, some couples opt for the more relaxed Save the Date cards, which usually let their guests know the date they're planning only.
A colour scheme might be chosen to run throughout a couples wedding day and these will culminate with the invitations; from the decoration, wedding dress additions, or even the eventual thank you cards following their wedding gifts.
There are a plethora of designs that may be chosen, and it's for this reason we suggest couples make the big decisions as soon as possible. A lot of factors can often be overlooked in such a mammoth task; it isn't all about the date and time, colours, or even card type.
Some suppliers will charge a couple more per individual name printed on an invite and this might differ from an originally quoted price. You also have to consider the size you opt for, as posting larger or unusual sizes might lead to a price hike – remember that everything you send out will need a stamp!
Production of bespoke wedding invitations might be a little more expensive, but quality and design will out. Above all consider your budget and be sure to compromise and find a scheme you both love.